Learn the colors with our fun color do a dot printables. Use our color learning worksheets and teach your children colors. Use them together with do a dot markers or loose parts.
Let's get started.
Learn Colors Do a Dot Printables
Have you ever tried using dot pages with your children before? They're one of the most versatile and low prep activities out there and make for the perfect printable activity for your toddler or preschooler!
Simply print our learning color worksheets below and pick from the multiple easy ways to use the dot pages! You can find these pages often in different colors, themes, and holiday versions making it the perfect printable activity year-round!
Some of our favorite ways to use dot pages are listed and shown below!
How to Use Do a Dot Pages
Do a Dot Markers
The most classic way to use dot pages is with dot markers! Have your child take his or her dot marker and fill in the dots!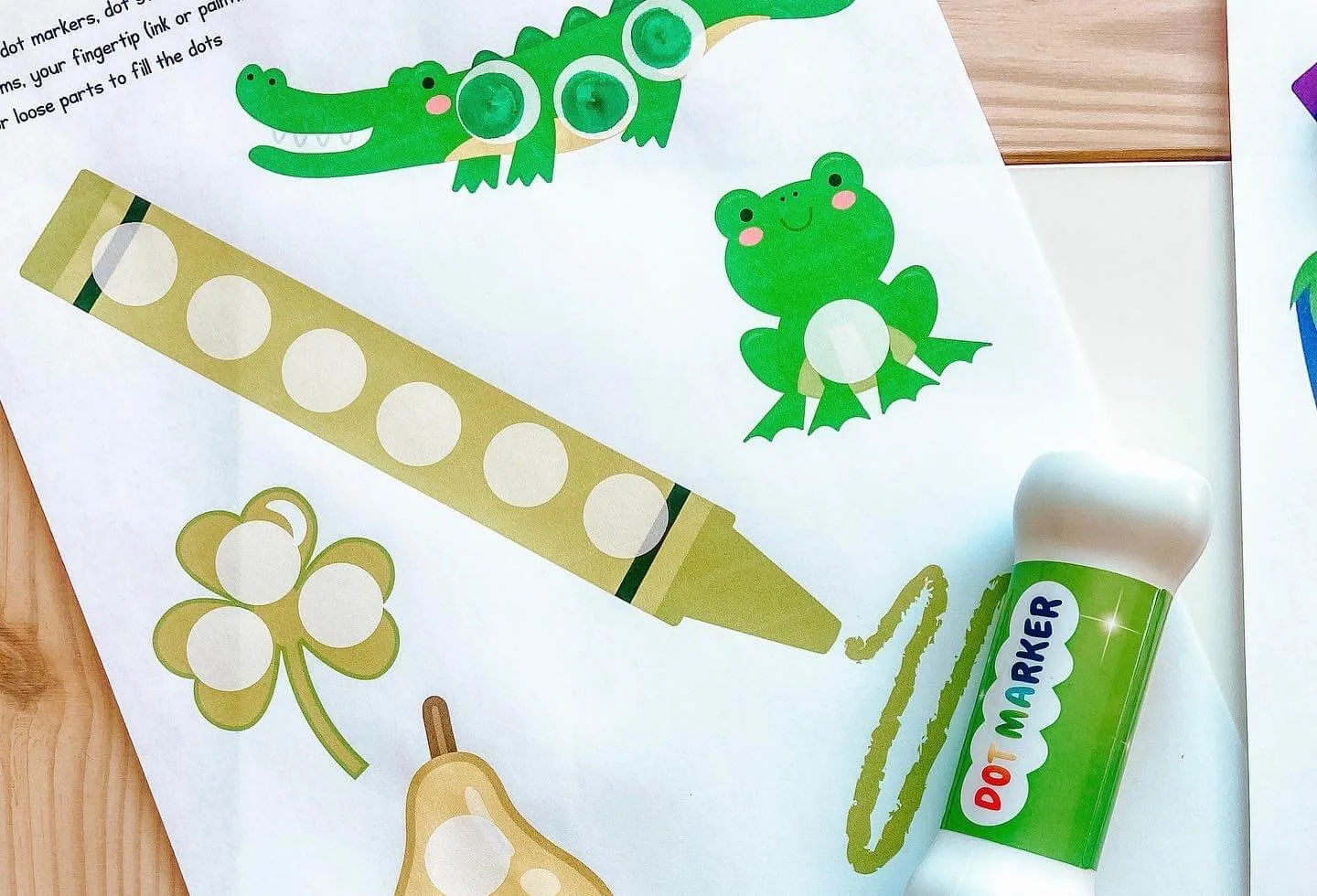 Playdough Balls
Next, and a fan favorite, is using playdough balls to fill the dots! Every toddler and preschooler loves to explore play-doh and this puts his or her fine motor skills to work!
Have your child count out how many balls he or she needs of play dough to fill the dots. Then have him or her begins to roll that many dough balls. It is the perfect way to add counting to the learning and exploration of the dot pages.
Finally, have your child use the playdough balls to do dot counting as he or she fills in the dots!
Did you know you can make your own playdough? It is super easy. Go check out our recipe here:
Stickers
Another favorite of toddlers and preschoolers is stickers! Put your child's love of stickers to good use by using them alongside do a dot pages!
Supply your child with dot stickers and have him or her use dot stickers to fill in the dots. Your child will really put his or her fine motor skills to work here as they try and place the stickers in exactly the right way on the dot pages.
Loose Parts
Have you ever tried playing with loose parts? Loose parts are open-ended materials that a child can manipulate, move, and adapt in play and exploration. Loose parts can be found in nature such as rocks and shells or be made such as wooden loose parts. We love using our wooden loose parts to fill in our dot pages. This way we can reuse our dot pages over and over! We love to use our loose parts and dot pages to explore numbers by counting out how many we will need to fill the dot page and then placing them on the page!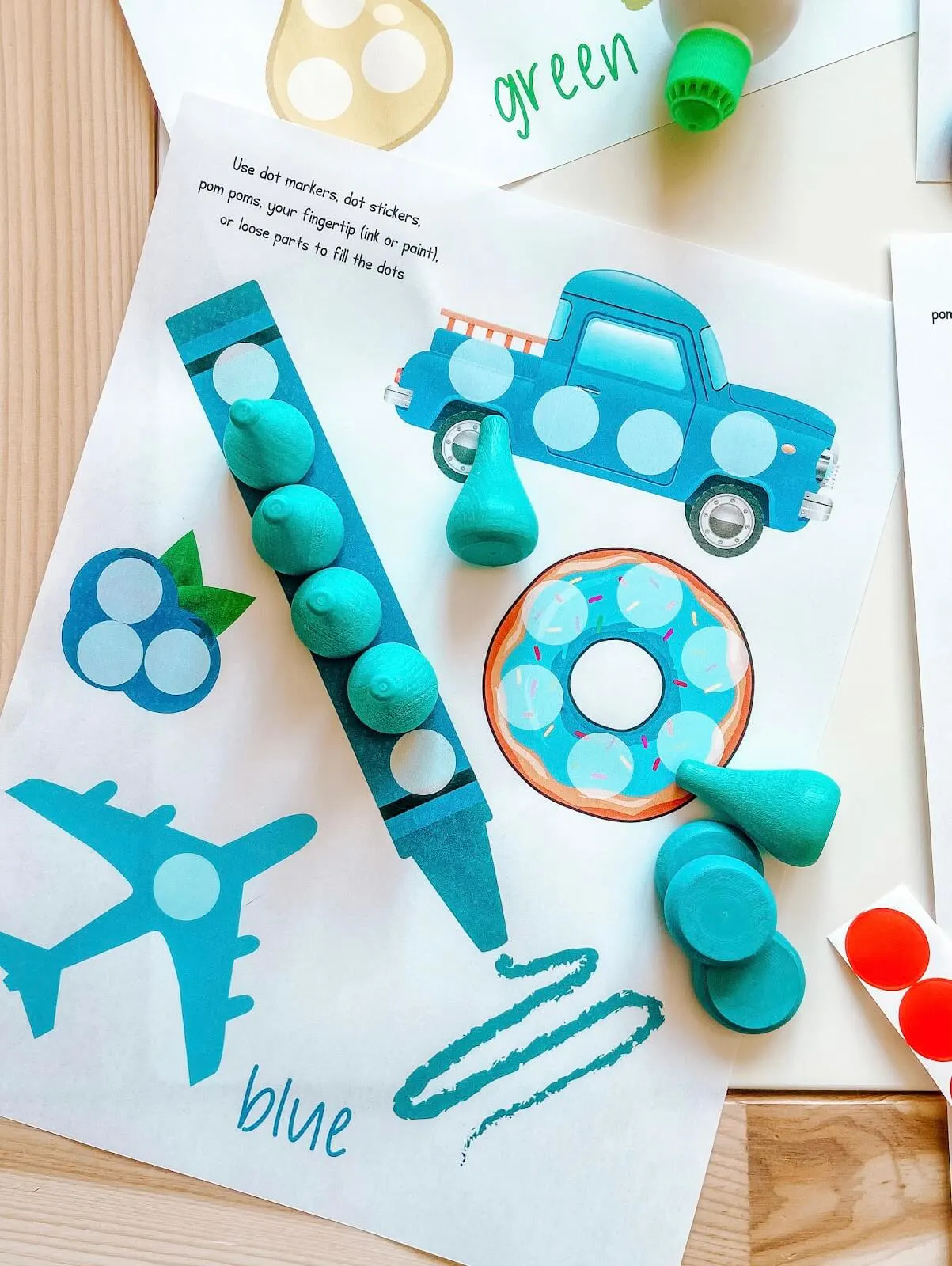 Pom Poms
Another toddler and preschool favorite activity has to be gluing. We often use our dot pages with pom poms and glue. Have your child place glue dots inside the dot on the dot page and then cover with pom poms!
Fingertips
Saved for last is using paint and your child's fingertip! It's definitely the messiest one but oh so much fun!
Supply your child with a small amount of paint and have him or her fill in the dots on the dot pages with his or her fingertips! It makes for the most perfect printable craft!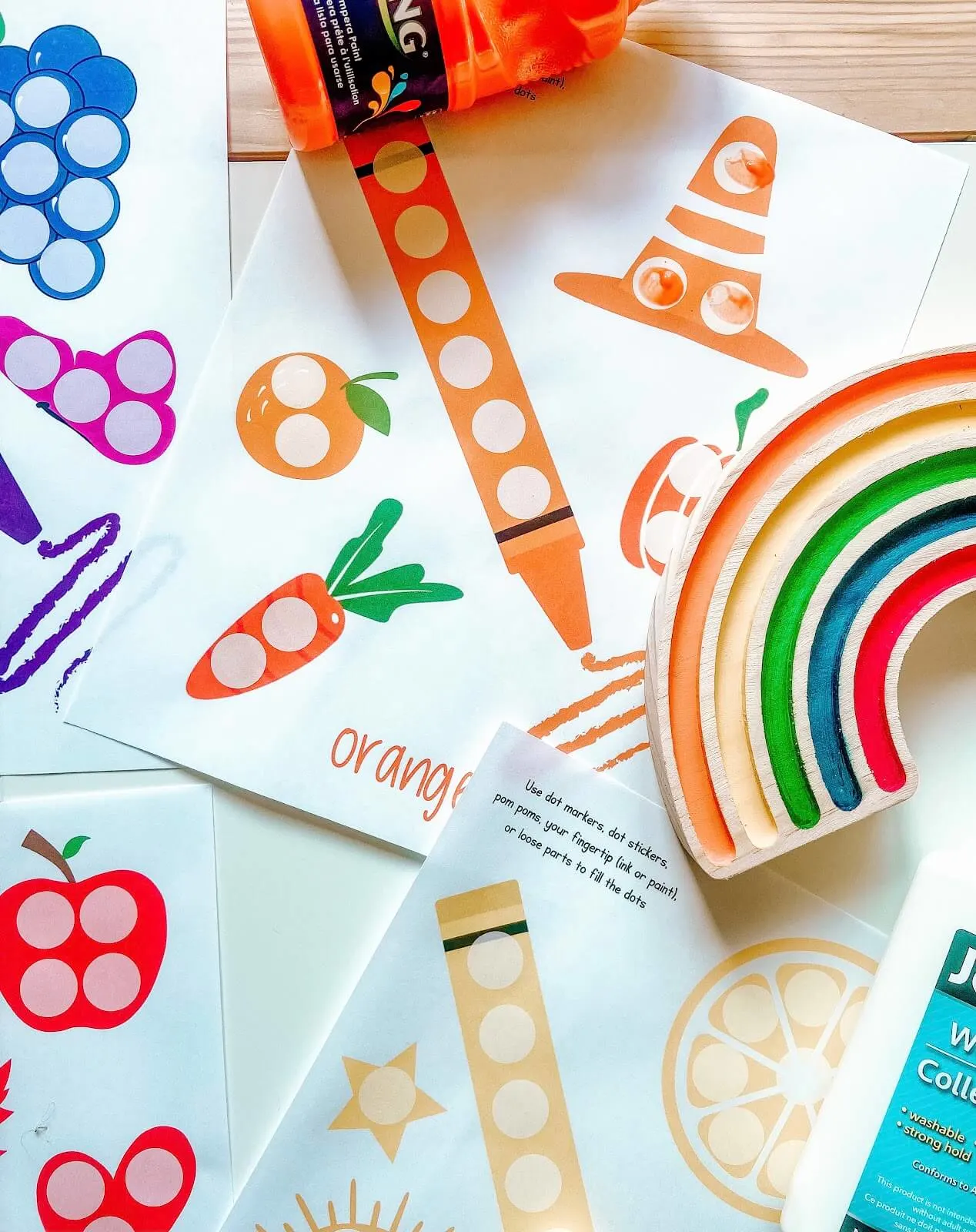 Benefits of Do a Dot Printables
These fun do-a-dot activities make not only a perfect color matching activity but also a perfect fine motor activity. Did you know that using dot markers like this is amazing for writing and pre-writing skills? It helps strengthen and develop the muscles used for writing!
Did you enjoy our do a dot printables? Then check out one of our many other learning activities. You might enjoy Writing with Race Cars, our free ABC Flashcards, or find a good use for our free printable Reward Charts.
How to Download Your Free Do a Dot Printables
Simply sign up here for our newsletter and you will receive the link to our free printable do a dot learning colors worksheet pdf.
Already a subscriber? Don't worry, no need to subscribe twice.
I just updated our free printable library. You can find our do a dot coloring book there or check our newest newsletter for more information.
If you have any questions, please do not hesitate to reach out to me. I m happy to help!
Pin These Preschool Do a Dot Printables
Don't forget to save our preschool color learning worksheets on Pinterest for later! Be sure you are following along with Lil Tigers here.
About the Author
Jennifer is the creator behind Teaching Appley Ever After! She is also a mom to two wonderful girls and a preschool teacher who is living out her "Appley Ever After" in the Chicago suburbs.
She has been a teacher for over ten years now. After gaining my degree in elementary education she began her journey as a teacher but quickly fell in love with early childhood and gained further education to become certified in early childhood.
She also fell in love with the Reggio Emilia approach and studied abroad in Reggio Emilia Italy in 2018. It was from these experiences that she learned the importance of creating inviting, playful, inspired learning experiences for children and tries to achieve this every day whether in her home, classroom or while making materials on Etsy.
For more ideas on how to use dot pages follow us on Instagram: https://instagram.com/teaching.appley.ever.after
If you are looking for more dot pages to explore check us out on Etsy at: https://www.etsy.com/shop/AppleyEverAfterShop
Now it is your turn.
How did your kids enjoy their free dot coloring pages?
Either way, let me know by leaving a comment below right now.
I love to hear from you!