Are you looking for new fun science activities for kids? Then try this cool Dancing Grapes Experiment with your children.
It is super easy it is to set up and will amaze your whole family!
In fact, all you need is two ingredients for this hands-on STEM experiment.
Let's dive right in and find out how to make grapes dance and let's learn about the science behind it!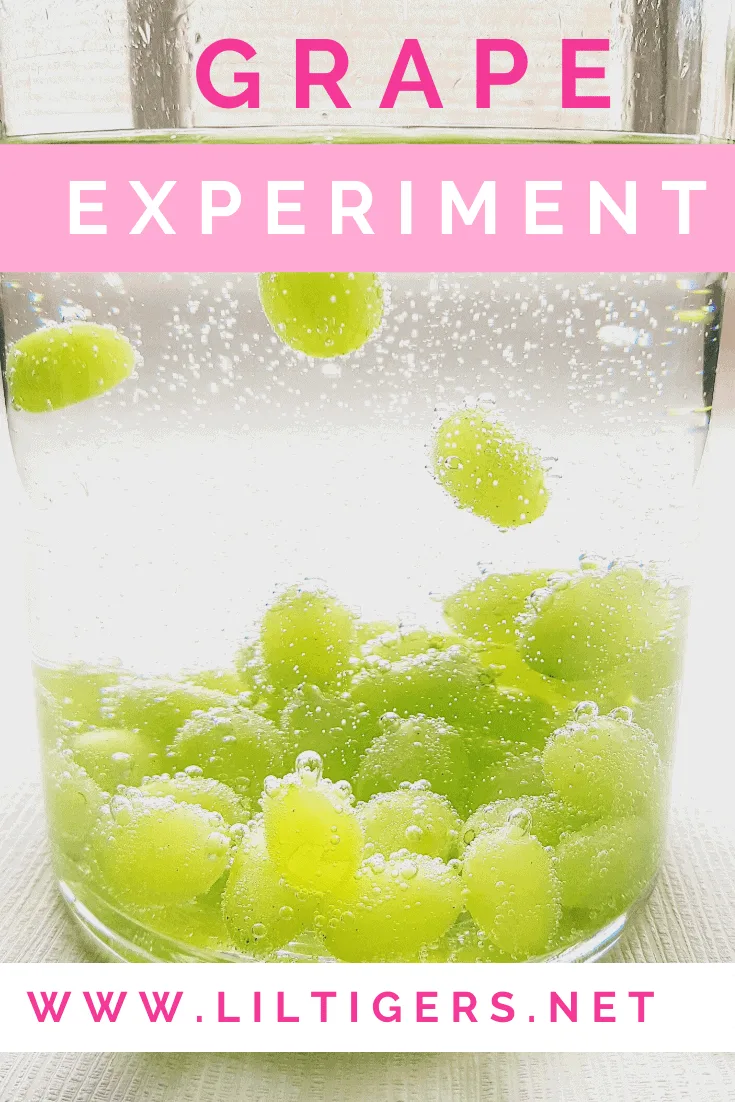 Dancing Grapes
The Benefit Of Science Experiments For Kids
My children are obsessed with kitchen experiments. I personally love these kids' activities as well since it gives me the perfect opportunity to combine fun with education.
We use the chance to read a subject-related book first. Then we talk about what we like to accomplish with our fun activity and the science behind it.
This gives you the opportunity to add language-building activities like discussions, conversations, and new words. Overall this will help with reading, writing, and children's conversation skills.
You can find those and many more benefits of science experiments for kids and toddlers here.
Why Did I Pick This STEM Activity
In general, my kid's activities need to be:
easy to set up
manageable for different age groups
As many of you know by now I have three children in the age group of 2,4 and 8. Therefore my family projects are simple to prepare and easy to implement.
I choose kid's projects where I can simply change the difficulty level to provide challenges and fun for every age group.
Especially about this project I love the fact that it is perfect in a classroom setting. It also gives children the chance to explore the knowledge with all senses while helping step by step along the way.
Are you interested in more kid's activities, arts & crafts, and science experiments? Subscribe to our newsletter now and never miss an update! Click here
How to Make Grapes Dance
But let's take a look now at this simple, long-lasting, fun dancing grapes experiment.
Materials for Dancing Grapes
Here is what you will need to make grapes dance:
Grapes
Seltzer Water
Large Vase
As mentioned before, I advise explaining to your children upfront the science behind this dancing grapes experiment. That way they know what they looking for!

Dancing Grapes Instruction
Follow these simple steps to get your grapes magically to dance:

Step 1: Prepare your glass container
Fill the vase 3/4th with bubble water. This will not work with regular tap water!

Step 2: Prepare your grapes
Wash the grapes and remove them from the stencils.
Step 3: Add grapes
Drop a hand full of grapes in sparkling water.
Step 4: Let the grapes dance
Watch the grapes dance.
Do your kids enjoy this easy STEM experiment and want to try more? Then learn How to Grow Your Own Rainbow , make it rain with our Raincloud Experiment, and try these fun Borax Crystal Ornaments next.
Grape Experiment Tips
Instead of dancing grapes trz dancing raisons or dancing corn. They are just as fun!
No reason to waste food, the grapes can still be eaten after the experiment.
Grapes can be a choking hazard for young toddlers and babies. Therefore I recommend this activity only for children age 3 and up.
Dancing Grapes Science Experiment Theory:
Seltzer water contains carbon dioxide (CO2) which is essential to this STEM activity!
Since grapes are heavier than water, they automatically sink to the bottom of our glass jar.
As you can easily see in the video carbon dioxide bubbles attach quickly to the grapes and make them rise.
On top, the bubbles pop, and the grapes sink back to the bottom. The process repeats itself until all the carbon dioxide is used.
As a result, the water turns flat and will taste like tap water. Take a sip and try it yourself!
It s the same process when you leave any type of soda bottle open without putting the screw back on. The carbon dioxide will vanish and it starts to taste flat since the carbon dioxide is gone!
To learn more about carbon dioxide (CO2) including definition and facts for kids take a look here!
Frequently Asked Questions
Do Grapes Float?
Before you start with your floating grapes experiment you should let your children think about it and make their own hypothesis.
Let them discuss whether grapes sink or float and try to come up with an explanation.
To answer our question, do grapes float is no. The fact is that grapes sink in regular tap water.
Only the carbon dioxide (CO2) in the seltzer water makes them float. When the CO2 is gone they will sink again to the bottom of the glass.
Do Grapes Fizz in Soda?
To make this easy dancing grapes experiment more interesting, fill one container with seltzer water and the other one with soda, preferably Sprite.
You will experiment that the unpeeled grapes also fizz in soda (Sprite).
Soda also has tiny carbon dioxide (CO2) bubbles to pull the grapes to the top of the liquid.
Dancing Grapes Science Experiment Video

Summary
My kids love this Dancing Grapes Science Experiment, and so do I for the following reasons:
It is not messy and super simple to set up.
You don't need many supplies.
Your kids can gain a lot of knowledge out of this cool grape water science experiment.
It is definitely a win-win project I can fully recommend to kids age 3 and up!

Pin Our Dancing Grape Experiment
Don't forget to save this easy dancing grapes experiment on Pinterest for later! Be sure you are following along with Lil Tigers here.

Now I would like to hear from you!
How did your kids enjoy this easy fizzy fruit experiment?
Either way, let me know by leaving a comment below right now. I love to hear from you!
Follow us on Instagram, Pinterest, Tik Tok, and join our Facebook group "Free Kids Activities Arts & Crafts" for more fun DIY Kid's Activities, Arts & Crafts, and Science Experiments.
Dancing Grapes Experiment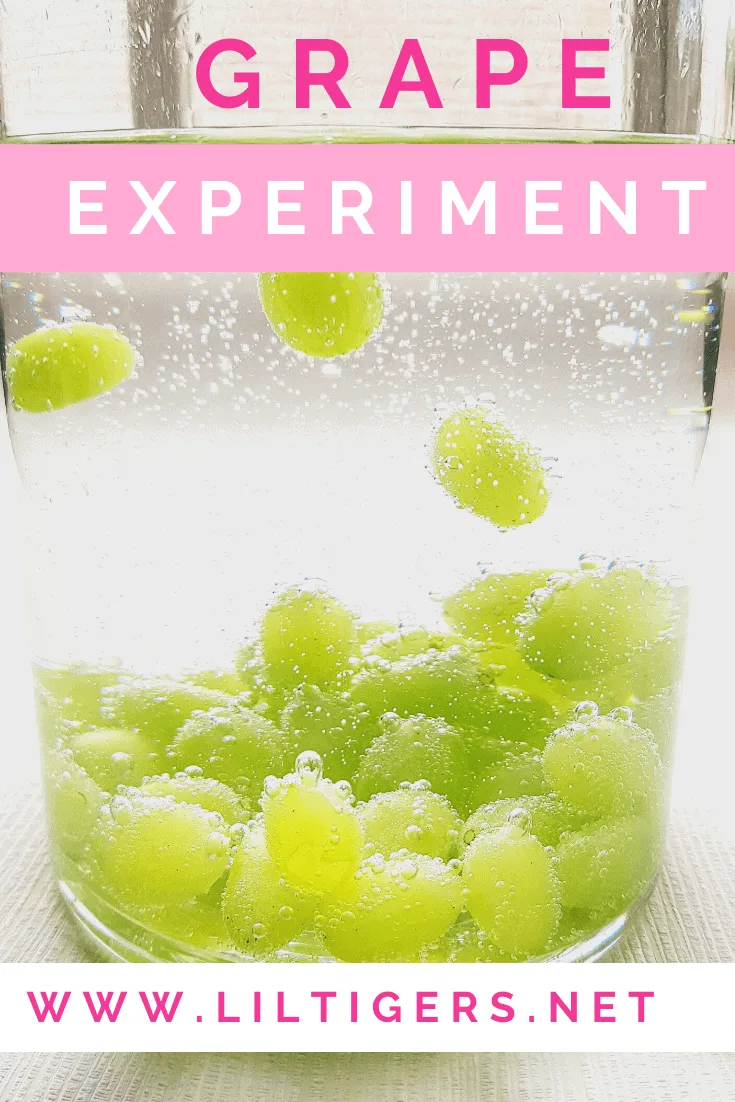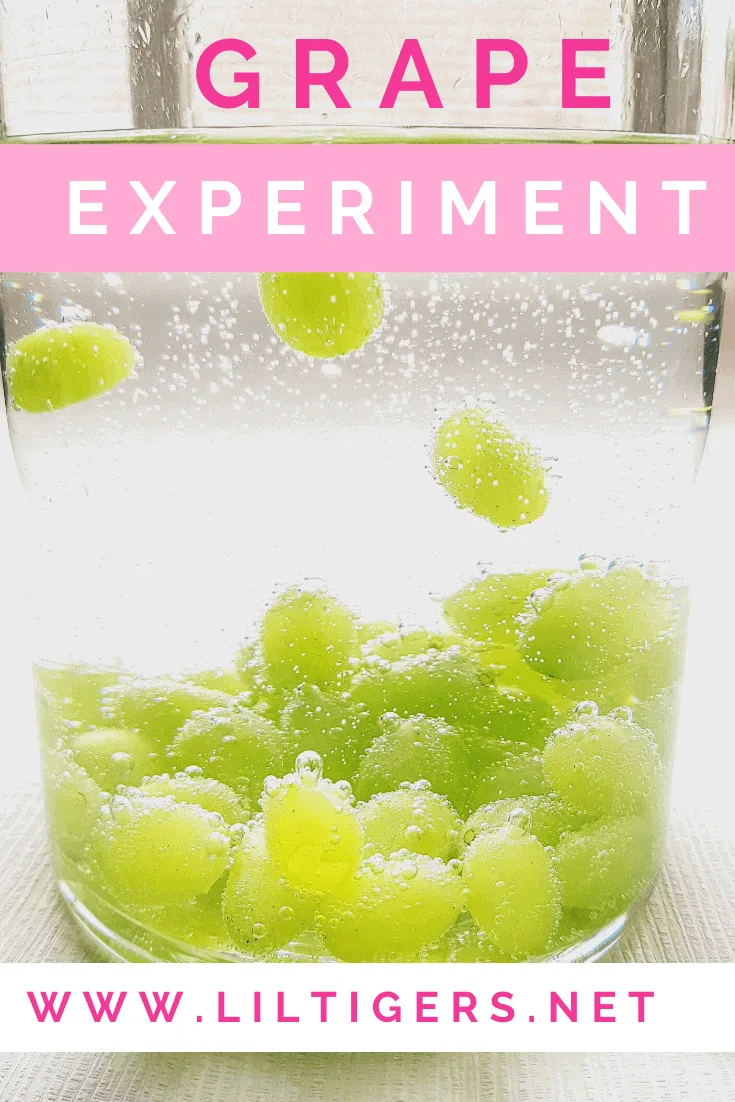 How to get grapes dancing
Instructions
Fill your glass container with seltzer water
Remove stencils from grapes
Drop a grapes in your vase
Watch them dance