Get your free printable How well do you know mom questions and have a fun afternoon with mommy or the mom-to-be.
Our all about mom questions include a set of all about mom baby shower game questions, one set of Mother's day game questions, one for every occasion, and a plain set of how well do you know mommy questions to fill in on your own.
Let's check out our game for moms below.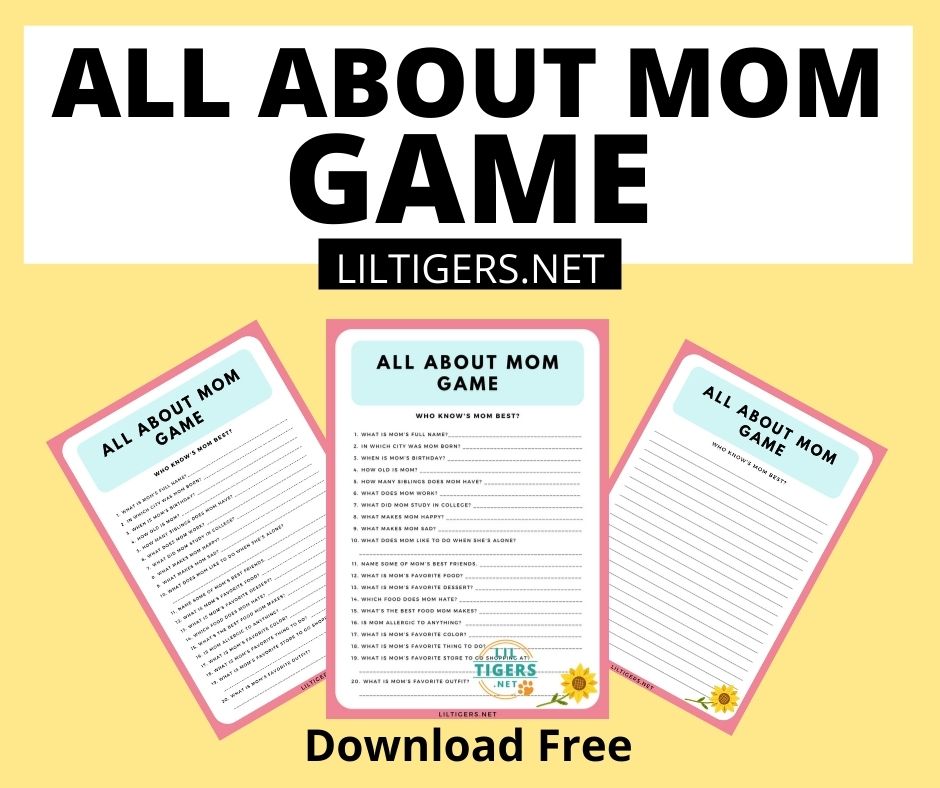 There are affiliate links in this post, meaning, at no additional cost to you, I will be compensated if you click through and take action. As an Amazon Associate, I earn from qualifying purchases.
How Well Do You Know Mom Questions
Newlyweds it is time to step aside and make space for us moms or moms-to-be.
Our mom trivia questions are super fun to play and make the perfect Mother's day game or all about mom baby shower game questions.
It is even a nice game to play on mom's birthday or you can use them as funny mother-daughter quiz questions.
Mom and Me Game Materials
You actually do not need a lot of all for our fun how well do you know your mom questions as you can see in our supply list below?
Free Printable All About Mom Game PDF (found below)
pencils
dry-erase board with a marker (optional)
Did you like our All About Mom Questions? Then try our fun Mom Bingo, Mom Scavenger Hunt, or Best Mom Award next.
How Do You Play Our Being a Mom Game
Newlywed Mom Game
If you are familiar with the Newlywed game, you are good to go. Otherwise, let me explain the all about mom game rules for you:
Our funny all about mom quiz game can be played in different ways.
If you like to stick to the newlywed game then you will need one printout of our all about mom questions and one dry-erase board for each player.
First, you need to choose a game host who is in charge of asking the questions. Each player will have to write the answers on their board. For each correct answer, the players will get one point.
The participant with the most points will win.
The good part of this version of our mom and me game is, that the game host can adjust the difficulty level on the player's age.
If your children are playing choose the easier questions for them.
Mom Group Game
The other option is to play it in a group, which makes it more suitable for big groups. This way everyone can participate and therefore our questions about mom make the perfect baby shower activity.
In this case, you will have to download our all about mom questions printable and make a copy for each player.
Next, you set a given time and all participants have to fill out the questions during the given time period.
After the time is over, the mom-to-be will read out her answers and every player will go through his mom's question sheet and count their points.
Every right answer brings one point and the player with the most points wins.
Mom Game Prizes
To make our mom question game more fun, get some small prizes to hand out afterward for the winners.
Here are some cute ideas for you. First, a selection if you play with your family and then with your mom group.
35 Mom and Me Know It All Game Questions
What is Mom's full name?
In which city was Mom born?
When is Mom's birthday?
How old is Mom?
How many siblings does Mom have?
What does Mom work?
What did Mom study in college?
What makes Mom happy?
What makes Mom sad?
What does Mom like to do when she's alone?
Name some of Mom's best friends.
What is Mom's favorite food?
What is Mom's favorite dessert?
Which food does Mom hate?
What's the best food Mom makes?
Is Mom allergic to anything?
What is Mom's favorite color?
What is Mom's favorite thing to do?
What is Mom's favorite store to go shopping at?
What is Mom's favorite outfit?
How many pairs of shoes does Mom have?
What was Mom wearing yesterday?
Which famous person would Mom like to meet most?
What is Mom's favorite animal?
What is Mom's dream vacation?
What is Mom's favorite song?
What is Mom's favorite TV show?
What is Mom's favorite book?
What is Mom's favorite form of exercise?
Which sport does/did Mom play?
What is Mom really good at?
What phrase does Mom say the most?
What does Mom love most about me?
What's an activity you and Mom love to do together?
What is the nicest thing Mom said to you?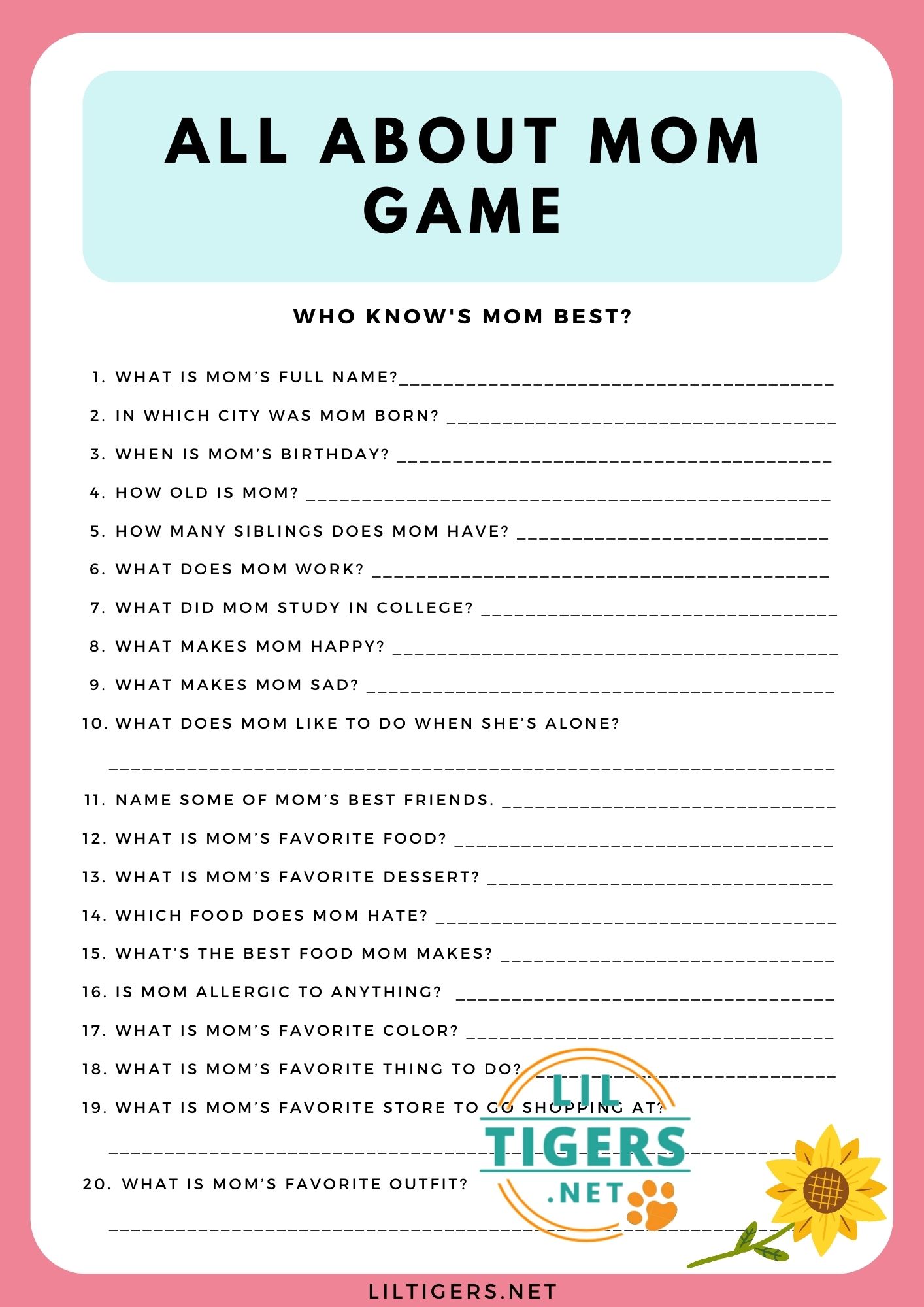 How to Download Your All About Mom Quiz Game
Simply sign up here for our newsletter and you will receive the link to our free Mom Game Template pdf.
Already a subscriber? Don't worry, no need to subscribe twice.
I just updated our free printable library. You can find our game for mom there or check our latest newsletter for more information.
If you have any questions, please do not hesitate to reach out to me. I m happy to help!
Pin These Free Printable How Well Do You Know Mom Questions
Now don't forget to save our all about mom quiz questions on Pinterest for later! Be sure you are following along with Lil Tigers here.
Now it is your turn.
How did you enjoy your trivia questions for mom?
Either way, let me know by leaving a comment below right now.
I love to hear from you!