Our Free Printable Mother's Day Scavenger Hunts are so much fun!
They come with pictures or written words and can also be played on mom's birthday.
Let's check out our free mom scavenger hunt printables below.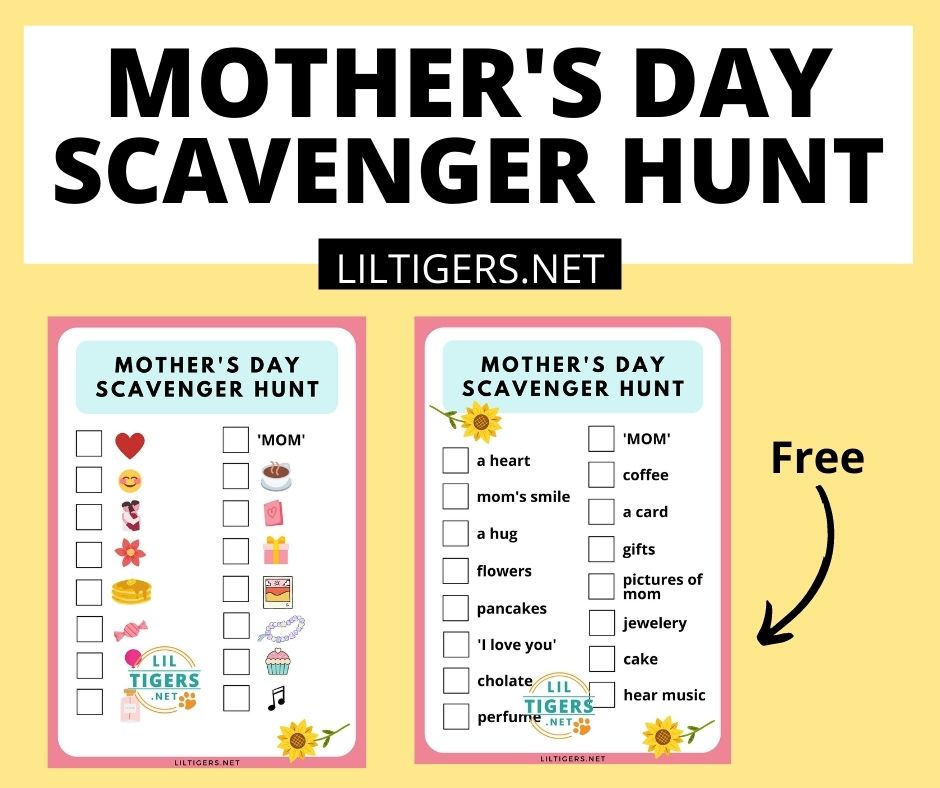 There are affiliate links in this post, meaning, at no additional cost to you, I will be compensated if you click through and take action. As an Amazon Associate, I earn from qualifying purchases.
Scavenger Hunt for Mom
Mothers do everything for their children all year round. So why not celebrate mommy on her special day with a fun family afternoon full of games and laughter?
Our mommy scavenger hunts are perfect for this occasion.
I made one template with pictures for smaller children to play with and the other mom hunts with written words for older children and grown-ups.
Both include the same items so you can mix them up and give every age group the matching scavenger hunt template.
This way the whole family can play together, nobody is excluded and no one is bored while playing.
Our scavenger hunt ideas for moms are really great, you can use them for Mother's Day or even as a birthday scavenger hunt.
I also made a plain template for you to fill with your own Mother's Day scavenger hunt clues, riddles, rhymes, and questions.
Take a look below.
Did you enjoy our mom's scavenger hunt ideas?
Then take a look at one of our other fun mom activities. Try our Mom Bingo, All About Mom Game, print out this cute Mom Award, make mommy an adorable card out of our fun Teapot Templates, or write her one of our cute Mommy Poems next.
If that's not enough for you yet, here is our full list of fun Mother's Day Games to play.
How Do You Do a Mother's Day Scavenger Hunt
But before we get started let's clarify a couple of questions first. You might wonder what even a scavenger hunt is and how to play it.
Let me explain it to you.
What Is a Scavenger Hunt?
A scavenger hunt is a game played with several players. Typically the participants have to collect a number of miscellaneous objects or at least find them.
Mom Hunt Materials
Free Printable Mother's Day Scavenger Hunt PDF (found below)
pencils or do-a-dot markers
Scavenger Hunt Rules
Our Mother's Day scavenger hunt works like any other scavenger hunt.
Print out your free printable scavenger hunt Mother's Day template below.
Hand out every participant one of our scavenger hunt printables and a pencil. Small children should receive the one with pictures and the older players the one with the written words.
Set a timer to an agreed time.
Now everyone has to go through your house and search for the listed items.
Once the player found the item, mark it off the list.
The participant who found all items first wins.
If you want to make it more interesting, prepare a small gift for the winner. It will motivate everyone to play along!
Benefits of Scavenger Hunts
Did you know scavenger hunts have many benefits for the young and old? They actually do. Here is a list of the benefits of scavenger hunts for you:
Problem-Solving Skills
Easy to Customize
Exercise both body and mind
Enforce Teamwork
Not only help scavenger hunts your children to build problem-solving skills, but they are also easily adjustable for parents to make them more interesting.
Do your children like dinosaurs?
Create a dinosaur scavenger hunt for their next birthday.
Also, the difficulty level can be adjusted as needed. For example either play your scavenger hunt with pictures, written words, rhymes, questions, and riddles depending on your children's age.
Also, does a scavenger hunt train your body and mind?
Your mind is challenged by finding the listed items and searching for a strategy to do so. Your problem-solving skills are in good use here.
On the other side to find your objects you will have to move around and it is good exercise for your body.
Group scavenger hunts also help to teach teamwork.
They are a great activity for school or birthday parties with a larger number of players.
Build a team and try to solve the problem together. Your social skills are in need during this fun team-building exercise.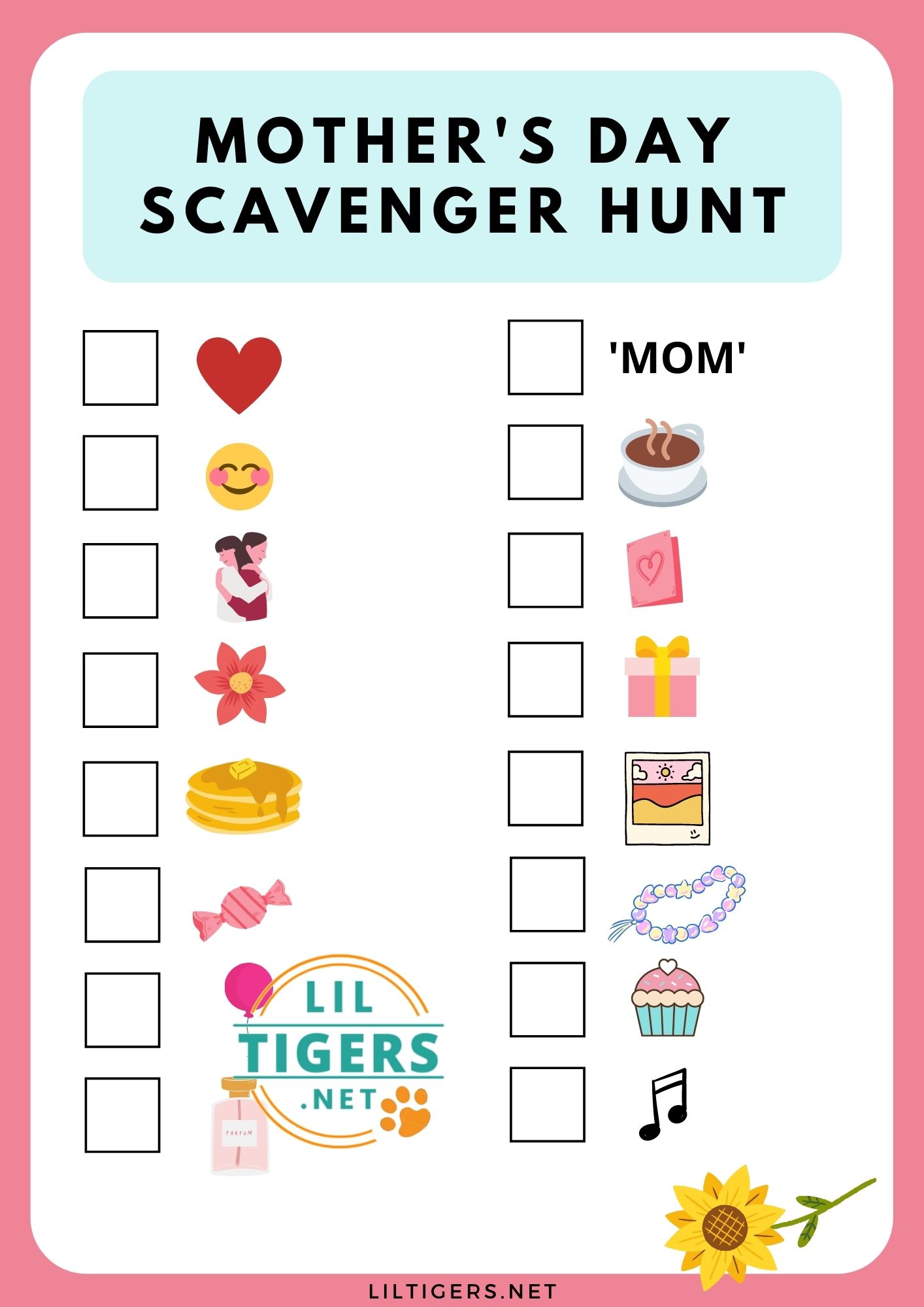 How to Download Your Free Mother's Day Scavenger Hunt Printables
Simply sign up here for our newsletter and you will receive the link to our free Mother's Day scavenger hunt templates pdf.
Already a subscriber? Don't worry, no need to subscribe twice.
I just updated our free printable library. You can find our scavenger hunt ideas for Mother's Day there or check our latest newsletter for more information.
If you have any questions, please do not hesitate to reach out to me. I m happy to help!
Easy Mother's Day Activities
In case you like to try another activity with mom after our Mother's Day Scavenger Hunt Game.
Mother's Day Gift Ideas
And just in case you are still in need of a Mother's Day gift, go check out these sweet ideas.
Pin These Free Printable Mother's Day Scavenger Hunt
Now don't forget to save our Mother's Day scavenger hunt printable on Pinterest for later! Be sure you are following along with Lil Tigers here.
Now it is your turn.
How did your kids enjoy our Mother's Day scavenger hunt ideas?
Either way, let me know by leaving a comment below right now.
I love to hear from you!