This beautiful DIY Heart String Art For Beginners is the perfect project for wood lovers.
The only materials you need are wood, nails, and rubber bands or string and you are ready to go.
It is an easy daddy and project for beginners and makes the perfect gift for a special occasion such as valentines day, mother's day, father's day, or birthday.
Let's dive right in and see how this stunning DIY faux string art is created.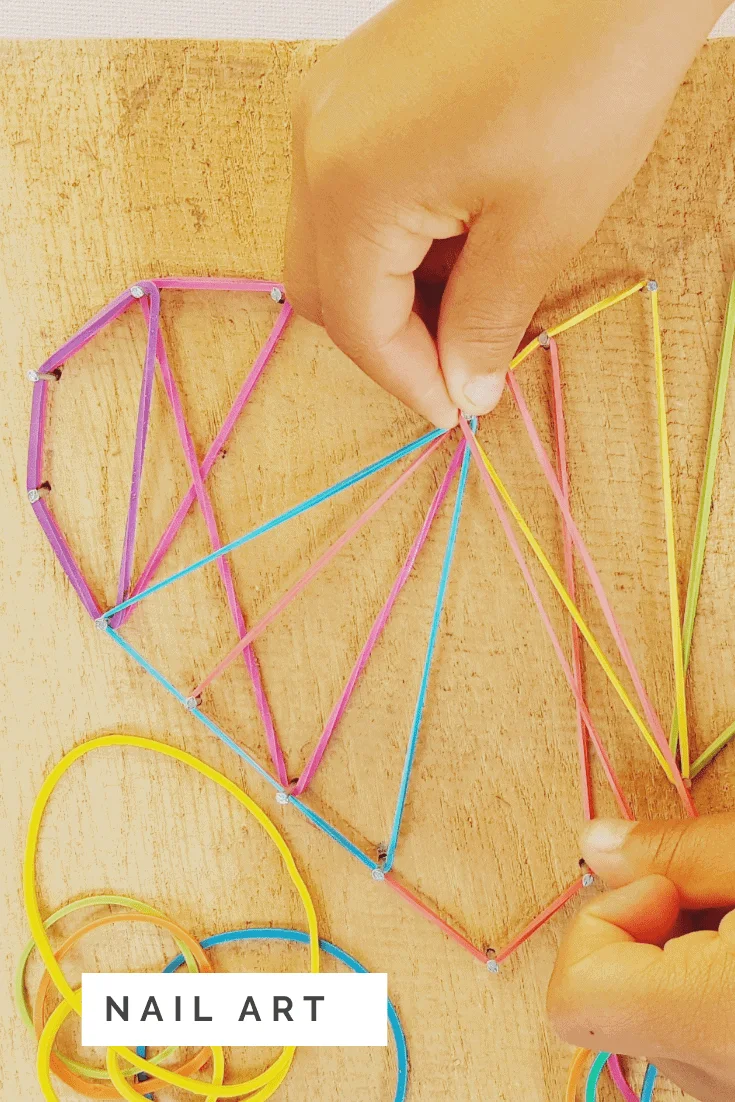 There are affiliate links in this post, meaning, at no additional cost to you, I will be compensated if you click through and take action. As an Amazon Associate, I earn from qualifying purchases.
DIY Heart String Art For Beginners
Father's day is coming up, and I was looking for a masculine gift the kids can make themselves for their father. Both my girl and boy had a lot of fun!
Let's find out what we will need for our DIY string art project followed by the step-by-step instruction for this fun nail wood art activity:
What is Needed for String Art?
Nail String Art Materials
What Kind of Wood Do I Need for String Art?
The wood you are using can be stained or unfinished. I used an unfinished piece of wood and simply filed off the edges of the wood.
If you have an unfinished piece of wood but like to stain it, make sure you do this first before you start with the project.
What Kind of Nails Do I Need for String Art?
I used linoleum nails for this project. They were a little bit longer since I had them already at home. But you can use any size depending on how thick your string is and how often you like to wrap it around the nail.
How many nails do I need?
That depends on your size and pattern. One pack was more than enough for my project.
Can I Do String Art without Nails?
Yes, you can!
Are you worried your kids are too little to work with nails? Then simply alternate this string art craft and work with cardboard instead of wood.
Make little holes into the cardboard for your children. That way they do not need to work with nails and might get hurt.
What Kind of Thread Do I Need for String Art?
I used colorful rubber bands for my DIY heart string project but the thread looks pretty as well. Depending on the look you are trying to archive I would recommend sewing thread, embroidery floss, or thin yarn.
Be creative and choose different colors or match them with your home decor.
Are you interested in more kid's activities and arts & crafts?
Subscribe to our newsletter now and never miss an update!
Click here
How to Make String Art
Wood Nail Art Instructions
Simply follow this easy step-by-step string art tutorial and you will be able to create the most beautiful faux string art.
Let's see how to a Start String Art Project:
Step 1: Preparation
Start with picking a design and choose your wood, nails, and thread accordingly.
Step 2: Treat Wood (optional)
If needed stain your wood or take sharp edges off.
Step 3: Draw Your Design
Afterward, take a pencil and draw your preferred shape on the wood. We made a heart for father's day.
Are you still looking for other nice DIY gifts? Then try this cool Father's Day Crafts or Interview for Grandpa. They might also enjoy this adorable Silhouette Keepsake.
Step 4: Nail It
After you have outlined your design take the nails and hammer them into the wood. Keep them within the approximately 1-inch distance as shown in the picture.
Make sure not to nail it too far within the wood to make sure the nails do not go through it. Make sure you still have about half an inch of the nail showing to be able to attach the string or rubber bands.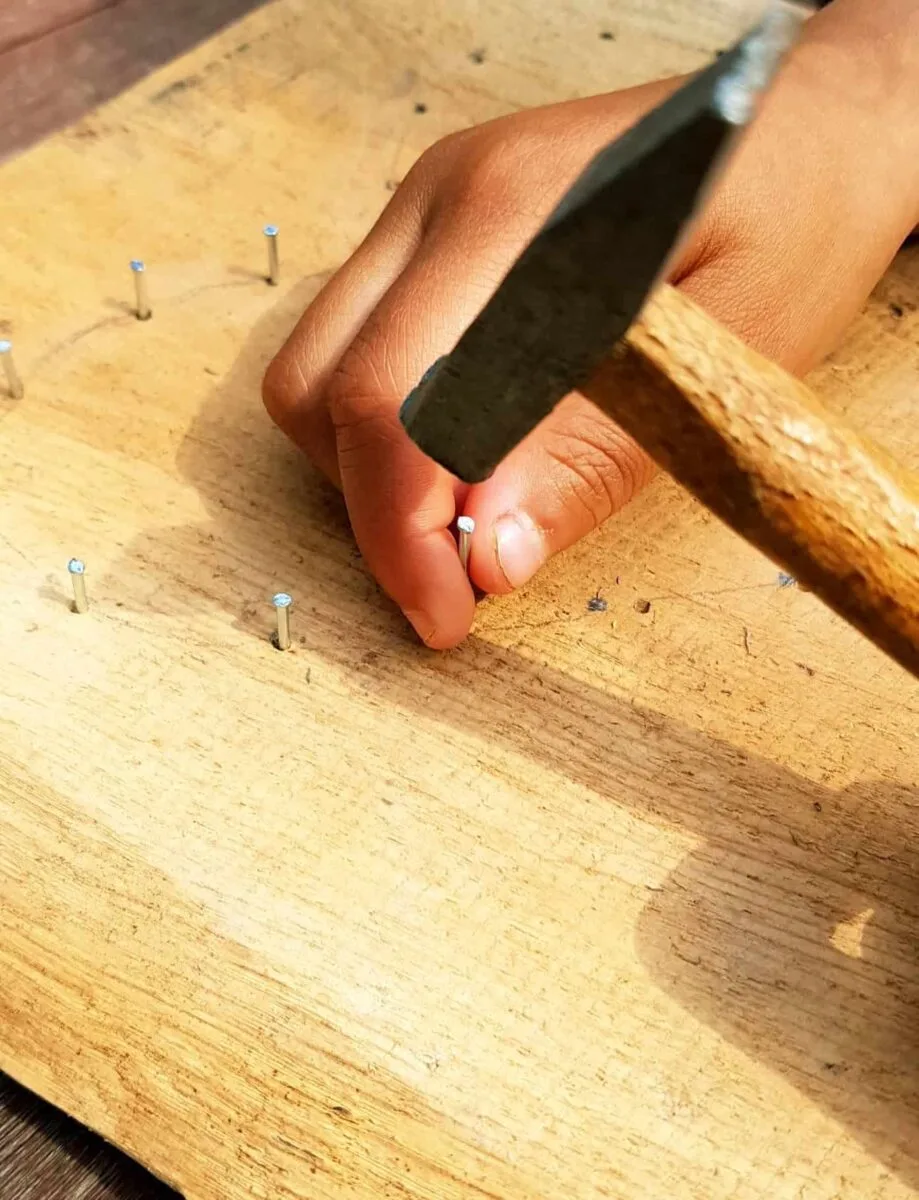 Step 5: Add Rubber Band or Thread
Then take your rubber bands and attach them to the nails to make a design.
If you are using thread start by tying a knot around one nail, then move the string around the nails as desired. End by making another knot around your last nail.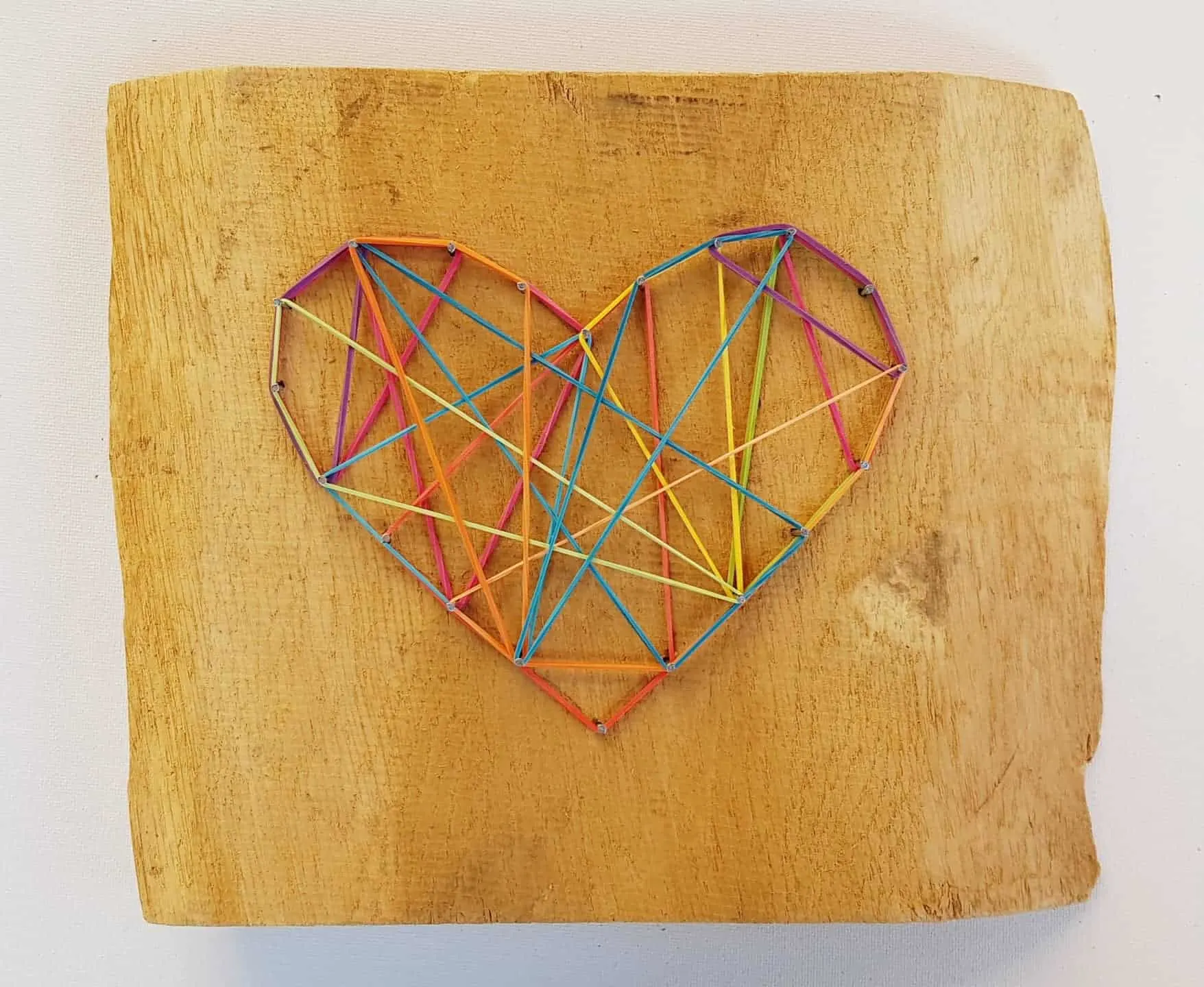 Wood String Art Tips
Please supervise smaller children when hammering the nails into the wood so they don't have an accident.
If you do not feel like preparing everything for this project but you like the idea simply buy one of these fun string art kits for your children. Take a look here!

This is such a neat activity! Watch this video to see our yarn nail art in action!
Pin This Heart-Shaped String Art for Kids
Don't forget to save this easy string art project on Pinterest for later! Be sure you are following along with Lil Tigers here.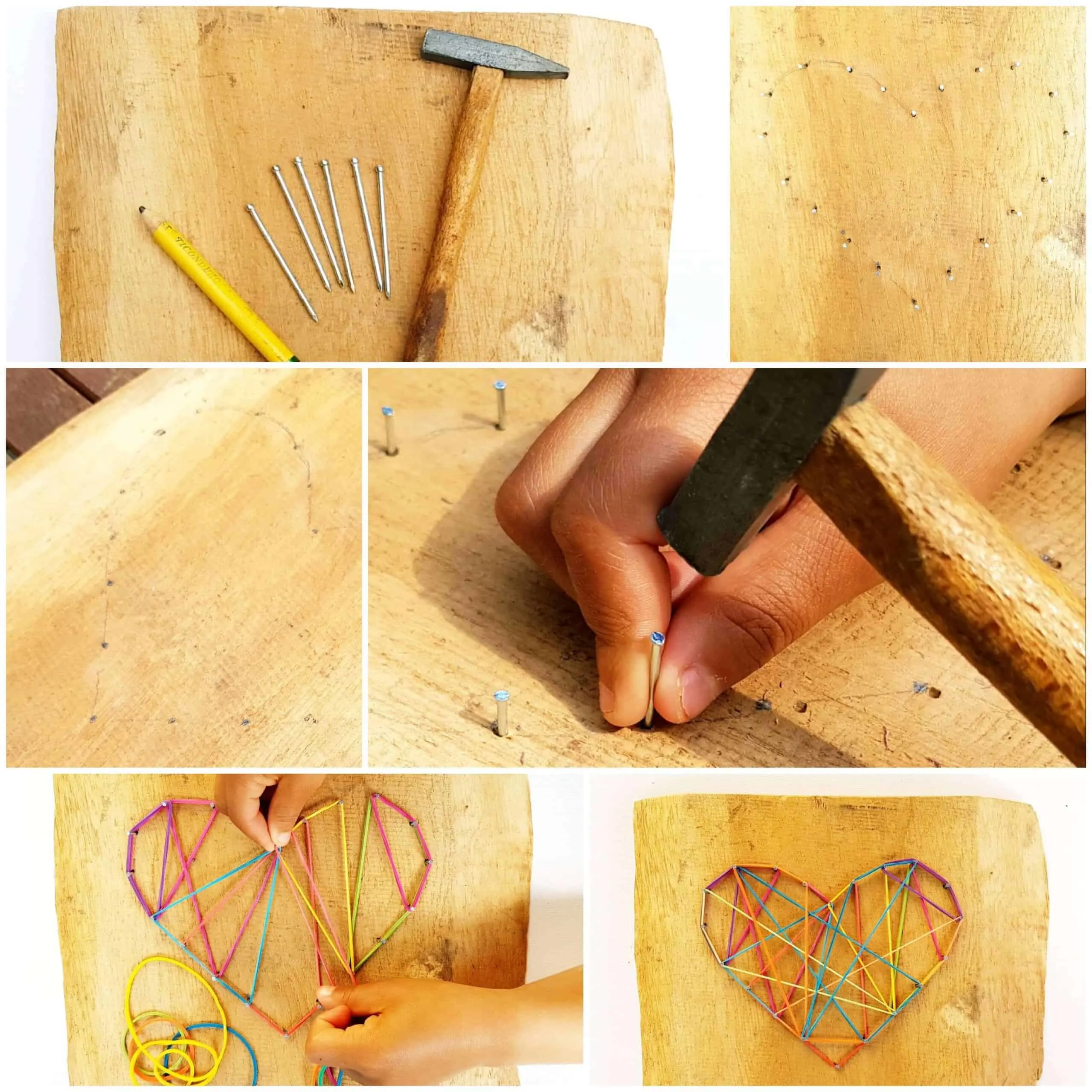 Now I would like to hear from you!
How did you enjoy this fun faux string art?
Either way, let me know by leaving a comment below right now.
I love to hear from you!
Follow us on Instagram, Pinterest, Tik Tok, and join our Facebook group "Free Kids Activities Arts & Crafts" for more fun DIY Kid's Activities, Arts & Crafts, and Science Experiments.