Nothing says more "I love you" than a homemade Father's Day card for grandpa from grandkids. This funny Father's Day card makes the perfect gift for grandpa's. Read more here!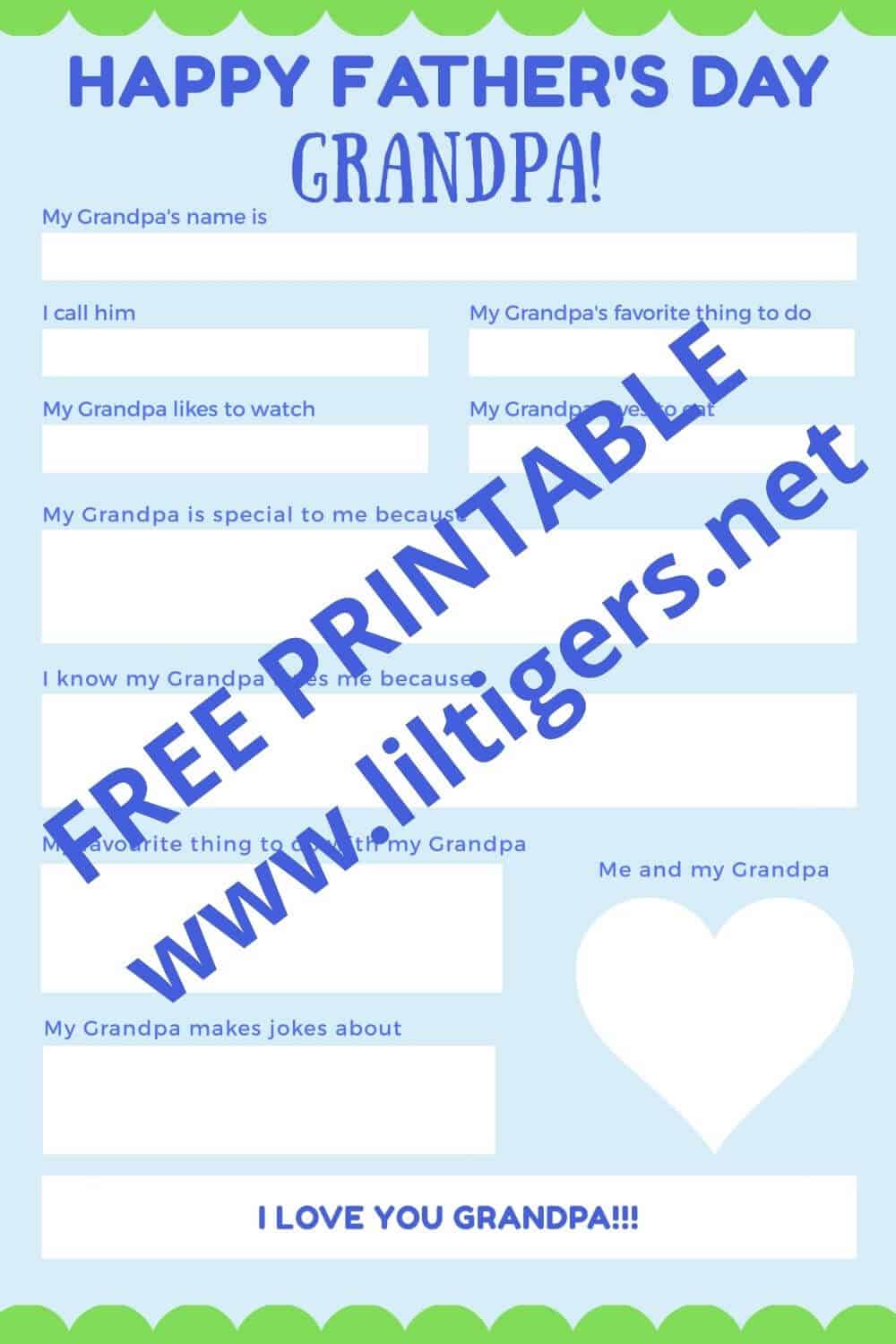 There are affiliate links in this post, meaning, at no additional cost to you, I will be compensated if you click through and take action. As an Amazon Associate, I earn from qualifying purchases.
Homemade Father's Day Card for Grandpa
Typically male figures try to be tough on the outside, but we all know they are just as soft as we are on the inside. That's why even grandfathers will meld over this handmade Father's Day card from their grandchildren!
They will love the effort your children put in their handwriting and laugh about their honest thoughts. I promise both grandpas will love their cards and keep them as a memory!
Let's check it out!
How Does Our Father's Day Printable Cards for Grandpa Work
Here is a short instruction on how to use our free printable grandpa Father's day card. But first let's have a look at what we will need for our Father's day card for grandpa:
Materials
Free Printable Father's Day Card for Grandpa PDF (found below)
Pencil
Picture of you and grandpa
Gluestick
Decorating supplies (optionals)
Step 1: Print your Fathers Day Card for Grandpa
After you signed up for our free newsletter below, you will recive instantly our free printable Father's day card for grandpa Pdf. Go ahead and print it.
Step 2: Fill out your Father's Day Interview Questions about Grandad
After printing your card let your children fill out their DIY card for grandpa or help them with it if necessary.
Step 3: Add Picture
Do not forget to get a picture of the children with their grandad and let the children glue it into the heart. If you do not have one, let them draw a picture of grandpa.
Step 4: Decorate (optional)
Of course, you can decorate your card afterward nicely. Use glitter, stickers, more pictures, or draw with crayons or markers on your printable Father's day cards for grandpa.
It is totally up to you. You even can frame it nicely and wrap it, if you feel like it!
Tip
Try this grandad Father's Day questionnaire printable in a classroom setting. They are the perfect grandpa Father's Day questions for preschoolers. You will get cutest answers about their beloved grandfather.
If a simple Father's Day is not enough for you, try this nail art project with your kids. It is a perfect Daddy and me project. Their grandfather will love it.
Why not add a poem about grandpa to your card or help your children memorize them? I peresonally like this one:
Grandpa, you're the very best;
You're a lot of fun.
When I need someone to care,
Grandpa, you're the one.
You're always in a really good mood.
I'm happy when you're with me;
I love you, and I always will,
You're the best grandpa that could be!
Happy Father's Day, Grandpa!
Joanna Fuchs
Still, looking for an adorable Father's Day card? Try this funny Father's Day questionnaire for your kids and add a Father's Day Quote to your printable. Or try one of those great Father's Day Crafts next.
Father's Day Gifts for Grandpa
If you like to add a little gift to your Father's day printable cards for grandpa, go check out these cool gift ideas for grandpa:
Grandfather Shirt
Father's Day Grandpa Hammer
Grandad Cup
Glass for Grandpa
How to Get Your Free Father's Day Printable Card for Grandpa
Simply sign up here for our newsletter and you will receive the link to our free printable Father's Day card pdf.
Already a subscriber? Don't worry, no need to subscribe twice.
I just updated our free printable library. You can find our adorable printable Father's day cards for grandpa there or check our newest newsletter for more information.
If you have any questions, please do not hesitate to reach out to me. I'm happy to help!
Pin this Adorable Grandpa Father's Day Card Printable
Don't forget to save this Father's day questionnaire for grandpa on Pinterest for later! Be sure you are following along with Lil Tigers here.
Now I would like to hear from you!
How did you like his homemade Father's Day card for grandpa?
Either way, let me know by leaving a comment below right now.
I love to hear from you!