Dad's are special so why not make them a special gift with this free printable Father's Day Questionnaire for Kids?
They will love this adorable homemade Father's Day card from their kids.
Let's dive right in.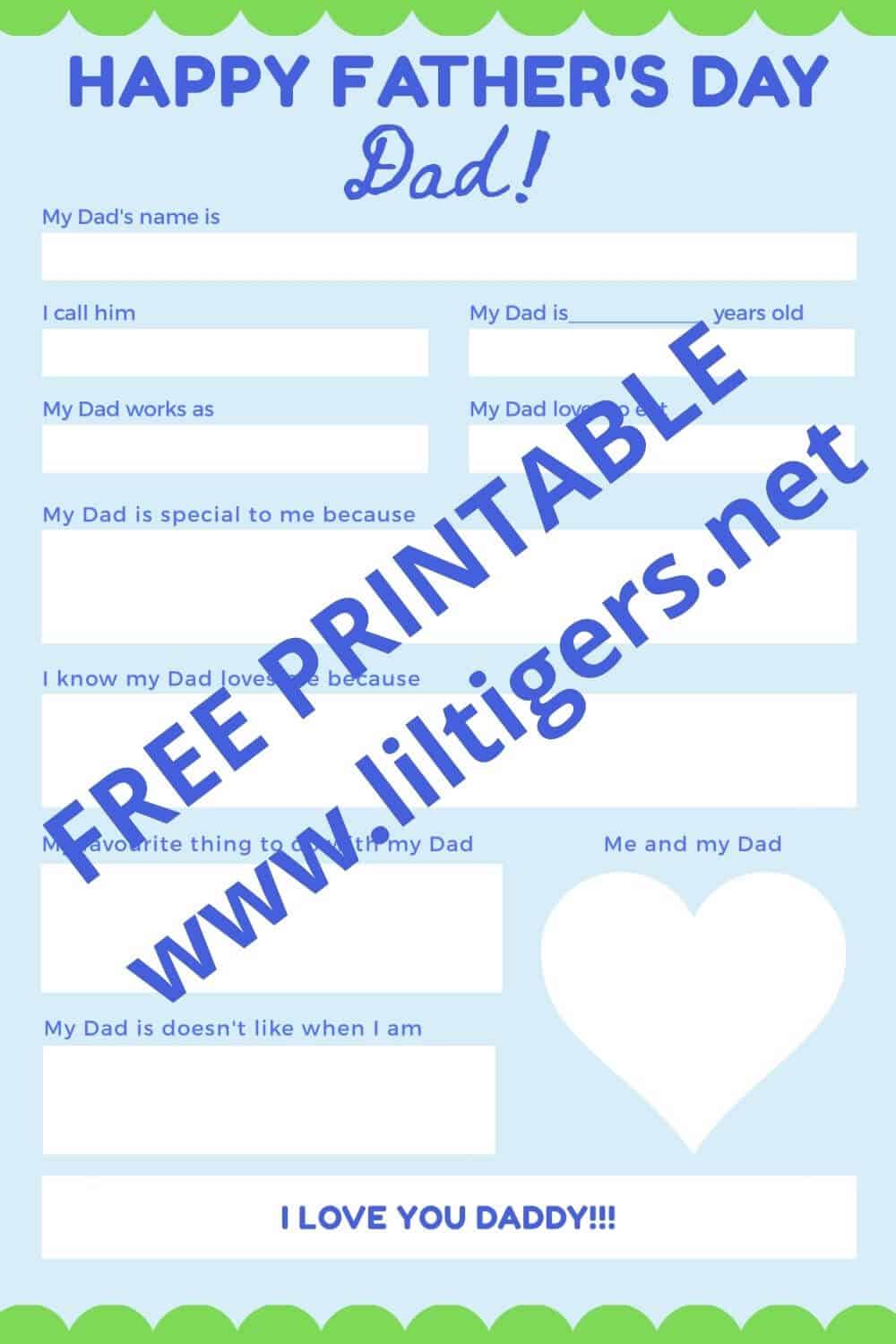 There are affiliate links in this post, meaning, at no additional cost to you, I will be compensated if you click through and take action. As an Amazon Associate, I earn from qualifying purchases.
Free Printable Father's Day Questionnaire for Kids
Dad is a superhero in my children's eyes. I have to repeat myself 10 times but daddy has to say it only once.
If we would be police officers, mommy definitely would be the bad cop in the house while dad is the good one. Oh well, such is life but never the less we all love daddy.
For all his hard work he deserves a special gift for Father's Day. So why not print this funny Father's Day questionnaire for kids?
It has adorable Father's Day interview questions and he will love the effort the children put in. Especially their adorable handwriting and honest thoughts he will appreciate!
Still, looking for a Father's Day card for grandpa? Then get this Father's Day Interview for Grandpa from his grandchildren.
You also might like the following 20 Best Father's Day Crafts or add a Father's Day Quote to your printable.
How Does Our Father Day Kid Questionnaire Work
Here is a short instruction on how to use our Father's day kid questionnaire. But let's have a look at what we will need for our printable Father's day card first:
Materials
Free Printable Father's Day Questionnaire PDF
Pencil
Gluestick
Picture of you and dad
Stickers, glitter, markers, etc. (optional)
Step 1: Print your Fathers Day Questionnaire PDF
Get our free Father's Day printable questions pdf below and print it out.
Step 2: Fill out your Father's Day Interview
After printing your card let your children fill out their Father's Day questions about dad or help them with it if necessary.
Step 3: Add Picture
Do not forget to print a picture of the children with their dad and let the kids glue it into the heart. If you do not have one, let them paint one.
Step 4: Decorate (optional)
Of course, you can decorate your Father's day kid questionnaire afterward nicely. Use stickers, glitter, more pictures, or draw.
It is totally up to you. You even can frame it nicely for dad if you feel like it!
Tip
Try this Father's Day questionnaire printable in a classroom setting. They are the perfect Father's Day interview questions for preschoolers. You will get the most adorable answers about their superhero DAD.
Father's Day Gift Ideas
If you like to add a little gift to your Father's day questionnaire, go check out these cool gift ideas for Father's day:
How to Get Your Free Father's Day Questionnaire Pdf
Simply sign up here for our newsletter and you will receive the link to our free printable Father's Day questionnaire pdf.
Already a subscriber? Don't worry, no need to subscribe twice.
I just updated our free printable library. You can find our adorable printable Father's day kids questionnaire there or check our newest newsletter for more information.
If you have any questions, please do not hesitate to reach out to me. I'm happy to help!
Pin this Adorable Father's Day Questionnaire for Kids
Don't forget to save this Father's day activity on Pinterest for later! Be sure you are following along with Lil Tigers here.
Now I would like to hear from you!
How did daddy like his homemade printable Father's Day card with his Father's Day questionnaire?
Did he enjoy reading his Father's Day interview questions?
Either way, let me know by leaving a comment below right now.
I love to hear from you!