Are you looking for an adorable free printable Mother's Day card to make with kids?
You are at the right place. Our Mother's Day card makes the perfect gift for moms.
Take a look here!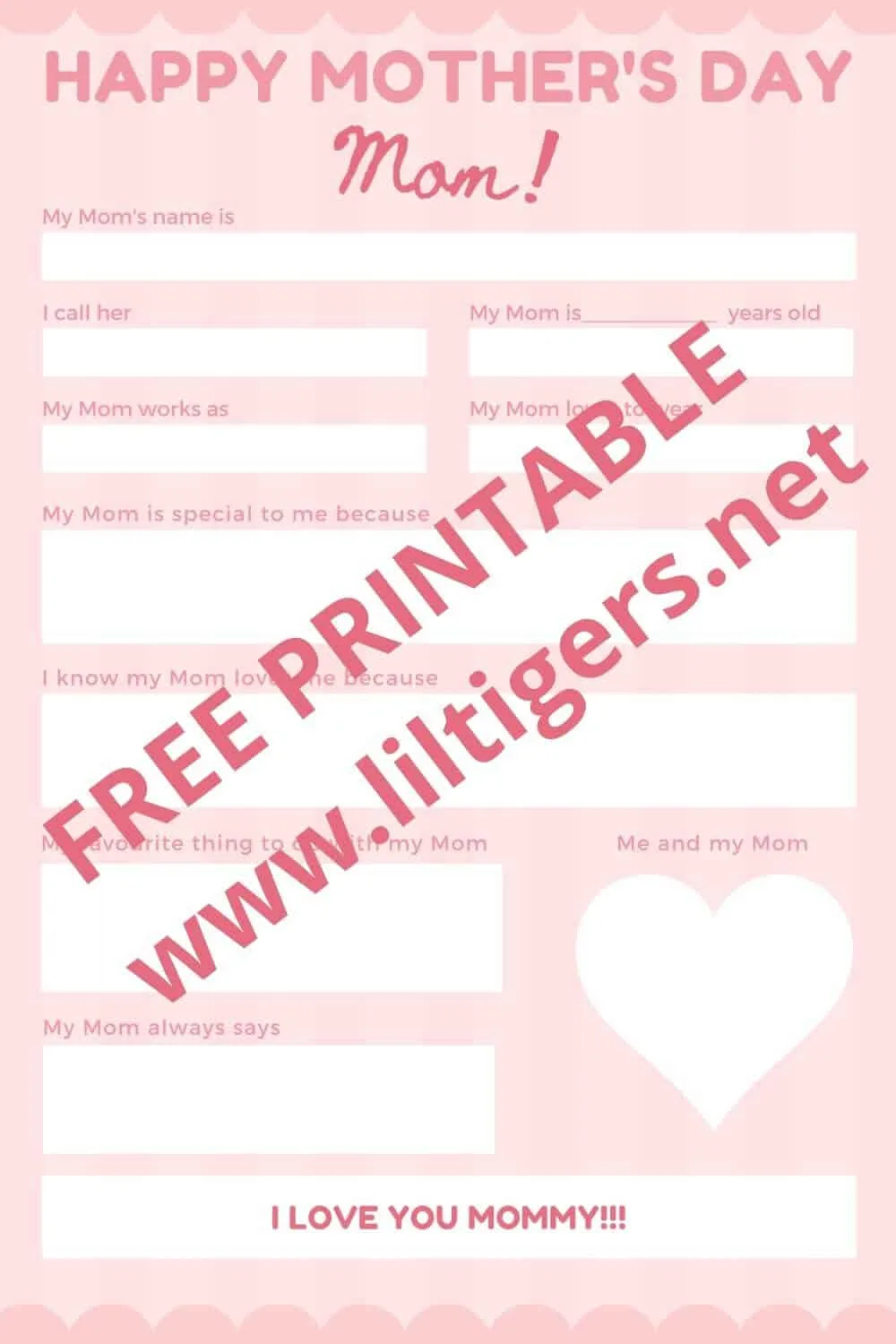 Adorable Mother's Day Questionnaire Printable
Nothing says more "I love you" than a handmade Mother's Day card. Our free printable Mother's day questionnaire makes the perfect Mother's Day gift, and is even possible last minute!
This easy Mother's Day card is definitely an adorable keepsake and makes a great memory.
Years from now it will show your kid's handwriting and honest thoughts. This makes this DIY Mother's Day card so special and every mom will love them!
If you are tired of gifting flowers this heart Nail Art activity might be the perfect daddy and me project for Mother's Day, 15 Fun Mother's Day Craft Ideas, Happy Mother's Day Messages for Grandma, make an adorable card out of this Flower Pot Templates, or how about this Questionnaire for Grandma?
All About Mom Printable Supplies
free Printable All About Mom Worksheet (found below)
pencil
crayons or colorful markers
a picture of you and your mom
glue
stickers (optional)
How to Use Your Mommy Questionnaire
This preschool mommy questionnaire is so much fun. First, get your free questionnaire for mom and print it out. Then get a pencil, some markers, a picture of you and your mom and maybe some stickers.
Now let your children fill out all questions about mom. If they are still too little to write, please do so for them or assist if necessary.
Afterward, glue the picture of you and your mom into the heart. If you do not have a picture it is not a big deal. Simply let them draw a family picture or decorate this fun questionnaire about mom nicely.
You could also add a short Mother's day poem to your Mother's day printable. Go check out one of our many Mother's day poems from kids here.
By the way, help dad out and print this free Mother's day card template for him and the kids.
Mother's Day Facts for Kids
Use our Mother's day questions and implement them in your Mother's day curriculum. Your children may wonder why we celebrate Mother's day. Here are some Facts About Mother's Day for Kids.
Mother's day is a holiday to celebrate mothers all around the world
It was founded in 1908 in the United States of America
Not every country celebrates it on the same day. In America, it is celebrated on the second Sunday in May.
Here is a short video I like to feature about Mother's day facts for kids:

How to Get your Mother's Day Questionnaire Free Printable
Simply sign up here for our newsletter and you will receive the link to our free All About Mom printable pdf.
Already a subscriber? Don't worry, no need to subscribe twice.
I just updated our free printable library. You can find our All about Mommy printable there or check our latest newsletter for more information.
If you have any questions, please do not hesitate to reach out to me. I m happy to help!
Pin this Mother's Day Questionnaire for Preschoolers
Don't forget to save this mommy questionnaire on Pinterest for later! Be sure you are following along with Lil Tigers here.
Now I would like to hear from you!
How did mom react to her all about mom questions?
Either way, let me know by leaving a comment below right now.
I love to hear from you!