Our Free Printable Flower Pot Templates are ideal for coloring, crafting, and decorating at home and in your classroom.
They include small, medium, and a full page of flower pot outlines and make adorable spring and Mother's day crafts.
Let's dive right in and get inspired!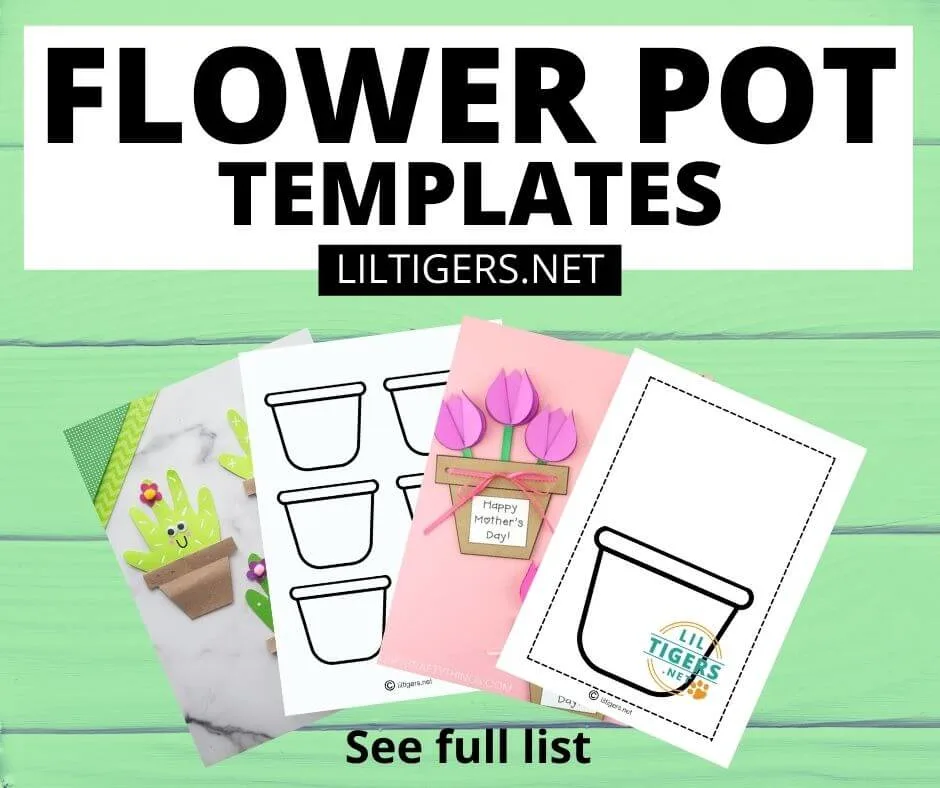 There are affiliate links in this post, meaning, at no additional cost to you, I will be compensated if you click through and take action. As an Amazon Associate, I earn from qualifying purchases.
Free Flower Pot Templates in Small, Medium, and Large
These flower pot outlines come in different sizes and are perfect for coloring, crafting, and decorating.
Especially during Spring, Summer, and Mother's day, our templates of flower pots are trendy.
They are suitable for all kinds of fun flower crafts and make a wonderful addition to activities in the classroom or your next crafting party.
At the end of this article, I will show you a couple of stunning flower pot crafts to use for our templates.
Enjoy!
Flower Pot Cut Out Materials
But before we get started with all these fun flower pot projects, let's have a look at what we will need for our craft projects.
Here is a list of supplies you will need for our printable flower pot crafts.
Do you need advice on How to Introduce Crafting to your Preschooler? Then read our 10 tips that work next.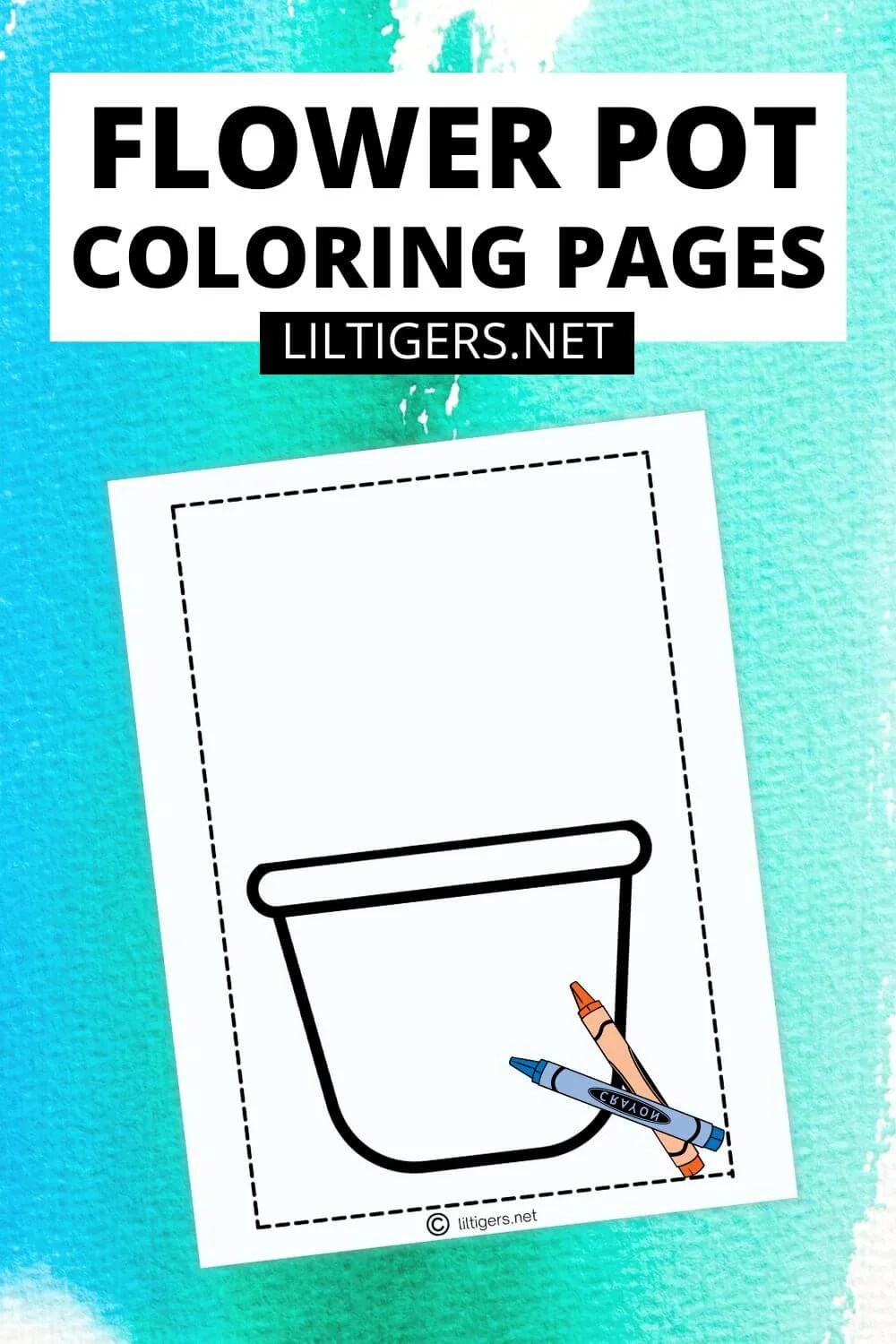 Easy Flower Pot Crafts
Here are some inspirations on how to use our free plant pot templates. Choose one of these wonderful ideas for Mother's day or the next birthday coming around and make a wonderful flower pot card out of them.
They also make adorable invites, just saying!
In the links below you can find all the materials needed for them and the instructions for these wonderful flower crafts.
Print and cut out our large flower pot printable and make origami flowers for it. They are not as difficult to make as they might look. Your preschooler or older children will enjoy crafting them!
Make adorable handprint flowers for our flower pot. This flower craft is pretty easy to make and makes an adorable keepsake for moms and grandmothers.
It is a nice sensory activity even small toddlers can participate in.
Isn't this cactus craft adorable? I really like, that they can be easily used as cards or invitations.
Smaller children might not be able to cut the handprints perfectly but with a little help from mommy, it will turn out just wonderful!
What a wonderful idea for our flower pots. Make little flowers and glue pictures of your children inside.
This is the perfect Mother's Day project for classrooms. They are just heart-warming!
Our flower pot templates are also great to make Mother's day cards out of them. Go check out our matching Mother's Day Poems from Kids for it. Enjoy!
5. Flower Pot Coloring Pages
You can even easily adjust the difficulty level for older children. Simply give them smaller pot outlines or let them use a different painting technique that challenges them.
We for example love Salt Painting. Did you try yet? It is really fun.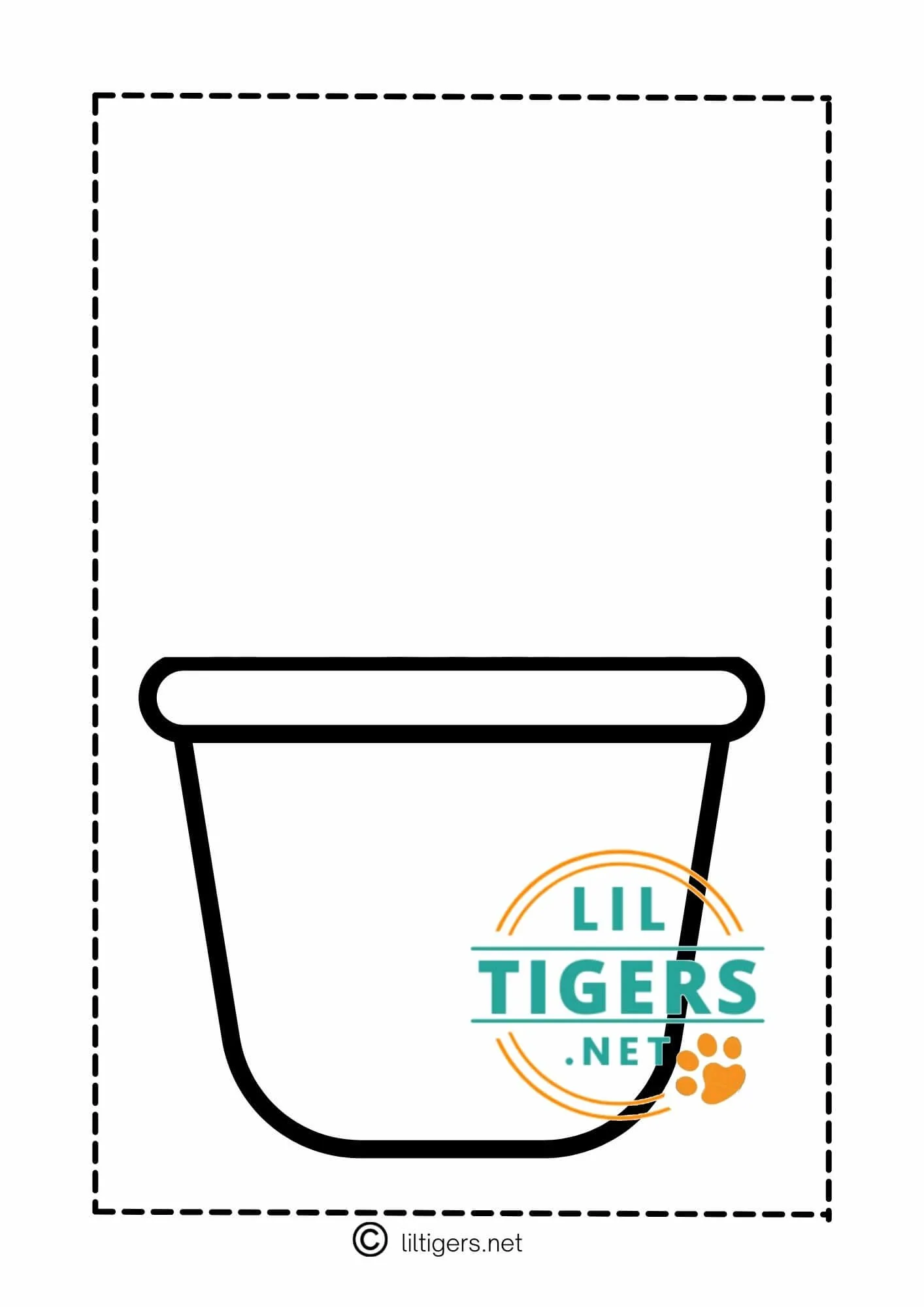 6. Flower Pot Stencils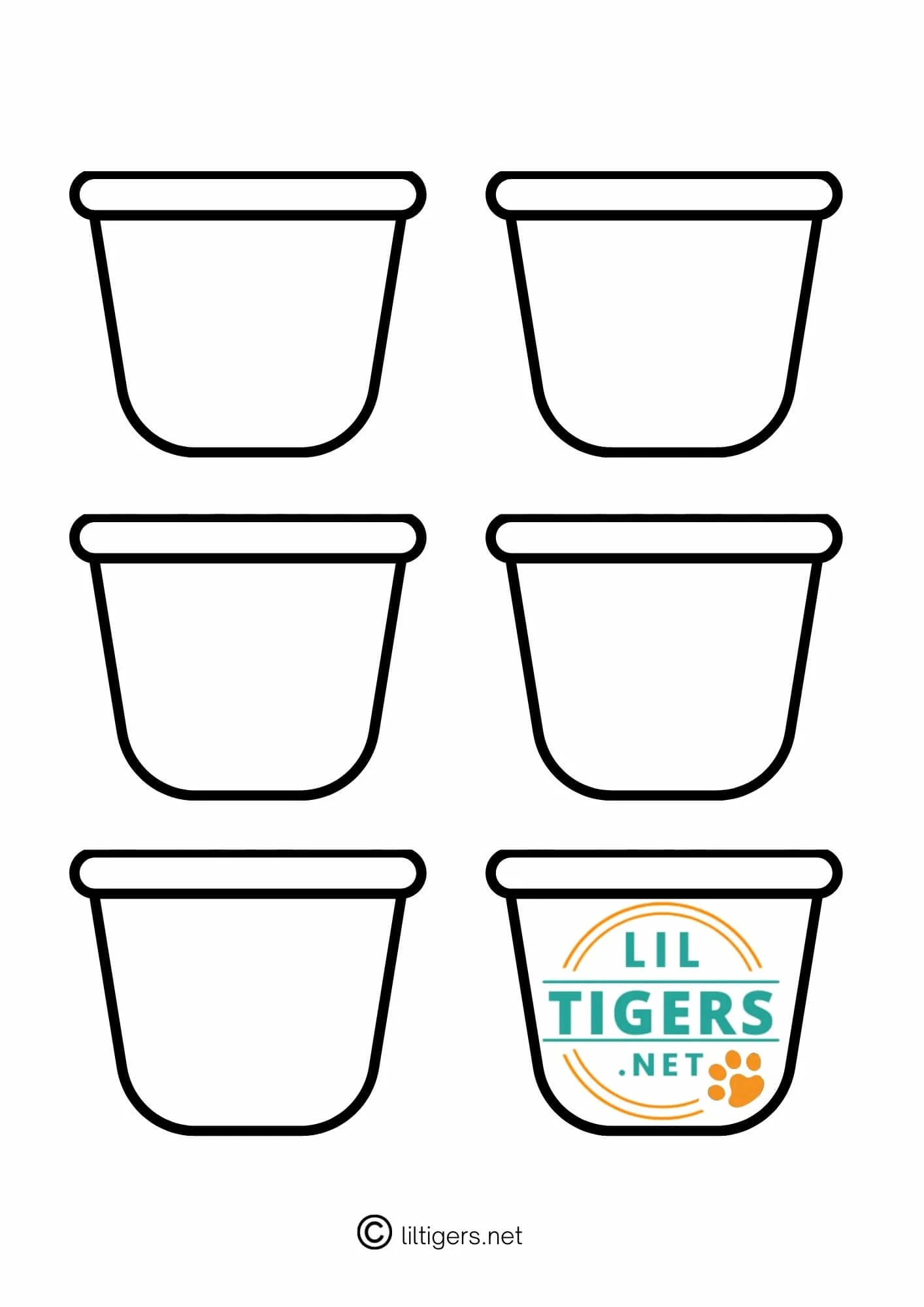 7. DIY Flower Pot Template Card
Last I like to take the chance and inspire you to turn our easy flower pot templates into a greeting cards.
You can easily use them as birthday cards, for Valentine's day, or Mother's day.
For this project, I recommend you use our medium template of flower pots and thicker card stock paper.
Flower Pot Greeting Card Quotes
To give you some more ideas for your greeting card, I like to share some matching quotes for your flower pot templates with you:
"Butterfly kisses and flower petal wishes!" – Unknown
"Let your dreams blossom!" – Unknown
"Flowers are like friends; They bring color to your world." – Unknown
"My love for you blossoms every day." – Unknown
"There are always flowers for those who want to see them" – Henri Matisse
"Learn from flowers – always angle towards the sun" – Maureen Joyce Connolly
You can see our full list of 110 Best Flower Quotes. Also, you might like to have a look at our Spring Quotes, and Mother's Day Messages as well.
Do you enjoy our flower pot cut-out templates? Then take a look at our other Sunflower Template, 24 Fun Spring Activities for Kids, check out our full Library of Printables and Worksheets, or make some Flower Bookmarks next.
Mother's Day Gifts
Do you like to round up our adorable craft with a gift for mom? Do not worry, we got you.
Females are super proud to be a mom. Therefore you never go wrong with a gift that wakens the inner mama bear in them!
Here are some adorable gift ideas to show how much mommy is loved in the house:
Flower Books for Kids
Eric Carle's classic story of the life cycle of a flower is told through the adventures of a tiny seed.
How to Download Your Free Flower Pot Printables
Simply sign up here for our newsletter and you will receive the link to our free flower pot template pdf.
Already a subscriber? Don't worry, no need to subscribe twice.
I just updated our free printable library. You can find our flower pot outline printables and coloring pages there or check our newest newsletter for more information.
If you have any questions, please do not hesitate to reach out to me. I m happy to help!
Pin These Fun Flower Pot Templates
Don't forget to save our printable flower pots on Pinterest for later! Be sure you are following along with Lil Tigers here.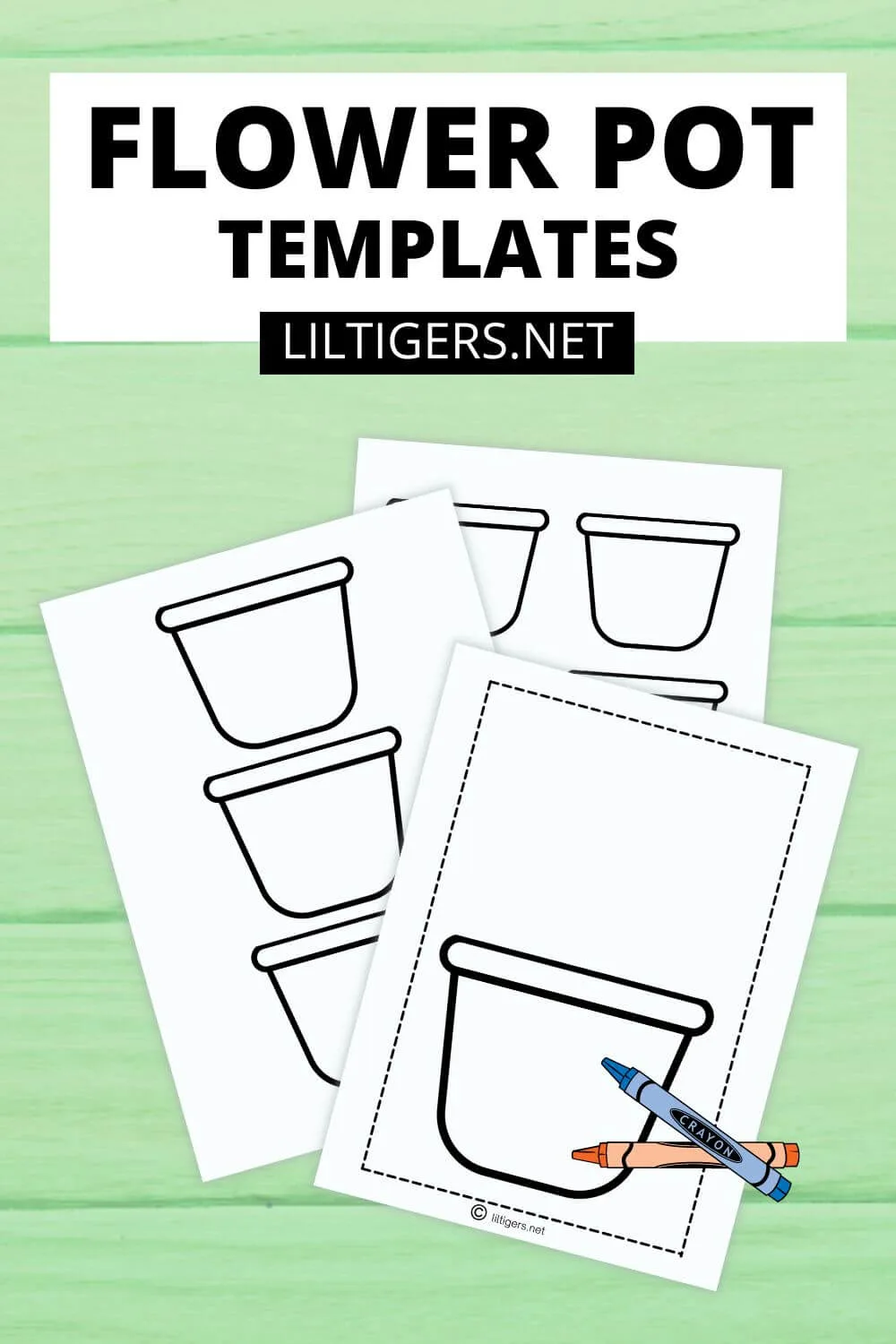 Now it is your turn.
How did your kids enjoy their flower pot templates?
Either way, let me know by leaving a comment below right now.
I love to hear from you!