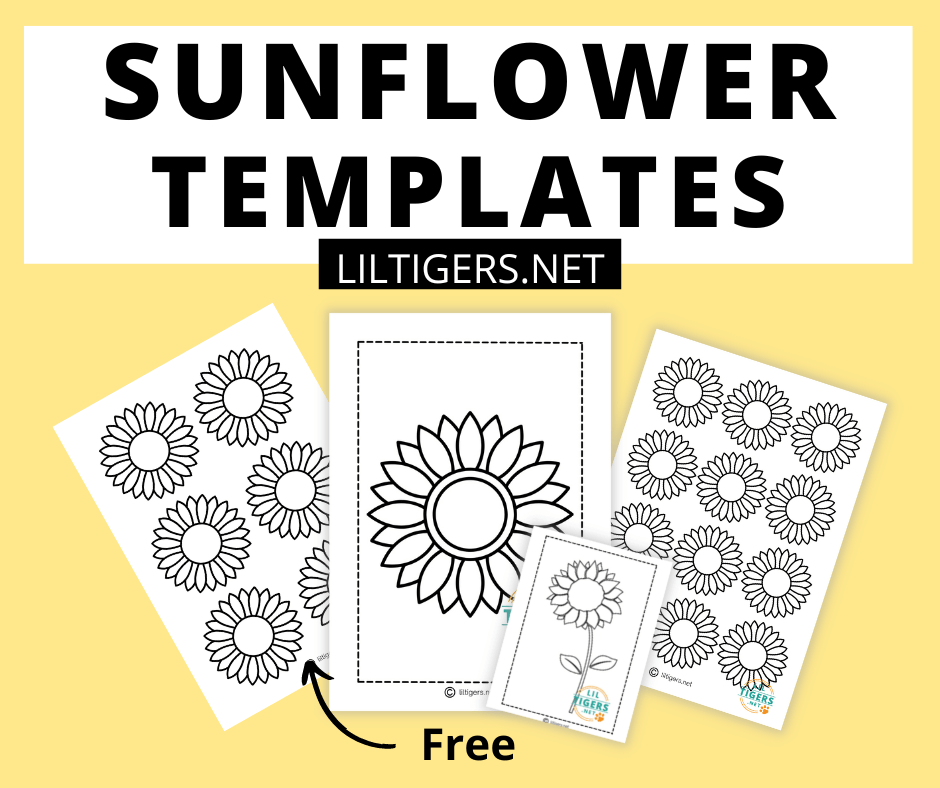 6 Sunflower Facts
Each sunflower is actually thousands of teeny flowers.

Sunflowers are native to North America.

There are about 70 different species of sunflowers.
Each sunflower can contain between 1,000 and 2,000 seeds.
The tallest sunflower on record was over 30 feet.
Sunflowers track the sun.
We always love to integrate some fun facts into our arts and crafts lessons. It gives your children the opportunity to learn while crafting in a care- and stress-free environment.
In the link below you can read and learn everything about sunflowers.
How tall can they get, what shows that sunflowers track the sun, where they grow, and much other information?
You can find these and other interesting facts about sunflowers here.
Sunflower Books for Kids
Free Sunflower Template Printables
Sunflower Cut Out Materials
9 Easy Sunflower Template Ideas
Learn About Sunflowers
S Is for Sunflowers
Counting Sunflowers

Sunflower Coloring Pages

Sunflower Stencils

DIY Sunflower Invitation

Art Journal Decor

Sunflower Garland

Sunflower Decoration
Simple Sunflower Template Outline
1. Learn About Sunflowers
Maybe even plant some sunflowers!
2. S is for Sunflower
Add our easy sunflower templates to your preschool alphabet lesson plan. Use them while learning the letter S.
First, print out some upper and lowercase letter S worksheets.
Then let your students trace them and make a cute sunflower craft for the S sound.
Tip: It is important to make sure to study each letter individually so your students can form memories for each letter and memorize them easier.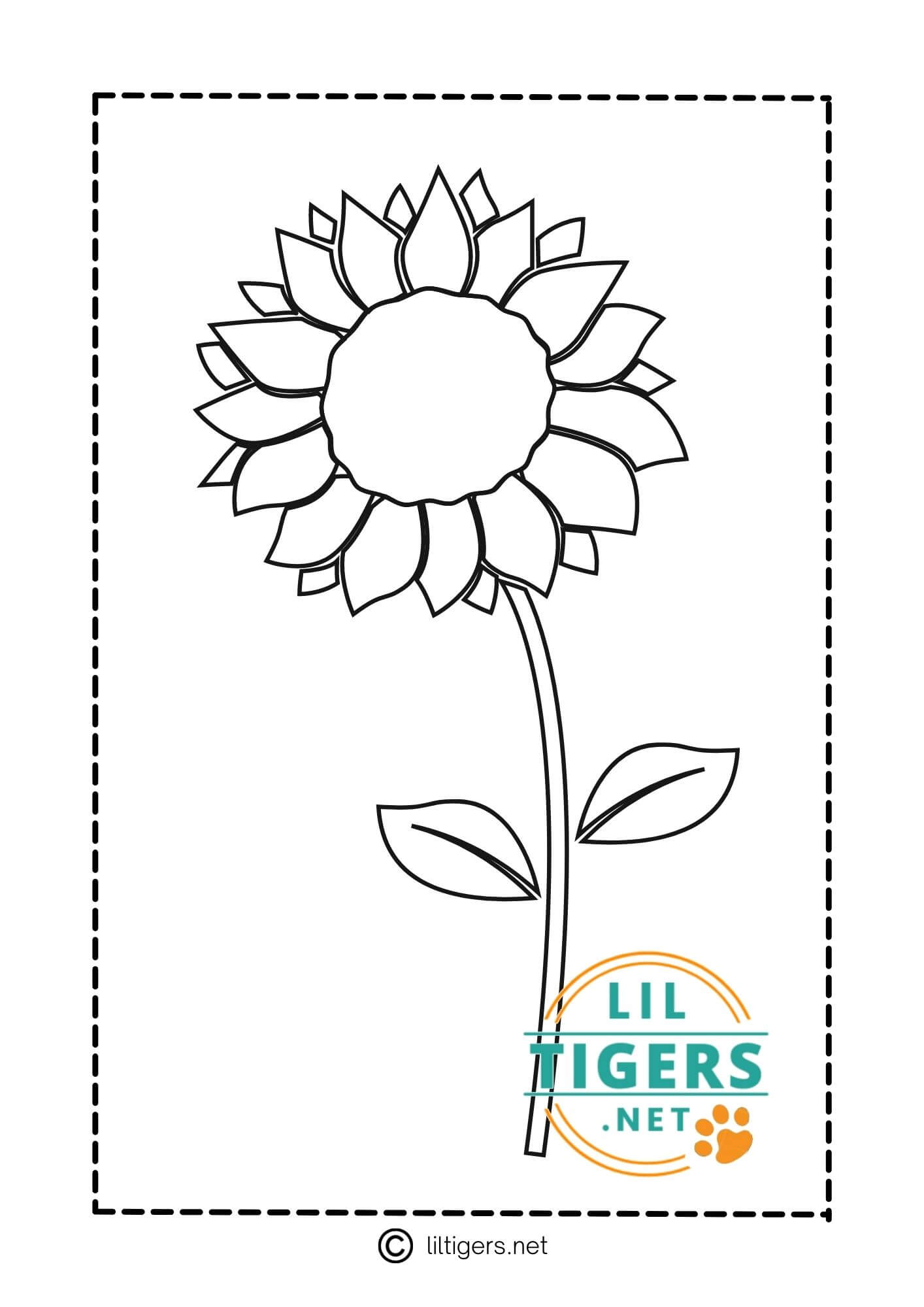 3. Counting Sunflowers
Use our smallest sunflower outlines for this project. Decorate and cut them together first.
Then use them together with number flashcards and let your children count the right amount of sunflowers matching your cards.
What do you think, It super fun right?
4. Sunflower Coloring Pages
You can adjust the difficulty level by using the larger picture of sunflowers for younger children and the smaller sunflower printables for older children.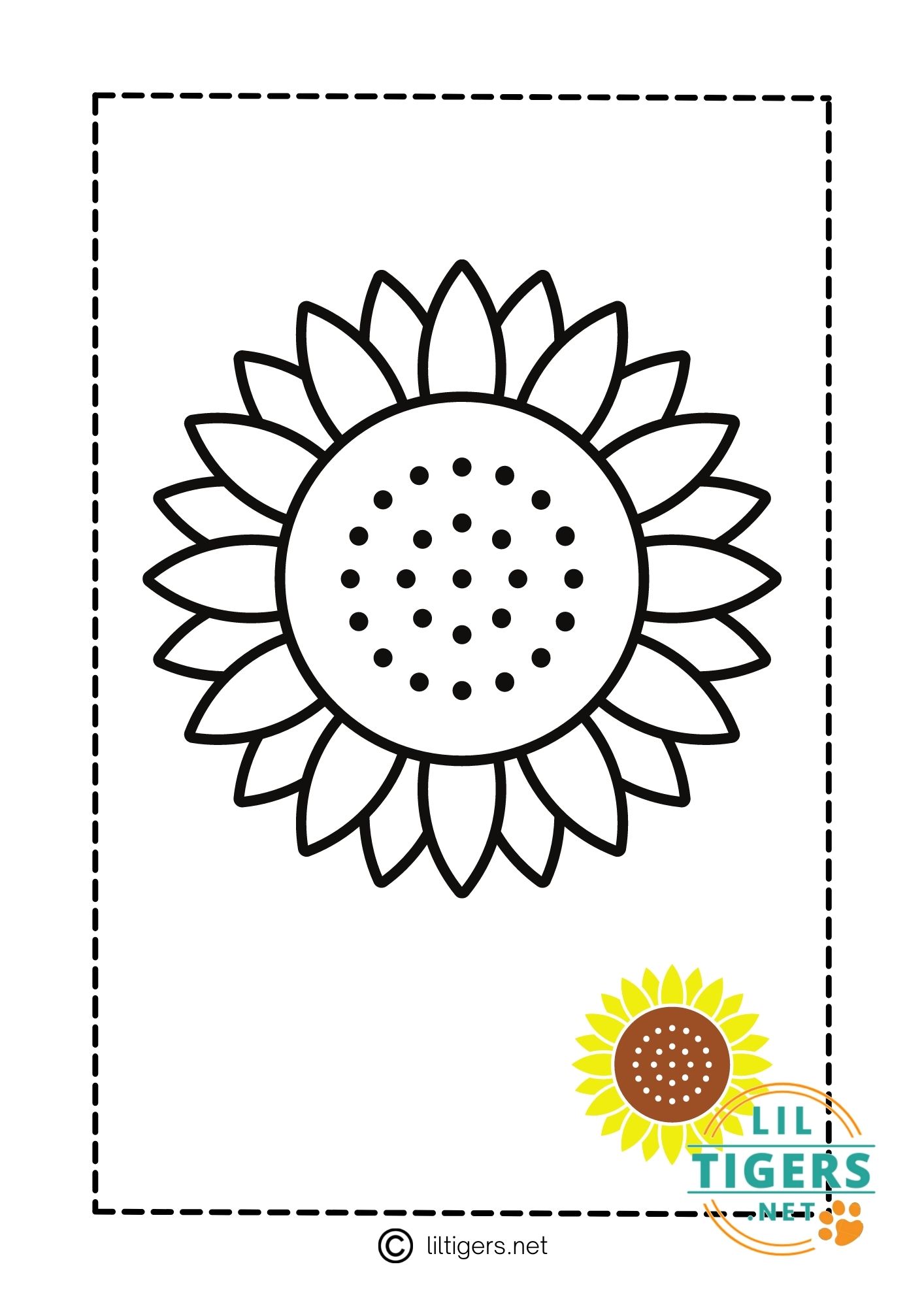 5. Sunflower Stencils
You should give it a try!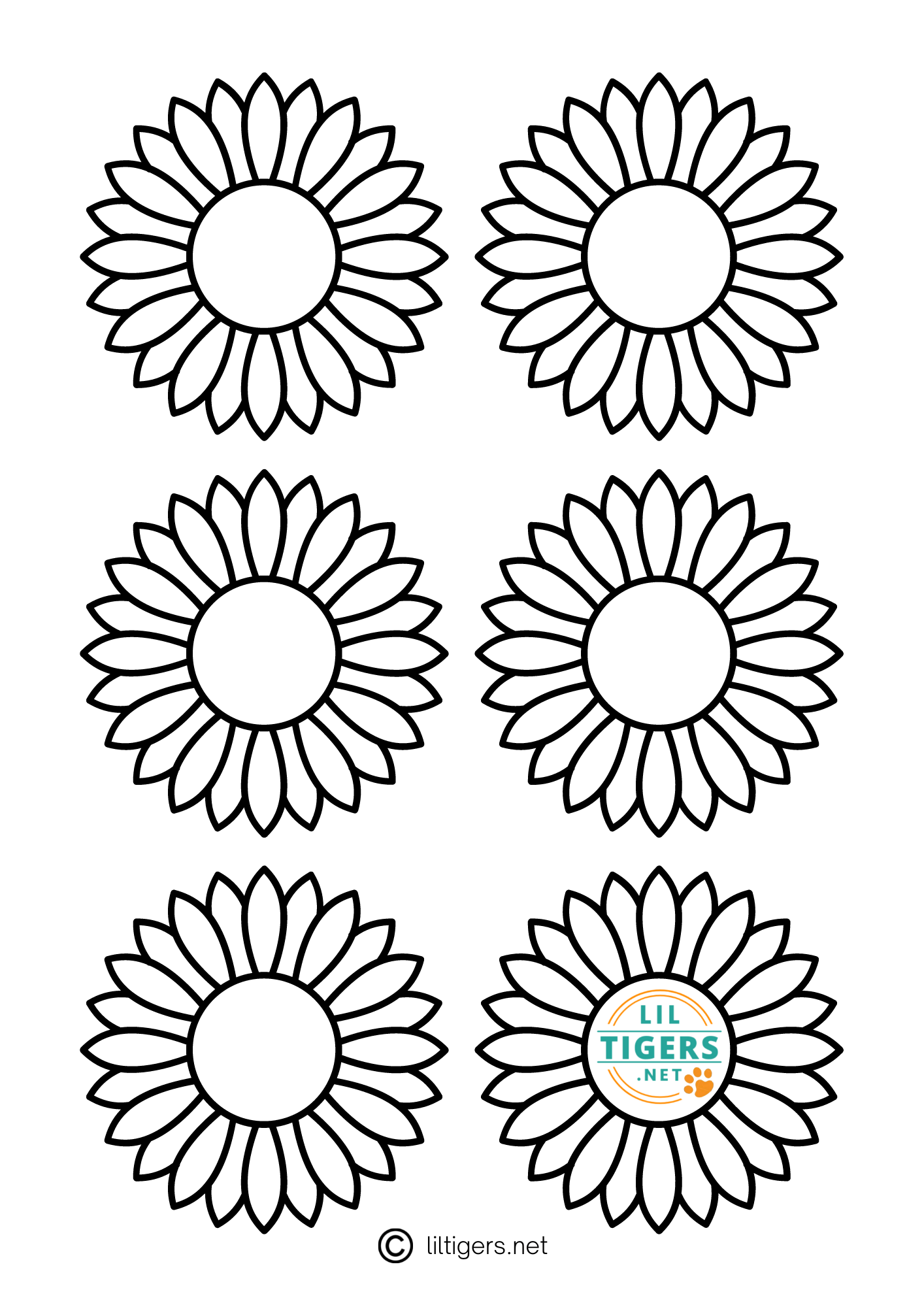 6. DIY Sunflower Invitation
Do you plan a summer get-together?
Simply use one of our sunflower outlines, decorate them, and make adorable invitations out of them.
They also make fun summer greeting cards for your family and friends.
I recommend using our medium sunflower stencil templates to create your card or invitations.
You are looking for fun quotes and messages for your DIY cards and decorations? Then check out our library of Quotes for every Occasion.
7. Art Journal Decore
Our sunflower templates or sunflower pattern printables will help you to design your art journal, scratch book, or decorate a photo album.
Craft creative shapes with our sunflowers and use them as backgrounds, patterns, or focal points in your project.
8. Sunflower Garland
Do you have a summer or fall party coming up? Then make an adorable sunflower garland and decorate it for your celebration.
Simply craft away with our medium-sized sunflower outlines. After you are finished coloring and decorating them, go ahead and cut them out.
Then take a long string and attach your sunflower arts and crafts projects to a string with clear tape.
Make sure to place them at the same distance apart so it will look nicer.
I also recommend using thicker cardboard paper for this sunflower project. Thicker paper will make sure your DIY garland lasts longer.
Now all you gotta do is hang it up.
9. Sunflower Decoration
As you could read above you can turn our sunflower template to cut out into invitations and garlands. But they also can be used to decorate for your next summer or fall party. You can hang them on walls, windows, or doors, and use them as table decoration.
Use our sunflower templates to create table place cards, use them as nametags for your party favors, or add them to your snack or gift boxes.
The possibilities for our sunflower printables as decoration for your house or next party are endless!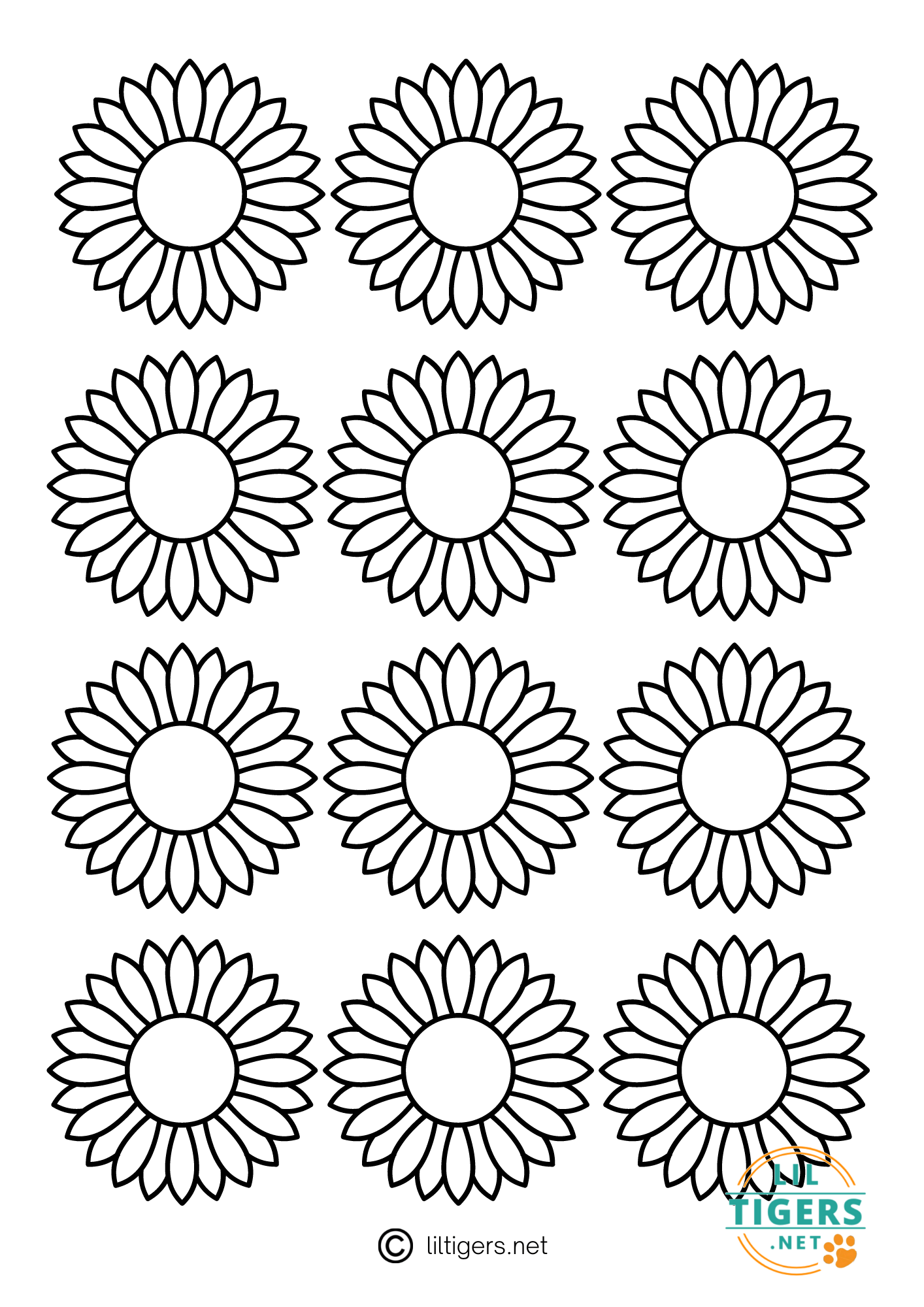 10. Simple Sunflower Template Outline
Our simple sunflower outlines can be used in many different ways. Use them as a party or home decoration, DIY gifts, worksheets, different crafts, and many others.
Let us know what you used our free printable sunflower templates for in the comments below.
---
How to Download Your Free Printable Sunflower Templates Pdf
Pin These Free Sunflower Template Printables