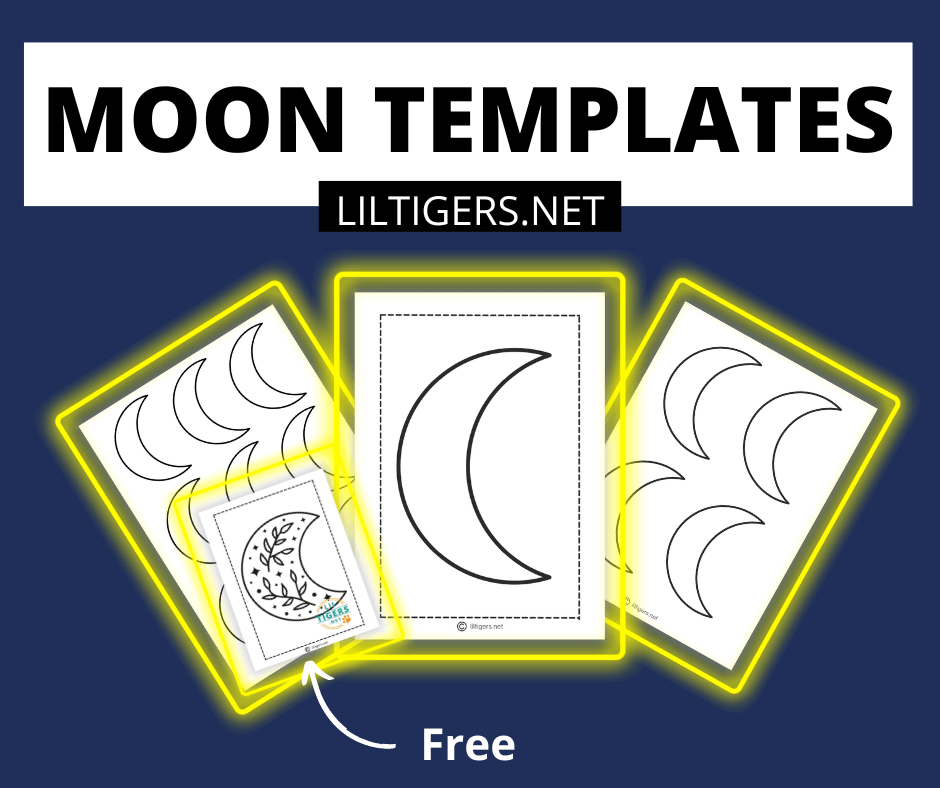 7 Amazing Moon Facts
The Moon began with an explosive collision.
It used to look much bigger.
Moon dust smells like gunpowder.
Surface temperatures reach boiling point.
Those craters can unlock space history.
You always see the same side of the Moon.
The Moon causes tidal bulges.
A "Giant Impact Hypothesis" states, that an object (labeled 'Theia') crashed into Earth and through this collision, our Moon was formed over 4,5 billion years ago.
The Moon used to be closer to Earth and therefore used to look 10 times bigger.
Harrison 'Jack' Schmitt from the Apollo 17 mission likened the smell of moon dust to that of gunpowder. Some astronauts even got some 'lunar hay fever' from the dust.
The Moon's temperature can span from 123 Celsius to -233 Celsius since the moon has no protective atmosphere.
With no protection, meteorites are able to hit the moon and craters form on its surface.
It takes the moon to rotate around its axis 27 days. That's roughly the same as the 27,32 days the Moon needs to orbit Earth.
That's why you only ever see one face of the Moon. This phenomenon is called "tidal locking".
The gravitation of the Moon is causing tidal bulges.
Learn more about these and more amazing moon facts for kids here.
Moon Books for Kids
Free Moon Template Printables
Moon Cut Out Materials
10 Easy Moon Template Ideas
Study the Moon Phases

M Is for Moon

Goodnight Story
Moon Coloring Pages
Moon Stencils

DIY Moon Invitation

Moon Garland

DIY Moon Party Decoration
Art Journal Decor
Other Moon Crafts
1. Study the Moon Phases
2. M is for Moon
Add our easy moon templates to your preschool alphabet lesson plan. Use them while learning the letter M.
First, print out some upper and lowercase letter M worksheets. Then let your students trace them and make an easy moon craft for the M sound.
Tip: Make sure to study only one letter at a time, so your students can form memories for every letter and memorize them easier.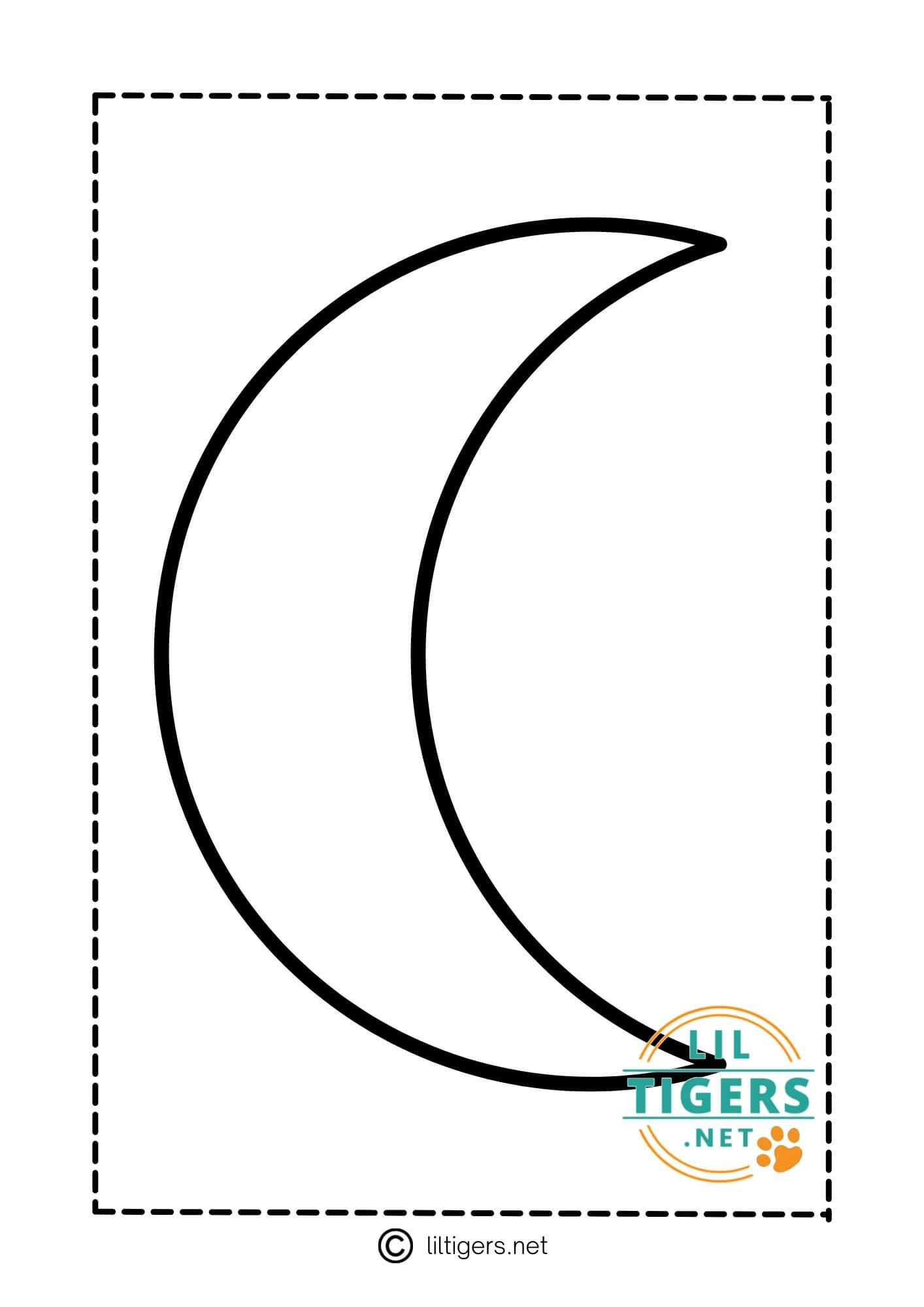 3. Goodnight Story
It makes the perfect book for the end of the day while reading your children a goodnight story and getting ready to sleep.
Here is the link for the book if you are interested:
4. Moon Coloring Pages
To make it more challenging, you can use the larger moon picture for younger children and the smaller moon printables for older children.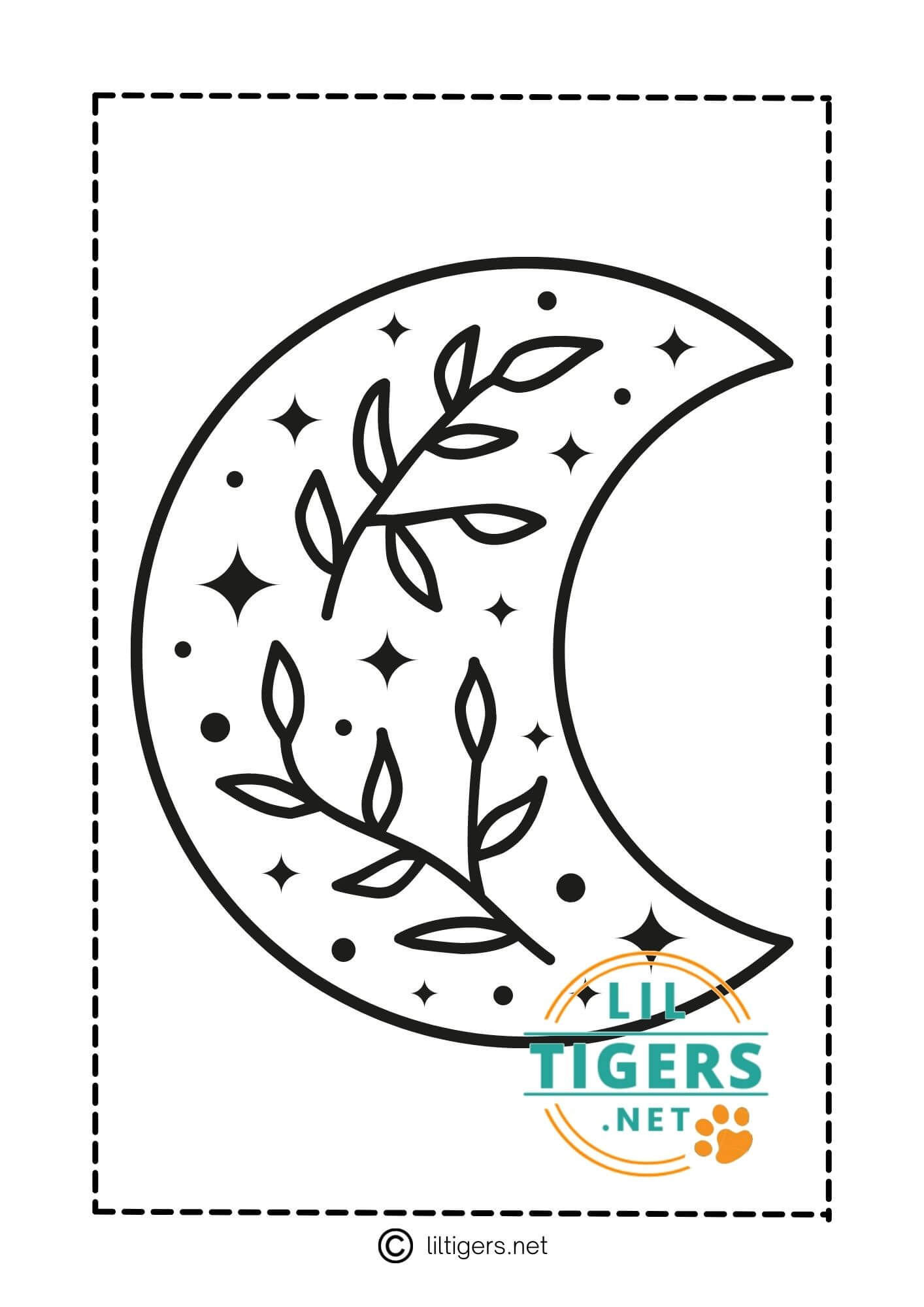 5. Moon Stencils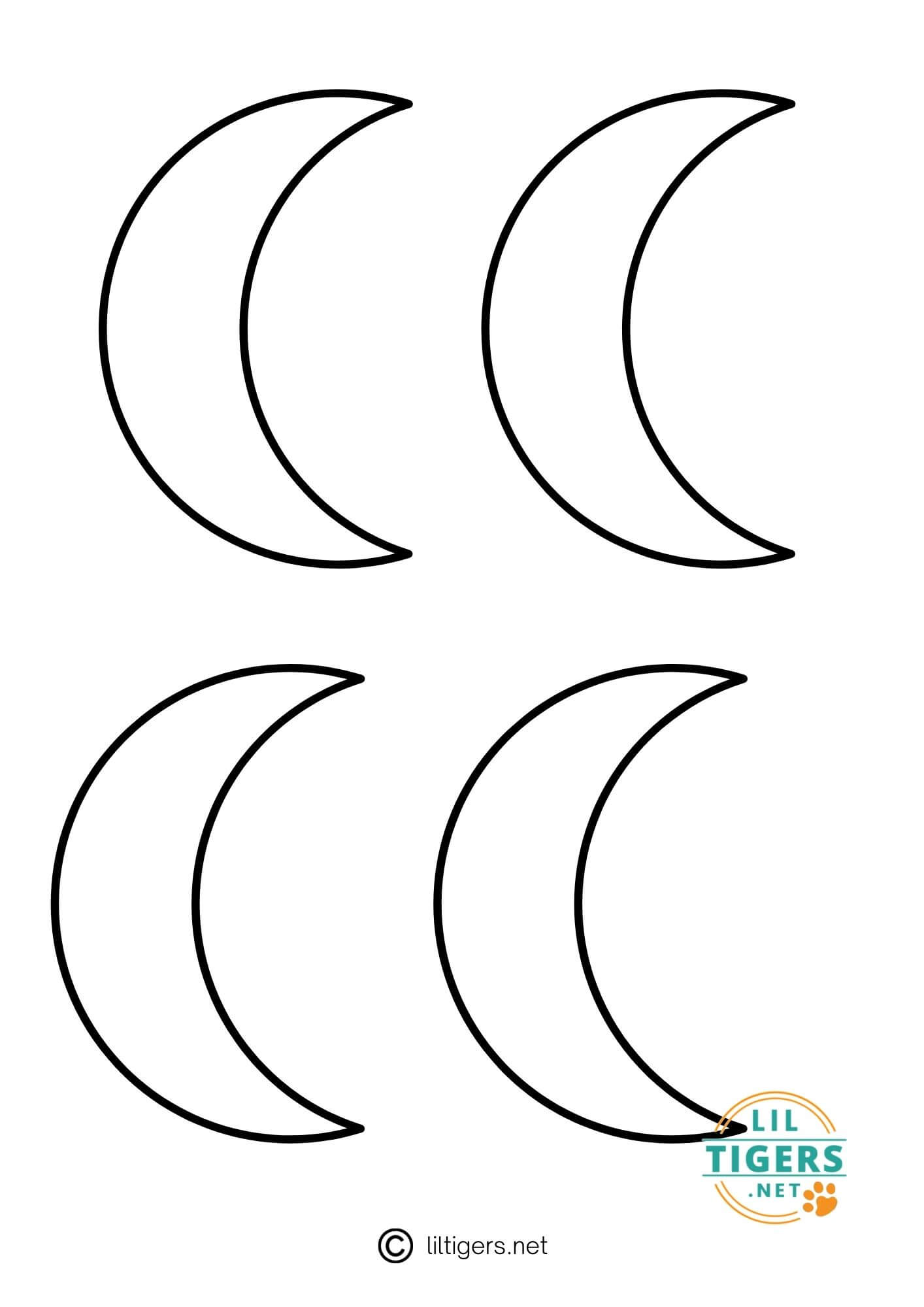 6. DIY Moon Invitation
Do you plan a pajama party or moon shine get-together?
Then use our moon templates and turn them into a party invitation.
Simply color our moon outlines with neon markers, spray some glitter on them and turn them into adorable invitations.
They also make fun greeting cards for your family and friends.
I recommend using our medium moon stencil templates to create your card or invitations.
In case you are in need of a fitting quote for your card, go check out our library of Quotes for every Occasion.
7. Moon Garland
Every party needs a matching garland.
Go make with your children a fun moon garland for your pajama party.
Simply craft away with our simple moon outlines. After you are finished decorating them it is time to cut them out.
Then take a long string and attach your moon cutouts to a string with clear tape.
Tip: Your moon garland will look nicer if you are able to place them at the same distance from each other.
I also recommend using thicker cardboard paper for this decoration project. Thicker paper will make sure your DIY garland will last longer.
Now all you gotta do is hang it up.
8. DIY Moon Party Decoration
As we already made moon invitations and garlands, it is time to make more party decorations. Our moon outlines also can be used to decorate your walls, windows, doors, or party tables.
Use our moon templates to create table place cards, and turn them into name cards for your party favors, snacks-, or gift boxes.
The possibilities for our moon printables are endless!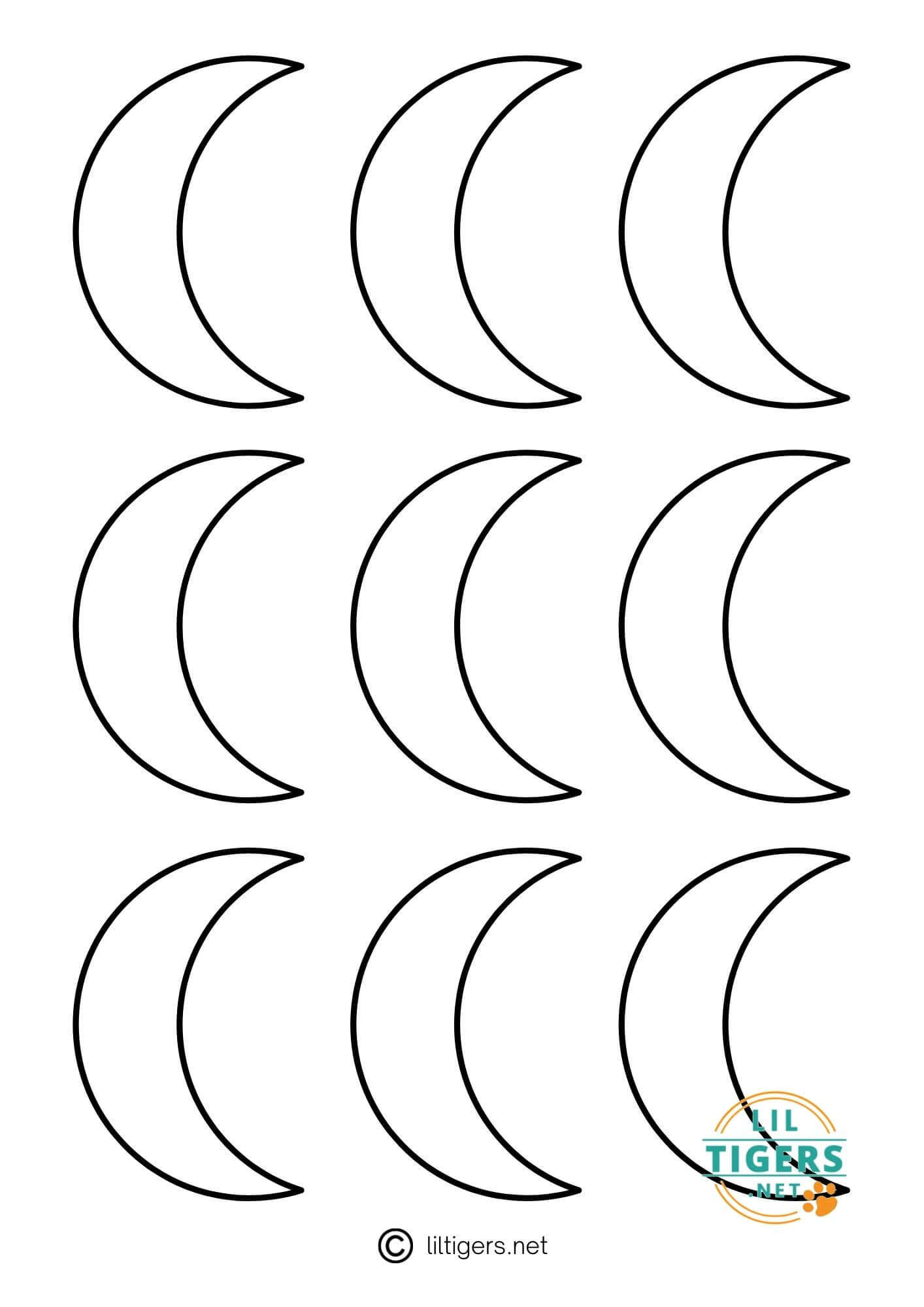 9. Art Journal Decore
Our templates of the moon or moon pattern printables will help you to design your art journal, scratch book, or photo album.
Craft creative moon shapes and use them as backgrounds, patterns, or focal points in your projects.
10. Other Moon Crafts
If you are still ready for more moon fun, go check out these easy moon craft projects next:
---
How to Download Your Free Printable Moon Templates Pdf
Pin These Free Moon Template Printables