Our Free Printable Sun Templates are ideal for coloring, crafting, and decorating your home or classroom. They include small, medium, and large templates of the sun. Let's dive right in and get inspired!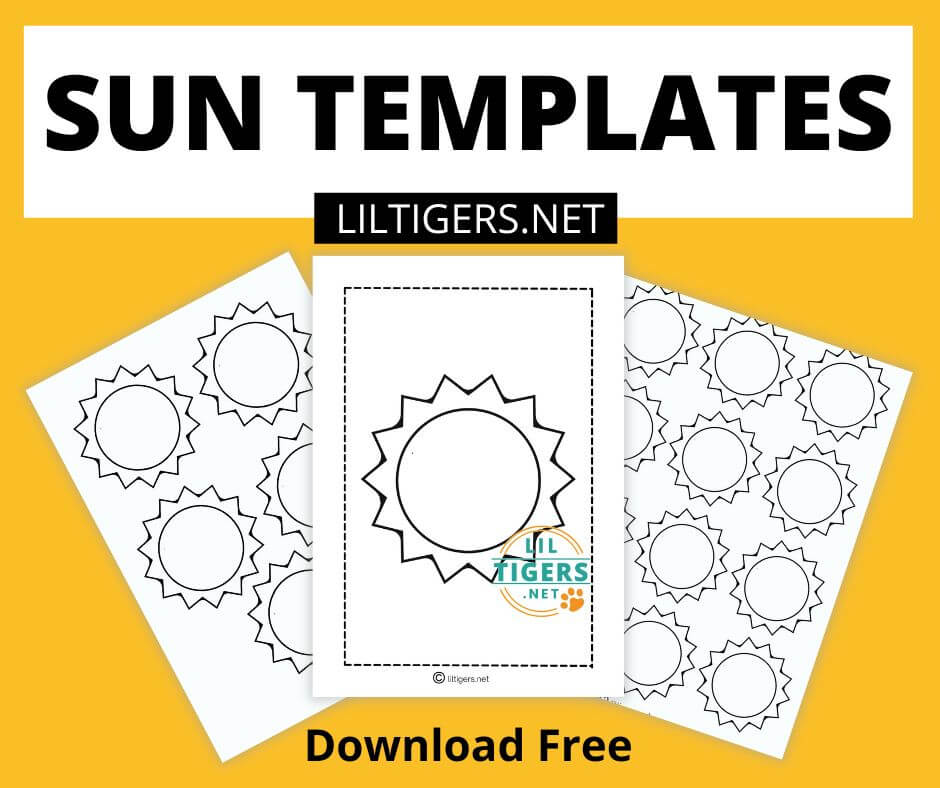 There are affiliate links in this post, meaning, at no additional cost to you, I will be compensated if you click through and take action. As an Amazon Associate I earn from qualifying purchases.
Free Sun Templates in Small, Medium, and Large
These sun cut out templates come in different sizes and are perfect for summer projects and educational purposes.
Whether it is a solar system craft or a weather project, our sun templates and coloring pages make a perfect addition to everything related to the sun.
Do you need advice on How to Introduce Crafting to your Preschooler? Then read our 10 tips that work next.
Templates of the Sun
Sun Craft Materials
Free Sun Template PDF (found below)
white or yellow paper
scissor
crayons
glue
Easy Sun Craft Ideas
Here are some inspirations on how to use our free sun cut out templates for your next sun activity.
Small Sun Templates
Our small sun templates are perfect to use as stencils, or for patterns.
I also love to apply them to birthday gifts in the summer. I let my kids, cut and color them then we write the name of the birthday child on them. It always gives the wrapped gifts a personal touch.
But be aware the smaller templates are harder to cut out for younger children.
Medium Sun Templates
Our medium printable templates of the sun on the other side make adorable sun note cards. All you have to do is to print and cut out our sun templates. Let your children color them nicely and write cute sun quotes for your kids on the back.
I picked a couple of sun sayings for your kids. I hope you like them.
Do you enjoy our sun coloring pages? Then take a look at our other weather activities, such as our popular Moon Printables, Cloud Outlines, Rainbow Templates, free printable Weather Chart, or one of our 75 Fun Weather Crafts here.
10 Sun Quotes for Kids
Here are Sun Quote Ideas for Kids to brighten their day:
Spread some sunshine
Good day sunshine
Fun in the sun
I find happiness where the sun shines
Be my sunshine
Dreams are made of sand and sun
I hope your morning is as bright as your smile
Keep your face to the sun and you will never see the shadow
You are my sunshine
Your smile might be the sunshine of someone's day
Large Sun Templates
My children love to use our large sun printables like coloring pages.
We love to color the sun bright with yellow and orange crayons and decorate them nicely afterward. For decoration, we use all kinds of craft materials we can find in the house, such as pom poms, googly eyes, glitter, stickers, craft sticks, q-tips, etc.
Sometimes the kids like to give their sun pictures of silly faces, draw big eyes or sunglasses, or even make some out of paper for her.
My kids also like to experiment with different crafts and painting techniques. The other day we used the large sun coloring sheet and used bubble wrap to decorate it. It is super easy. Take a look here at the Bubble Wrap Technique.
What is also pretty cool is to paint with an old toothbrush. It is super easy. Learn everything about the Toothbrush Spray Technique here.
As you can see the large sun is not only geared to younger children and still can bring a lot of fun. Nevertheless, it makes a perfect preschool sun template. If you have a small toddler, simply let them Cut and Paste. Find out how it works here.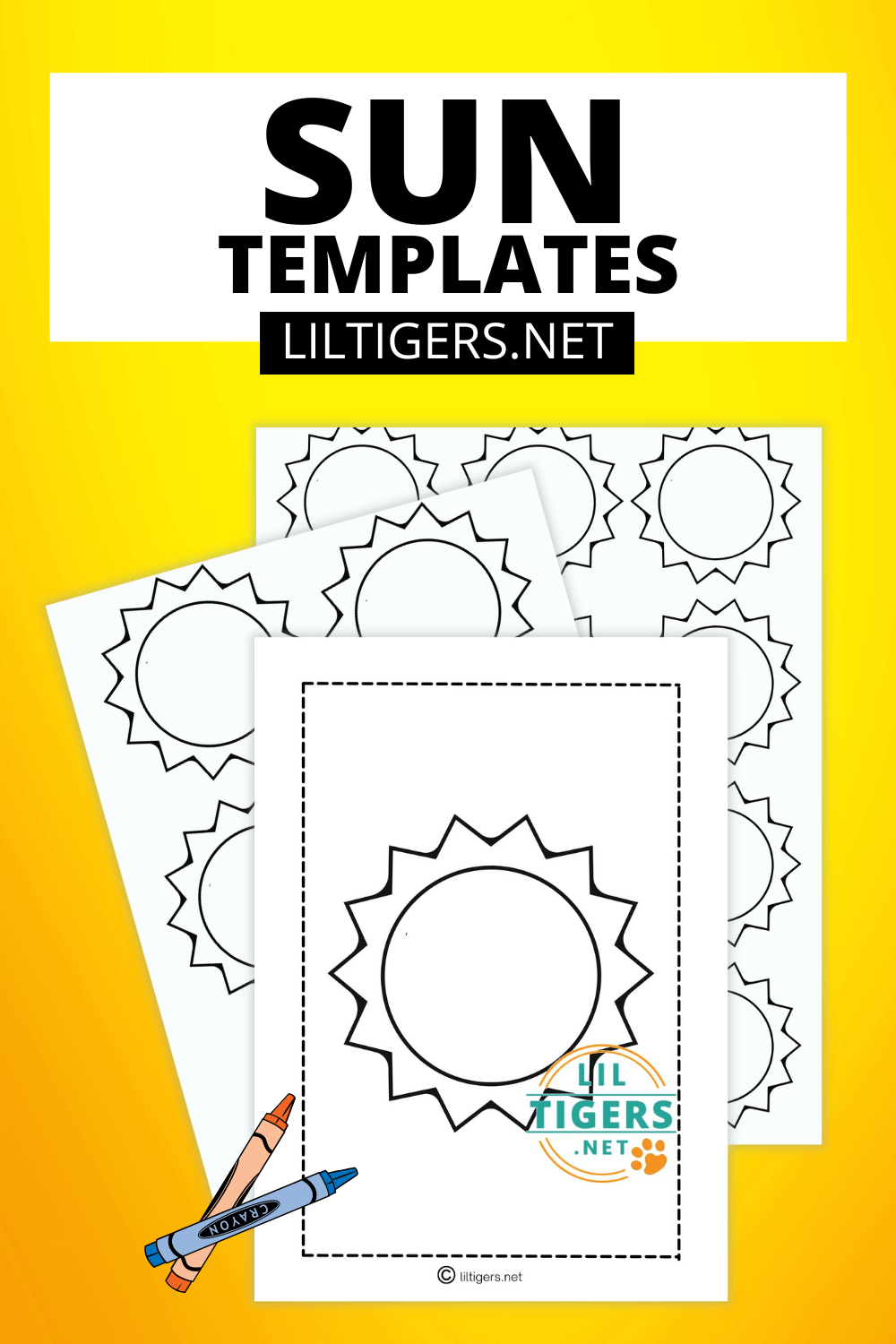 Sing about Sunshine
Do you go to storytimes in the library and remember how the teacher always sings songs, does a show and tell, and does craft. You can do that at home too.
Cut out our sun pages and sing the song "You are my sunshine" with your children. Afterward, let them decorate their own suns.
It is the perfect group activity and is prepared fast. All you need is your sun printouts and some coloring markers and your children are good to go!
For this activity, it might be a good idea to find the song on your playlist too, that way the children can listen to it first and sing it together afterward. If you have some musical instruments at home, include those as well. The kids will have a blast!
Weather Crafts
Our sun printouts make are an ideal addition to every weather project. For example, use our small sun printables and create your own weather chart.
Use this chance to talk with your child about the weather today and teach them how to dress accordingly.
By the way, you can easily use our Cloud Printables, Rainbow Outlines, and Umbrella Templates for your weather chart as well. Or use our Weather Chart template instead.
Here are some great books about the weather that will help you show and explain everything your children need to know:
Solar System Crafts
The sun is the center of our solar system. Without the sun we wouldn't exist. Our sun cut outs are perfect to teach about the solar system and learn more about our beloved sun.
Here are some great books to look at and read to your children while crafting:
As you can see there are endless possibilities on how to use our free sun printables. You can easily gear them for children of all ages and use them at home or in the classroom.
I hope my ideas inspired you. Please feel free to show us your sun artwork. We love to hear from you!
How to Download Your Free Sun Printables
Simply sign up here for our newsletter and you will receive the link to our free sun template pdf.
Already a subscriber? Don't worry, no need to subscribe twice.
I just updated our free printable library. You can find our sun outline printables and coloring pages there or check our newest newsletter for more information.
If you have any questions, please do not hesitate to reach out to me. I m happy to help!
Pin These Easy Sun Templates
Don't forget to save our free preschool sun templates to cut out on Pinterest for later! Be sure you are following along with Lil Tigers here.
Now it is your turn.
How did your kids enjoy their sun color sheets?
Either way, let me know by leaving a comment below right now and showing us how your sun images turned out.
I love to hear from you!