Our Free Printable Ladybug Templates are ideal for coloring and crafting at home or in a classroom setting. They include small, medium, and large ladybug printables.
Don't forget to check out our ladybug craft ideas and fun facts below. Let's dive right and get inspired!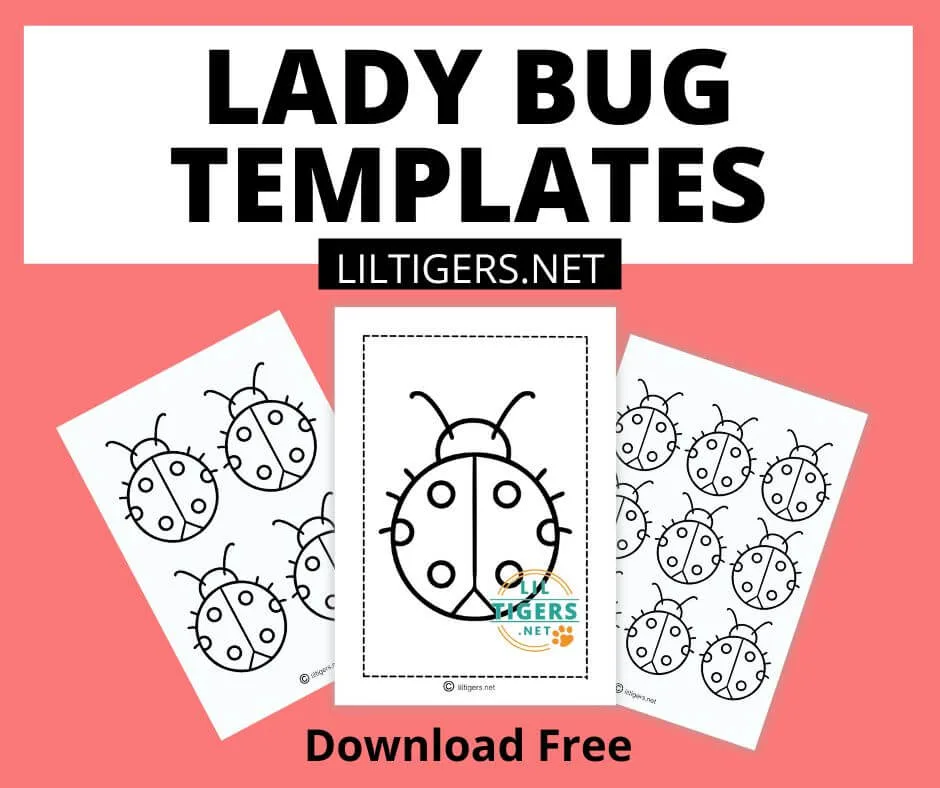 There are affiliate links in this post, meaning, at no additional cost to you, I will be compensated if you click through and take action. As an Amazon Associate I earn from qualifying purchases.
Free Ladybug Templates in Small, Medium, and Large
These fun ladybug outlines come in different sizes and are perfect for all kinds of art and craft projects. Include them in learning about the lifecycle of ladybugs, insect lessons, or Valentine's Day crafts.
Our ladybug templates to print come in the sizes small, medium, and large and can be used as ladybug coloring pages as well. They can be used in various nature lessons and hold many art and craft possibilities.
Below I will be able to learn fun facts about ladybugs and get inspired by our ladybug craft ideas. Enjoy!
Do you need advice on How to Introduce Crafting to your Preschooler? Then read our 10 tips that work next.
Templates of the Ladybugs
Ladybug Craft Materials
Free Printable Ladybug Template PDF (found below)
white paper
scissor
crayons
Easy Ladybug Craft Ideas
Here are some fantastic inspirations on how to use our free ladybug craft templates. To make it easier for you, I will sort the ideas by the size of our craft templates and lesson ideas.
Small Ladybug Templates
Upfront I want to mention, the smaller the ladybug templates are, the higher is the difficulty level for smaller children. With this being said, let's start with the smallest printables.
Use our small templates of ladybugs for storytime. Read your children or students a cute ladybug story and include your ladybug cutouts into your story.
In case you prefer to use these templates for crafting, here is a tip for our small printable ladybug templates: Do not worry about the ladybug legs, simply cut them out without them if needed. This makes it much easier for children.
Medium Ladybug Templates
The bigger the templates get the easier it is to color and cut them. We love to use the medium-sized ladybug printables and turn them into a math game.
Each ladybug has 6 dots on its body. I cut the printout into pieces with one ladybug on each piece. Then I write the number of dots in the corner of each paper and my children need to color the exact amount of dots black.
It is a fun way to recognize and learn numbers including counting. What a fun way to learn math!
Large Ladybug Templates
The large printouts on the other hand make nice ladybug coloring pages. You can easily combine them with teaching letters. L is for ladybug!
Simply add some letter L tracing sheets to our templates and use them to round up your alphabet lesson!
Ladybug Lifecycle
Another great way of including these blank ladybug templates is to add them to your lifecycle lesson about ladybugs.
Did you know the lifecycle of a ladybug has four stages in a process called metamorphosis? These stages include egg, larva, pupa, and adult.
Teach your children everything about it and include our ladybug cutouts.
Do you enjoy our ladybug coloring sheets? Then take a look at our easy Bee Template Printables, Firefly Template, Shamrock, Leprechaun Hat, or Flower Pot Templates next. Or check out our other 24 Spring Activities for Kids.
Ladybug Cards
Simply turn our ladybug printouts into cards or use them as ladybug invite templates. All you need to do is print our medium-sized ladybug card templates and cut them out. Let your children color and decorate them nicely and use the back for your invitation or cute ladybug quotes for kids.
Here are some cute ladybug sayings for your kid's card as inspiration:
Ladybug Quotes for Kids

Ladybugs are a symbol of luck. Use these cute Ladybug Quotes for Kids to use on your cards, to wish them good fortune:
Little things make big days
Spread your wings and fly, you don't know what is possible till you try.
Life has many little miracles
I would be a ladybird, bringing all luck
A ladybug can not change his spots
Cute as a bug
I'm sending luck and wishes all wrapped up in a hug. Good things should come your way with this tiny ladybug.
Aren't these ladybug sayings super adorable? I thought so. If you are in need of more ladybug quotes for kids go check out our full list here.
10 Fun Ladybug Facts for Kids
Ladybugs are adorable little creatures. Here are 10 Interesting Ladybug Facts for Kids:
The scientific name of ladybugs is coccinellidae
Ladybugs are beetles
There are over 5000 ladybug species
Average age: 2-3 Years
Size: 0,3-0,4 inches
Appearance: Most ladybugs have oval, dome-shaped bodies with six short legs
Not all ladybugs look the same. Some have no spots others have up to 20.
Their color and smell protect them from enemies. Both signals "I taste terrible".
A Ladybug can eat up to 5000 insects during his life
Ladybugs are considered good luck
These and more fascinating facts about ladybugs for kids can be found here.
If you prefer books, go check out those great finds:
How to Download Your Free Ladybug Printouts
Simply sign up here for our newsletter and you will receive the link to our free ladybug template pdf.
Already a subscriber? Don't worry, no need to subscribe twice.
I just updated our free printable library. You can find our ladybug coloring pages there or check our newest newsletter for more information.
If you have any questions, please do not hesitate to reach out to me. I m happy to help!
Pin These Fun Ladybug Templates
Don't forget to save our free ladybug printables on Pinterest for later! Be sure you are following along with Lil Tigers here.
Now it is your turn.
How did your kids enjoy their ladybug templates?
Either way, let me know by leaving a comment below right now.
I love to hear from you!