Our Free Printable Teapot Templates are ideal for coloring and crafting at home and in your classroom.
They include small, medium, and full pages of teapot outlines and make adorable tea parties and Mother's day crafts.
Let's dive right in and get inspired!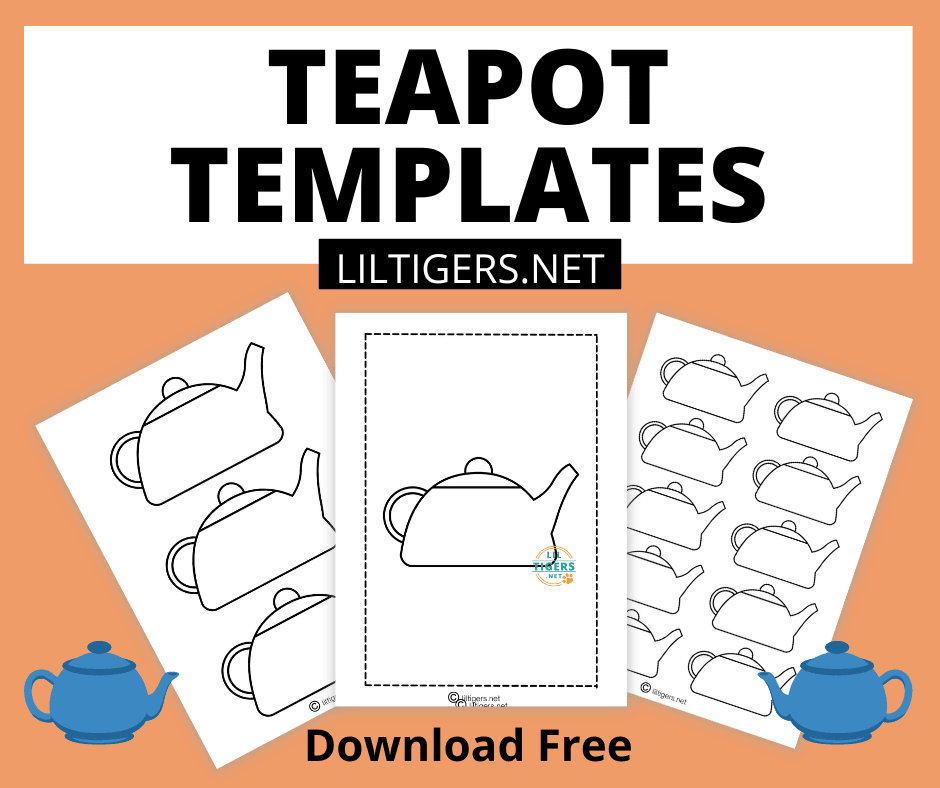 There are affiliate links in this post, meaning, at no additional cost to you, I will be compensated if you click through and take action. As an Amazon Associate I earn from qualifying purchases.
Free Teapot Templates in Small, Medium, and Large
Our templates of teapots come in different sizes: small, medium, and large.
They are often used for tea party activities and for Mother's Day.
I kept them simple so they are easy to use as teapot templates for preschools and crafting with your toddlers at home as well.
At the end of this article, I will show you some adorable teapot craft ideas, so stay tuned.
Do you need advice on How to Introduce Crafting to your Preschooler? Then read our 10 tips that work next.
Teapot Printables
Teapot Craft Materials
Free Printable Teapot Template PDF (found below)
white paper
scissor
crayons
Easy Teapot Craft Ideas
Here are some fantastic inspirations on how to use our free teapot craft templates. To make it easier for you, I will sort the ideas by the size of our teapot printouts.
Small Teapot Templates
Let's start with our smallest printables.
We use them often as teapot stencils. Therefore you or your children cut them first. With help of removable tape attach them to your paper and use them as stencils.
We love doing this project with help of Pencil Erasers or with the Toothbrush Spray Technique. I will add both links for you above so you can check them out!
But that's just one way of using them. They also make great name cards for your next tea party.
Simply let your children color them, cut them out, write the names of their friends on them and place them on the table. Super easy isn't it?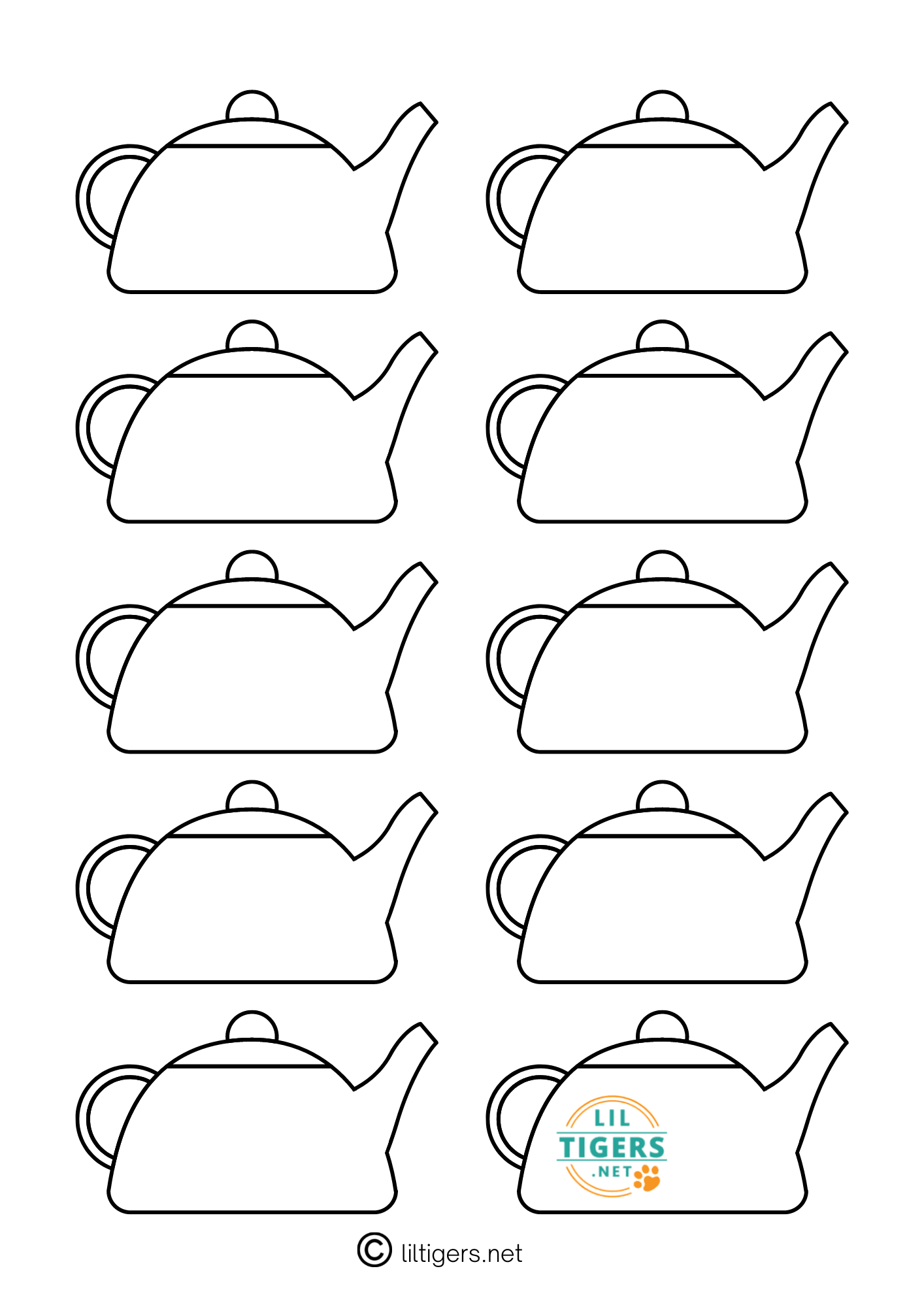 Medium Teapot Templates
Our medium-sized teapot templates on the other hand are often used for craft projects. They are especially popular right before Mother's Day. Think about it they make an adorable teapot Mother's day card.
By the way, this makes a great teapot preschool craft.
To use the medium-sized printables as teapot Mother/s day card templates you will have to cut them first into three pieces with a teapot on each part. Then let your students or children color the teapot nicely.
Afterward, they should cut them on the outline. For the teapot handle, smaller children might help.
Please assist them if needed. Now all you have to do is to turn them around and write nice Mother's day poems for preschoolers on the back.
After our teapot craft ideas, I will add a section with the best Mother's day poems from kids for you. Check it out.
But the medium templates do not only make adorable Mother's day cards but also are perfect for tea parties.
At our last tea party, we used them as teapot invitation templates.
You simply color, decorate and cut them nicely and use the back of your cutouts as a teapot invitation.
Teaparty Wording Ideas for Kids Invitations
You do not know how to word a tea party invitation? Here are 5 adorable tea party wording ideas for kids:
You are invited to a garden tea party in honor of (child's name) birthday
(Child's name) requests the honor of your company for afternoon tea to celebrate ( child's name) birthday.
(Child's name) would like to extend her cordial invitation to her Tea Party.
Time for tea. Please join us as we celebrate (Child's name) birthday.
We'll get dressed up and have some tea, Oh what a fun party it will be.
I hope you like our tea party wording ideas. Just make sure to not forget to write the when and where at the end of your invite and you are good to go.
Here is the last tip from me. For your teapot cards and invitation, I would not use computer paper to print. They look nicer with thicker paper and in a nice envelope.
Happy crafting!
Large Teapot Templates
Last but not least is our large teapot template printables. They are perfect as teapot coloring pages and round up every tea or princess party.
Also, they will make an adorable craft and will calm your little guests down from a fun afternoon celebration.
Simply arrange a craft table for them with several art and craft supplies and let their creativity run wild. There are endless possibilities on how to use these large teapot printables.
For example, decorate them with nice teapot patterns or use one of our great toddler painting ideas. In the link, you can find 25 Creative Painting Ideas for Kids to use.
Do you enjoy our teapot cut-out templates? Then take a look at our adorable Cupcake Templates, Ladybug Printables, or our adorable Princess Crafts next.
Mother's Day Poems from Kids
Here are the promised Mother's day poems from kids to add to your teapot cards:
I love my mommy because my mommy loves me!
Roses are red, violets are blue, sugar is sweet and so are you!
My mommy is smart, my mommy is pretty, my mommy is a busy bee and she takes good care of me. I love you, mommy!
Mothers hold their children's hands for a short while but their hearts forever!
To the world, you are a mother, to our family you are the world!
For all you do, you do with love. You are so special, you are a gift from above and with all my heart I want to say I love you mom, happy Mother's day!
MOM! M is for many times you hugged me, O is for outstanding things you do for me, and M is all our memories together. Mom, I m so glad that I have you!
Aren't these Mother's day quotes from kids adorable? Go check out our full Children's Mother's Day Poems here. Which one did you choose, or do you have a better one? Let me know in the comments below.
---
You enjoyed our free printable teapot templates but are ready to learn how to draw your own teapot? Then check out this easy teapot tutorial:
How to Download Your Free Teapot Coloring Pages
Simply sign up here for our newsletter and you will receive the link to our free teapot template pdf.
Already a subscriber? Don't worry, no need to subscribe twice.
I just updated our free printable library. You can find our teapot outline printables there or check our newest newsletter for more information.
If you have any questions, please do not hesitate to reach out to me. I m happy to help!
Pin These Free Teapot Templates
Don't forget to save our teapot coloring pages on Pinterest for later! Be sure you are following along with Lil Tigers here.
Now it is your turn.
How did your kids enjoy their free teapot template printables?
Either way, let me know by leaving a comment below right now.
I love to hear from you!