Here are 25+ Easy Painting Activities for Toddlers.
Get your brushes and paint out and get inspired by these amazing painting projects for toddlers and preschoolers.
Let's dive right in.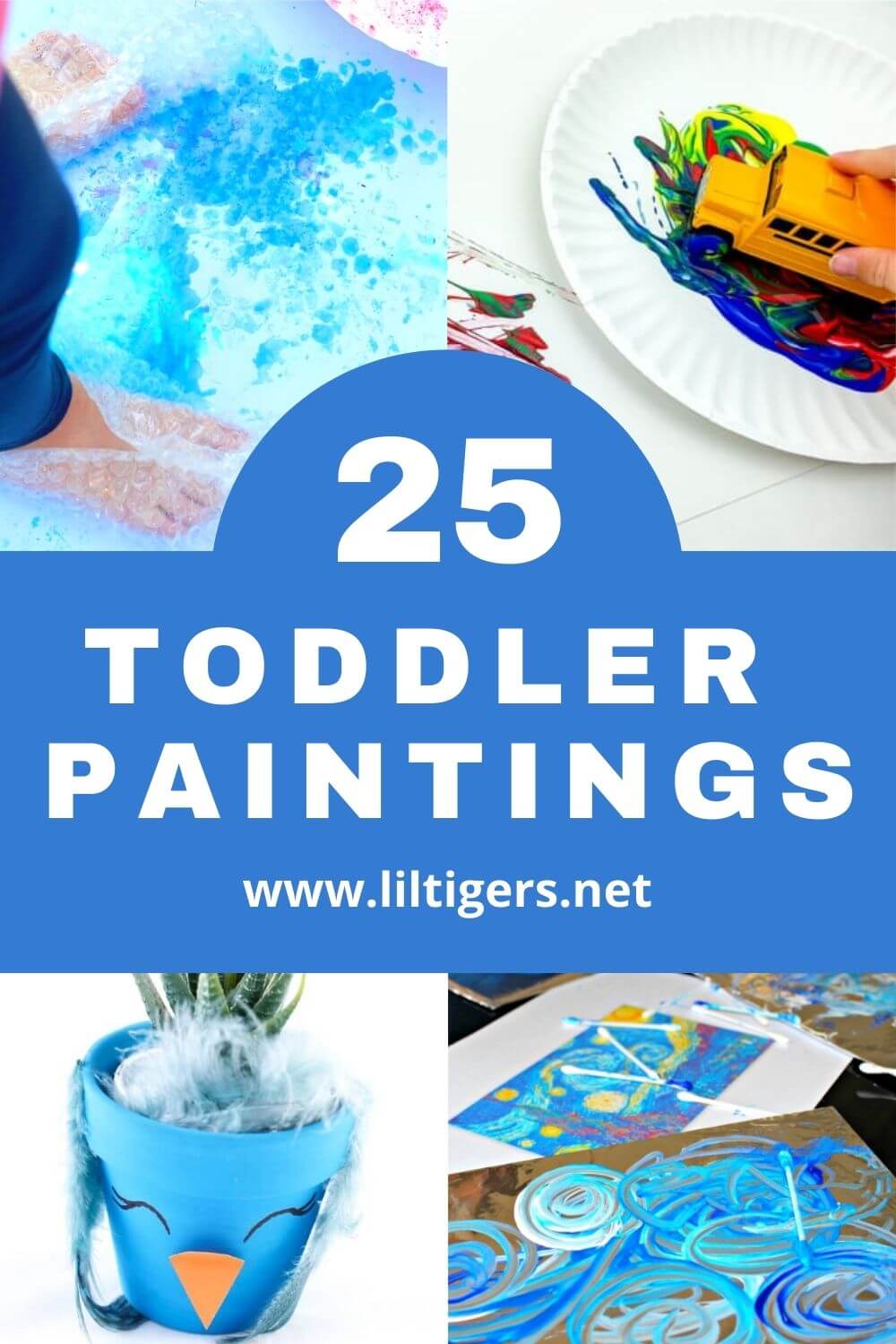 Painting Activities for Toddlers and Preschoolers
Painting helps your toddler to work on their motor skills and encourages creativity. It also is good for the soul and will help to calm down your children.
So what are you waiting for? Try one of these easy toddler painting ideas. Here is my full list:
25+ Best Painting Activities for Toddlers:
Car Painting
Hammer Painting
Paint with Ziplocs
Flower Pot Painting
Blow Art
Paint with Jelly Beans
Grow a Rainbow
Paint With Snow
Marshmallow Art
Eric Carle Inspired Painting
Salt Painting
Foil Painting
Paint-Filled Eggs
Bubble Wrap Painting
Spray Art
Paint with Balloons
Watercolor Resistant Art
2D Shape Painting
Tape Art
Paint with Spinning Tops
Easy Rock Dipping
Pom Pom Art
Handprint Keepsakes
Apple Stamps
Toillett Paper Roll Art
Paint with Pencil Erasers
Make your own Chalks Paint
Nubby Dryer Ball Painting
Finger Paint Zoo Animals
Are you interested in more kid's activities, arts & crafts, and science experiments?
I have made it easy for you! Simply join our newsletter now and I will send you new fun for kids.
Subscribe for free
25+ Toddler Painting Projects
I hope you enjoy the following cute and easy painting ideas for toddlers and preschoolers.
Did you know you can Implement Montessori in Arts and Crafts? Yes, you can, read all about it here.
You might also enjoy our easy craft projects. Try this fun Flower Pot Template, Shamrock Printables, or Baby Yoda Craft.
If these weren't enough toddler painting activities for you, then watch these 10 painting ideas for kids next:
Now I would like to hear from you! Which paint activities for toddlers did you like best?
Either way, let me know by leaving a comment below right now.
I love to hear from you!
Pin these Toddler Painting Ideas
Don't forget to save these 27 Simple Painting Ideas for Kids on Pinterest for later! Be sure you are following along with Lil Tigers here.
Stay Updated