Did you know you can paint on salt and create beautiful salt paintings? You surely can and it's awesome!
In fact, you only need 3 materials to have a whole afternoon full of fun! Let's dive right in.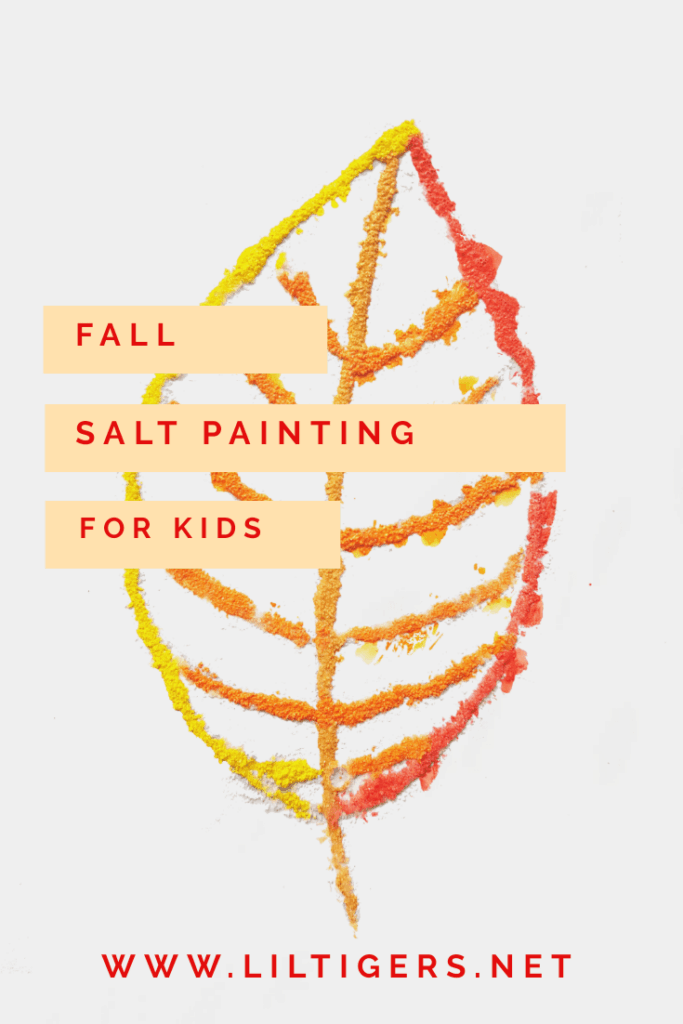 Watercolor Salt Painting For Kids
I m very excited about this week's fall craft. My kids and their friends really enjoyed making their raised salt paintings and I m sure your children will love them too!
I personally love this salt craft since it is easy to manage in groups or in a classroom setting and easy enough for toddlers and preschoolers can participate without a problem.
In order to make it easier for young children or to save time, I chose to print templates. That way simply had to trace the lines. Here is the link for the free printables I created for these fun salt drawings.
But before we get started we should clarify a couple of questions:
What Is the Purpose of Salt Painting?
You might wonder what is the purpose of salt painting? Besides that it is a lot of fun to paint with salt, your children can use the absorbency of salt to make fun textured watercolor paintings.
Since salt is a desiccant, it loves to absorb and soak water, which you can observe with your own eyes in our easy salt painting project.
What Kind of Paint Do You Use for Salt Painting?
Since we learned above that salt loves to absorb water the next question might be already self-explaining to you.
What kind of paint do you use for salt painting? Watercolors are the best choice for salt painting since salt likes to absorb water. Food coloring is working for painting with salt as well but is not as vibrant as watercolors.
What Glue Do You Use for Salt Paint?
Since we talked about what paint to use for salt painting for kids, now let's clarify which glue is best as well.
For salt painting, you can use liquid PVA school glue or craft glue. We used the popular brand Elmer's.
Can You Do Salt Painting With Sugar?
Yes, you can use sugar instead of salt to paint. The watercolor will spread out on sugar in different patterns and leave a glossy finish behind. Give it a try to see the difference. What did you observe?
Are you interested in more DIY Kids Activities, Arts & Crafts, and Easy Science Experiments?
Subscribe to our newsletter now and never miss an update on new ideas for kids or free printables!
Click here
How to Make a Salt Painting
But let's start now and learn how to make salt paintings. Here is what you will need to create your own easy fall watercolor salt painting:

Raised Salt Painting Supplies
thick card stock
liquid glue
salt
watercolors
brush
These step-by-step instructions are here to help you visualize how to make this watercolor and salt painting. Please scroll down to simply print out the instructions!
Watercolor Salt Technique Instructions
Step 1: Planning
Decide on what you like to create. Pick a theme or simply print a template on your cardboard.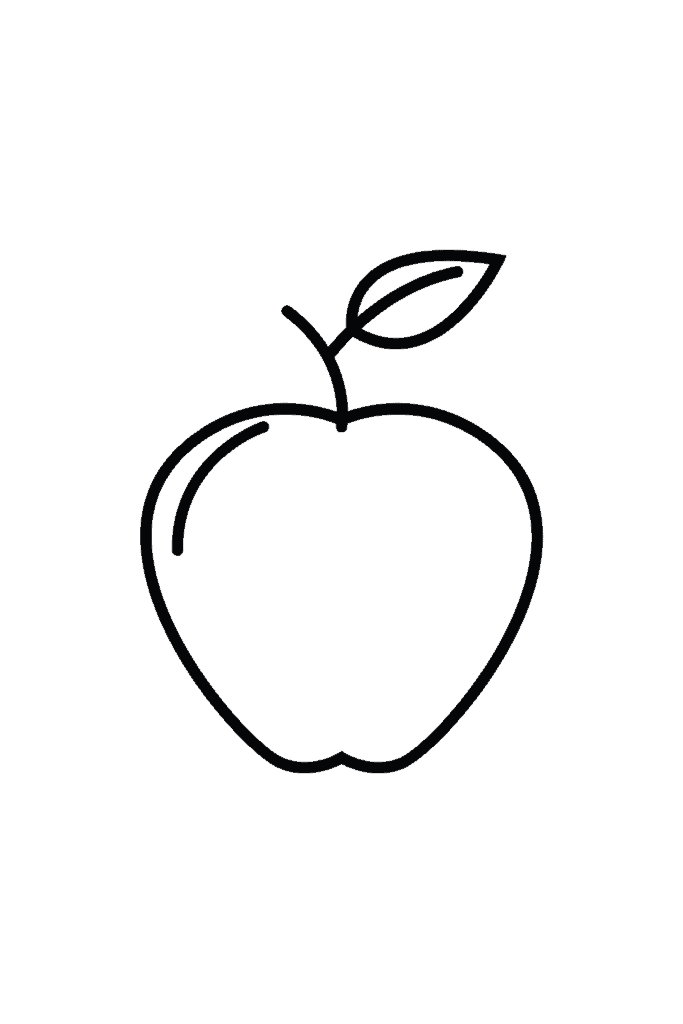 Step 2: Add Glue
Take your liquid glue and either trace the outlines of your printed salt painting template or simply draw a design or picture on your cardboard with it.
Step 3: Create Art with Salt
While your glue drawing is still wet use salt and sprinkle it over the wet glue till it's thoroughly covered.
Step 4: Check
Check if your salt drawing is fully covered with salt. If necessary add more salt to your artwork.
Step 5: Remove extra salt
Remove the excess salt from your salt art by gently shaking or blowing it off.
Step 6: Let it dry
Let your salt craft dry. Be aware that it takes a while, depending on how thick your child made the lines with liquid glue.
Step 7: Add Watercolor to salt
When your fall art is fully tried, take a brush, and start applying watercolor to your salt painting templates by tapping gently.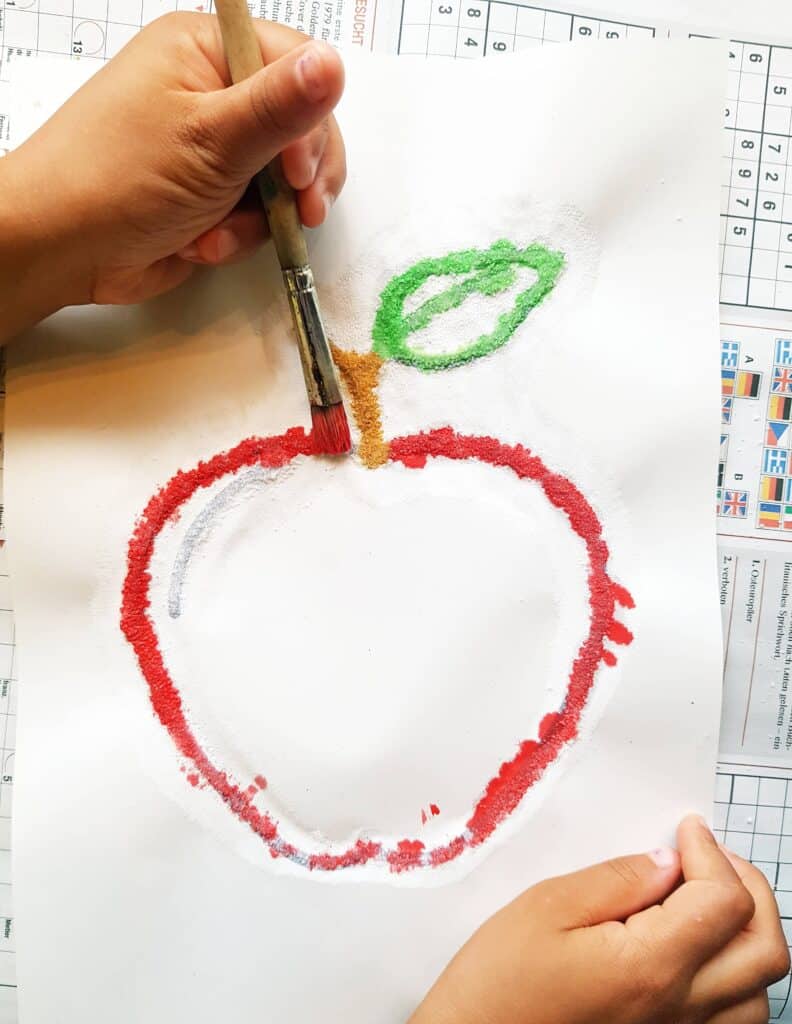 Step 8: Enjoy your salt watercolor art
After you added the watercolor to your raised salt drawing let it try again before you can enjoy your autumn artwork.
Step 9: Optional
Does your child still want to keep going? Let them simply finish watercolor the parts inside your salt drawing. Your painting will appear with a beautiful 3-D effect.
Did you enjoy this easy fall salt watercolor painting? Then check out the following activities next: 15 Easy Pumpkin Art Projects, Spider Web Art for Kids, Cursive Monster Art, Fall Sensory Bins
Tips for Salt Painting
Any cardboard will work but for a better look I recommend using white thick cardboard
I tried this project with clear and white liquid glue. For the printed template, I recommend using white glue to cover the ink.
To avoid salt all over your room use a baking sheet or any type of pan big enough for your watercolor painting with salt. This way the extra salt can stay in one place and not all over your table or floor.
We used watercolors for this project but any liquid color will do. If you don't have any take a glass, fill it with water, and add food coloring. Just make sure to add enough food coloring to keep the color vibrant.
I simply used white computer paper for this activity. The downside is you get stains from the liquid clue you can't avoid on the paper. If you don't have any cardboard paper in the house any thicker paper will work better than computer paper for this cool art project. You can even use paper plates or watercolor paper.
Cover your countertop or table with an old newspaper or old cardboard to avoid a big mess.
Use bright colors to get a vibrant crystal look.
I recommend this art with salt project for children 3 and up.
---
If you are a visual learner go check out this raised salt painting video tutorial.
I hope you liked this raised salt painting activity for your children.
Don't forget to let me know whether your kids enjoyed this fall craft project. Leave a comment below and add a picture.
I love to hear from you!

Pin This Fall Salt Painting
Don't forget to save this easy watercolor painting with salt on Pinterest for later! Be sure you are following along with Lil Tigers here.
Stay Connected
---
Unfamiliar with salt watercolor painting? Here's a video that will show you how it works!
Fall Salt Painting
How to create your own fall salt painting with kids
Total Time
1 hour
5 minutes
Materials
salt
liquid glue
watercolor
paint brush
paper
Instructions
print free printables
trace the lines with the liquid glue
sprinkle salt on the wet glue till it is fully covered
let the salt try
remove left over salt
start painting with water colors on the tried salt