Explore these 10 Best Fall Sensory Bin Ideas for toddlers and preschoolers.
With help of only a few materials, there are endless possibilities to create amazing autumn sensory bin and tray table ideas.
So let's get inspired and take a look at our full list.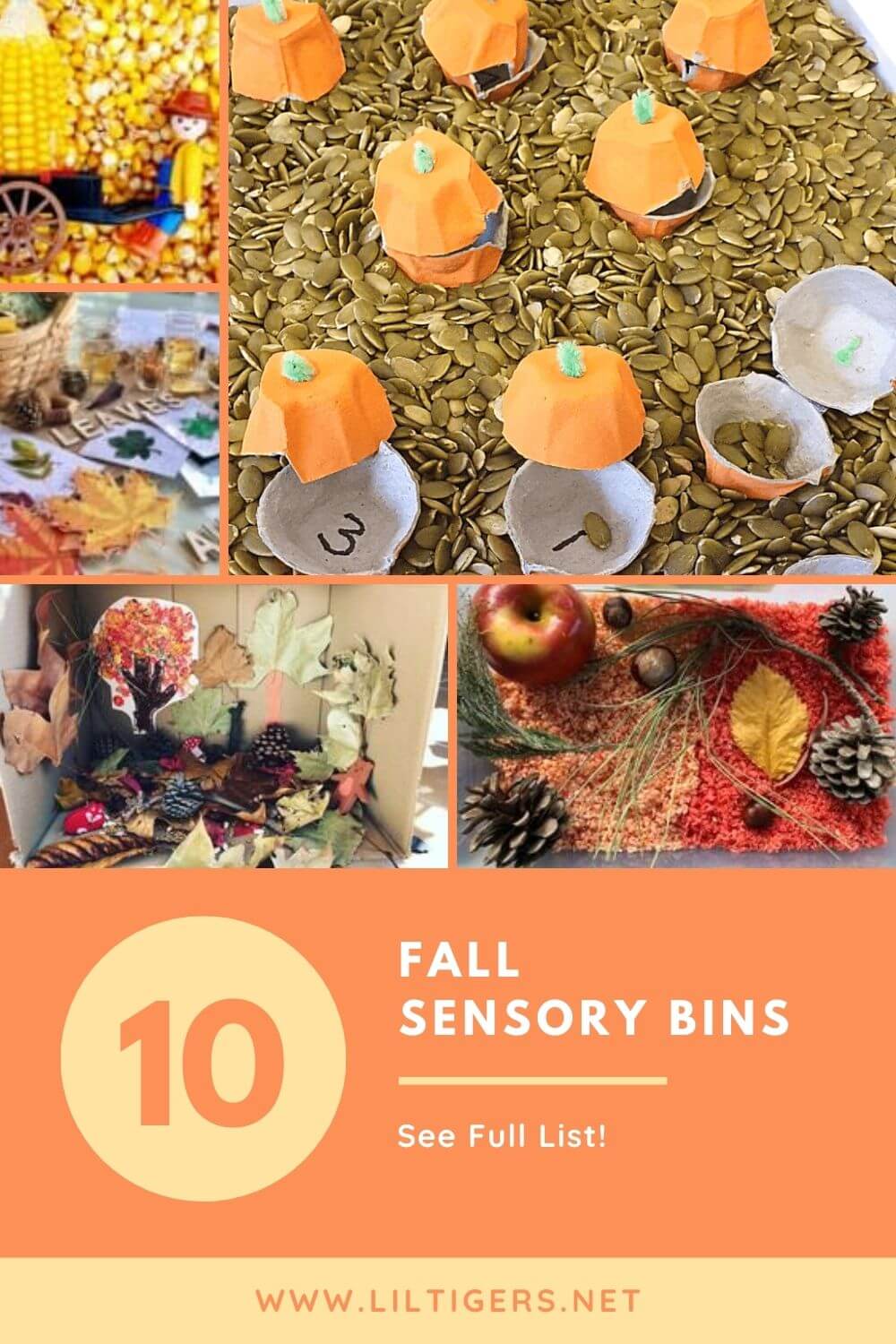 What are Sensory Bins
Sensory bins are plastic tubs or containers filled with a variety of materials to help children stimulate their senses.
For sensory bins you can use any type of plastic bins, cart wood boxes, cooking sheets, sandboxes, water or sand tables, tuff trays, or even train tables when they have a railing.
What are the Benefits of Sensory Play
Sensory activities such as sensory bins or table ideas promote early childhood development.
Those hands-on activities help children explore their five senses while working on their motor skills.
They also support language development, scientific thinking, and problem-solving in a playful and fun way.
Sensory Bin Fillers
Here is a list of the most popular fillers for sensory bins:
sand
water
slime
kinetic sand
water beads
pasta
tried beans
leaves
oats

Fall Sensory Table Ideas
In the list below you will find a short summary of all autumn sensory ideas. Scroll down for all the details and links!
Fall Sensory Bin Ideas
Changing Leaves Sensory Bin
Counting Pumpkin Seeds
Leave Lion Tray
Corn Bin
Fall Foam Bubbles
Colored Rice Bin
Fall Treasure Hunt Tray
Woodland autumn sensory box
Rain Oats Bin
Apple Pie Tuff Tray
By Lil Tigers
Explore changing leaves and learn about fall with these adorable fall sensory activities for toddlers.
Go check out these great fall sensory activity ideas and enjoy them with your toddler or preschooler at home or in a classroom setting!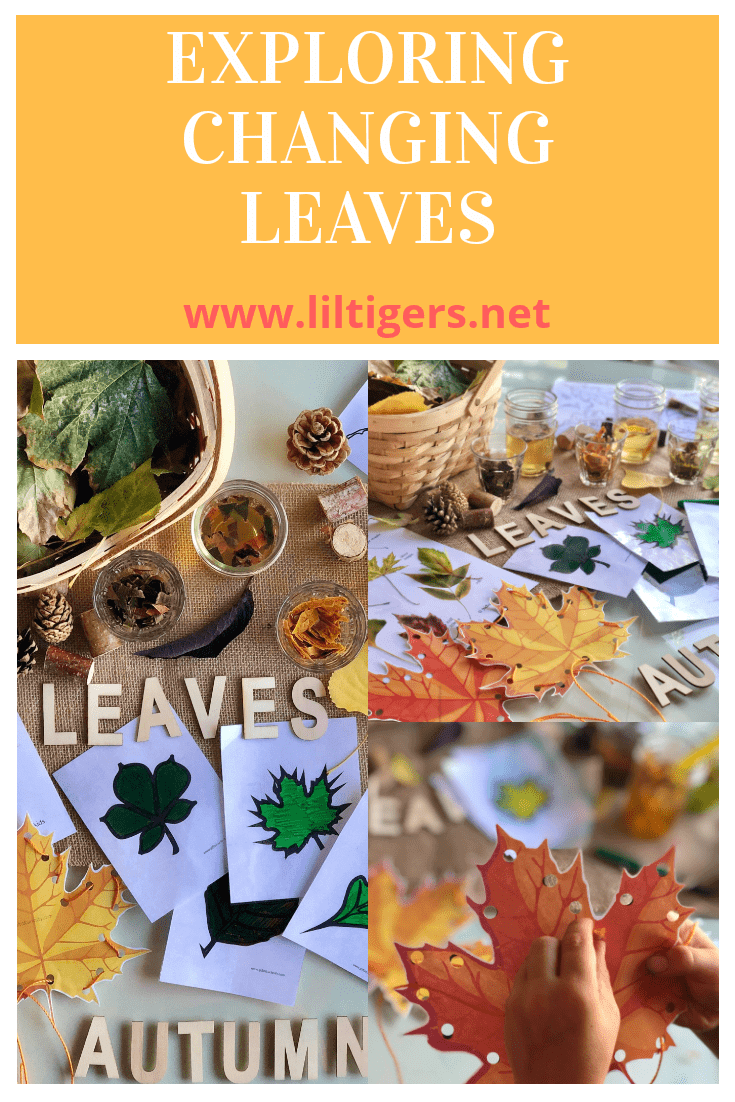 By Taming Little Monsters
Learn fine motor skills and math with this fun fall activity. This Counting Pumpkin Seeds Halloween Sensory Bin is easy to set up and fun for both toddlers and preschoolers.
How many seeds need to go into each pumpkin? You're going to have to open them to find out.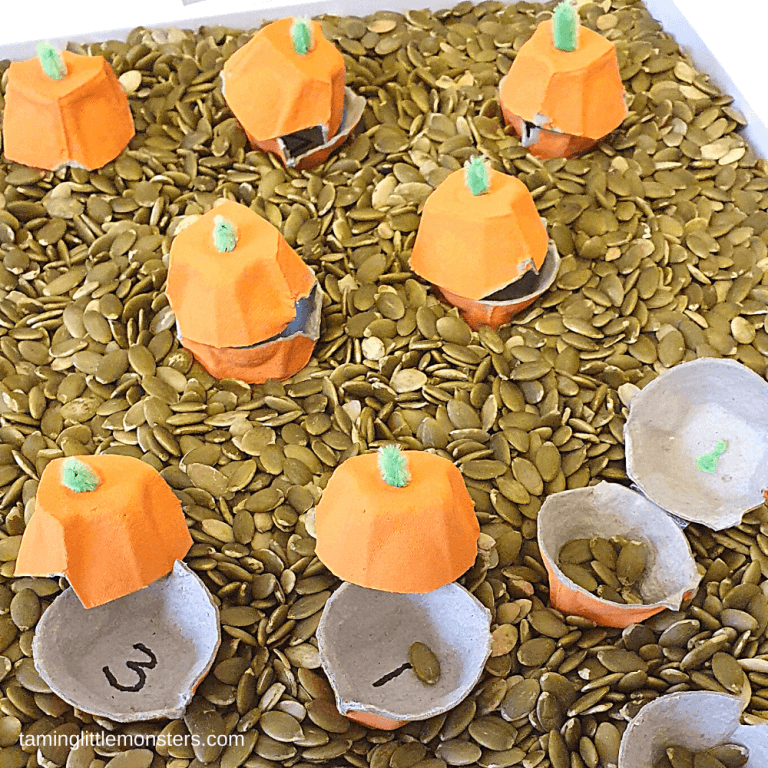 Are you interested in more kid's activities, arts & crafts, and science experiments?
I have made it easy for you! Simply join our newsletter now and I will send you new fun for kids.
Subscribe for free
3. Leave Lion Bin
By Mighty Mum of Two
Go for a fun autumn walk, collect colored leaves and make this adorable lion fall tray with help of playdough, your leave collection, and feathers.
To make your own toddler-safe dough take a look at our Easy Play Dough Recipe.
By Lil Tigers
Create with help of corn this wonderful farm sensory play tray for fall. It is super easy to make and brings a lot of fun, especially during Indian summer.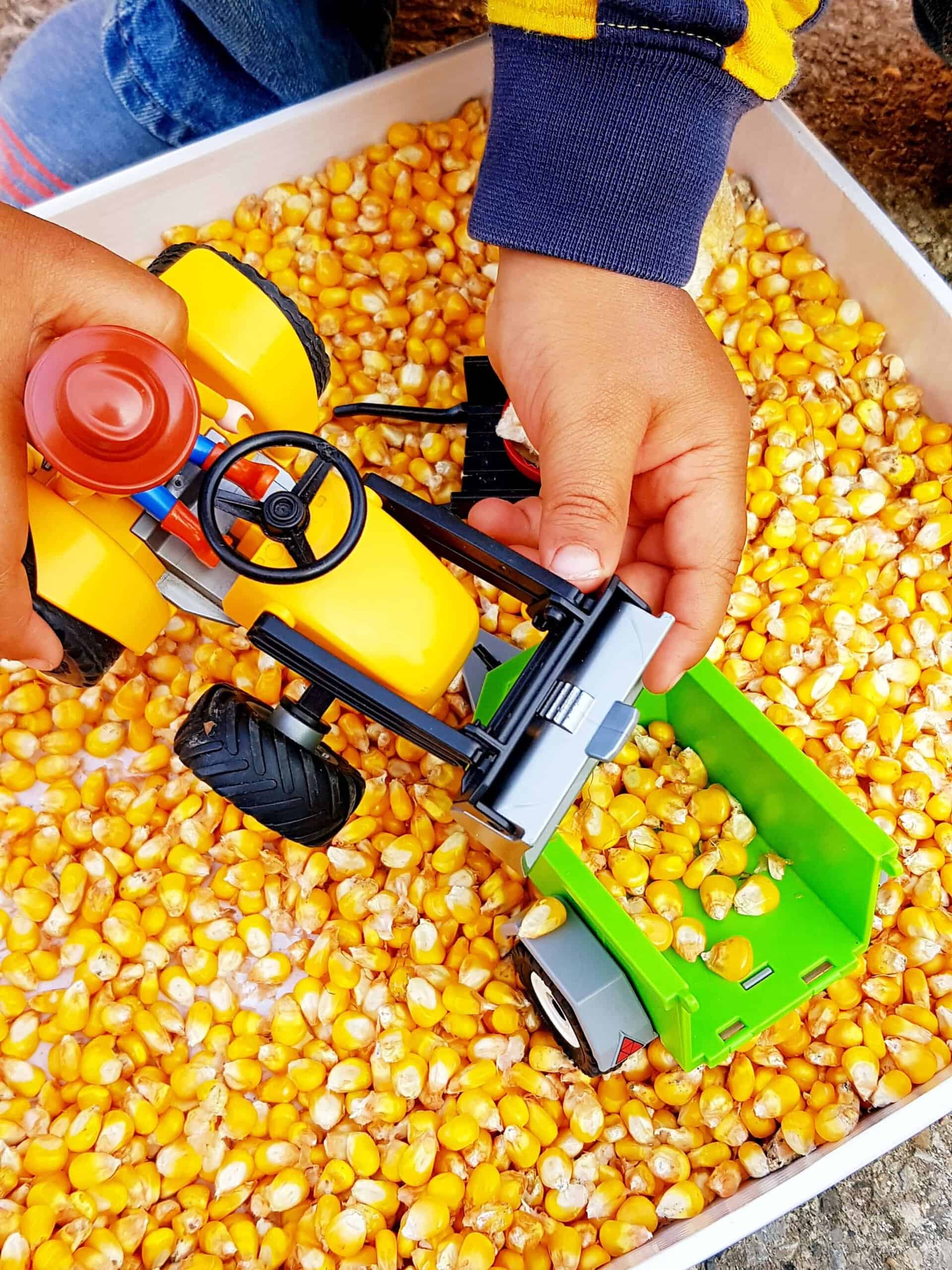 By Happy Toddler Playtime
Bubbles are one of our favorite sensory play fillers for bins. Simply add some fun leaves for the fall and you are good to go.
Also, check out our Jurassic World Sensory bin here.
Your toddlers also might enjoy these 15 Easy Pumpkin Art Projects, Backyard Pumpkin Patch Ideas, 25 Fun Halloween Activities for Toddlers, and 10 Best Play Dough Tools.
More fall activities can be found in our 100 Top October Craft post.
6. Colored Rice Sensory Bin
By Simple Toddler Activities
For this autumn sensory bin use red/orange colored rice, pinecones, an apple, a pumpkin, and leaves. Add measuring spoons/cups and a baking tray to play.
Check out our Easy Colored Rice Recipe for endless fall sensory table ideas.
7. Treasure Fall Sensory Bin
By Simple Toddler Activities
Make use of the 'treasures' your child collects from the park.
Use white beans, lentils, pine cones, cinnamon, and leaves. Add measuring cups, spoons, a funnel, leaf cookie cutter, and muffin cases for playtime.
8. Woodland Autumn Sensory Box
By Simple Toddler Activities
Woodland in autumn!
Another way to use the 'autumn treasures' your child collects is to make an autumn sensory bin. It's something toddlers can contribute a lot to in the construction process.
With help of a cardboard box, one fall artwork, leaves, pine cones, sticks, and some animal figurines you are all ready to go.
Being outside is so important for kids and comes with so many benefits. Go check them out here.
You do not get your children outside? Do not worry, here are some fun ways to Engage Children in Nature.
By Taming Little Monsters
Learn how to make a Rainbow Oats Sensory Bin. These oats look just like fall leaves when they've been colored, and with the help of some toilet roll trees, your toddlers and preschoolers can go exploring through autumn woods.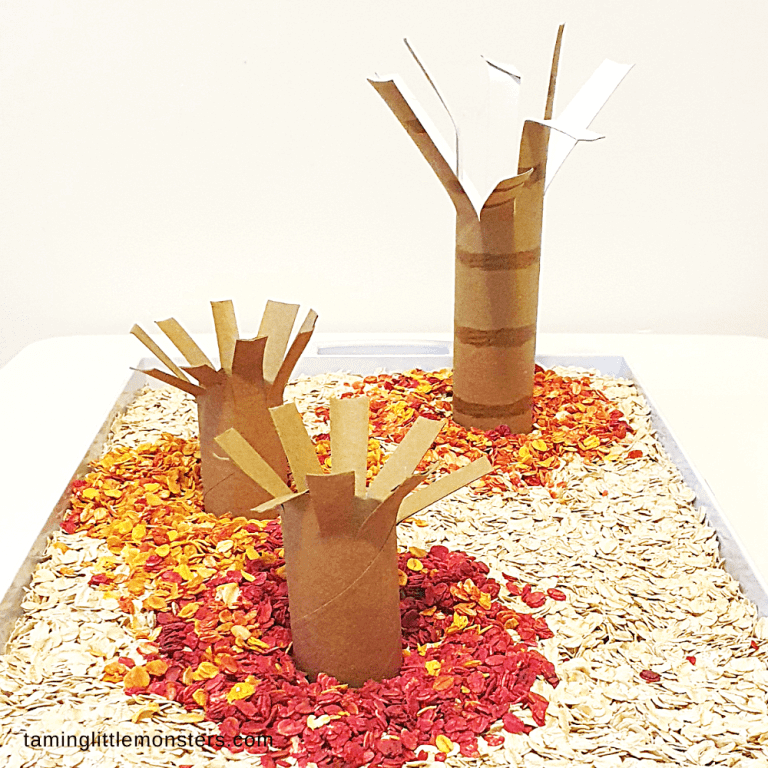 By These Hungry Kids
This apple pie sensory bin uses simple and edible ingredients to make it safe for babies. This edible fall sensory bin idea is not only fun but safe as well!
---
If you are a visual learner, go check out how we made our fall sensory table out of corn:
Now I would like to hear from you!
How did your kids enjoy these fun fall sensory bin ideas?
Either way, let me know by leaving a comment below right now.
I love to hear from you!
Pin these Autumn Sensory Bin Activities
Don't forget to save these 10 Best Fall Sensory Bin Ideas for toddlers on Pinterest! Be sure you are following along with Lil Tigers here.
Stay Updated