Playing with playdough never gets old and the possibilities are endless. Try these 10 Best Play Dough Tools and explore new learning opportunities they come with.
Let's have a look!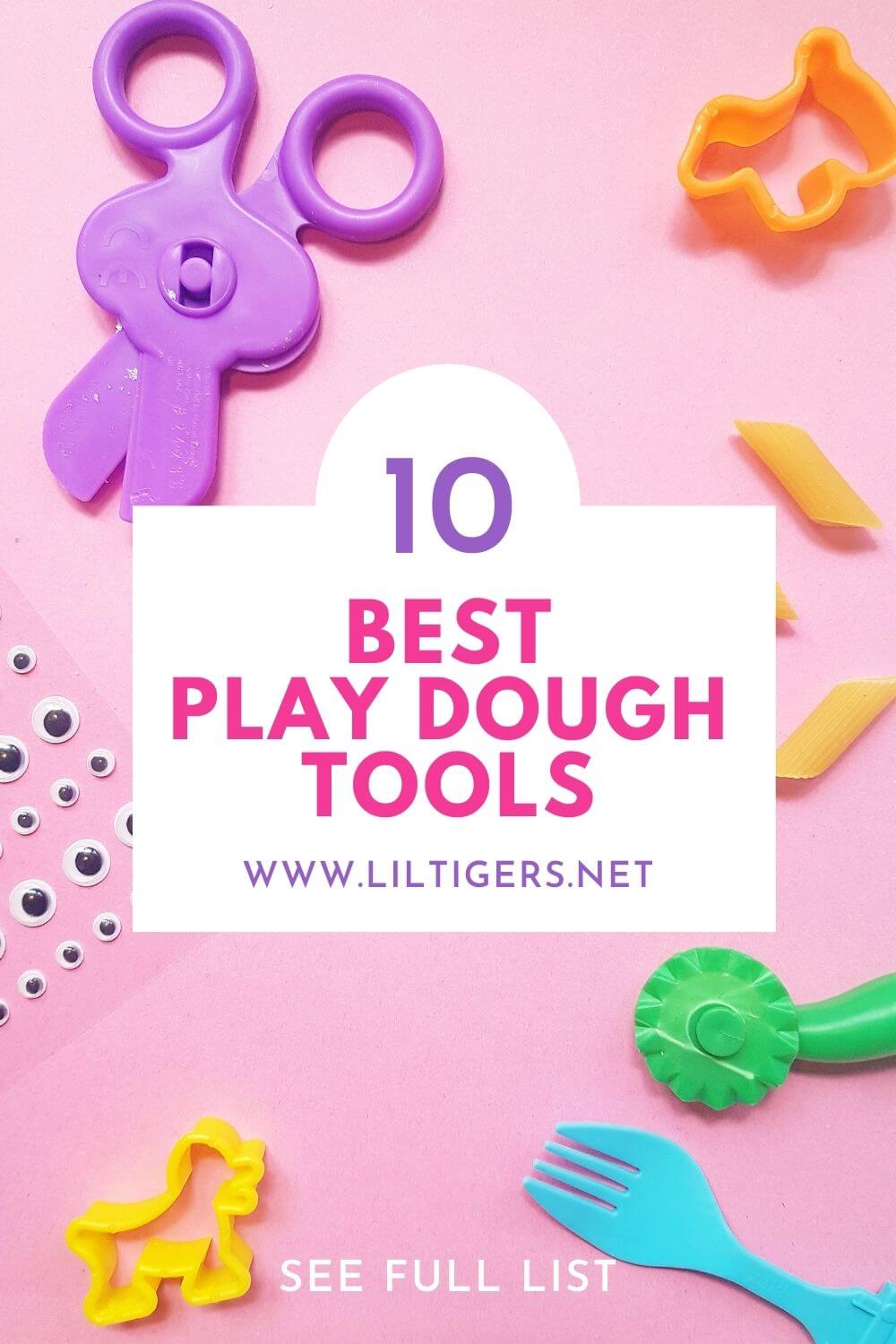 There are affiliate links in this post, meaning, at no additional cost to you, I will be compensated if you click through and take action. As an Amazon Associate I earn from qualifying purchases.

Benefits of Play Dough
Playing play dough is a popular activity for kids of all ages with many benefits. Here are the 4 Biggest Benefits of Playdough:
Develops fine motor skills
Enhances hand/eye coordination
Encourages creativity
Calms children
I love the fact that it helps develop fine motor skills, enhances their hand/eye coordination, and engages their creativity.
Therefore I encourage them to play with it whenever I can. Especially right before dinner time, it is a nice calming activity they can do by themselves while I'm able to cook in peace and quiet.
I personally love the fact that it holds so many teaching opportunities and they can learn while playing.
These and more benefits of playdough play can be found here.
---
After 8 years of playdough obsession and 3 kids later I love to share our favorite playdough toolsets with you. I hope you enjoy them as much as we do!
Do not forget to sign up at Rakuten and get money back while shopping at your favorite stores.
10 Best Tools for Play Dough
The possibilities of playing with play dough are endless. Nevertheless here is a great list of our 10 Best Play Doh Accessories we love:
Texture Rolling Pins
Safety Scissors
Alphabet Play Dough Cutter Kit
Play Dough Tool Set
Play Dough Extruder
Number Stamps
Play Dough Cutters
Construction Play dough Tools Set
Ice Cream Playdough Accessories
Googly Eyes
Are you interested in more kid's activities, arts & crafts, and science experiments?
I have made it easy for you! Simply join our newsletter now and I will send you new fun for kids.
Subscribe for free
1. Texture Rolling Pins
My kids love these wooden rolling pins for play dough. They help them to explore different patterns and textures and fit perfectly in their little hands.
2. Safety Scissors
Everyone should have some play dough cutters: These plastic scissors are perfect to improve your child's cutting skills.
We love the fact, that they make different patterns.
Cutting play dough is perfect for beginners. You will find that it is easier for young toddlers to cut playdough than paper.
3. Alphabet Play Dough Cutter Kit
I love those ABC playdough accessories for my toddler. He is fascinated by cutting the rolled-out dough and we can learn the ABC at the same time. It is a win-win.
4. Play Dough Tool Set
This playdough activity set from Melissa & Dough comes with sculpting tools and 8 tubs of dough. I like the fact this play dough equipment includes scissors which are hard to find in play dough toolsets.
Did you ever try to make your own playdough? It is super easy. Take a look here at this Play Dough Recipe without Cream of Tartar Recipe. Or simply try something new and try our fun Moon Dough Recipe!
For more sensory fun, take a look at our Fall Sensory Bin Ideas they work perfectly with these great play dough tools.
5. Play Dough Extruder
The Playdough extruder must be really calming. The kids love to squeeze the dough into this fun playdough toy and create long stripes in different shapes.
Believe me, this activity never gets old!
6. Number Stamps
Roll out the dough and cut bright and fun numbers. This hands-on learning activity will help your child memorize numbers in no time!
7. Play Dough Cutters
Your kids will love these adorable animal cutters. The playdough cutters include fish, dogs, cats, birds, butterflies, reptiles, and more.
They are definitely perfect for a rainy day project with kids.
8. Construction Play Dough Tools Set
As your kids grow the old playdough toys will start to get boring. That's when I started paying for this fun construction set. It is a big hit with the boys in my house!
9. Ice Cream Playdough Accessories
My girl of course didn't care too much about the construction toys.
Instead, we got her an ice cream set everyone loves to play with.
10. Googly Eyes
You will not believe it but these googly eyes keep my kids entertained for hours. They use them to create the most colorful play dough monsters.
Please supervise younger children playing with googly eyes!
Tip:
Tools for play dough do not have to be expensive to be fun. Take a look around for things you already have in your house and you can use.
Here are some fun examples: Plastic knife and fork, potato masher, your holiday cookie cutters, or dry food items such as pasta or beans work well.
Pin these Play Dough Tools for Toddlers
Don't forget to save these fun playdough accessories and tools for later! Be sure you are following along with Lil Tigers here.
Now I would like to hear from you!
What are your favorite play dough tools or play doh accessories for kids?
I love to hear from you!