Are you looking to stock up your craft closet? Then do not miss out on these 20 Best Toddler Art Supplies!
You will find in my list below all essential art supplies for toddlers you will need to start fun DIY projects together.
Let's dive right in!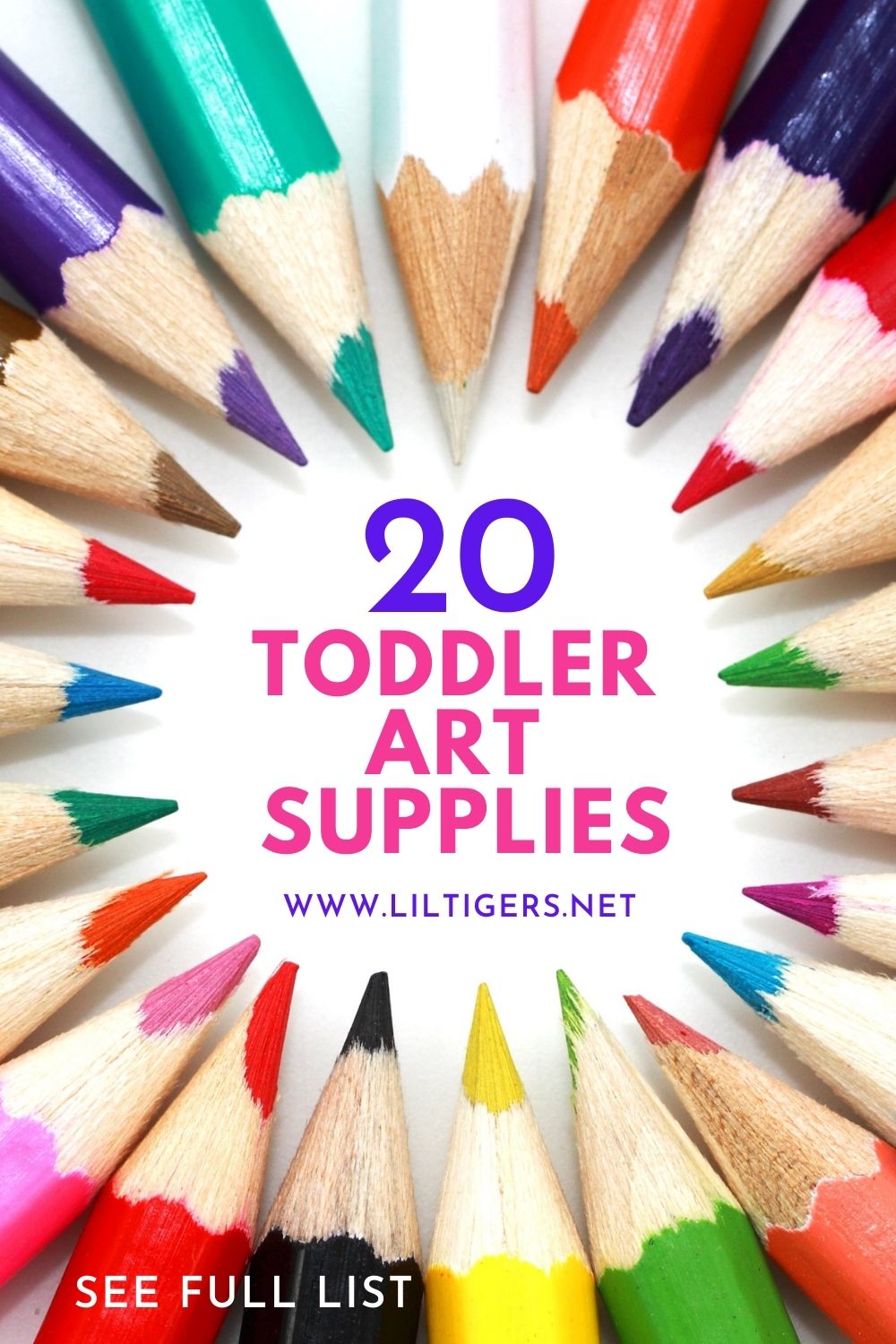 There are affiliate links in this post, meaning, at no additional cost to you, I will be compensated if you click through and take action. As an Amazon Associate, I earn from qualifying purchases.

Must Have Toddler Art Supplies
These 20 art supplies for toddlers are a must-have in every house.
I always have a small stock of these essentials at home. Together they make nice Toddler Art Kits as a perfect last-minute gift for friends with toddlers or preschoolers.
We are using all the items ourselves and you will even find some projects we did with them in the list below as inspiration.
Do not forget to sign up at Rakuten and get your money back while shopping at your favorite stores.
Here is the list of our 20+ Essential Toddler Art Supplies:

Are you interested in more kid's activities, arts & crafts, and science experiments?
I have made it easy for you!
Simply join our newsletter now and I will send you new fun for kids.
Subscribe for free
1. Waterproof Art Smock
Before we start any kind of art and craft projects I put our art smocks on for mess control!
3. Watercolors Palette
This first washable watercolor set comes with an extra big paintbrush for little hands and are must-have kid art supplies for beginners.
4. Washable Paint
My kids love drawing with liquid paint. Therefore everything needs to be washable in my house.
Better safe than sorry!
5. No-Spill Paint Cups
I love the fact that these no-spill paint cups come with big brushes.
The clear containers make it easy to identify the color and the cups help your toddlers to be independent without spilling paint.
They are one of my favorite mess-free art supplies for toddlers.
6. Pencils
Let's talk about pencils. This is my must-have art set for toddlers.
Those woody's are extra large for little hands and have 3 functions in 1. They can be used as normal crayons, you can make watercolors out of them or use them to paint your window.
7. Crayola Twistables
Those twistable Crayola are must-have coloring supplies for toddlers.
First, we tried the no-brand twistable but they broke very easily. These Crayola on the other hand are sturdy and durable.
I love the fact that you do not have to sharpen them and they will not keep breaking off!
8. Markers
Do not be afraid to let your toddler use markers. Simply buy the washable kind and you are good to go.
9. Dot Markers
These great dot markers are not only made in the US but also support early childhood development. They are washable and mess-free.
What is not to love about them?
10. Drawing Paper
In order to be able to use all these pencils and markers, we need some paper. This drawing paper is a nice addition to your creative art supplies.
11. Water Color Paper
You will experience that regular paper will not do a great job with liquid paint. Therefore I recommend using watercolor paper for your next painting project.
12. My First Safety Scissors
When my children started working with scissors I made sure to buy toddler safety scissors. This great toddler art set actually even comes with 3 scissors with 3 different cut styles.
13. Washable Glue Sticks
For my toddler, I love to buy these purple disappearing glue sticks. It helps him see where he already put glue.
14. Toddler-Friendly Chalks
This ready 2 learn non-toxic chalks have plastic handles and prevent them from breaking off the whole time!
They are the perfect safe art supplies for toddlers!
15. Play Dough
This playdough starter set is perfect to work on your toddler's motor skills. Shape, squish, mix, and make it all your toddler will love it.
If you prefer to make your own playdough take a look at our toddler-safe playdough recipe.
16. Button Art Toy for Toddler
This button art toy is recommended for toddlers age 3 and up. It is an early learning art activity that helps your toddler to match colors.
Now it is time to get creative. Here are some of my favorite art accessories for toddlers.
17. Dot Stickers
Dot Stickers are perfect for all kinds of art projects with toddlers. A popular example is matching color activities.
18. Pom Poms
Pom poms are a must-have art material for preschoolers in our house. They will help your toddler develop his fine and gross motor skills.
We made our own paintbrushes with pom poms. Take a look at our pom pom art project!
Please make sure to supervise small toddlers working with pom poms.
19. Popsicle Sticks
Popsicle sticks can be used for a lot of art and craft projects. Your kids will enjoy even using them for their next STEM projects.
20. Googly Eyes
We love using googly eyes for our art projects. For example, take a look here at our friendly monster project!
Please do not let your toddler work alone with googly eyes
21. Plastic Drinking Straws
We are using our drinking straws not only for the next summer party but also for our craft and STEM projects.
The other day we made firework art with help of these disposable drinking straws.
22. Pipe Cleaners
These colorful pipe cleaners are so much fun to play with. Simply twist them into any shape you like.
23. Tape
Your kids will have a lot of fun using washi tape for their next craft project. They are must art materials for toddlers and preschoolers.
24. Water Wow
Especially toddlers want to be entertained on a car ride. Try these mess-free reusable activity books for toddlers.
We have them in our car and the kids love them!
Pin these 10 Best Toddler Art Supplies
Don't forget to save these art materials for preschoolers on Pinterest for later! Be sure you are following along with Lil Tigers here.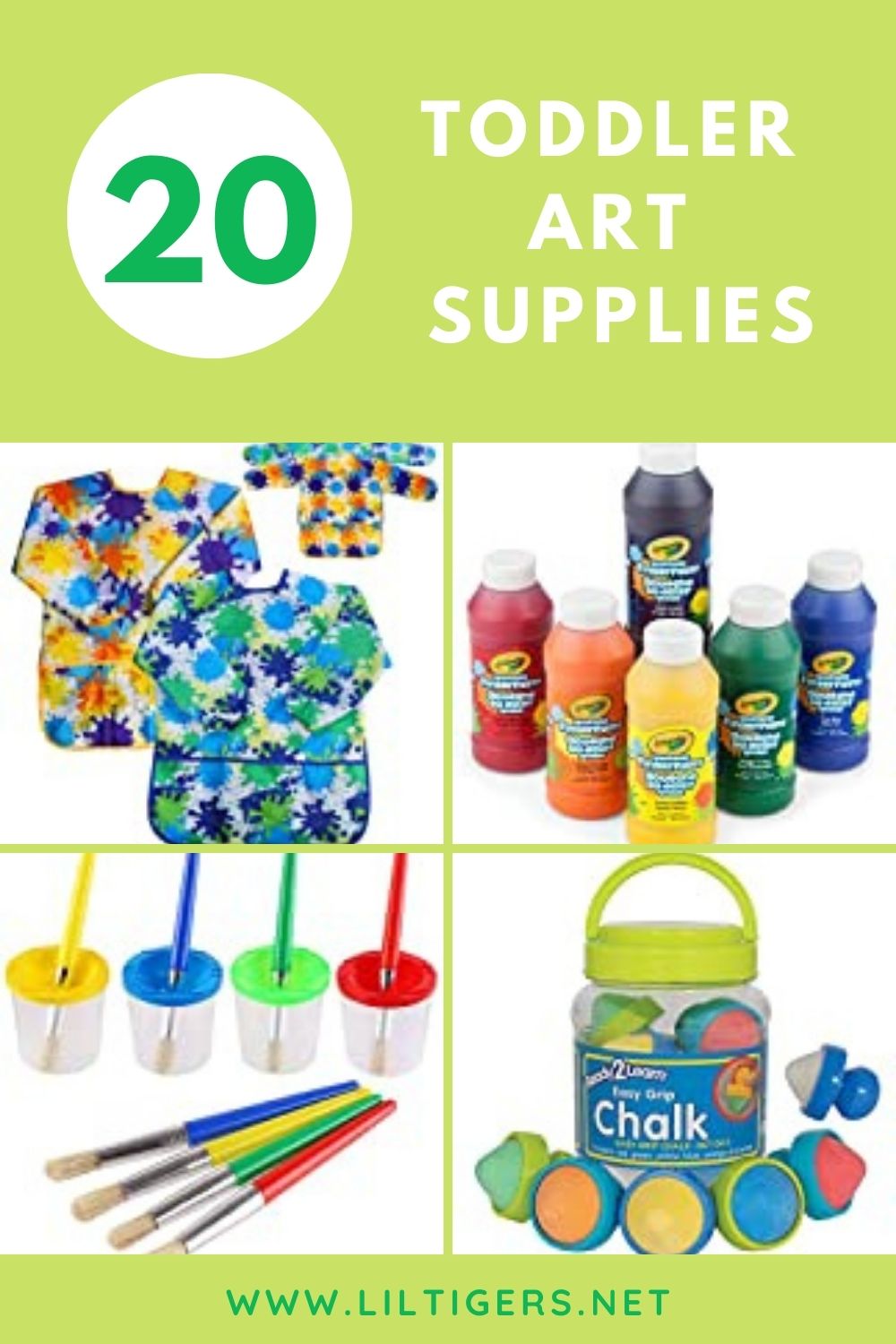 Now I would like to hear from you!
What is your must-have art set for toddlers?
Please leave a comment below I love to hear from you!