Do your children like blow painting with straws? Then try this friendly watercolor monster art and craft project with them the next time it's cold and rainy outside.
In fact, it is a lot of fun and super easy.
All you need is a drinking straw and liquid paint.
So let's get started and dive right in.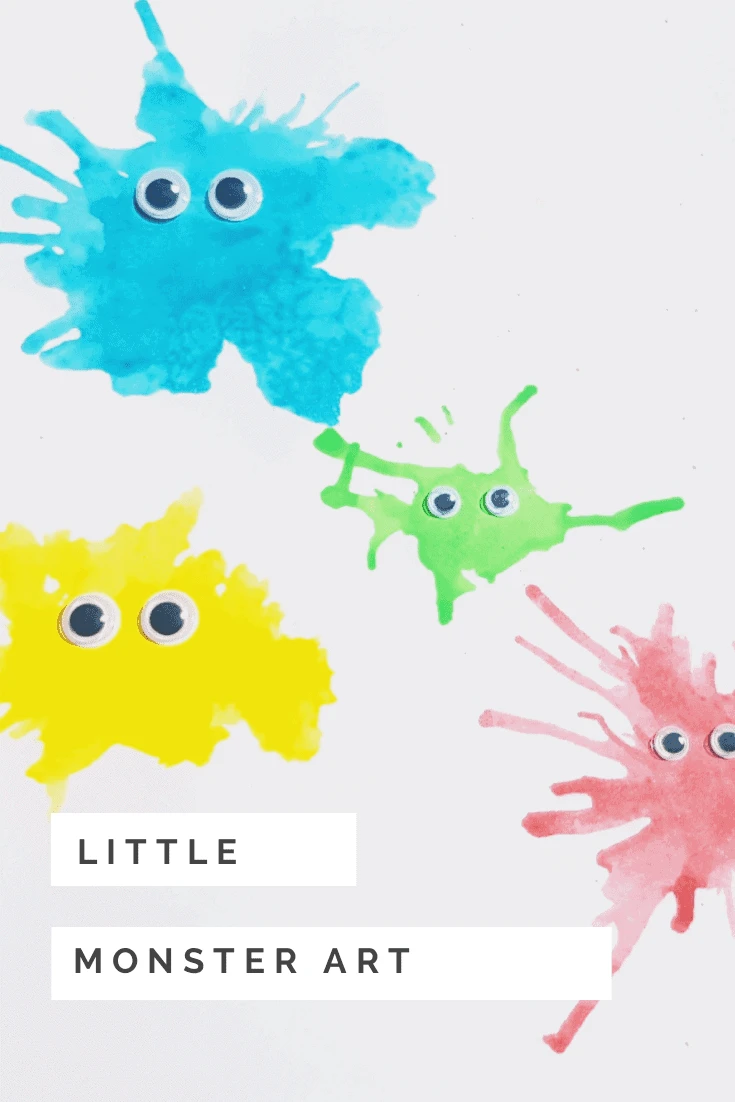 There are affiliate links in this post, meaning, at no additional cost to you, I will be compensated if you click through and take action.
DIY Blow Painting – Friendly Monster Art
Did you ever make a blow painting? This easy blow coloring technique will keep them excited and busy for a full afternoon.
It's very unpredictable and no monster will look the same. That makes it so much fun!

And don't worry if your kids are scared of monsters. Simply use this opportunity to let them know there are friendly monsters too and that there is no reason to be scared of them.
I know it is hard to overcome fears, especially for children especially when they are little. But at least it is a start.
Are you interested in more DIY Kids Activities, Arts & Crafts, and Easy Science Experiments?
Subscribe to our newsletter now and never miss an update on new ideas for kids or free printables!
Click here
Why not use the time while your kid's art is trying off to read a book together and learn that monsters aren't real? Or if you have a reader, practice reading together that way.
Here are some great children's books about monsters:
Monster books to teach about feelings and emotions:
Beginner reader books:
How Do You Make Blow Art Monsters
But let's get back to our activity now. Here is what you will need to create cute little watercolor monster blow paintings:
Friendly Monster Blow Art Materials
watercolor paper
watercolors
water
brush
straws
clue on craft eyes
marker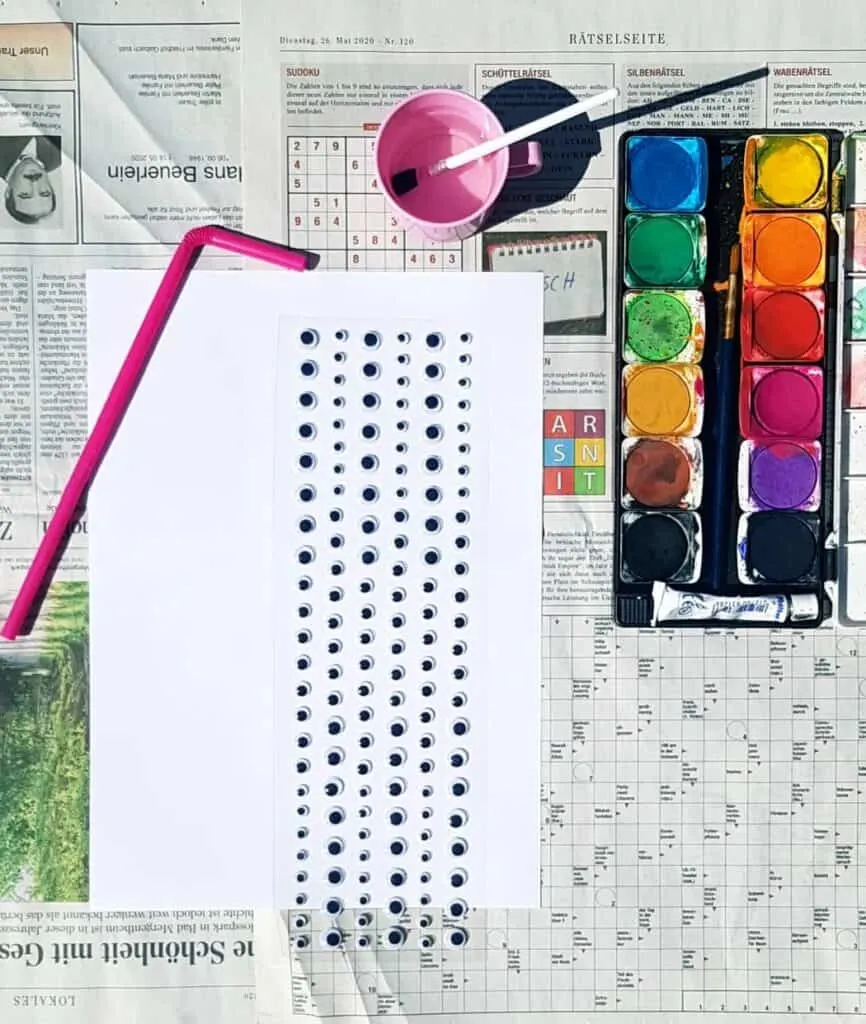 What Kind of Paint Do You Use for Blow Painting?
We used liquid watercolor paint, but watered-down food coloring works as well.

Let's create some friendly watercolor monster blow art. Here is the full step-by-step tutorial:
Did you know you can paint with a Toothbrush? You certainly can.
Find out everything about it in our Toothbrush Painting Guide, or try our fun Hammer Painting.
You might also like one of those other 25 Great Painting Ideas.
Friendly Monster Blow Art Instruction
Step 1: Prepare the colors
Use the brush to mix the water with the watercolors. Make sure to use a lot of water so they are very liquid.
Step 2: Drop the paint on the paper
After you mixed the colors take a good amount of liquid paint and drop the color on the paper. Do not rub it in! It should be more like a little lake on your paper.
Step 3: Blow monsters
To create the shapes of the monsters, take the straw and blow the paint in different directions. In case it's not liquid enough add some water to it!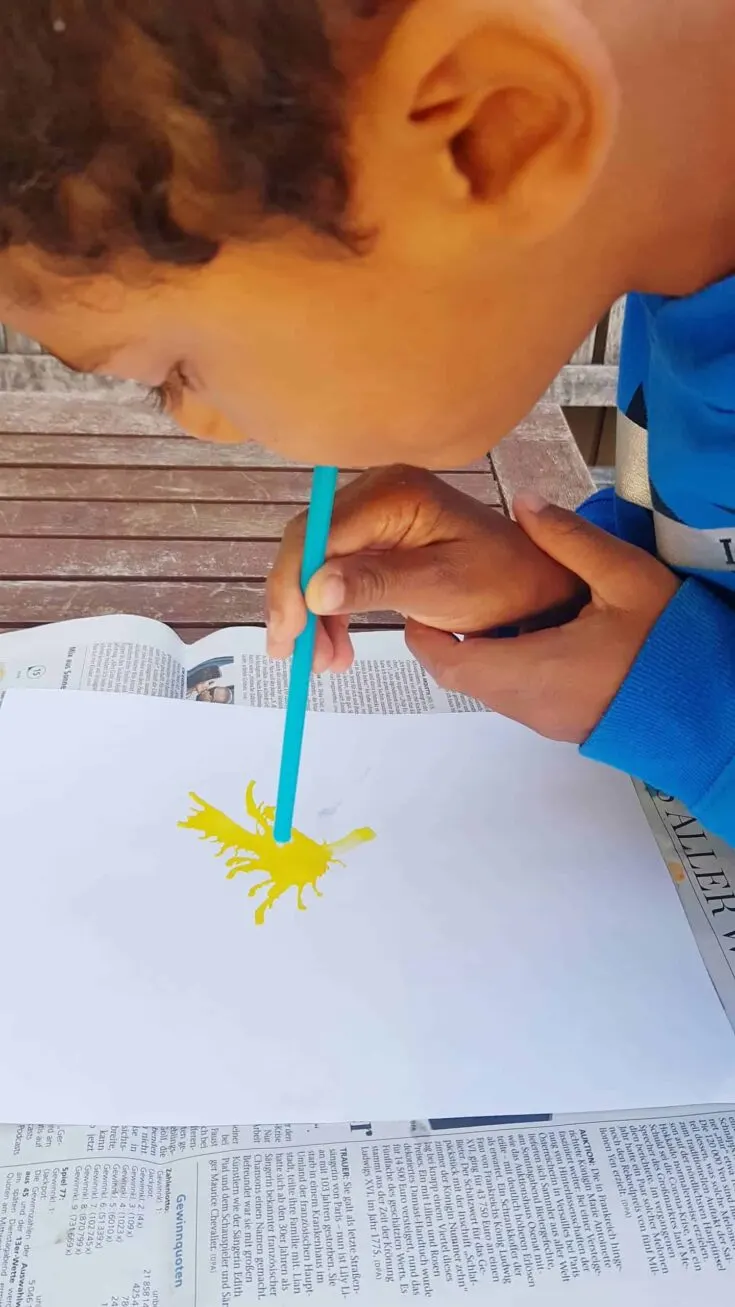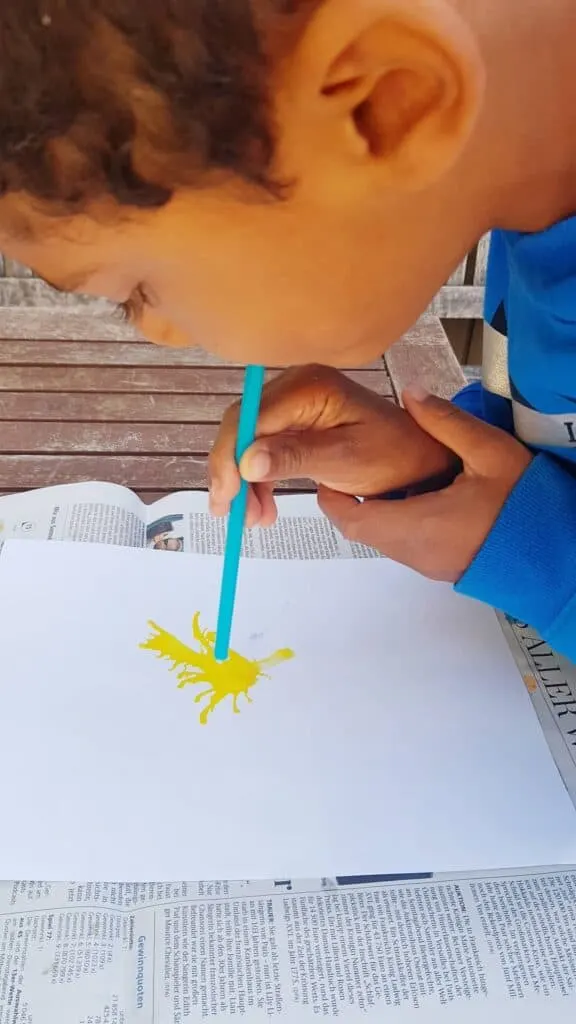 Step 4: Let it try
Then it is time to let your monster art try. Depending on how much water you used, it may take 1-2 hours.
Step 5: Add eyes
After your art project is fully tried, add clue eyes to your shapes to create friendly little monsters.
Step 6: Draw faces
Now the monsters look already cute but if you prefer them to have faces, take a marker and add a mouth and nose too.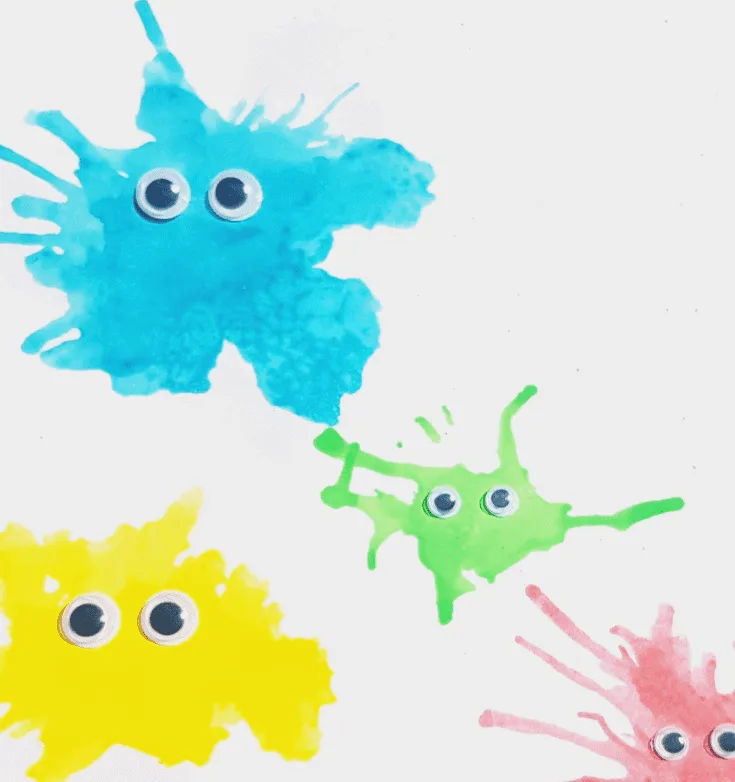 Blow Art Tips
Switch it up and use different types of straws or even blow with different strengths. You will see the difference.
Make sure to place your watercolor paper in a tray or cover the table with old newspapers before starting so it doesn't get too messy!
Use washable colors or wear old cloth!
Before starting your friendly monster art project use the chance and explain to them the meaning of blow painting. Then observe how their artwork changes as it dries especially when you mix two colors together!
---
If you are a visual learner, go check out this drinking straw blow art video tutorial and see how you can also create dandelions with it:
Summary
Overall my kids love their friendly monster paintings and so did I.
I gave them different kinds of straws and they experimented with them. In the end, they could see which difference it made how hard or soft they blew and if they took a thicker or thinner straw.
Also is this activity a great way to improve your children's mouth muscles? My son is going to speech therapy and that is a great way of practicing for him!
Our friendly little monster art kept us the whole afternoon busy, which is a good thing in our house.
First, we were looking for monster books in the house but ended up going to the library.
While our masterpiece tried we read the books together and talked about monsters. We discussed that monsters are not real and there is no reason to be afraid of them.
We talked about emotions and how we can they can turn us into little monsters, even mommy. And my first grader got the chance to read to all of us.
Depending on the age of your children they might need some help in preparing the watercolors and reaching the right amount of liquid for them.

So for Which Age Group Do I Recommend Blow Painting With Straws
My kids are nearly 2, 4, and 7 years big kids loved this craft.
My younger one on the other hand only was interested in eating the eyes.
Of course that all depends on the development of your children but since it includes little pieces and it is a choking hazard, I only recommend this activity for children 3 and up.

BUT this activity can be changed up easily so it's toddler safe. In that case, simply water down food colors and leave out the eyes to clue on. Just simply use a marker to draw them.

Let's be honest, this art activity can be a little bit messy. But if you prepared for it and took percussion it's not a big deal. Plus most kids love to get messy, at least mine do. Any art and craft seem to make so much more fun to them if it includes getting dirty somehow.

So to get back to our personal experience with this cool art activity, we loved it and I only can recommend it to anyone. It is different and fun, it was a full success.
In case you are looking for more monster fun, do not forget to check out our other monster activities:
Pin Those Adorable Blow Painting Monsters
Don't forget to save this craft on Pinterest for later! Be sure you are following along with Lil Tigers here.

Now is your turn!
I hope you liked this friendly watercolor monster art project with your kids. Don't forget to let me know if your kids enjoyed it.
I love to hear from you!

Follow us on Instagram, Pinterest, Tik Tok, and join our Facebook group "Free Kids Activities Arts & Crafts" for more fun DIY Kid's Activities, Arts & Crafts, and Science Experiments.
Watercolor Monster Art
How to make friendly watercolor monster art
Materials
Watercolors
drink straw
paper
Instructions
Mix watercolors with water till they are very liquid
Drop a good amount of paint on your paper
Take your straw and blow your paint in diffrent directions
Let it try
Add eyes and color faces on your monsters