I mean seriously, who doesn't like ice cream? Try this super fun DIY ice cream bar party idea for your next get together.
All you need is different ice creams and toppings.
Let's dive right in and get inspired!
DIY Ice Cream Bar Party Idea
My kids are obsessed with it. They want to eat ice cream every day this summer.
Normally popsicles are enough for them but on special occasions, we go and get real ice cream.
My son's birthday came up last week and I needed a fun idea for his birthday party.
Summers are hot here end of July so I planned on going swimming in the backyard with the kids. First, we had coffee and birthday cake but I wanted to do something different, special for him.
So nothing was more suitable than having an ice cream bar after the pool.
Are you interested in more DIY Kids Activities, Arts & Crafts, and Easy Science Experiments?
Subscribe to our newsletter now and never miss an update on new ideas for kids or free printables!
Click here
How to Make an Ice Cream Bar
I made a cute ice cream party invitation and prepared everything for his special day.
Here is what you need:
Ice Cream Bar Materials
different flavors of ice cream
ice cubes or crushed ice
different toppings
marmalade jars
spoons
cooler
Be aware this recipe is easily changeable and durable in so many different ways. Just adjust it to your occasion, family, and guest's needs.
Here is the full step by step tutorial:
Instruction for DIY Ice Cream Bar
Step 1: Planning
Is your ice cream bar set up inside or outside?
What is the temperature like? Is it a super hot day or are you in a room with air-conditioning?
As mentioned before we did our bar outside on a hot day. Therefore I used a cooler for our ice cream sundae bar.
Inside you can easily build your own ice cream sundae bar nicely with help of a big bugged or bowl adorable ice cream bar decorations.
Do you prefer to use jar containers for the ice cream, cups, or cones dipped in sprinkles?

Step 2: Go shopping
After you thought through what kind of Sunday ice cream bar you like to have go and buy all your essentials.
I used 3 different kinds of ice cream flavors and let my kids pick their favorite flavors, strawberry, stracciatella, and banana split.
For our ice cream sundae toppings, we got marshmallows, sprinkles, and chocolate chips.
There are hundreds of possibilities: All kinds of fruits like strawberries, blueberries, or pineapples. Different colors of sprinkles, nuts, or pretzels.
Some People like cream on their ice cream or different sauces like chocolate or caramel.
There are endless ideas for ice cream parties to choose from.
You might also enjoy this Strawberry Popsicle Recipe, our Fruit Sparklers, 20+ Best Summer Activities, or might get ready to go back to school with these cool Ice Cream Quotes, or 20+ Back to School Ideas.
Step 3: How to Set Up an Ice Cream Bar
After you decided on how to set up your ice bar it's time for preparation.
Fill the cooler or bowl with crushed ice.
Portion different kinds of ice cream scoop in the marmalade jars or bowls for your sundae waffel cones. Make sure to count your expected guests so you have enough for everyone!
Put the toppings for your ice cream bar in the containers. Then stage your ice cream cones toppings nicely on your designated area.
Place all jars on top of the crushed ice in the cooler or your prepared bowl.
If you use jars instead of waffles for your DIY ice cream bar do not forget spoons.
Close the cooler and you are good to go.
Outside you can arrange all your toppings for the ice cream bar on a picnic table or blanket. Leave the ice cream jars on the ice and take them out only when you needed!
Now it is time to enjoy your ice cream party. Simply add your desired sundae toppings to your jar full of ice cream and simply enjoy it!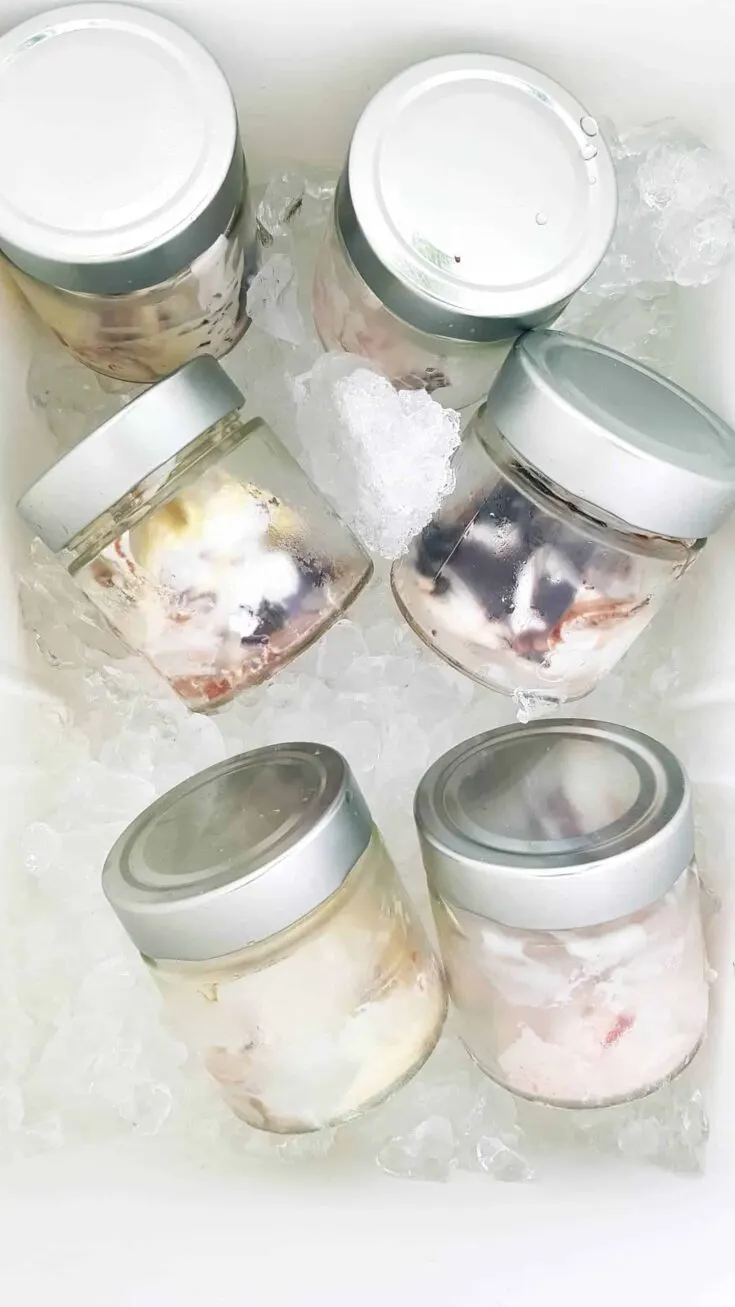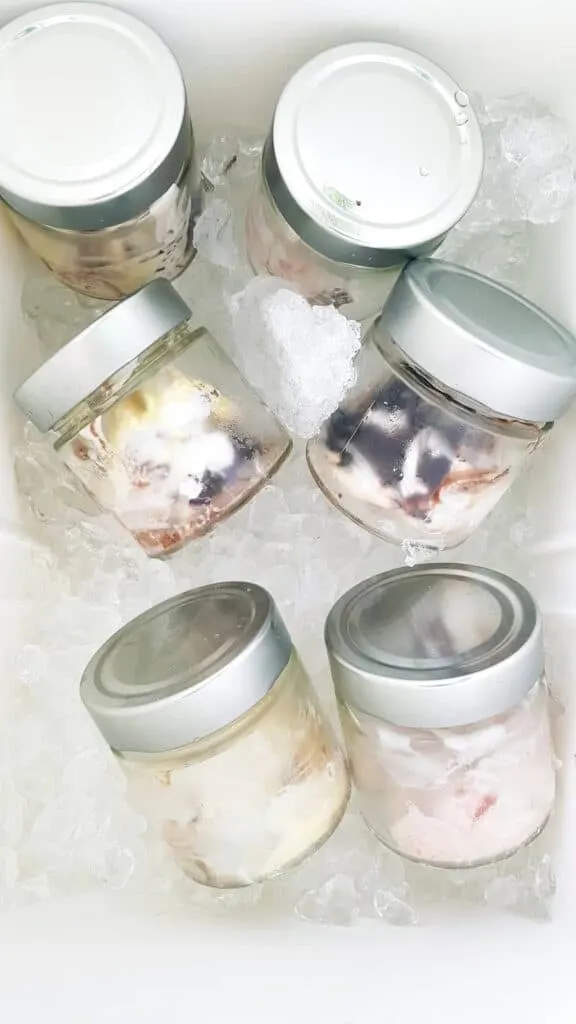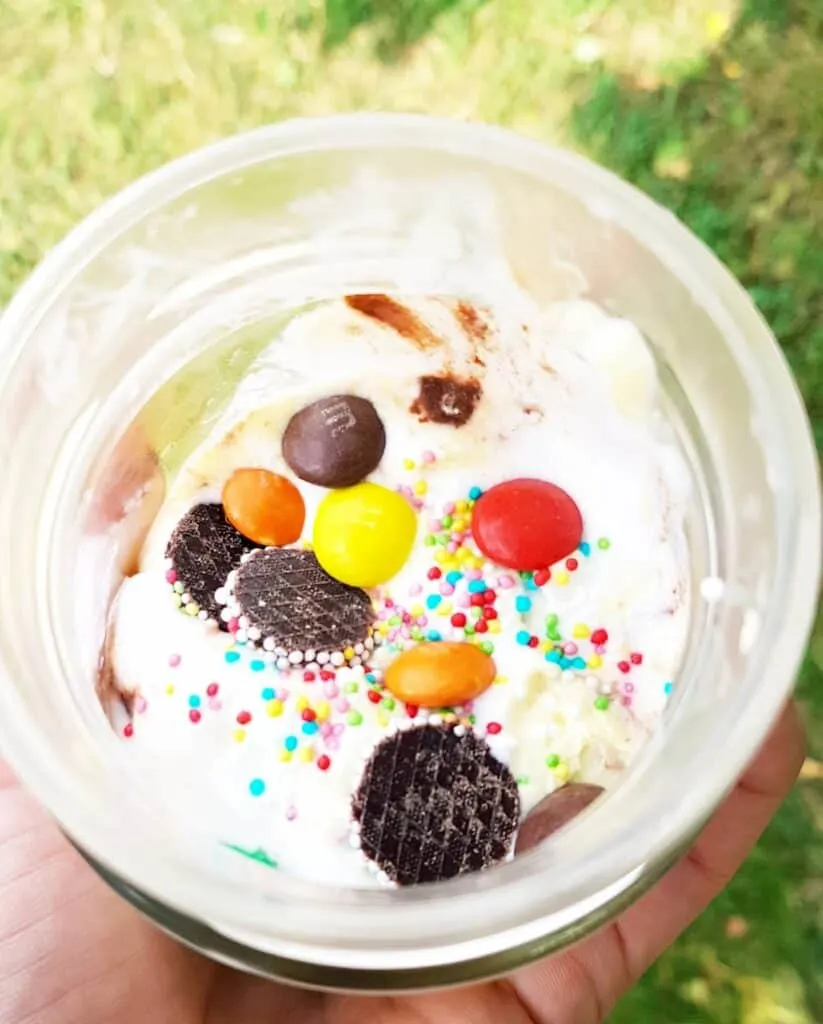 Ice Cream Bar Tips
lt does not take long to make your ice cream bar for a party but I do not recommend placing the ice cream out hours before your event starts. This would be the last thing on my to-do list in order for the ice cream not to melt!
Children can be picky! If you don't know your crowd it might be better to prepare different bowls for each flavor of ice cream and everyone can arrange their own portion after their liking.
I m sure everyone is aware that this ice cream party idea is not the healthiest but clearly delicious. Maybe it makes you feel better to use sorbet, fat-free ice cream, or simply make a yogurt bar out of it instead of an ice cream treat!
Maybe you even like to make your own ice cream with fruits from your garden. This would be even better than buying it in the store!
If you have smaller toddlers at your party, make sure all the ice cream cone bar toppings are safe for them. That way nobody has to worry about choking hazards and everybody can enjoy this special occasion!
Since my son's birthday party was an ice cream party, I decorated accordingly and offered other snacks and matching cake to our ice cream party theme. I also made popsicle cakes, ice cream-shaped cookies, and served fruit in ice cream cones.
Pin This DIY Ice Bar
Don't forget to save this ice cream bar idea on Pinterest for later! Be sure you are following along with Lil Tigers here.
I hope you liked this easy ice cream bar party idea. Don't forget to leave a comment below and add a picture.
I love to hear from you!