Are you looking for easy Valentine's day card ideas for kids?
Then try this adorable pom pom painted heart craft with your children.
It is super easy it is to set up and will amaze your whole family!
In fact, this unique painting technique is ideal for toddlers and preschoolers but will also fascinate your big kids.
So let's switch things up a little bit and dive right in.

Pom Pom Valentine's Day Card Project
Valentine's Day is an often celebrated holiday, especially in preschools and kindergarten. It is a celebration of not only love but friendship.
This adorable Valentine's day craft for kids is the perfect opportunity to implement fine motor skills practice in the most fun way.
Only a handful of supplies are needed. That makes this pom pom painted heart art an easy and low-prep Valentine's day project ideal for a classroom setting.
But let's take a look now at this simple but unique Valentine's day art.
Are you interested in more kid's activities, arts & crafts, and science experiments?
Subscribe to our newsletter now and never miss an update! Click here

How to Paint Valentine's Day Cards with Pom Poms
Here is what you will need for this fine motor activity for Valentine's day:

Materials
pom poms
clothespins
liquid paint
paper
pencil
scissor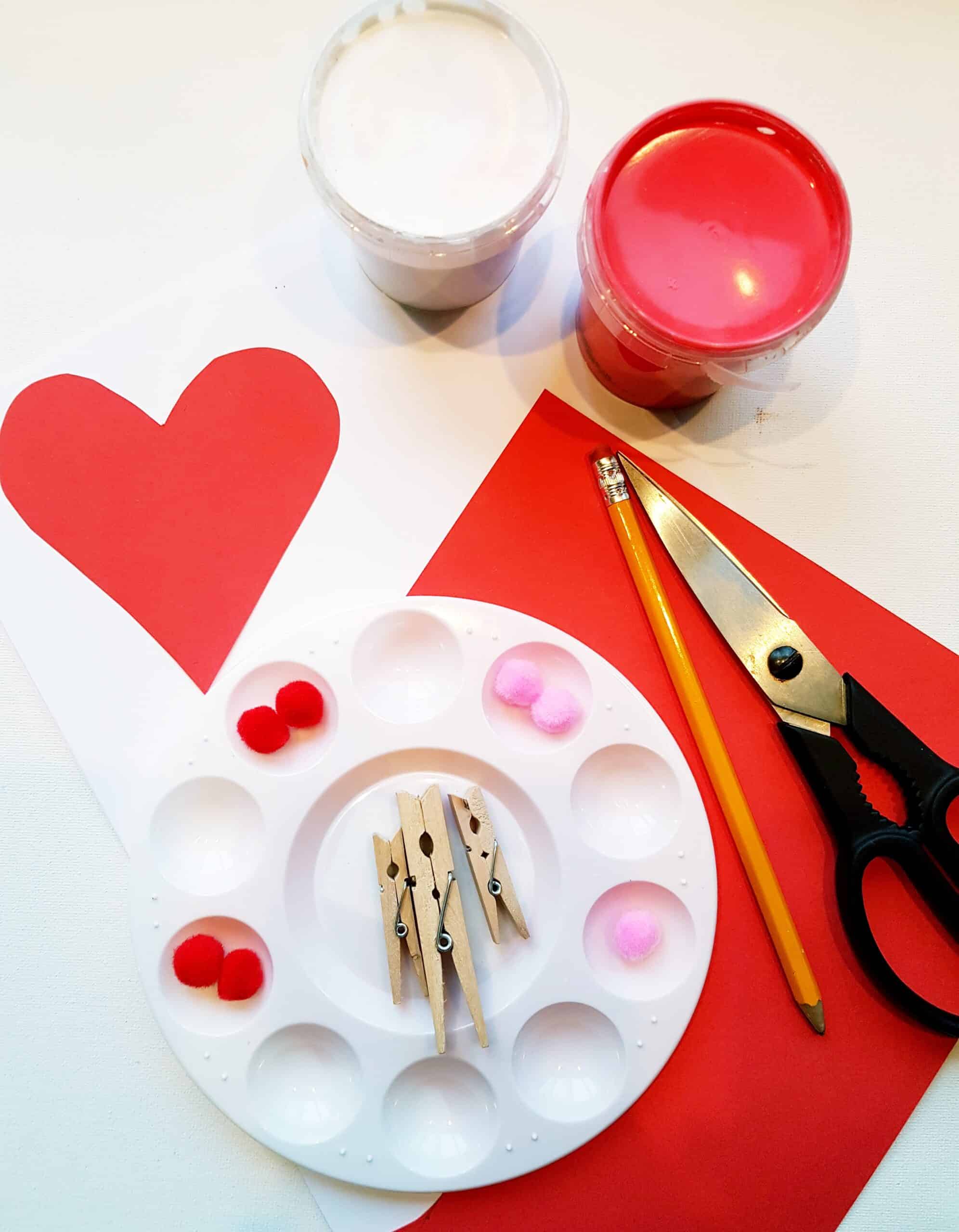 Instruction
Follow these simple steps to create your own heart card for Valentine's day:
Step 1: Fold the card
Take a white piece of paper and fold it in half to create a card

Step 2: Create a heart
After this is done it is time to create a heart shape. Either you or your child draws a heart on the front of your card or you cut a heart from an extra piece of paper. Then place it in the middle of your card.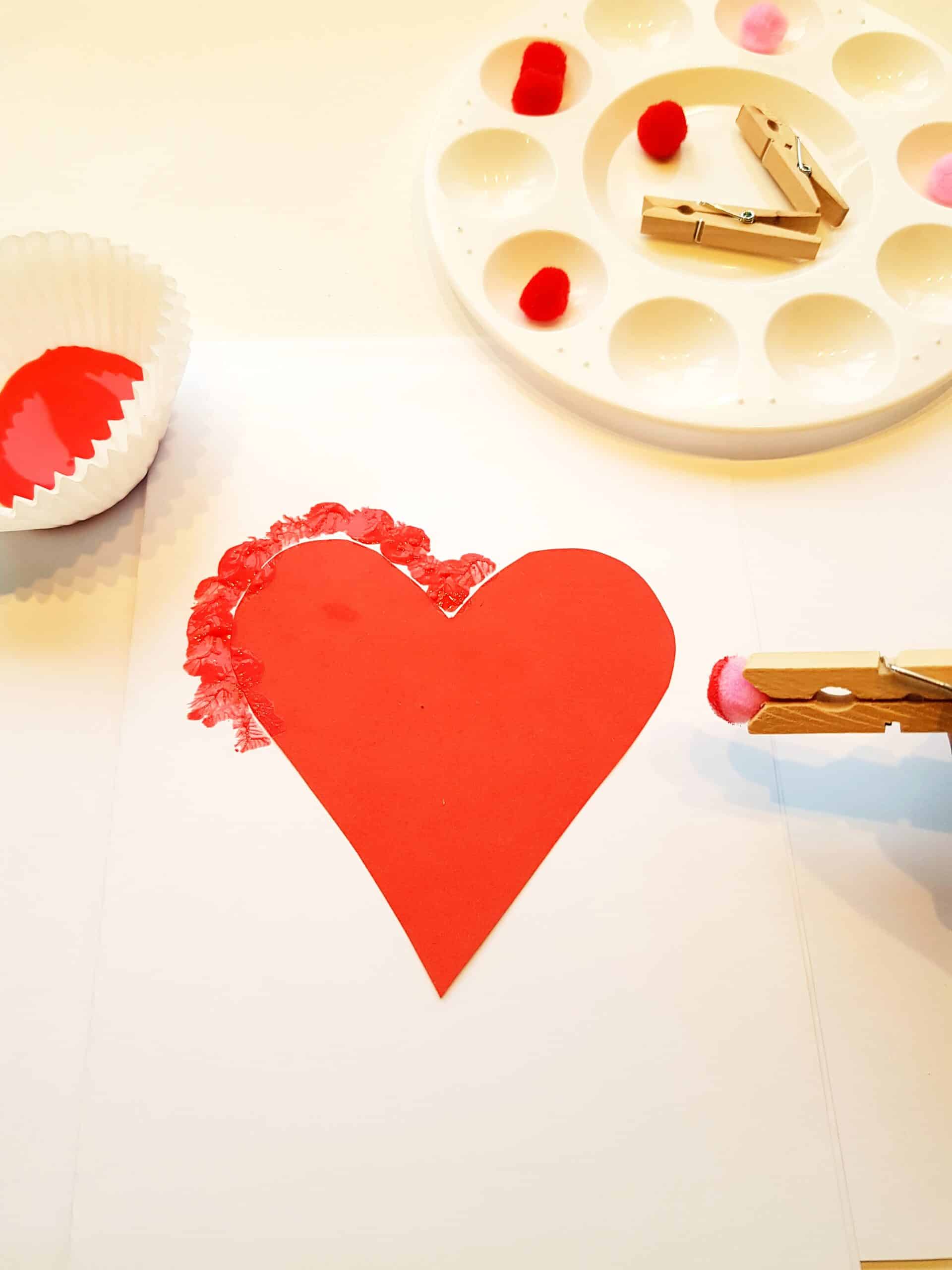 Step 3: Make your own paintbrush
Now it is time to make your homemade toddler pom poms paintbrush. Take your cloth pin, open it up, and squeeze your pom-pom in the middle.
Pom poms are for sure a must-have art supply. See my full list of our 20 Best Art Supplies for Toddler here!

Step 4: Paint
Take your new pom pom paintbrush and dip it in your liquid paint. Either start now painting with it along the drawn heart line or around the cut heart.

Step 5: Let it try
When you are done painting let your Valentine's day art project try completely before adding text. If you used the cut heart shape it is time to remove it!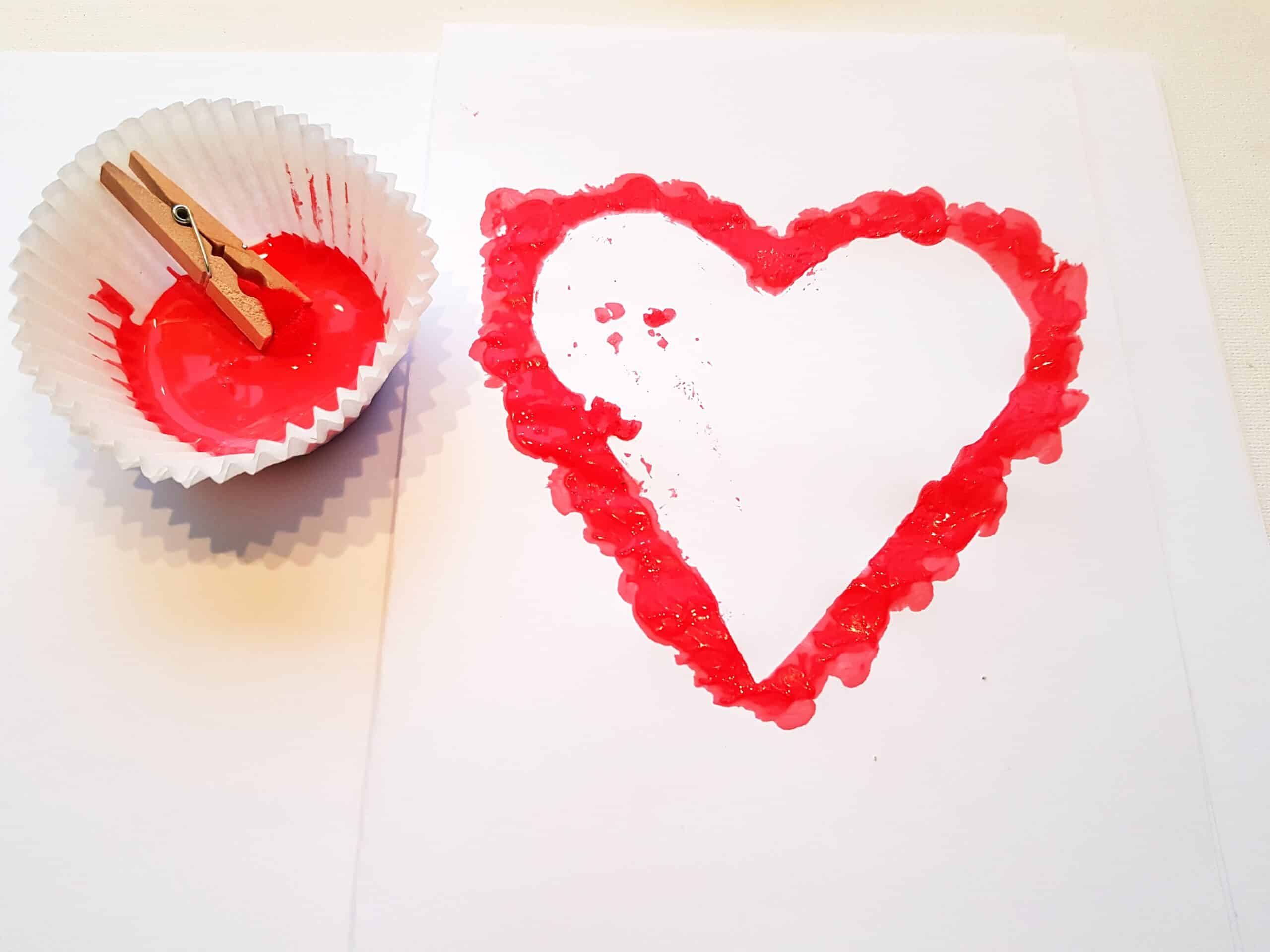 You might also like the following Valentine's day projects. Try next our Cupid Printables, Valentine's Day Bingo Game, Nail art, Valentine Day Poems for kids, or one of these 25 adorable Valentine's Day Crafts.

Tips
Want to switch things up a little bit? Then let your children use different sizes of pom poms and cloth-pins. This way you can easily change the difficulty level of your activity and help them improve their fine motor skills. At the same time, they will realize the difference in outcome by choosing a different size of pom-poms.
Instead of using pom-poms, you can also use cotton balls for your cloth-pins. If you do not have cloth-pins use your pointer finger and thumb to hold the pom-pom.
In case you do not have any of these items at home use q-tips or simply let them use their fingers to paint their cards.
Be aware this activity can be messy depending on your children's age. Dress accordingly and use a finger or at least washable paint.
I recycled old cupcake liners from holiday cookies and used them for the liquid color.


The Benefit of Painting with Pom Poms
This fun Valentine's project for kids is perfect for improving children's fine motor and sensory processing skills.
Pinching the pom poms with your fingers and trying to attach them to the cloth pins can be quite tricky. Nevertheless, it will help young children to train their finger muscles and work on their fine motor skills.
Plus working with liquid paint and pom-poms will give them the possibility to discover art with all senses.

Summary
I have 3 children between the age of 2-8 years old. All of them enjoyed this fun Valentine's day activity.
The little ones could work on their fine motor skills and try following their heart lines with their self-made paintbrushes.
My older children on the other side were happy to explore a new painting technique. They tried to use their pom poms to make dots and use them as regular brushes. Also, they used small and big pom poms to explore.
It was a little bit messy with my 2-year-old but all had fun and I was prepared.
We all enjoyed this lovely Valentine's day card project and had a good time.
If you are looking for cool Valentine's day phrases take a look here.
Other than that I recommend this activity for 2 years and up but only under supervision for the younger children. Just to be sure they do not swallow their pom poms.
If your kids are still not satisfied download free Valentine's day coloring sheets here.

Pin This Valentines Day Art Project
Don't forget to save this adorable Valentine's day art project on Pinterest for later! Be sure you are following along with Lil Tigers here.
Now I would like to hear from you! How did your kids enjoy this easy Valentine's day card project with pom poms? Either way, let me know by leaving a comment below right now. I love to hear from you!
How to make Valentine's Day Cards with Pom-Poms
How to make Valentine's day cards with help from pom-poms.
Materials
paper
liquid paint
pom-poms
cloth-pins
penicl
scissor
Instructions
Take a white piece of paper and fold it in the middle to create a card.
Take an extra sheet of paper and cut out a heart. Place it in the middle of your card. Alternatively, simply draw a heart on the front of your card.
Take your pom-pom and squeeze it between your clothespin.
Use your self-made paintbrush now, dip it in the liquid paint and start coloring outside of your heart.
Let it try and remove your cut heart.
Add text to your card as desired.