This adorable handprint chicken chicken craft for kids is super easy to make.
All you need is a handful art and craft supplies and you are ready to go.
Your children will love this wonderful farm animal art project. So let's dive right in!
There are affiliate links in this post, meaning, at no additional cost to you, I will be compensated if you click through and take action. As an Amazon Associate I earn from qualifying purchases.

Farm Animal Craft Project
Farm animal projects are one of our favorite activities in our house since we are actually living on a farm.
Now since the Winter is almost over and all the holiday decorations are gone it is time for some spring fun.
Therefore I decided to start up this new season with this fun chicken handprint craft for my kids.
This wonderful spring craft for kids is especially a big hit for toddlers and preschoolers. It is perfectly manageable in a classroom setting.
Painting with hands brings a lot of joy and fun. It helps children to explore paint with their own fingers and makes it the perfect sensory activity.
Especially around Easter, chicken projects are rather popular. Also, why not use the opportunity to take a book, learn about farm animals, chickens, or Easter traditions. The kids will love it!
But let's take a look now at this easy chicken craft project:
Are you interested in more kid's activities, arts & crafts, and science experiments?
Subscribe to our newsletter now and never miss an update! Click here

How to Make Simple Handprint Chicken Craft
Here is what you will need for this DIY chicken Easter craft:

Materials
paper or canvas
yellow and orange finger paint
paintbrush if needed
red and black markers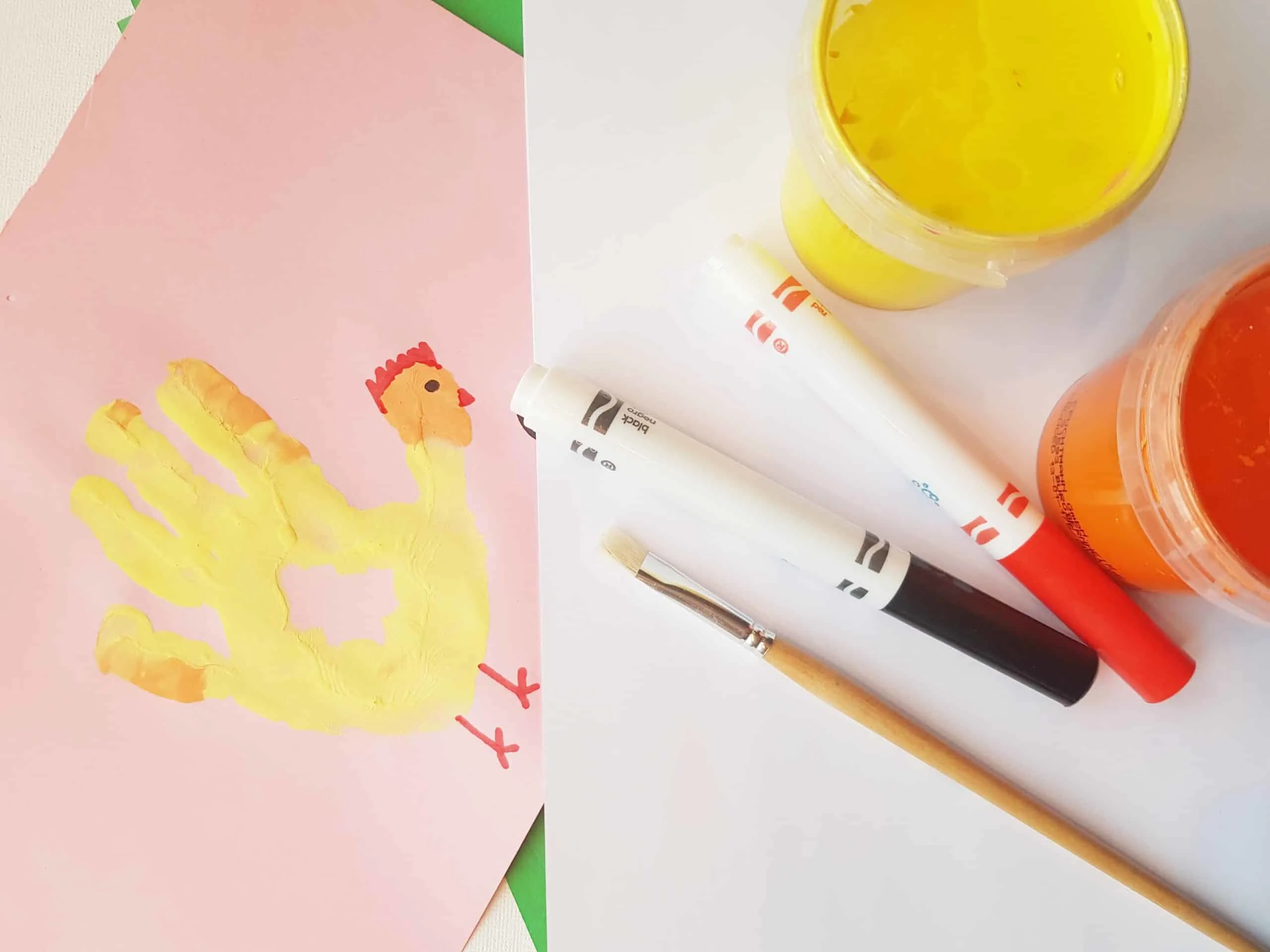 Instruction
Follow these simple steps to create your handprint chicks:
Step 1: Paint your hand
Begin by covering your child's hand in yellow finger paint. If needed take a paintbrush to do so. Add orange color to the thumb and pinky.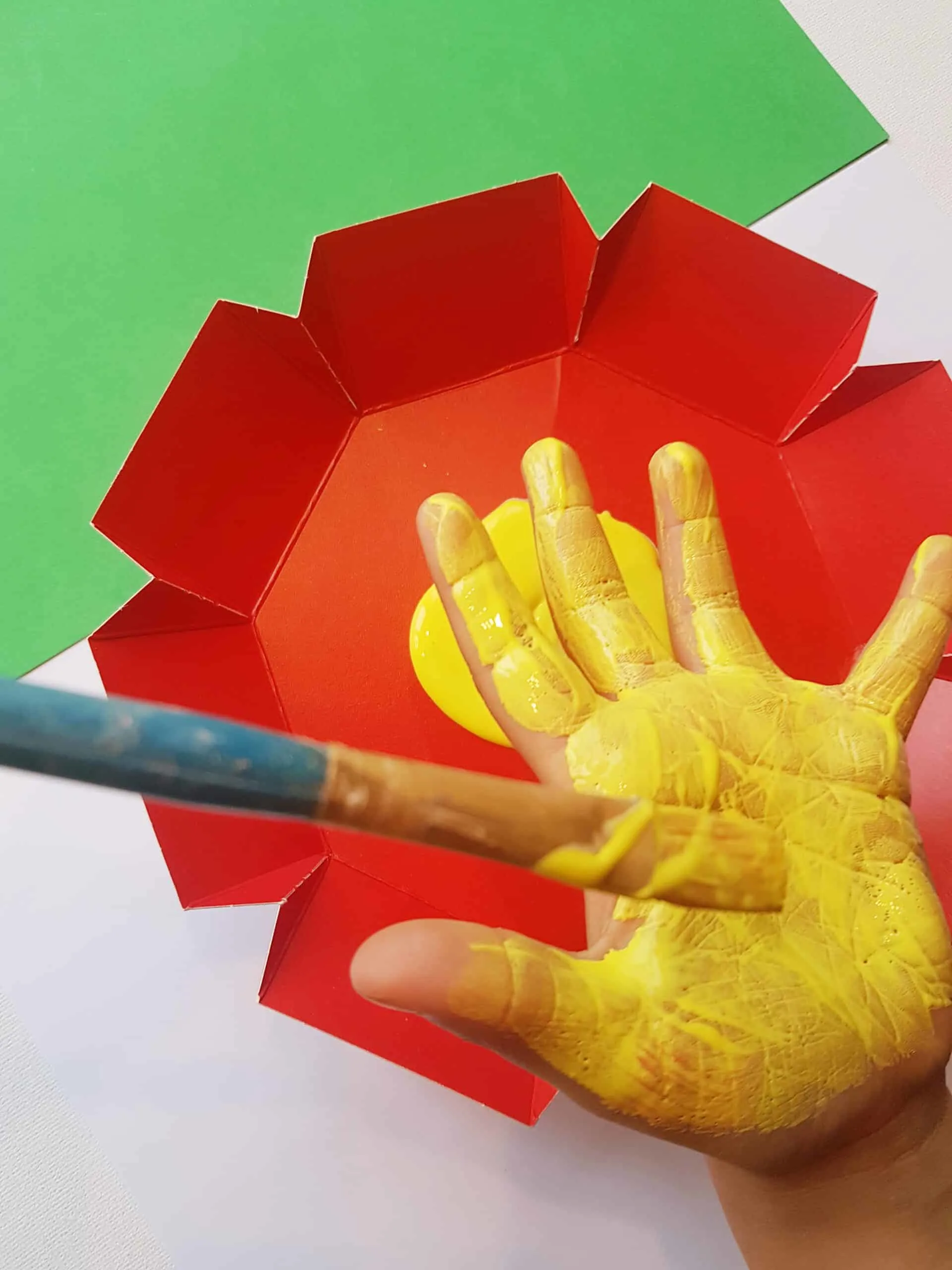 Step 2: Create body of the chicken
Have your child place their painted hand on the canvas or paper. The body of the chicken is created now!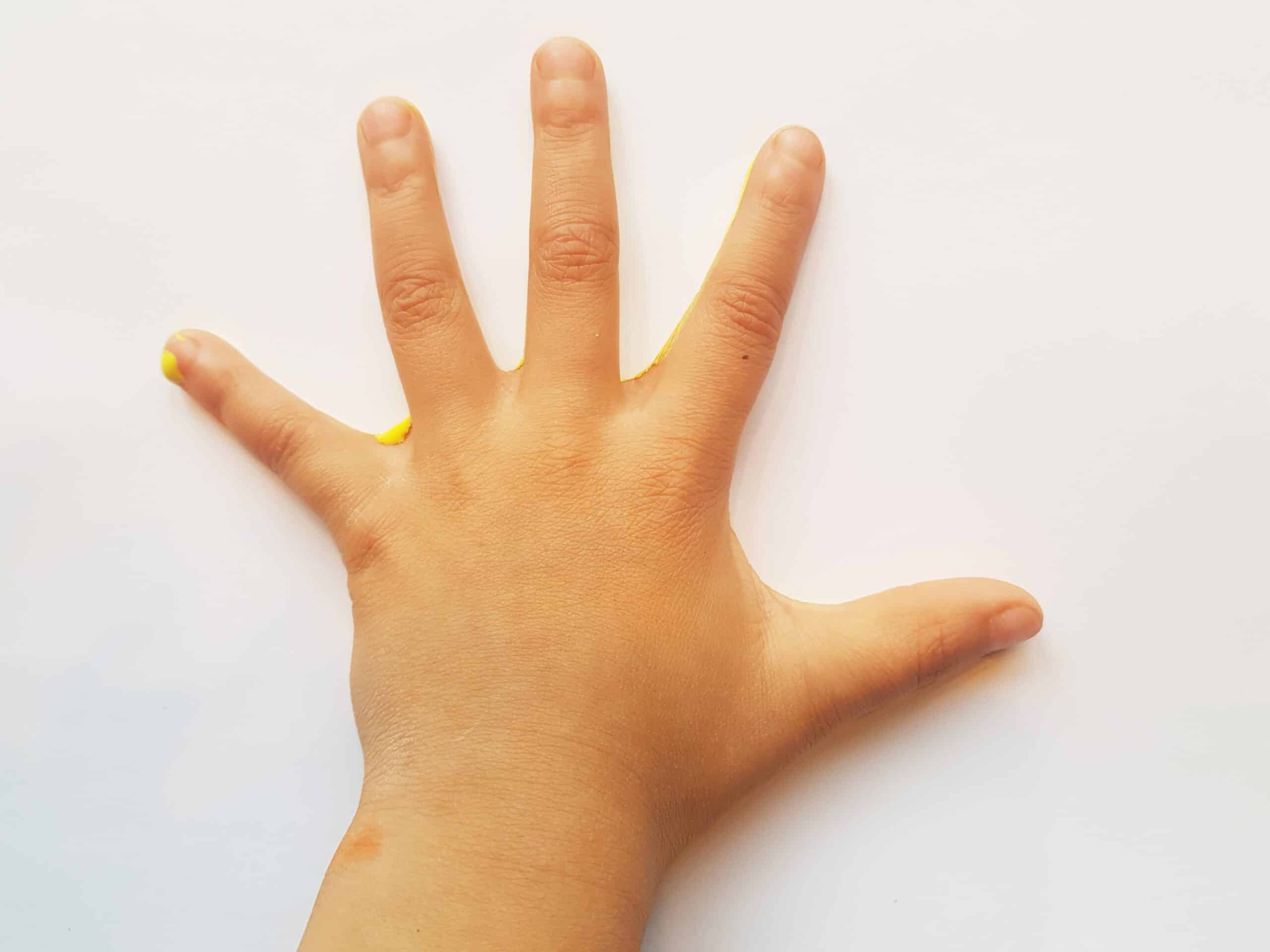 Step 3: Create baby chicks
Take one single figure and create baby chicks as shown in the picture.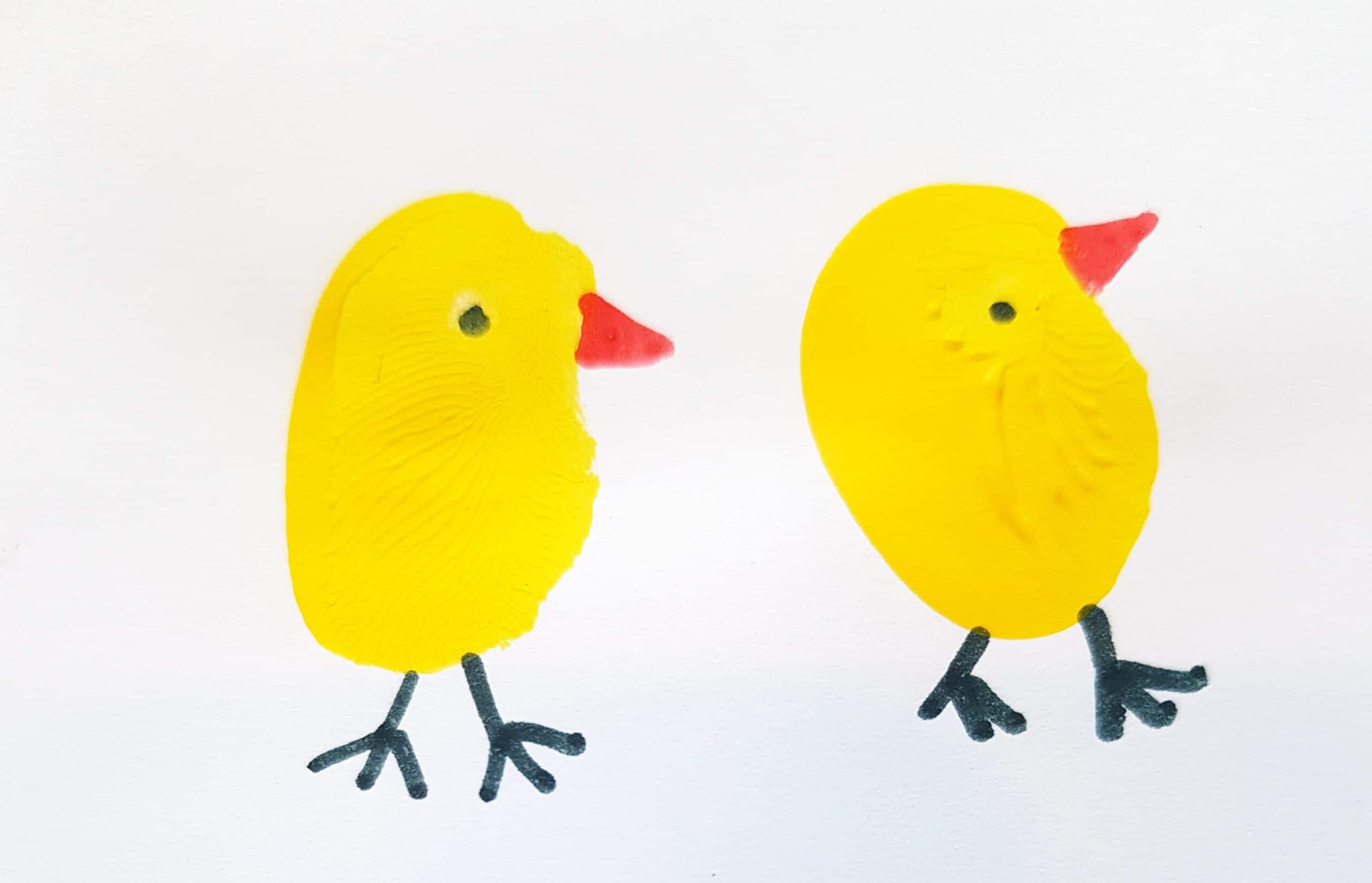 Step 4: Let it try
After your handprint is done it is for your chicken art project to try.

Step 5: Paint Features
At the end-use your red and black markers to paint the features of the chickens and baby chicks. Take a look at the picture below how to.
Did you enjoy this adorable handprint chicken project? Then check out our other Pig Outlines, Chicken Crafts, Farm Animal Fun, DIY horse goody bags, or Corn sensory play next.

Tips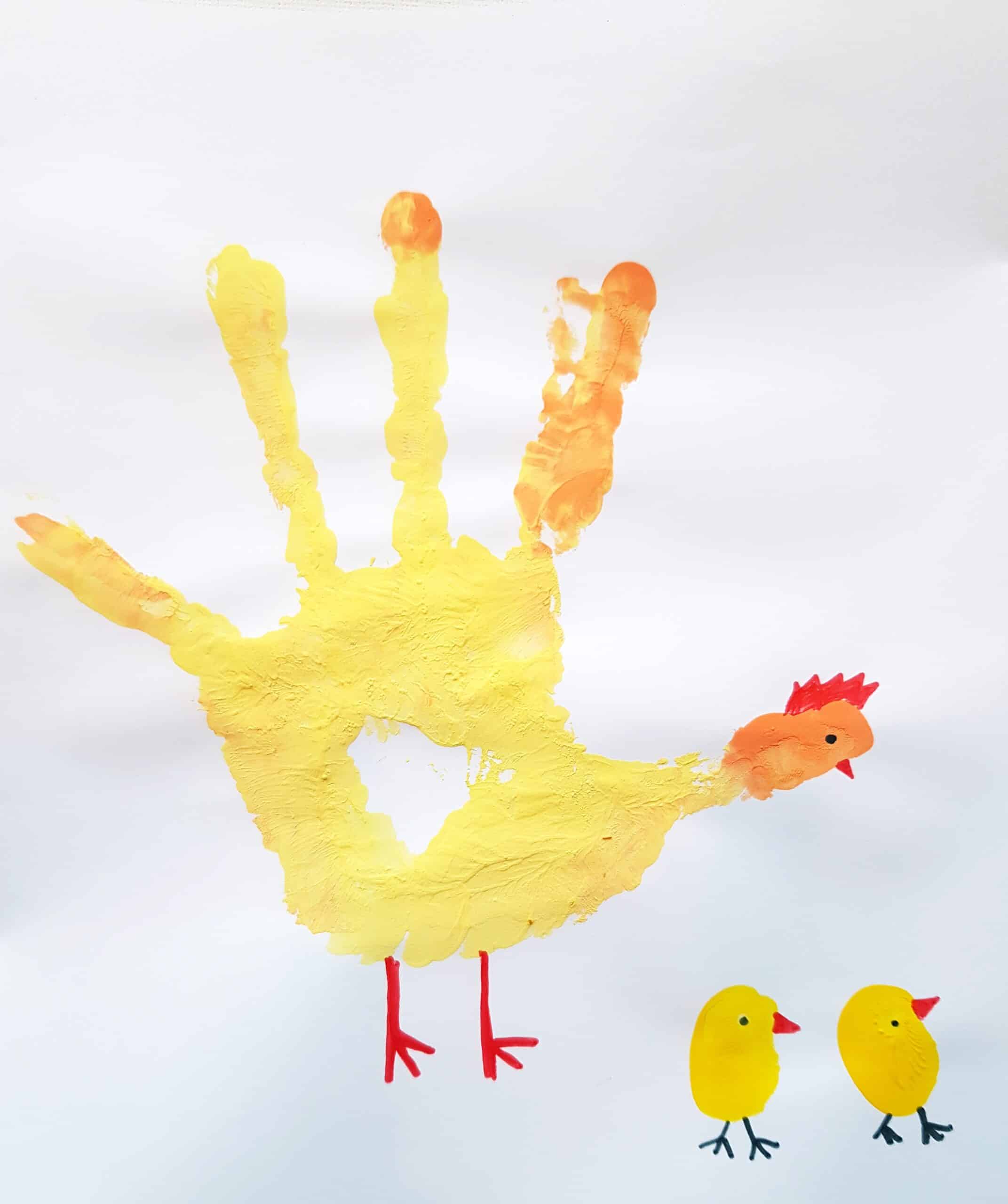 This activity is a lot of fun for little once but can be quite messy. Be prepared!
Make sure to use a lot of finger paint, otherwise, your chicks will not turn out the right way.
This wonderful spring project is also perfect for a classroom setting. It would make a perfect handprint chicken art and craft for preschool.


Summary
This farm animal activity is a wonderful spring craft idea.
It is not only super easy to make but also a lot of fun. My kids loved it!
We used the chance to implement learning about chickens and little chicks.
Afterward, we had a wonderful time creating their own handprint chicken craft.
Their handprints turned out so lovely I will keep them as keepsakes!
Pin this Craft
Don't forget to save this craft on Pinterest for later! Be sure you are following along with Lil Tigers here.

Feedback
Now I would like to hear from you!
How did you enjoy this fun handprint chicken craft for kids?
Either way, let me know by leaving a comment below right now. I love to hear from you!

Follow us on Instagram, Pinterest, Tik Tok, and join our Facebook group "Free Kids Activities Arts & Crafts" for more fun DIY Kid's Activities, Arts & Crafts, and Science Experiments.


Handprint Chicken Art for Kids
How to create this adorable handprint chickens for spring or easter.
Additional Time
5 minutes
Materials
yellow and orange finger paint
red and black marker
paintbrush if needed
paper or canvas
Instructions
Cover your hand with yellow paint.
Add orange to your thumb and pinky.
Press your covered hand on the canvas or paper to create the body of the chicken.
Take a single finger and create baby chicks
Let your finger print try.
Take your black and red markers to add the features of the chicken and chicks.