Here are 30 Chicken Crafts for Kids.
With help of paper and paint, you are able to create wonderful chicken arts and crafts for toddlers, preschoolers, and older kids.
Let's dive right in and see the full list below.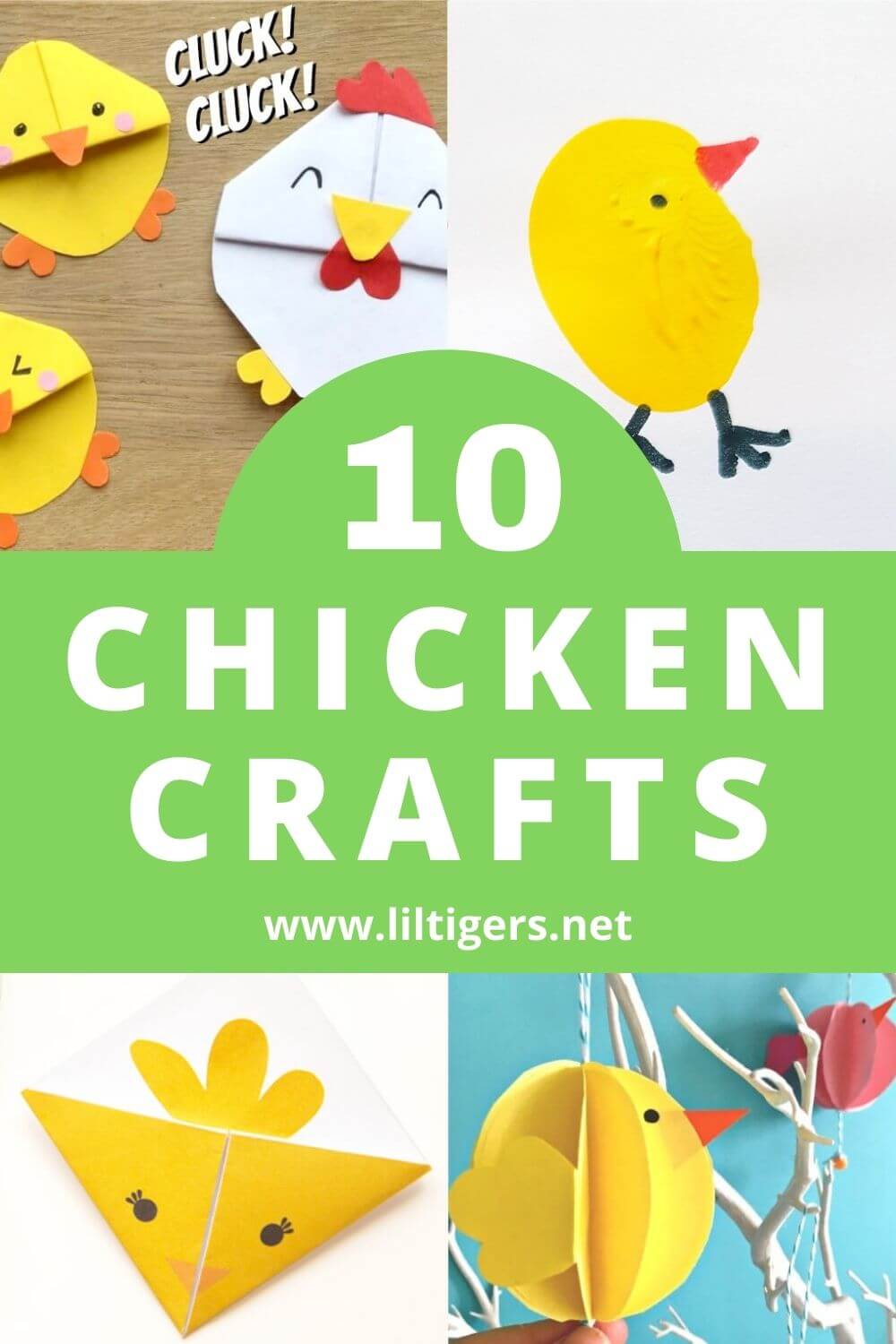 There are affiliate links in this post, meaning, at no additional cost to you, I will be compensated if you click through and take action.
As an Amazon Associate, I earn from qualifying purchases.
Fun Chicken Jokes for Kids
Before we start with our chicken crafts let's set the mood with some funny jokes about chickens:
Why did the egg hide? – Because she was a little chicken.
What day do chickens hate most? – Fry-day!
Which US state has the most chickens? – Yolklahoma.
Why did the chicken join the band? – Because he had the drumsticks!
Who takes care of chickens? – The chicken tender.
Why did the chicken cross the road? I don't know. To get to your house. – Knock, knock. Who's there? The chicken!
Why did the chick disappoint his mother? – He wasn't what he was cracked up to be!
Chicken Books for Kids
It is also always nice to read a matching book while your children are crafting chickens. Here are some books on chickens for you:
30 Best Chicken Crafts
Get your house and classroom ready for spring with these wonderful chicken ideas. You will find everything from handprint projects to papercraft, chicken art projects, chicken crafts for preschoolers and toddlers, sensory activities, and many more.

Happy crafting!
Are you interested in more kid's activities, arts & crafts, and science experiments?
I have made it easy for you! Simply join our newsletter now and I will send you new fun for kids.
Subscribe for free
Chicken Arts and Crafts Projects
This list of chick crafts will provide you with adorable projects for all age groups.
You will find everything from easter chick crafts, chicken templates, handprint chicken ideas, paper chicken crafts, and others.
Let's get inspired!
You might also enjoy these Farm Animal Activities, Handprint Chicken Project, DIY Easter Cards, Cute Bunny Quotes, and Easter Worksheets.
If these weren't enough Easter chicken crafts for you, check out this super cute video tutorial next:
Now I would like to hear from you! Which chicks craft did you like best?
Either way, let me know by leaving a comment below right now.
I love to hear from you!
Pin these Chick Crafts
Don't forget to save these 10 Adorable Chicken Art and Crafts on Pinterest for later! Be sure you are following along with Lil Tigers here.
Stay Updated