Get our Free Printable Easter Chick Templates and coloring pages below and get ready for Spring crafting.
Our templates come in three different sizes and with a set of four different Easter chick coloring pages.
Let's dive right in and get inspired!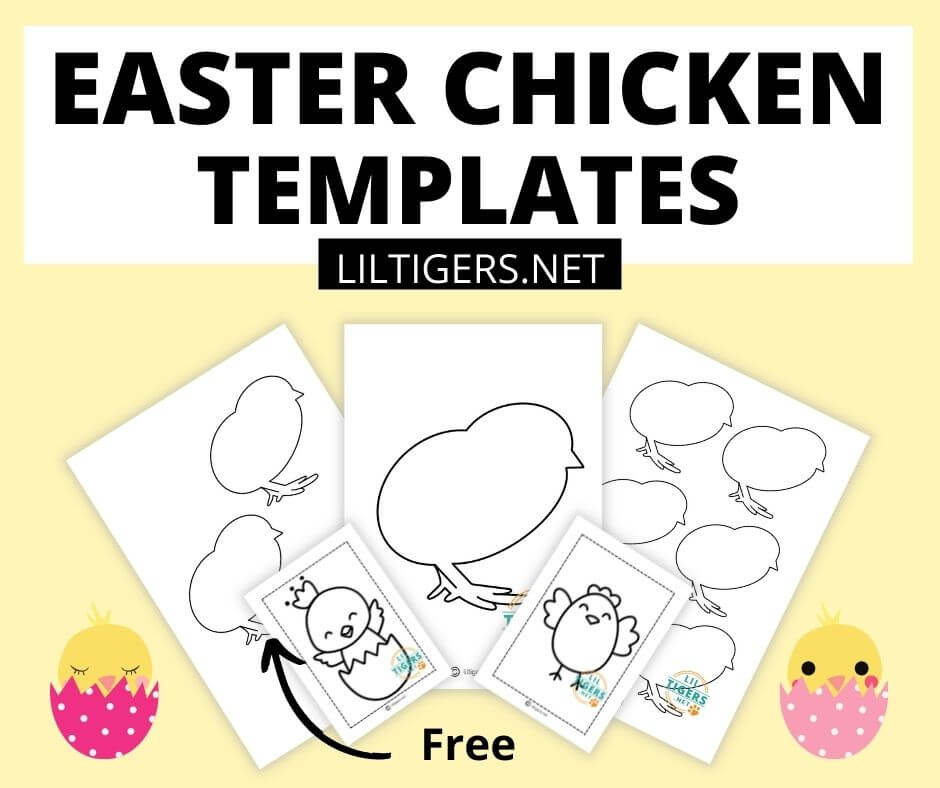 There are affiliate links in this post, meaning, at no additional cost to you, I will be compensated if you click through and take action.
As an Amazon Associate, I earn from qualifying purchases.
Free Easter Chick Templates in Small, Medium, and Large
Our Easter chick outlines come in small, medium, and large and is perfect for coloring, crafting, and decorating.
Especially during Spring and Easter chicken crafts are very popular. They are also a great add-on to every farm animal activity.
Our templates can be used in many different ways and settings. They are great for crafting at home and in a classroom setting and make the perfect addition to your homeschool curriculum.
Also, make sure to add our Egg Outline Printables to match.
I also added a view of adorable baby chick coloring pages your children will enjoy.
Small Printable Easter Chickens
Our small printables are the perfect Easter chick stencils. They also can be used as name tags for Easter gifts.
If you consider using them as stencils, here are some great art techniques you could use them with.
For example, try our fun Toothbrush Painting Technique and create nice chicken art drawings with it.
Medium Template of Easter Chicks
These simple Easter chick templates in the size medium are perfect for Easter invitations, Easter cards, or letters from the Easter bunny.
Simply print them out on colored paper, cut them, and write your text on one side.
Easter Chick Template for Invitations
Here are four cute Easter invitation quotes to use for your Easter egg hunt invitation or Easter brunch invitations:
Hop on over and join us for Brunch!
(Host) invites you all chicken and bunnies for a ….
Hop on over for some fun! We'll look to have an egg hunt when we are done!
Bunnies, baskets, & Lunch. Followed by our ever-so-famous Easter Egg Hunt
Free Printable Chicken Template for Easter Greeting Cards
As mentioned above you can use our simple chicken template as an Easter greeting card.
Therefore I like to share some of our Easter quotes for kids with you.
To see our full list of 135 Easter Messages click here.
Happy Easter to my favorite little bunny.
Sending a big Easter hug to one of the coolest chicks I know!
Here's hoping you have a fun, sunny, memorable Easter.
You make my heart hop! Happy Easter, little one.
Wishing you a hoppy Easter!
Have a bunny-tastic Easter!
Hop, hop, hop! Hear that? It's the Easter Bunny on his way!
Letter from the Easter bunny
Lastly, I like to share the idea of using our free printable baby chick template as an Easter bunny letter.
I mean why not add a letter from the Easter bunny to your Easter basket?
Write a nice Easter bunny poem or use one of our Easter bunny poems for it.
If you do not like to use our Easter chicken template you can also simply use our Free Printable Easter Bunny Letters instead.
Large Chicken Templates
Our large Easter chicken cut out is perfect for any toddler, preschool, or Kindergartener coloring activity.
Use our plain printable of the Easter chicken to inspire creativity or one of our four adorable hatching Easter chicken coloring pages.
We also used it to make an adorable tissue paper chicken craft out of it.
All you need is your chick printout, orange and black markers, googly eyes, glue, and yellow tissue paper.
After printing out your large chicken template, use an orange marker to color the beak and black for the chicken feet.
Then tear your tissue paper into small pieces and attach them to your baby chick with help of your gluestick.
At last, all you have to do is add your googly eye and your adorable Easter chick craft is finished!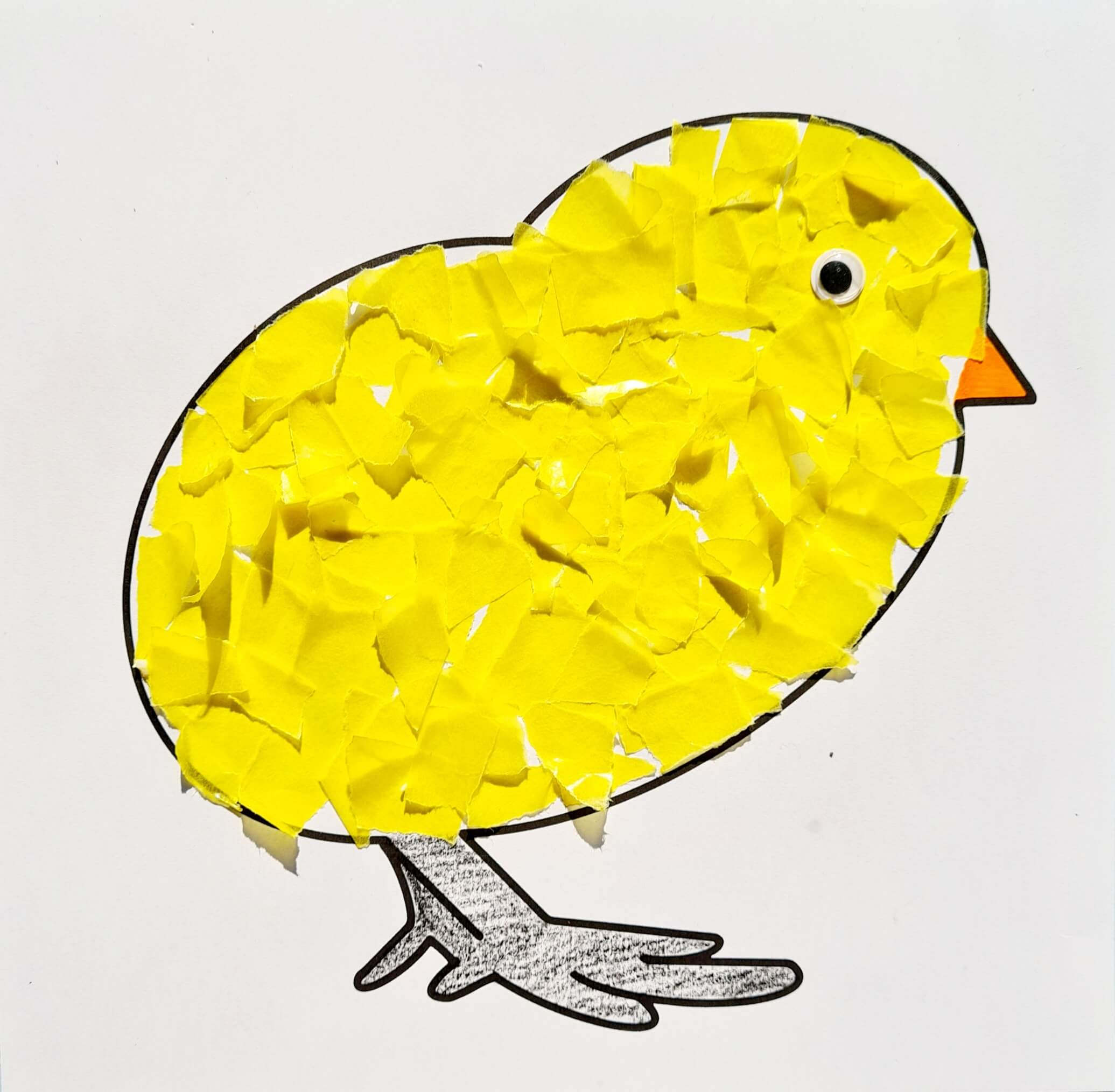 Either way, the possibilities are endless, get creative and send me some pictures of your Easter chicken crafts when you are done.
Let's get started!
Do you need advice on How to Introduce Crafting to your Preschooler? Then read our 10 tips that work next.
Chicken Books for Kids
It is always nice to add books to your curriculum. Here is a view of children's chicken books I found and want to share with you.
They include general knowledge books about chickens, jokes, riddles, games, and a storybook. I hope you enjoy them!
Do you enjoy our free Easter chick outlines? Then try one of our other Easter activities next.
How about this great Easter Word Search Puzzle or Easter Worksheets?
Easter Chick Craft Ideas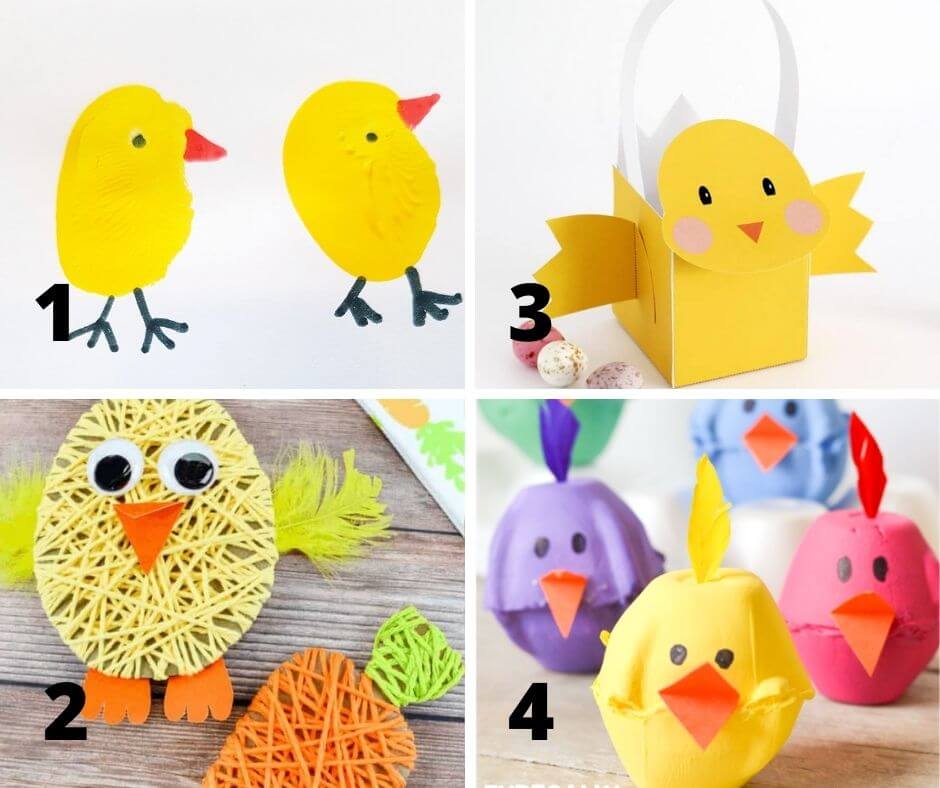 Here are some other Easter chick craft ideas to inspire you and get ready for Spring:
If you are looking for more chicken crafts, take a look at our other 10 Chicken Crafts.
Handprint Chicken and Baby Chick
Our first chicken activity is perfect for toddlers and preschoolers. With help of finger colors, you create a mother hen and cute Easter chicks.
It is a great hands-on and sensory activity during spring and makes an adorable keepsake!
Yarn Chicken
Next is this adorable yarn chicken with a carrot. With help of cardboard, yarn, and a couple of other craft supplies you can create this adorable chick with his carrot.
This Easter Activity is geared to children 5 and up. If they are younger, simply assist them!
Chicken Basket
With this great Easter chick printable template, you can create your own chicken basket. It is a cute Easter papercraft kids can make to put a few small Easter treats in or just for fun.
Get your free Easter chick craft template in the link above and find out how it works.
Carton Chicken
Last we have these adorable decorative Easter chicks out of egg cartons. The main materials for this craft are egg cartons and paint.
In the instructions above the author will show you, how you can create these fun baby chicks within a couple of minutes.
After you are done, do not forget to decorate them nicely in your house and get ready for Spring.
---
In case you are a visual learner, go check out these great chicken crafts.
How to Download Your Free Easter Chick Printable Pdf
Simply sign up here for our newsletter and you will receive the link to our free Easter chick template pdf.
Already a subscriber? Don't worry, no need to subscribe twice.
I just updated our free printable library. You can find our Easter chick template to print there or check our newest newsletter for more information.
If you have any questions, please do not hesitate to reach out to me. I m happy to help!
Pin These Free Easter Chick Templates
Don't forget to save our Easter chick outline printables on Pinterest for later! Be sure you are following along with Lil Tigers here.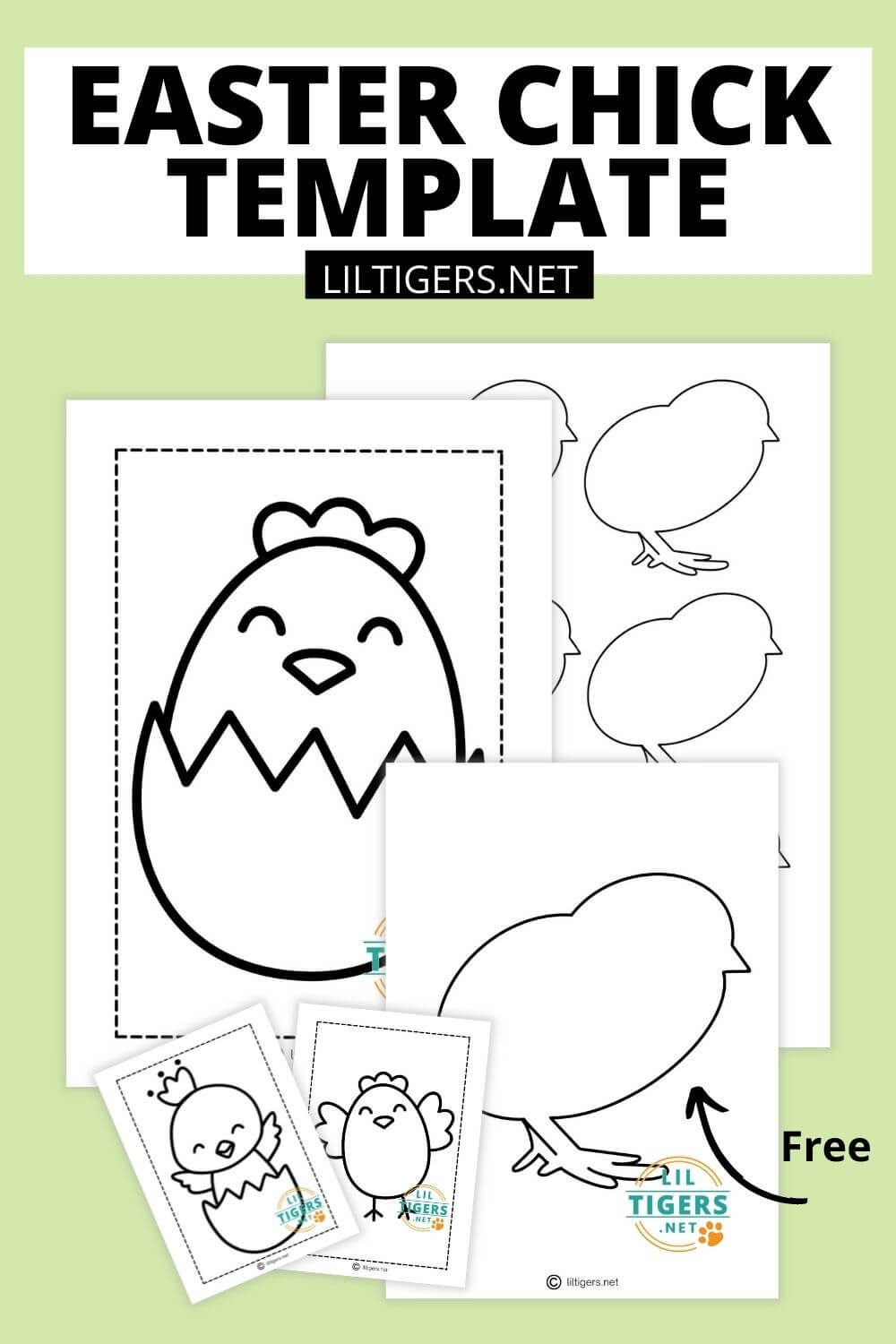 Now it is your turn.
How did your kids enjoy their free Easter chick templates and coloring pages?
Either way, let me know by leaving a comment below right now.
I love to hear from you!