Our Free Printable Letter from the Easter Bunny Templates come in 3 different colors, several blank Easter bunny letter templates, and two pre-written Bunny notes to choose from. Let's have a look!
There are affiliate links in this post, meaning, at no additional cost to you, I will be compensated if you click through and take action. As an Amazon Associate, I earn from qualifying purchases.
Easter Bunny Tradition
Who Is the Easter Bunny?
Who is the Easter bunny and how do you explain the Easter bunny to a child?
The Easter Bunny (also called the Easter Rabbit or Easter Hare) is an imaginary figure and symbol of Easter. The rabbit is sometimes dressed in clothes and brings Easter eggs.
Similar to Santa Claus the Easter Hare is playing the role of a judge to evaluate if the children were naughty or nice.
The German legend says that he brings on Easter Sunday colored eggs in its basket, as well as candy, and sometimes toys to good-behaving children.
Why Does the Easter Bunny Bring Colored Eggs?
Since we know now where the Easter bunny comes from your children still might be wondering why he brings colored eggs. Over time eggs became a symbol of Christianity associated with rebirth. Eating eggs during Lent was forbidden.
Therefore eggs were used for special dishes and probably decorated nicely by the family members as part of their Easter celebration. Later, Germans kept the custody of eating colored eggs for Easter.
In the Eastern Orthodox Church red Easter eggs symbolize the color of blood in recognition of the blood Jesus sacrificed. Others use green eggs to honor the new foliage emerging after the long-dead time of winter.
And so it became over time tradition that the Easter bunny brought colorful eggs. Since children also believed that the Easter bunny lay the eggs directly into the grass, the Easter egg hunt was born and is still a beloved Easter tradition all over the world.
And more information about the Easter Bunny can be found here.
Easter Bunny Books for Kids
After we learned some cool facts about Easter traditions let's look at some matching Easter bunny books which make nice Easter basket fillers.
Did you know you can Dye Easter Eggs With Shaving Cream? You certainly can! It is such a fun hands-on Easter activity. Go check it out at the link above!
Letters from the Easter Bunny
There are only a few supplies you will need for your Easter bunny letter for your children. Therefore, it makes a super easy last-minute Easter activity your children will enjoy and totally stress-free for you.
Easter Bunny Note Materials
Here is all you need to write a letter from the Easter bunny for your kids:
Free Printable Easter Bunny Letter Template Pdf (found below)
Blank Easter Bunny Letter Template
First I like to share our free printable blank Easter bunny letter template with you.
The good part of a blank template is that you can use it in many different ways. Your children can even use them as coloring pages instead of for an Easter bunny letter.
This blank Easter bunny template comes in three different designs. In pink, blue, and green.
What do you have in mind for this blank letter from the Easter bunny?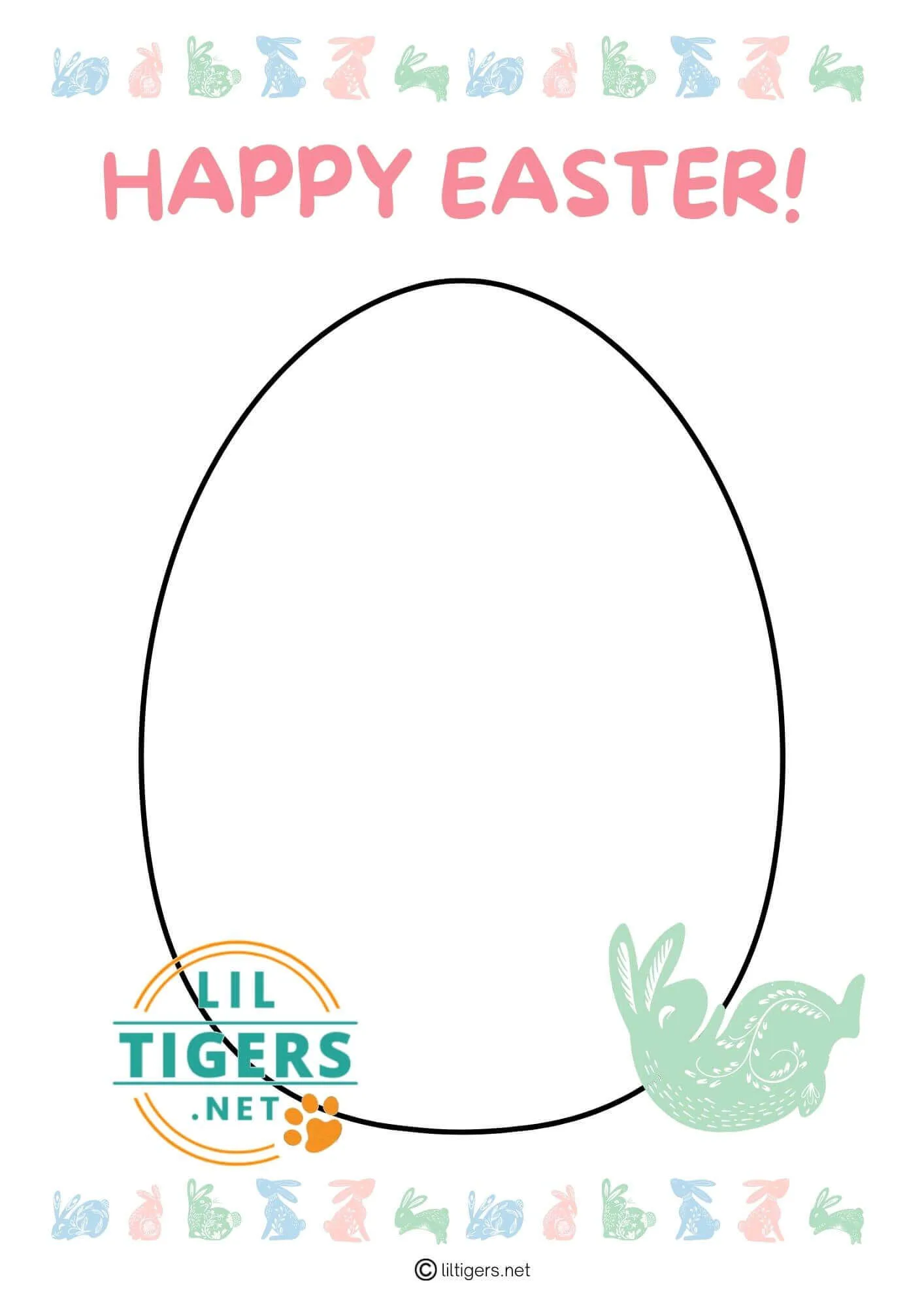 Free Printable Pre-Written Easter Bunny Letter Template
Next, I like to share our first pre-written letter from the Easter bunny with you.
It came in 2 different styles, blue and pink for each gender one.
You can also add your child's name on top but do not have to. So if you like to use it for your playgroup, students, or simply a big group of friends it is not a problem at all.
Blank Letter From Easter Bunny Template
Now I like to share our next free Easter bunny printable. It is made with lines that help you write straight or are perfect to use for beginner writers.
Because who says it needs to be used as a letter from the Easter bunny? Why not use it as an Easter poem writing template or letter to the Easter bunny template?
These lined letters from the Easter bunny printables come in 6 different variations.
White with pink, blue, or green bunnies, or with yellow, pink, or blue backgrounds.
Doesn't it make the perfect Easter worksheet for students?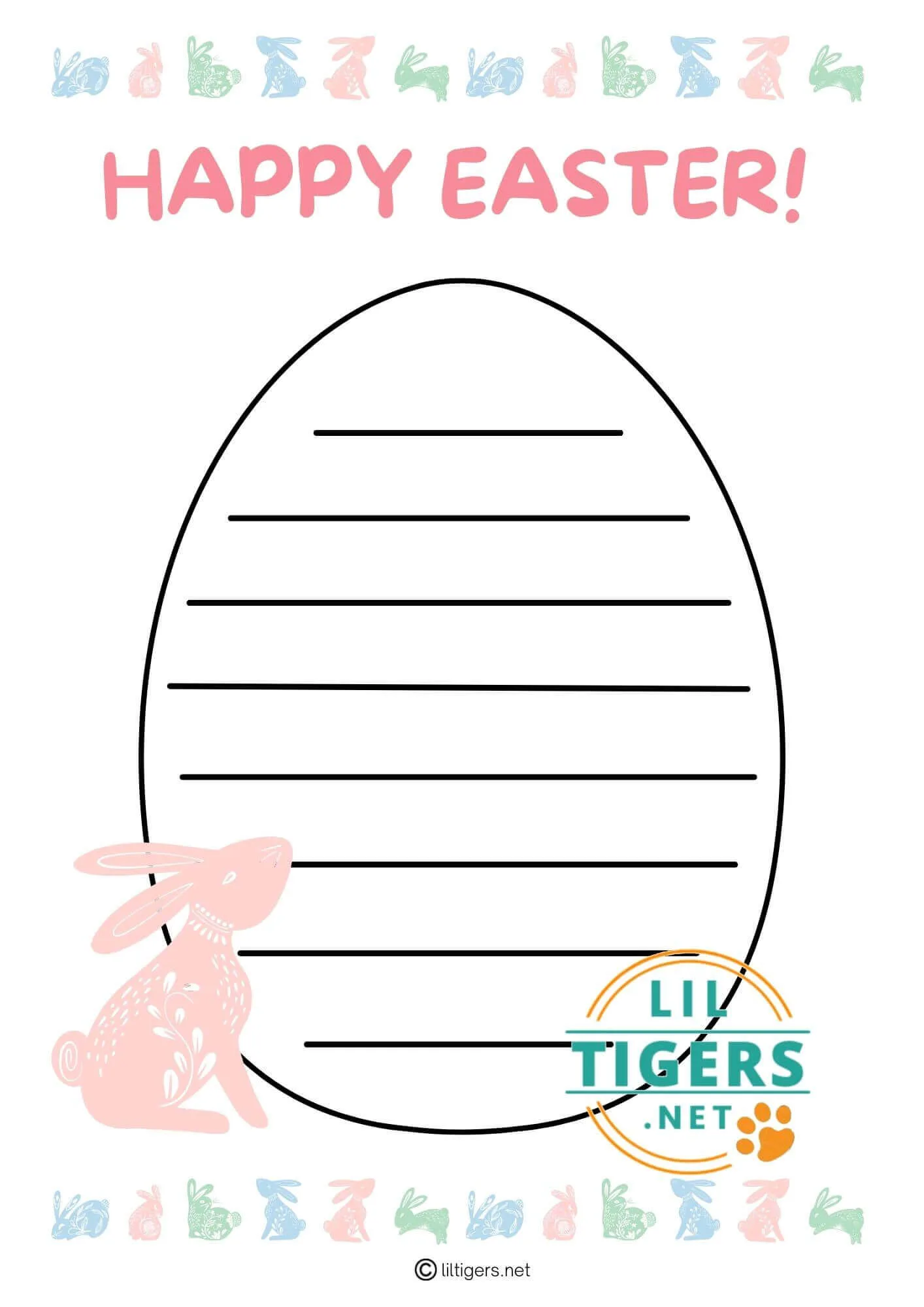 Pre-Written Letter From The Easter Bunny Template
Our last pre-written Easter bunny letter comes with a different poem and is also in blue and pink.
Pink for the girls and blue for the boys. That way everyone will be happy!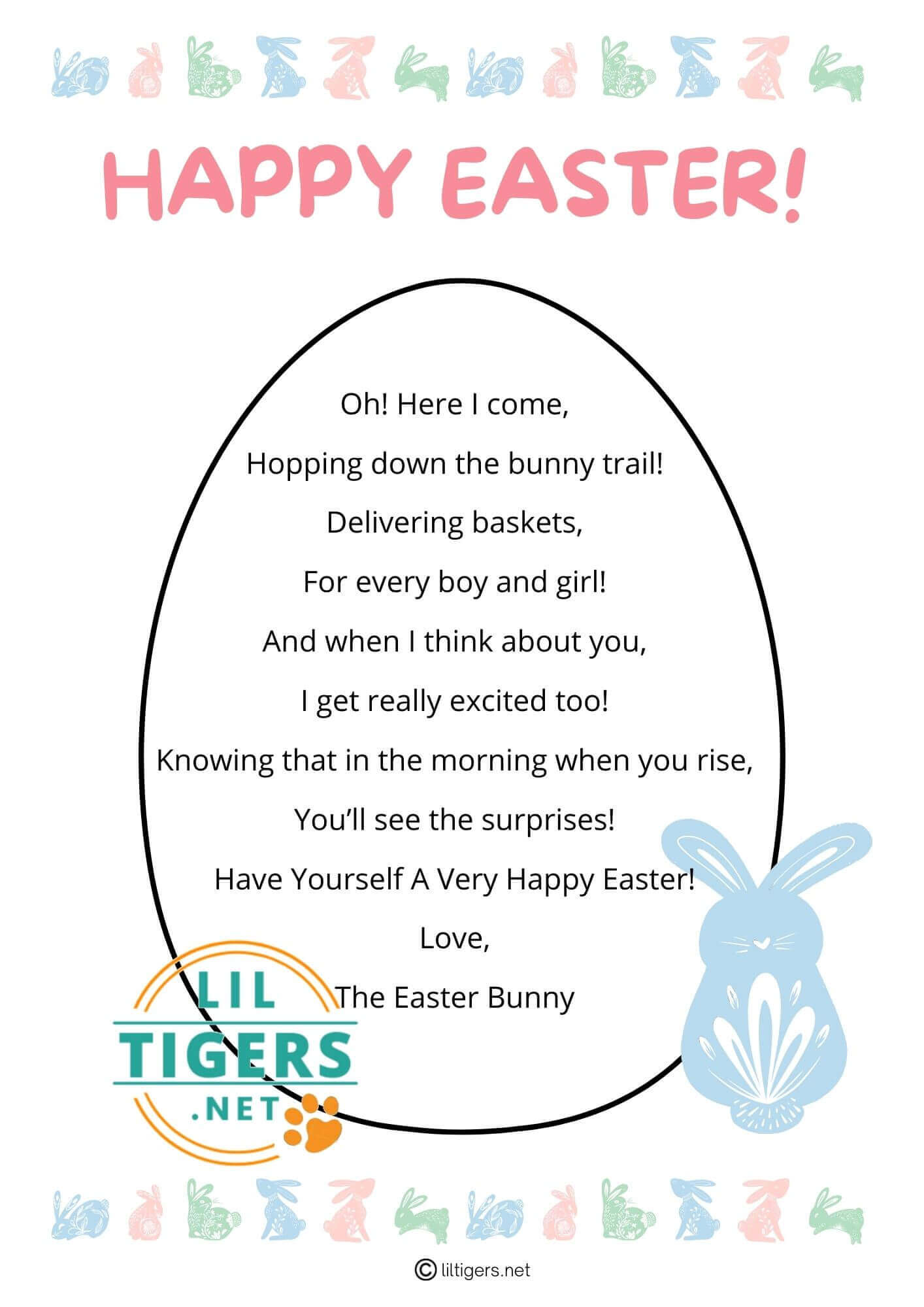 How to Use This Free Easter Bunny Letter Printable
After you gathered all supplies and materials you like to use around, you will have to decide if you like to use our blank easter bunny letter template or one of our two pre-written "from the Easter Bunny" free printables.
Afterward, simply follow the instruction below and download the template of your liking. If you have chosen a pre-written note from the Easter bunny, you can add some extra stickers or glitter to decorate them nicely.
Now you can place your note in a nice envelope and hide it with your Easter baskets.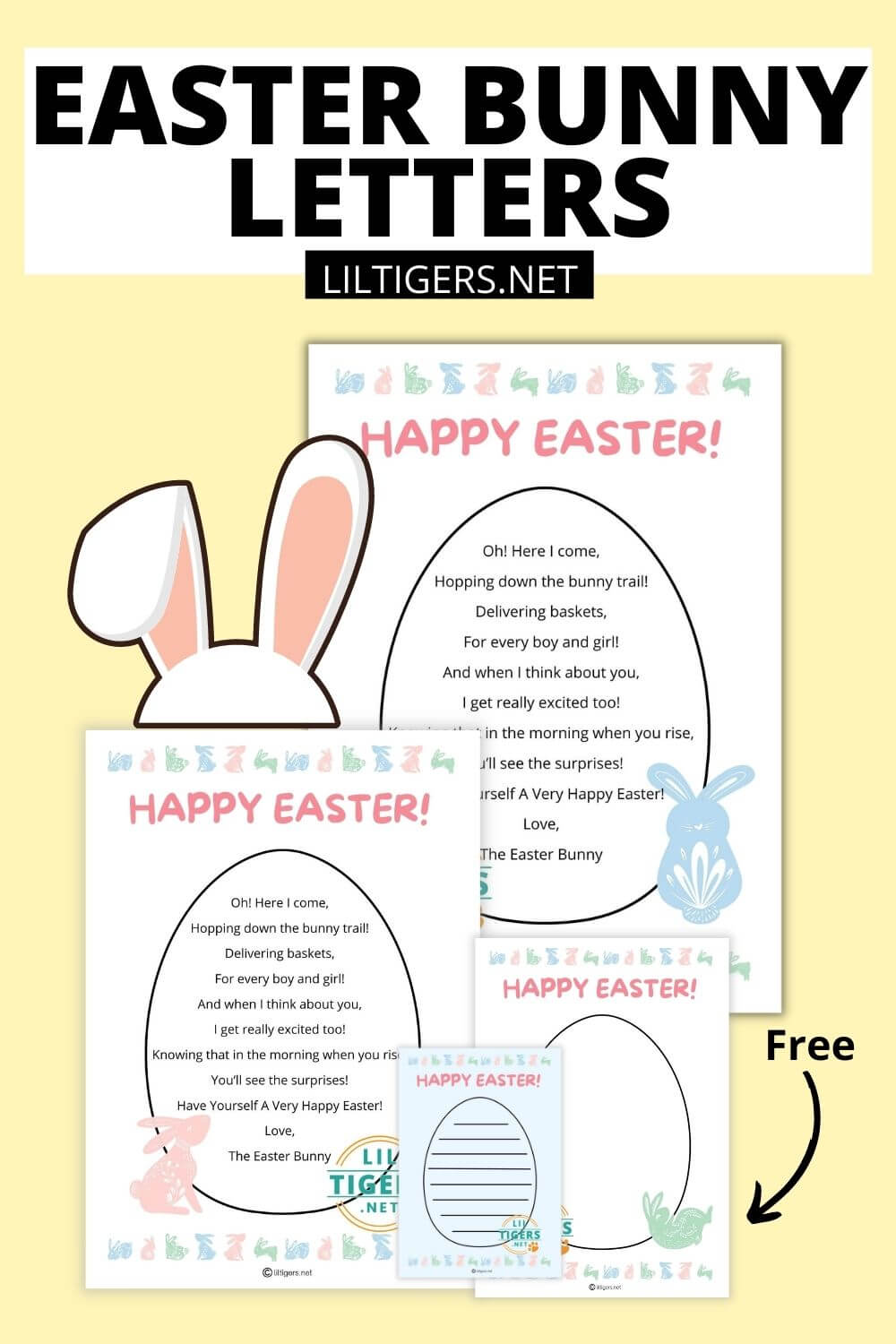 Easter Bunny Letter Quotes
If you have decided to write your own bunny letter, why not take a look at our adorable Easter Messages for Kids and get inspired?
Here are some examples from our list for you:
Happy Easter to my favorite little bunny.
Sending a big Easter hug to one of the coolest chicks I know!
Here's hoping you have a fun, sunny, memorable Easter.
You make my heart hop! Happy Easter, little one.
Wishing you a hoppy Easter!
Have a bunny-tastic Easter!
Hop, hop, hop! Hear that? It's the Easter Bunny on his way!
10 Non-Food Easter Basket Ideas
You are wondering what can I put in an Easter basket besides candy. Here are 10 ideas for non-food Easter basket stuffers for you:
If you need more ideas, go check out our Kids Gift Guide and take a look at our section divided by age groups.
How Do You Fill an Easter Basket?
You are still not sure how to fill an Easter basket? Then check out this video tutorial:
How to Download Your Free Printable Easter Bunny Letter Template Pdf
Simply sign up here for our newsletter and you will receive the link to our Letter from the Easter Bunny template pdf.
Already a subscriber? Don't worry, no need to subscribe twice.
I just updated our free printable library. You can find our letters for the Easter bunny there or check our latest newsletter for more information.
If you have any questions, please do not hesitate to reach out to me. I m happy to help!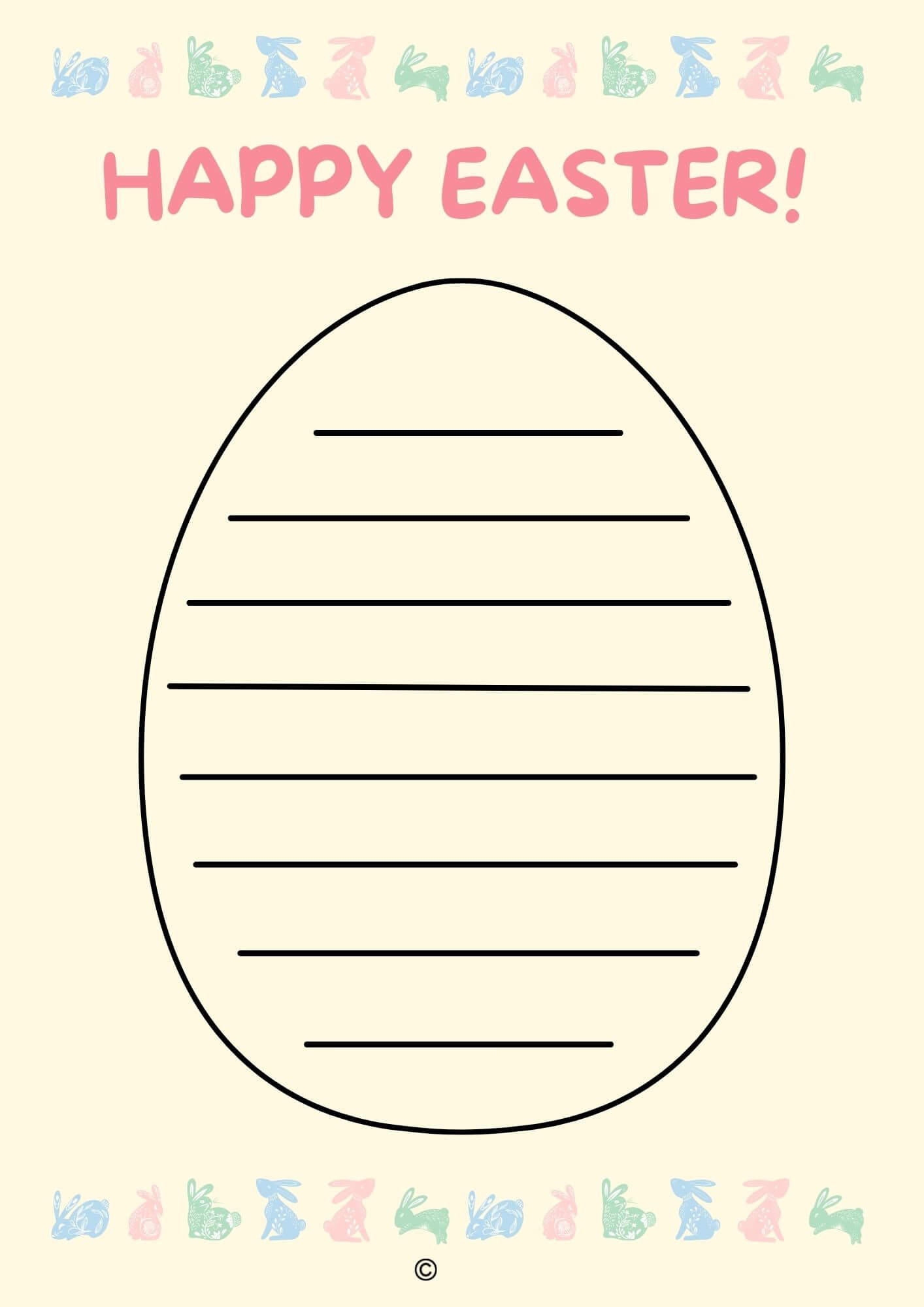 Pin These Free Printable Letter From the Easter Bunny Templates
Now don't forget to save our Easter bunny letter template on Pinterest for later! Be sure you are following along with Lil Tigers here.
Now it is your turn.
How did your kids like their letter from the Easter bunny?
Either way, let me know by leaving a comment below right now.
I love to hear from you!