Our Free Printable Easter Word Search Puzzle is so much fun! Find 10 hidden Easter-related words including animals, flowers, and treats you might find in your basket. Go check it out below.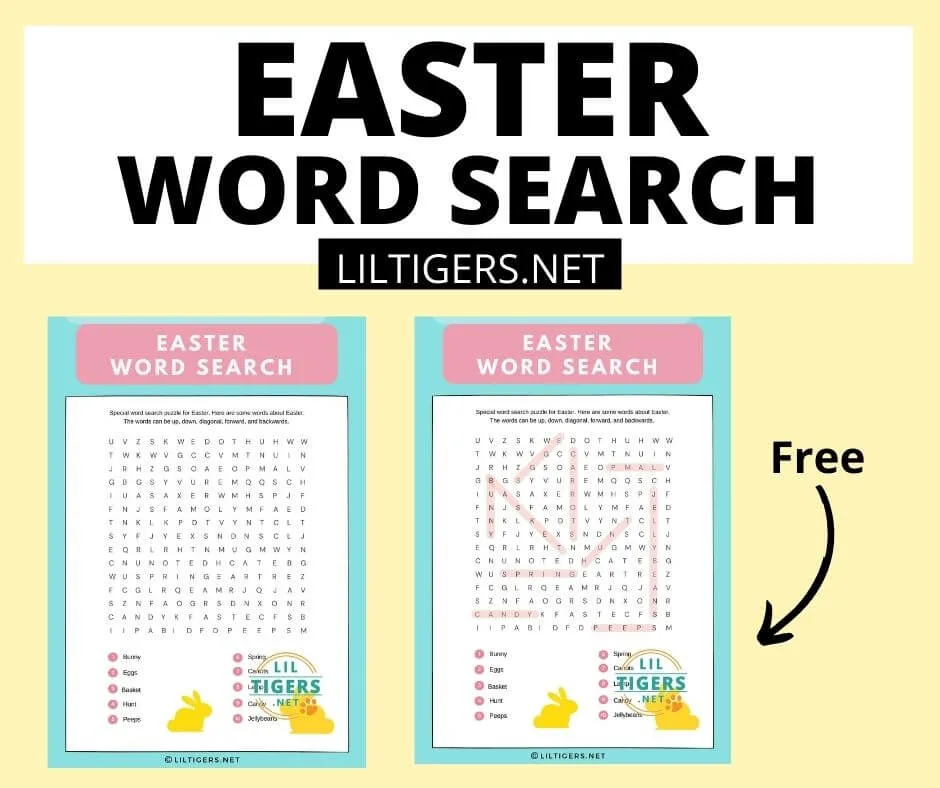 Easter Traditions for Families
Easter is around the corner and this year I wanted to switch it up a little bit. Normally it is tradition to have an Easter egg hunt followed by a nice brunch after church.
Here in Germany we actually do not search for individual eggs like it is a tradition in the United States. Children actually go search for hidden Easter baskets.
But since we are a multicultural family, I adapted the American tradition and added it to our search for the Easter basket. So mainly my kids search for eggs and a full basket.
Since I m tired of the candy overload on holidays I came up with the idea of adding Easter printables to our basket. Therefore I made this Easter Word Search for kids.
There are many different traditions and ways of celebrating Easter all over the world. In case you also like to switch up your Easter celebration, here are a couple of great Easter traditions for families to inspire you:
Plant an Easter Garden
Egg Time Machine
Decorate an Easter Egg Tree
Decorate Easter Eggs
Attend an Easter Parade
Easter Garden
Take the time and plant an Easter garden with your children. Since Easter is in Spring, it is the perfect season to get your garden ready. Consider planting pansies, tulips, marigolds, and petunias.
Egg Time Maschine
This Easter egg time machine idea is so much fun. Let your kids write a letter to themself and place it inside a plastic egg to open next year on Easter again. If your children can not write yet, do not worry, simply let them draw a picture. They will be surprised how much things changed in one year!
Easter Egg Tree
Did you ever decorate an Easter egg tree? They are really beautiful. Pick a tree or shrub in your front yard and decorate it with Easter eggs and ribbons. Everybody will admire your Easter tree.
Decorate Easter Eggs
This tradition can not be missed in our house. Decorating Easter eggs. I have to tell you this never get's old and the kids are really excited to do so every year. We boil eggs and decorate them nicely. Afterward, we gift them to family and friends.
Did you know you can actually dye Easter eggs with shaving cream or whip cream? You certainly can and it is a fantastic hands-on sensory activity for Easter. Go check it out in the link above.
Easter Parade
Last, attend an Easter parade with your children. Many cities offer an Easter parade around Easter. Put on an Easter hat and enjoy the family time.
If these ideas didn't suit you, you can find these and more Easter traditions here.
Did you enjoy our word search game for Mother's day? Then take a look at one of our other fun spring activities. How about these Easter Worksheets, or make your own Easter Cards and add one of our cute Easter Messages for Kids. You might also enjoy these adorable Chicken Crafts. Have a look!
Free Printable Easter Word Search Puzzle
But let's get back to our Easter word finds. Here are all the materials you will need Easter egg word search:
Word Search Materials
Free Easter Word Search Printable PDF (found below)
a pecil
How to Play Easter Word Search
Our Easter seek and find printable word search game is not different from any other word search puzzle, besides that, you have to find words that reflect Easter celebrations.
First, go check out below how to print out our Easter word finds templates and hand out one for each player. Make sure the participants do not see the Easter word search answers and everyone has a pencil.
Below the grid full of letters, you will find 10 Easter-related words. Find these words in the grid above. The words can be up, down, diagonal, forward, and backward.
As soon as you find one word, make sure to mark and cross it from the list. Then move on to the next word till you found all of them. The first player to finish all words in the Easter template for words is the winner.
If you like to make it a little bit more interesting, set a time limit and time the game. The player with the most words found in the given time wins.
By the way, you do not need a big group to play our easy Easter word search game. If you like puzzles and trick games, it is super fun to do it by yourself as well!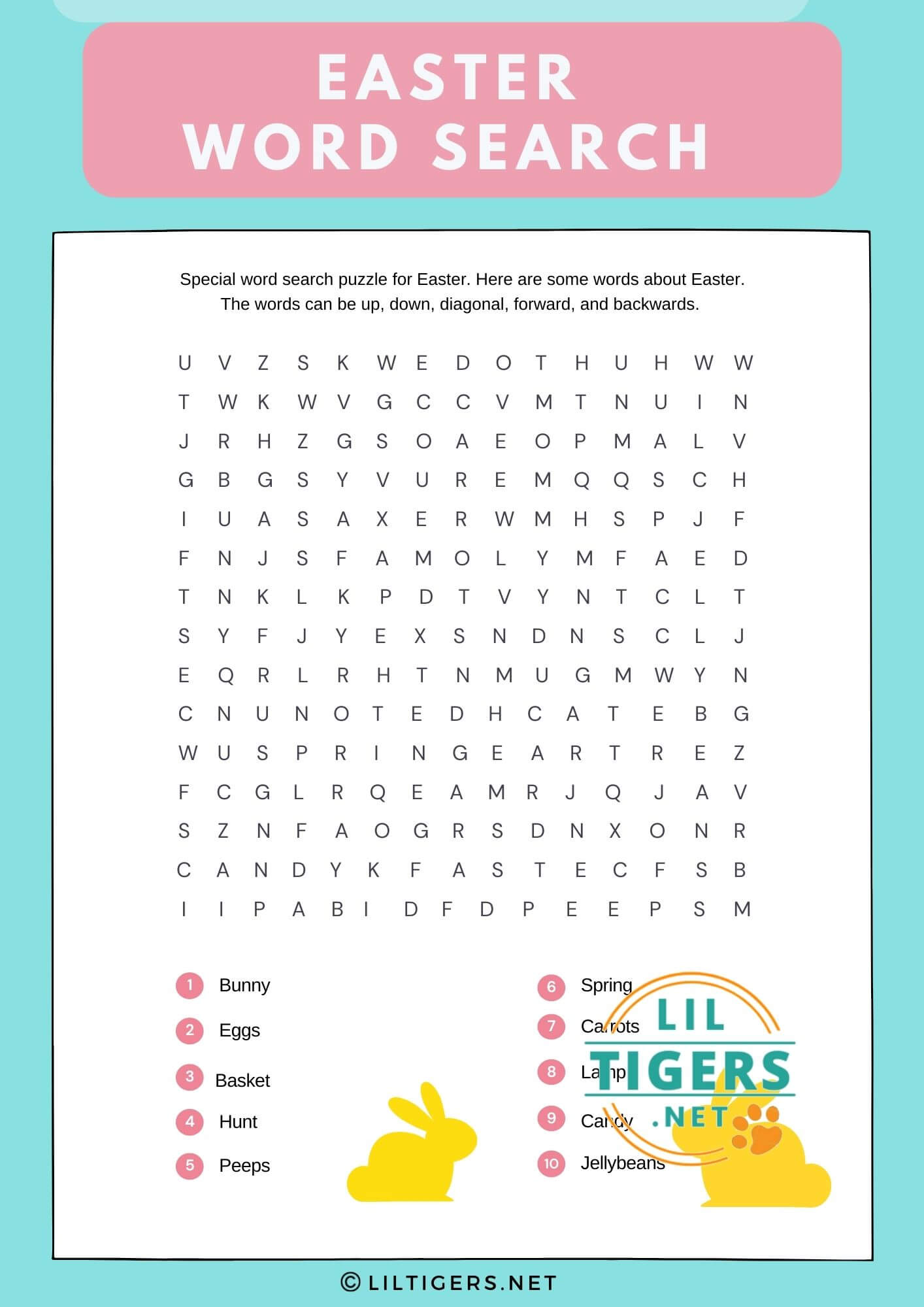 How to Download Your Free Easter Word Search Pdf
Simply sign up here for our newsletter and you will receive the link to our free Easter word search pdf.
Already a subscriber? Don't worry, no need to subscribe twice.
I just updated our free printable library. You can find our free printable Easter word search game there or check our latest newsletter for more information.
If you have any questions, please do not hesitate to reach out to me. I m happy to help!
Pin These Free Printable Easter Word Search Puzzle
Now don't forget to save our free Easter word search on Pinterest for later! Be sure you are following along with Lil Tigers here.
Now it is your turn.
How did you enjoy our Easter word search free printable?
Either way, let me know by leaving a comment below right now.
I love to hear from you!