Did you make your own corn sensory bin yet?
You should give it a try. It is super easy and brings many afternoons full of fun.
Let's dive right in.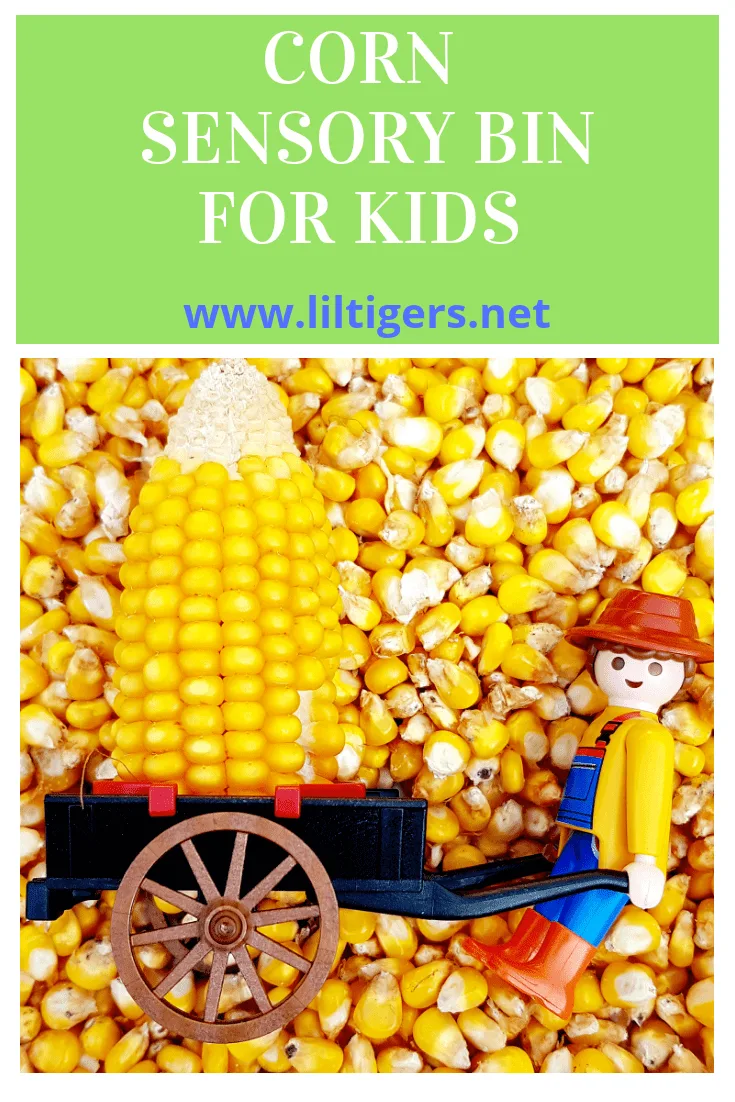 Harvest Sensory Bin
As many of you know by now fall is one of my favorite seasons.
The weather is still warm and nature gives you a lot of opportunities to be creative. Each year we are visiting pumpkin patches.
Besides the big slides and the corn maze, my kids love playing in the large pumpkin patch sensory bins.
Sadly this year we are not able to visit pumpkin patches. Therefore we decided to create a corn sensory pin instead.
But what is a sensory bin? A sensory bin is any kind of container, such as a plastic bin, cardboard box, sandbox, kitchen tray, water table, baby tub, and so on, filled with fun materials.
The bins can be filled with colored rice, dried beans, kidney sand, water beats, and corn, just to name a few options.
Sensory play tables are the perfect hands-on activity for kids to scoop, dig in, and explore while automatically improving their fine motor skills.
Which makes it such a great preschool corn activity for sure!
You also might enjoy our Fun Farm Animal Activities, Changing Leaves Activities, or our full library of Fall Activities.
The theme selection of sensory play bins is endless.
I love to add sensory play tables to learn through play activities.
It gives the children the opportunity to learn by using their senses, extending their focus span, and helping them to remember.
Like with science experiments, we read a book about our subject, talk, discuss the process, observe or touch, and learn simultaneously.
Corn Sensory Bin for Fall Farm Fun
For this fun fall farm activity, we actually learned about corn and how it becomes food for animals.
We are lucky enough to live on a farm so my children were able to watch how the corn got harvested and made into food for the animals.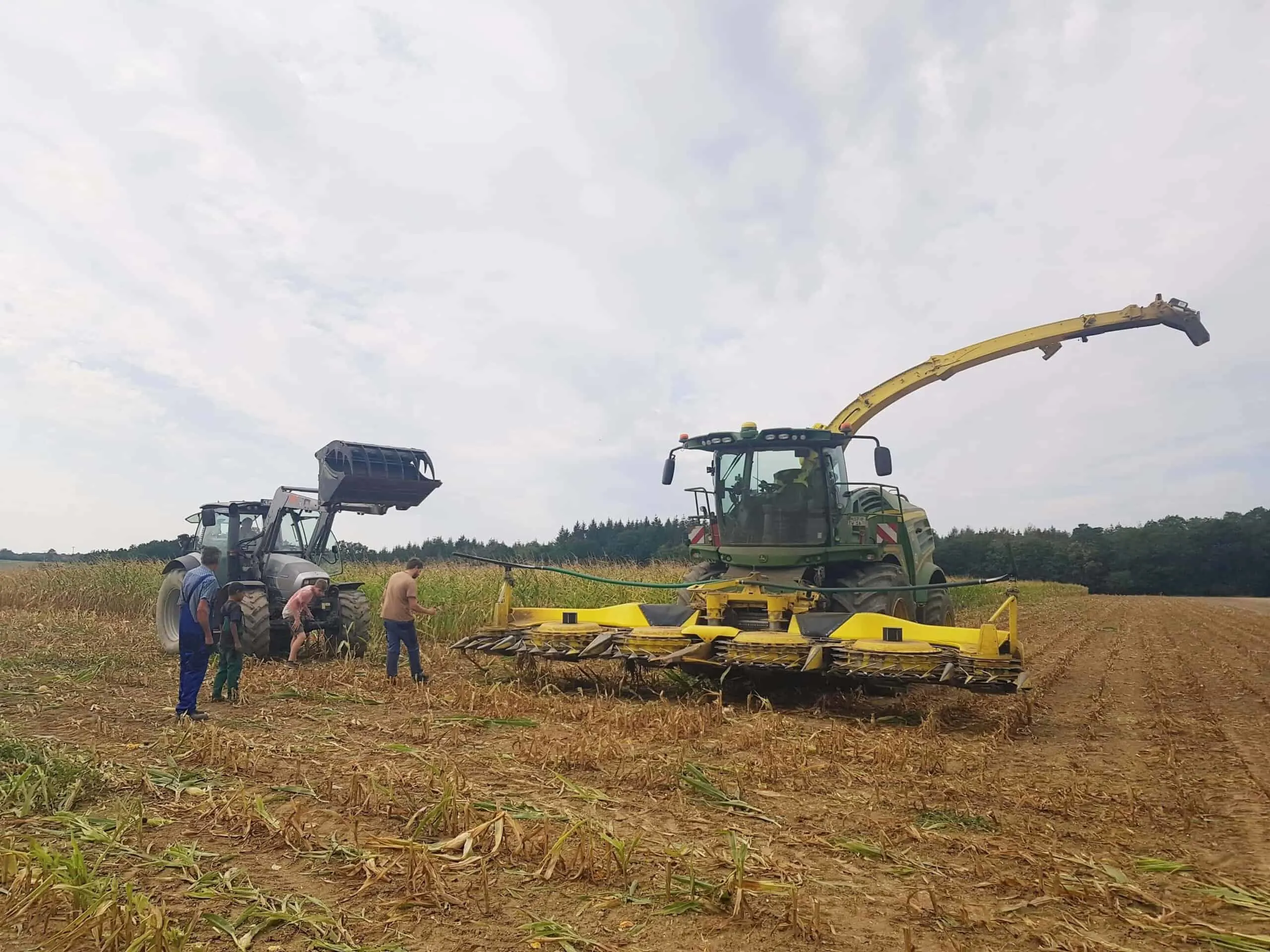 Afterward, we went onto our field and collected leftover corn for our sensory play experience. Then, my kids cleaned the corn off and peeled all the little grains that kept them busy a whole afternoon.
The easier solution is definitely going to your next farmer's market or bird-feeding store and buying shelled corn.
The setup itself is super easy and very fast. Simply fill your preferred bin with your fun materials and add your toys.
Which toys are you wondering about, that's up to you and depends on what you can find in your house. But sand toys always work for these activities.
Use a shuffle and small jars, ice cube trays, cups, baby food containers, or even muffin trays to create a great opportunity for your little one to dig, scoop, and dump.
Are you interested in more DIY Kids Activities, Arts and Crafts, and Easy Science Experiments?
Subscribe to our newsletter now and never miss an update on new ideas for kids or free printables!
Click here
But let's get back to our farm sensory play activity and see what we will need for our corn kernel sensory bin:
Materials For Corn Sensory Bin
corn grains
bin or tray
farm toys
The step-by-step tutorial is super easy. Let's take a look at what to do next for our fall sensory bin:
Corn Sensory Bin Instructions
Step 1: Prepare Corn
Buy corn grains or remove the corn grains yourself from the corncobs.
Step 2: Fill your Bin
Fill your bin with the shelled corn. The amount you will need depends on the size of your container.
Step 3: Add toys
Add farm toys to your farm sensory bin.
Step 4: Let's play
Your fall sensory play bin is finished now and your child can enjoy playing with it.
Being outside is so important for kids and comes with so many benefits. Go check them out here.
You do not get your children outside? Do not worry, here are some fun ways to Engage Children in Nature.
Tips for Your Corn Play Box
Don't through your corn out right away. This activity will entertain your children for a couple of afternoons. To switch it up just simply exchange toys to create a new theme.
Use a huge sheet underneath your play bin.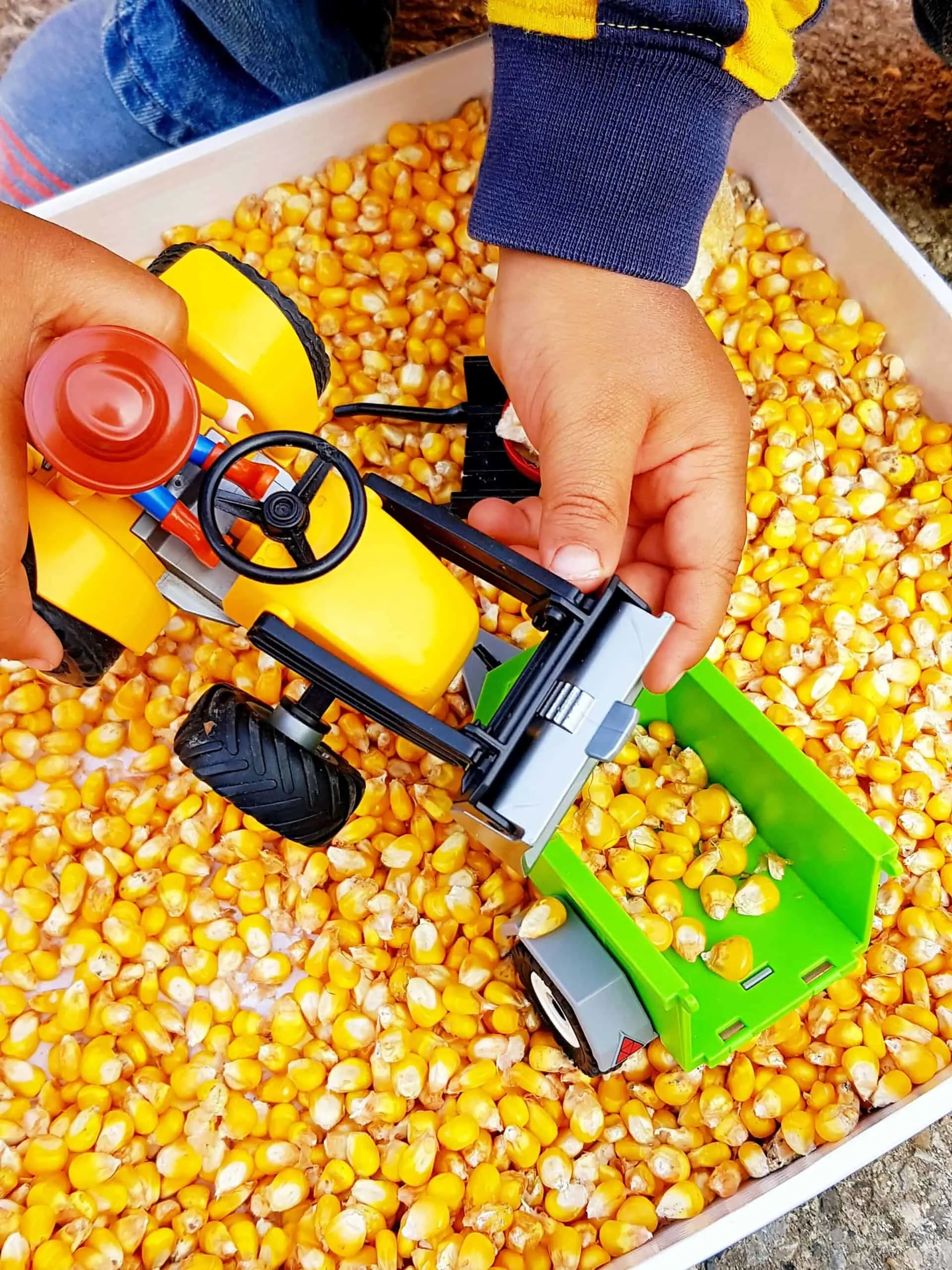 Knowledge
If you are interested in learning about the anatomy of corn take a look here.
Otherwise, here are some fun facts about corn to round this activity up:
Another name for corn is maize or as we spell it in German Mais.
In the US it's considered a vegetable but many other countries consider it a grain.
It belongs to the grass family.
Corn grows everywhere except in Antarctica.
Wow! An average ear of corn has 16 rows and 800 corn kernels.
Corn comes in many colors, white, red, black, yellow, and gray/blue.
Corn comes in 200 different varieties. The most known corn types are dent corn, flint corn, sweet corn, and flour corn.
Corn is full of fiber, potassium, vitamin C, Vitamin A, protein, and carbohydrates.
Corn is in many types of foods such as cereals, popcorn, corn chips, baby food, and even pet and animal food.
These and more fun facts about corn can be found here.
Summary
We really enjoyed this farm sensory play. It entertained my kids several afternoons.
Be aware that it can be messy since the corn most likely will not stay in the tray. But with the sheet, it was super easy. Simply bundle everything up afterward.

This excellent loos parts activity is awesome for outdoor or indoor play when it is cold outside.
It is perfect for preschoolers and toddlers but even my 8-year-old son still enjoyed it.
Just make sure you are supervising your younger children so they don't try to swallow the corn grains.

Pin This Fall Sensory Bin
Don't forget to save this corn craft for toddlers on Pinterest later! Be sure you are following along with Lil Tigers.
Now I would like to hear from you!
How did you enjoy this easy corn sensory bin play activity?
Either way, let me know by leaving a comment below right now.
I would love to hear from you!