These horse party favor bags are so easy and fun to make.
In fact, all you need for this horse craft is paper lunch bags and a handful of craft supplies.
Find out how you can make these fun horse treat bags in a matter of a couple of minutes with help of our free printables horse templates or by hand.
Let's dive right in.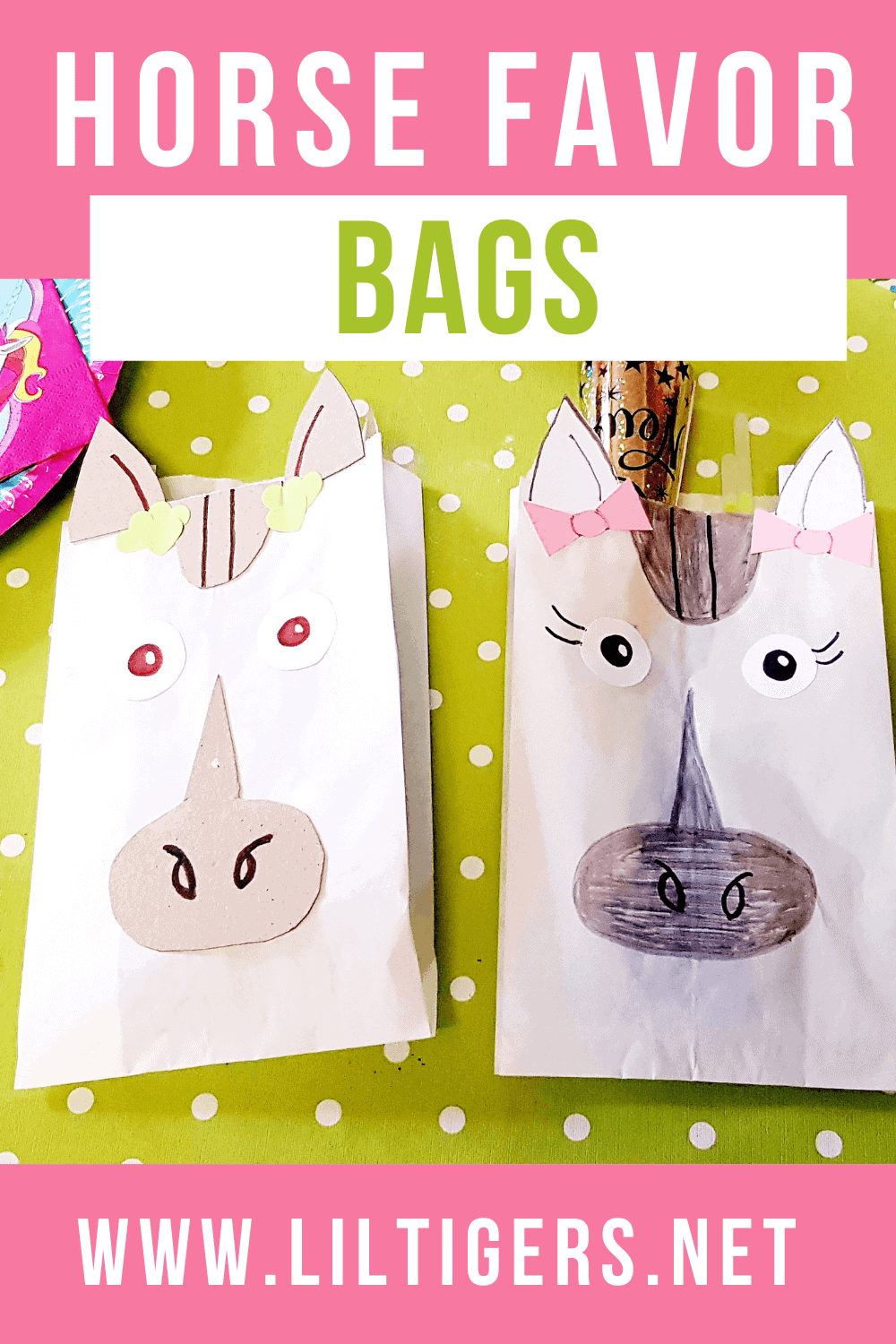 There are affiliate links in this post, meaning, at no additional cost to you, I will be compensated if you click through and take action. As an Amazon Associate I earn from qualifying purchases.

DIY Horse Party Favor Bags
My daughter's birthday is coming up and to say she loves horses is the understatement of the year. She is obsessed!
So it is only natural that she wants to have a horse birthday party like every year!
Therefore I prepared these gorgeous DIY horse birthday party favor bags for her.
At that time I didn't have our free printables yet. But thanks to my friend Missy from Life between Dishes she created this amazing horse party favor bag printables for you.
But let's take a look now at how easy it is to make those fun horse party favor bags for kids either by hand or with our free templates.
Are you interested in more kid's activities, arts & crafts, and science experiments?
Subscribe to our newsletter now and never miss an update! Click here

How to Make Horse Treat Bags
Here is what you will need for your DIY horse treat bags:

Materials
free printable Horse Party Favor Bag Templates (optional)
paper lunch bags
scissor
glue
pencil
marker
different colored paper or cardboard
glue eyes (optional)
shape puncher (optional)
pom-poms (optional)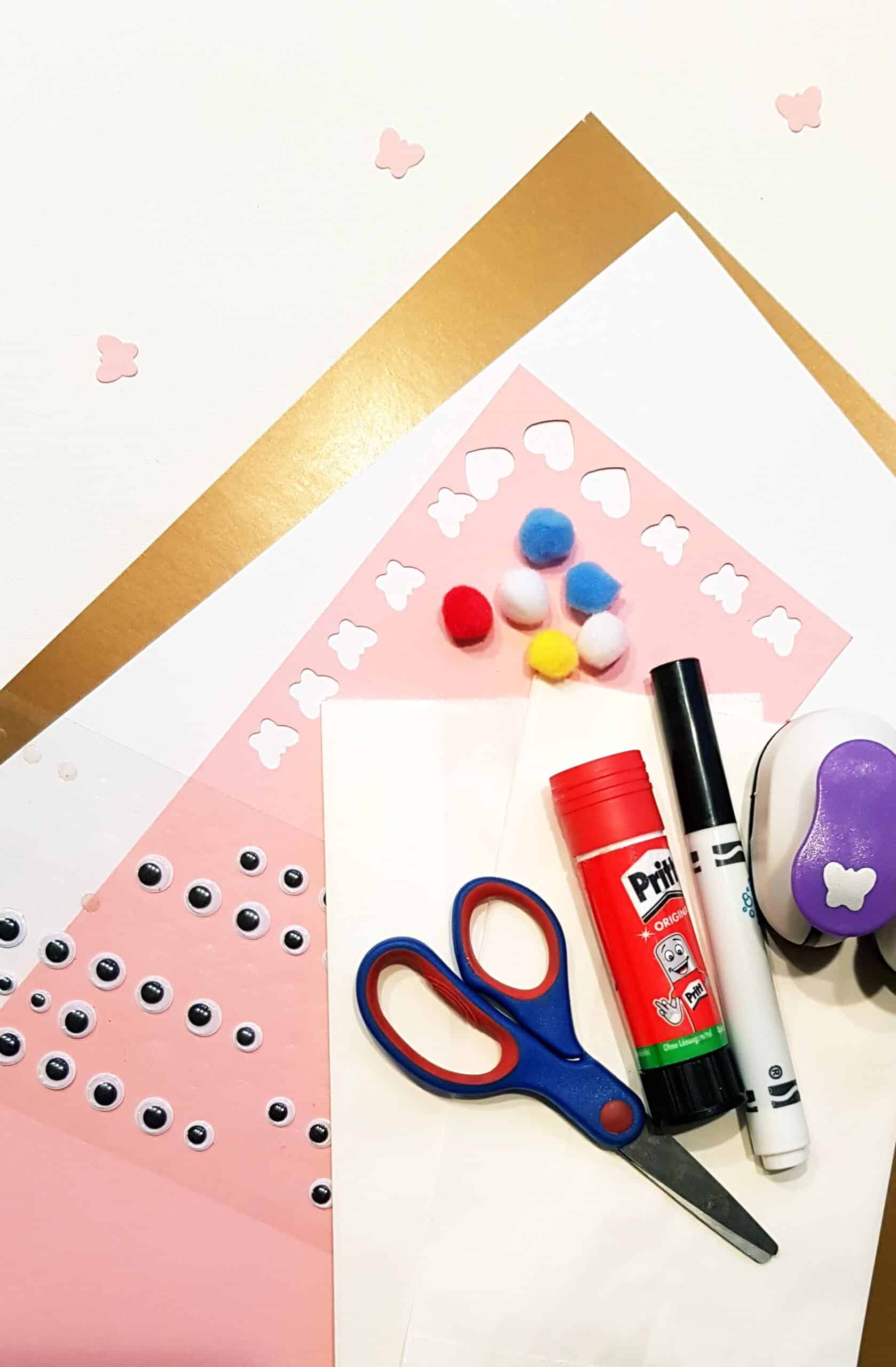 Instruction
Follow these simple steps to create your own adorable horse birthday party treat bags.
Step 1: Prepare your materials
Is this a girl's birthday party or for boys? Do you have a color theme? Depending on your guest choose fitting colored papers.
Either print out our horse templates or draw them later by hand.

Step 2: Draw shapes
Take your colored sheets and draw the outlines of your needed shapes as seen in the picture. For the eyes, I used my circular glue stick to trace around them. For smaller children prepare that step in advance and let them start with step 3.
Those who use our horse printables can skip this step!

Step 3: Cut your shapes
After you or your children draw the needed shapes on paper, cardboard, or if you simply print out our horse cutouts, it is time to cut them.

Step 4: Color and glue your shapes
In case you used white paper for this craft, make sure to color the small pieces in the desired color first. Then take your glue stick and attach them to your lunch bag.


Step 5: Add finishing touches
In this final step take a marker and add finishing touches. It is time to draw the eyes, the nose, and hairlines.
This step can be skipped while using the horse printouts.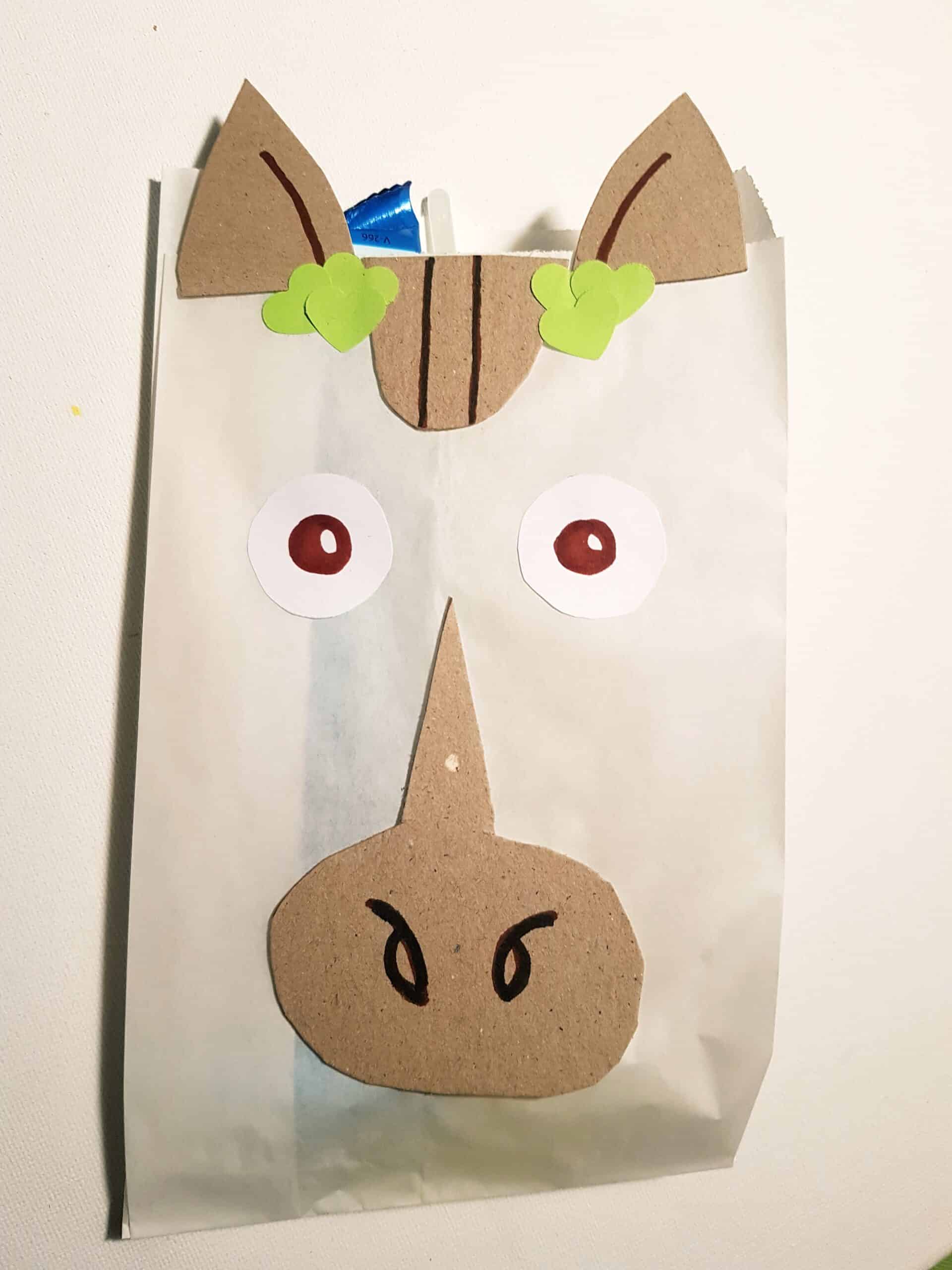 Do you need some other party ideas? Then check out our Baby Yoda Goodie Bag, these 11 Princess Crafts, our fun Farm Animal Activities, or set up an Ice Cream Bar next.

Step 6: Fill your horse party favor bags
Now it is time to fill your horse treat bags with some fun horse party favors.
Take a look below for some cute horse party favor ideas for your cute horse bags.

Tips
I can only advise you to make different colored horse goody bags for each gender. It was a full success. For boys, I chose brown horses with green or blue. For the girls on the other hand I decided on white horses with pink bows.
We also included a boy version in the printables for you!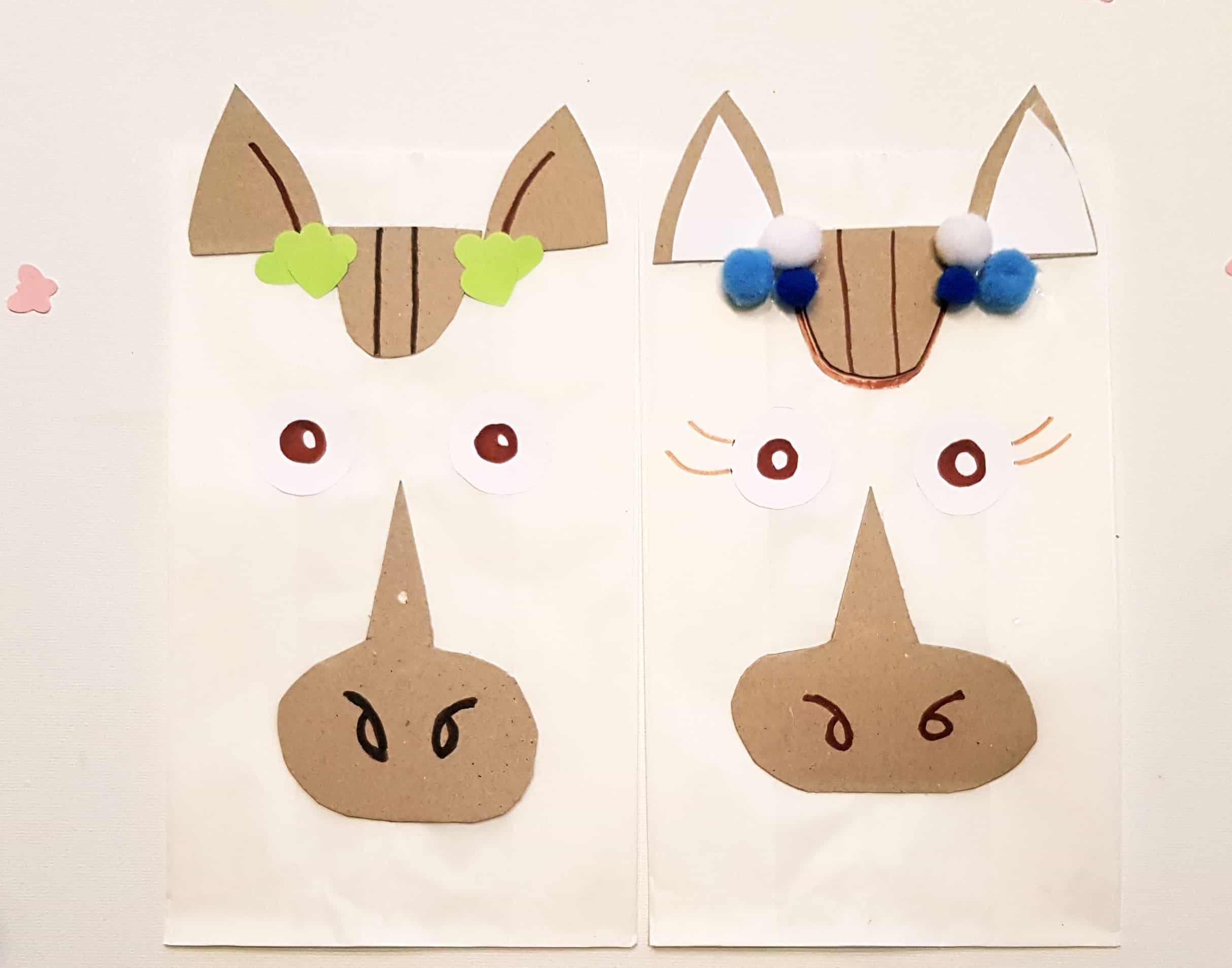 Since bows are a girl thing you can also use other things to add some finishing touches to your party bag. Simply substitute with pom-poms or use a shape puncher.

Horse Party Favor Ideas
Of course, even the most stunning horse candy bags need some fun horse party favors. Here are some cool horse themed party favor ideas for kids:
Summary
I have to say we simply loved this fun DIY horse birthday party project. We had a fun afternoon making these adorable horse treat bags.
We filled them up with some of those cool horse birthday party favors. It was a full success our friends loved them!
I recommend this DIY horse birthday party craft for children 3 and up.
Smaller toddlers will need some assistance. Simply draw the shapes prior and let them just cut and glue.
It is a wonderful opportunity for them to work on their motor skills.
We also attached some horse coloring pages in case this craft is too difficult for them!
My children not only enjoyed making their very own DIY horse bags. They also loved handing them out and seeing the smiles on their friend's faces.
By the way, these horse party bags are a wonderful idea for drive-through birthday parties or to hand out in school as well!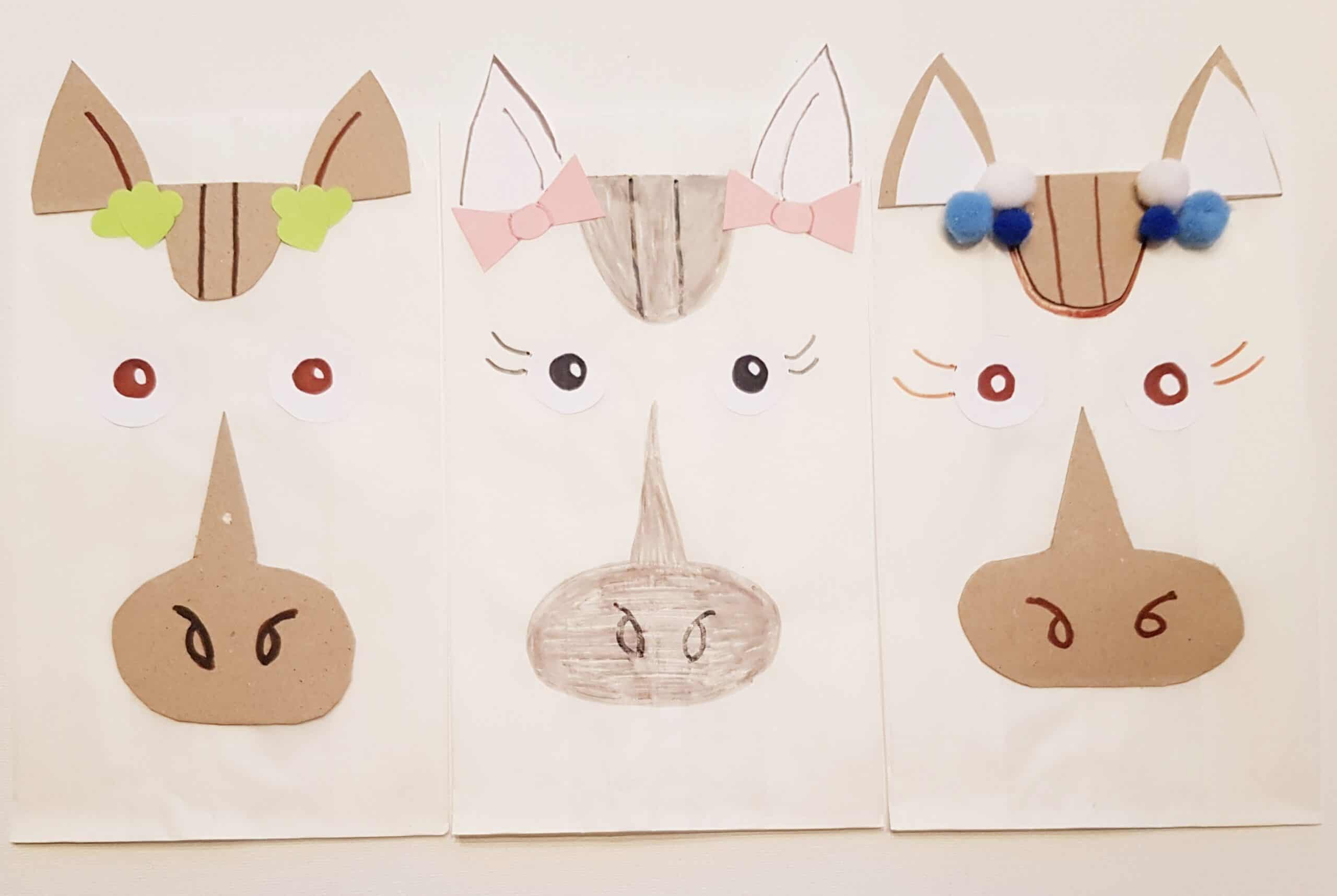 More Horse Birthday Party Fun
For more fun horse birthday party ideas take a look here:
How to Download Your Printable Horse Party Favor Bags Templates
Simply sign up here for our newsletter and you will receive the link to our free printable horse goodie bag templates pdf.
Already a subscriber? Don't worry, no need to subscribe twice.
I just updated our free printable library. You can find our flower pot outline printables and coloring pages there or check our newest newsletter for more information.
If you have any questions, please do not hesitate to reach out to me. I m happy to help!
Pin This Horse Party Favor Bag For Kids
Don't forget to save these adorable horse party goodie bags on Pinterest for later! Be sure you are following along with Lil Tigers here.
Now I would like to hear from you!
How did your kids enjoy making these easy horse party favor bags and these wonderful horse-themed goody bag ideas? Which horse party favors did you use?
Either way, let me know by leaving a comment below right now.
I love to hear from you!
Horse Party Favor Bags
How to make your own adorable horse party favor bags.
Materials
paper lunch bags
colored paper or card board
scissor
glue stick
pencil
marker
pom-poms (optional)
shape puncher (optional)
Instructions
Prepare your materials. Choose colored paper depending on your guest's gender
Draw shapes on the colored paper.
Cut the shapes
Glue the shapes to your paper bags
Take your marker and draw eyes, nose, and hairlines.