Are you looking for inspiring camping quotes for kids? Then you are in the right place!
Here are 85 Camping Sayings for Adults and Kids including matching books, activities, and free printables to get excited for your next adventure.
Let's have a look!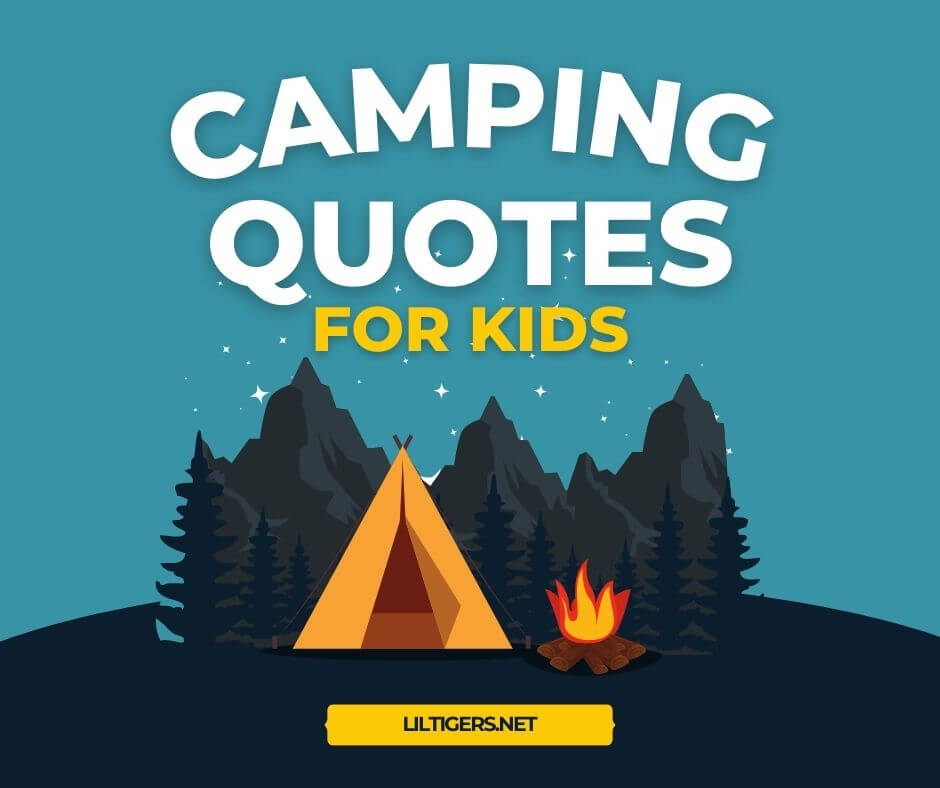 There are affiliate links in this post, meaning, at no additional cost to you, I will be compensated if you click through and take action. As an Amazon Associate, I earn from qualifying purchases.
Fun Camping Jokes for Kids
Before we get started with our camping quotes for kids, let's have a look at some clean camping jokes for kids.
Here are 7 Fun Camping Jokes for the whole family:
Why don't mummies go camping? They are afraid to relax and unwind.
What did the beaver say to the tree? It is been nice gnawing you!
Why did the camp warden quit his job? Because it was always in tents.
Where does a camper keep his money? In the River Bank!
How do you communicate with a fish? Drop it a line.
What do you call a group of grizzlies cracking up together? A BEARel of laughs!
How does a tree access the internet? He logs in.
Camping Books for Kids
Here are some great camping books for kids:
While Tomas Tent-Mouse loves to camp in a tent, his cousin Harvey RV-Mouse feels safe in his RV. Read along in this modern twist on Aesop's fable the town mouse and country mouse.
Are you interested in more kid's activities, arts & crafts, and science experiments?
I have made it easy for you! Join our newsletter now and I will send you new fun for kids.
Subscribe for free
85 Best Camping Quotes for Kids
Camping season is around the corner. Are you excited about your first camping trip of the year or maybe already been?
Then check out our family camping quotes and get ready for your next adventure.
Our list of quotes about camping includes inspirational camping quotes and sayings, best camping quotes for kids, camping phrases, fun camping quotes, captions, campsite quotes, and puns, short camping quotes, motivational camping sayings, and inspirational camping quotes for adults and kids.
Let's have a look and get inspired!
Camping Sayings for Kids
First are our fun camping sayings for kids:
"Good things come to those who camp."
"Keep calm and go camping."
"Time camping is not time spent, it is time invested."
"Life is best when you're camping"
"Camping fills your pockets with adventures."
"Home is where you pitch your tent."
"Light a campfire and everyone's a storyteller." – John Geddes
"And at the end of the day, your feet should be dirty, your hair messy, and your eyes sparkling." – Shanti
"There's no such thing as a bad camping trip – only unprepared campers."
"We can never have enough of nature." – Henry David Thoreau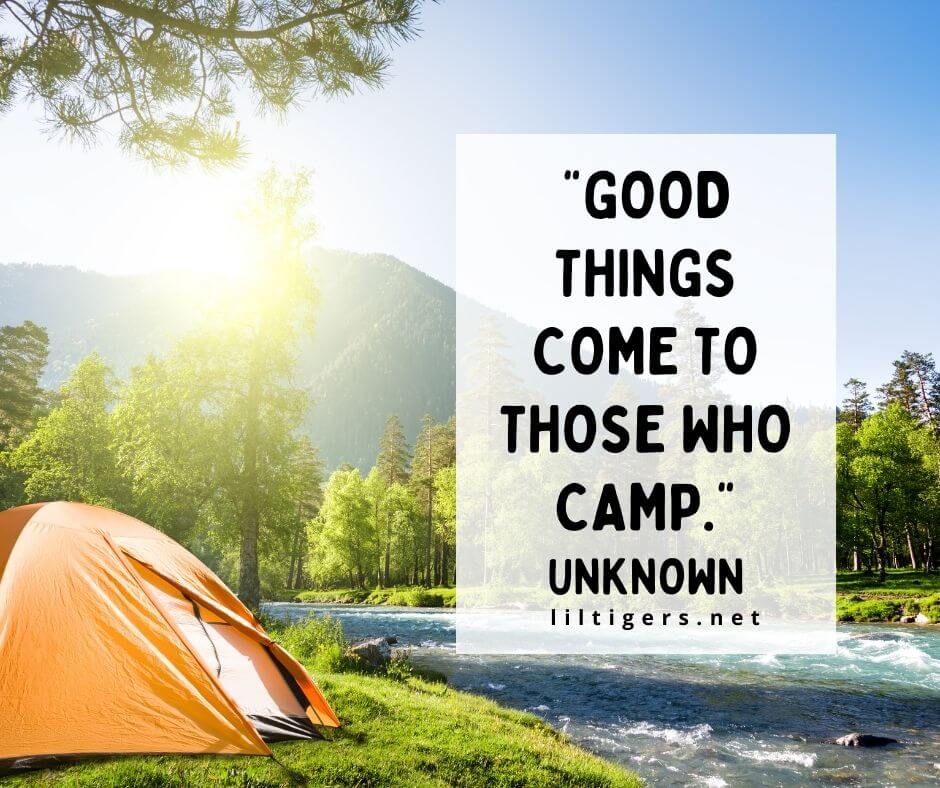 "Home is where you park it."

Unknown
Best Quotes About Camping
Followed by our quotes on camping:
"Camping rules. Stare at the fire. Listen to the birds. Jump in the lake. Read. Take a nap. Relax. Watch the sunset. Cook over the fire. Breathe the fresh air."
"Money can not buy happiness but it can buy a tent and that is kinda the same thing."
"I might ask you one day to go camping, and if you have the desire to dance." – Paige Lewis
"If you truly love nature, you will find beauty everywhere." -Laura Ingalls Wilder
"If people sat outside and looked at the stars each night, I will bet they'd live a lot differently." – Bill Watterson
"I peered up through the tent's mesh roof at faraway stars, faint glitter, giddy." – Aspen Matis
"The stars were better company anyway. They were very beautiful, and they almost never snored." – David Eddings
"Sleep under a blanket of stars, and your heart will forever be kept warm by your love of life." – Anthony T. Hicks
"My wish is to stay always like this, living quietly in a corner of nature." – Claude Monet
"Wherever you camp in the world, the campfire will be one of the things that sticks in your memory the most!" – Mehmet Murat Ildan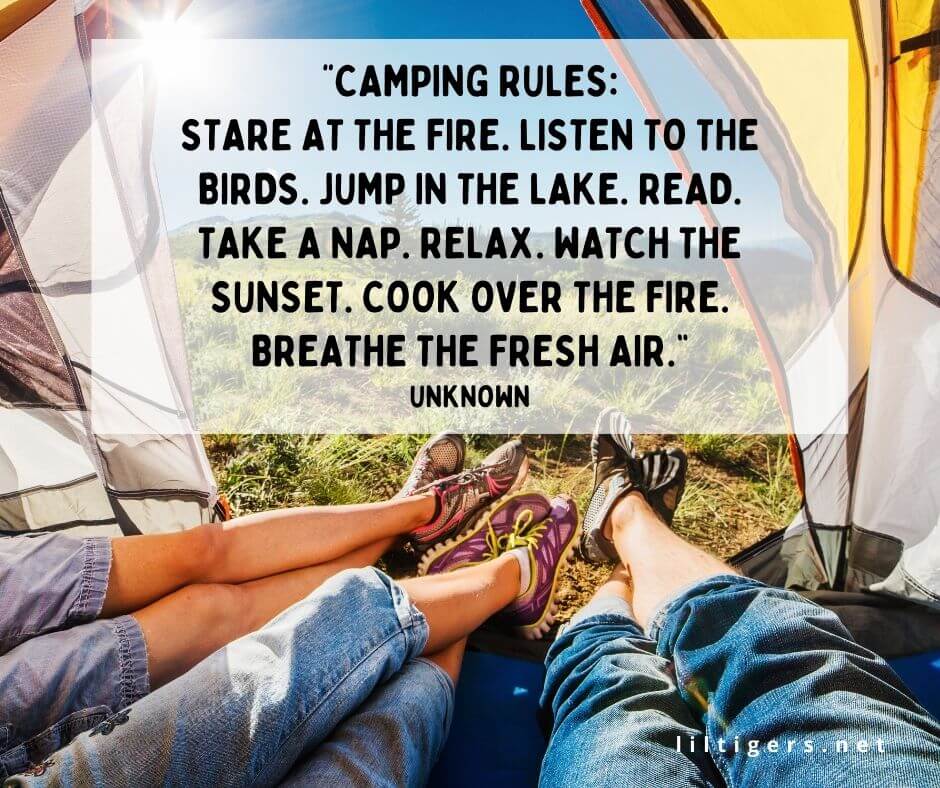 "Real freedom is laying in your tent."

Susanne Williams
Funny Camping Quotes
Next are our fun camping quotes for kids:
"I googled my symptoms. Turned out I just need to go camping."
"A bad day camping is still better than a good day working."
"Cooking and eating food outdoors makes it taste infinitely better than the same meal prepared and consumed indoors." – Fennel Hudson
"Camping is nature's way of promoting the motel business." – Dave Barry
"In a well-ordered universe camping would take place indoors." – Morgan Matson
"It always rains on tents. Rainstorms will travel thousands of miles, against prevailing winds for the opportunity to rain on a tent." – Dave Barry
"We go camping because therapy is expensive."
"A crude meal, no doubt, but the best of all sauces is hunger." – Edward Abbey
"Some national parks have long waitlists for camping reservations. When you have to wait a year to sleep next to a tree, something is wrong " – George Carlin
"If I went on vacation, I'd rather go camping than stay in some four-star hotel." – Travis Fimmel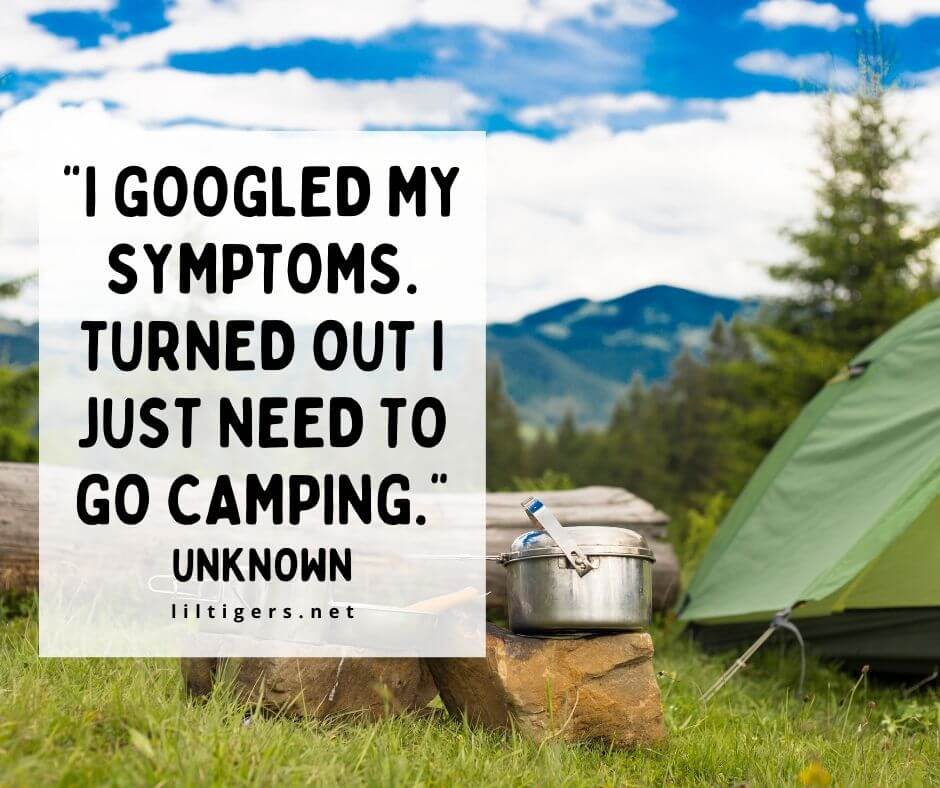 "Somebody told me it was frightening how much topsoil we are losing every year, but I told that story around the campfire and nobody got scared."

Jack Handey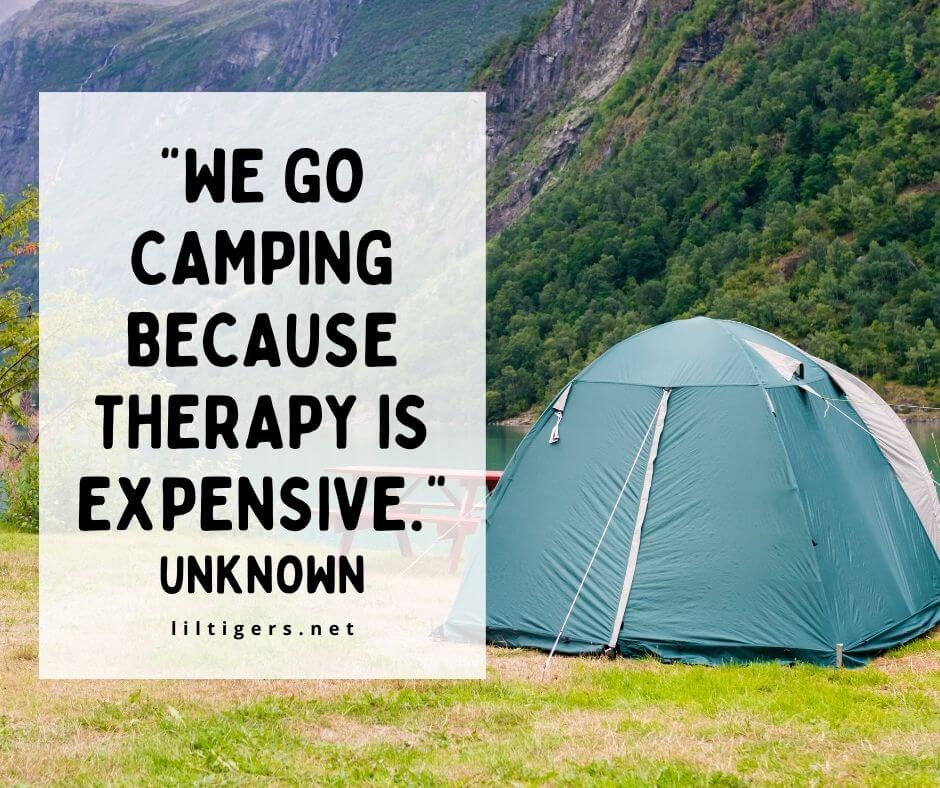 Did you enjoy our camping greetings for kids?
You also might like to read about how to Engage Children in Nature or look into our Outdoor Water Toys recommendation and get inspired.
Inspirational Camping Quotes for Kids
What do you think about these encouraging camping quotes?
"Look deep into nature, and then you will understand everything better." – Albert Einstein
"Cold air dark night warm fire bright stars."
"The camp is the space that is opened when the site of exception begins to become the rule." – Giorgio Agamben
"Going to the mountains is going home." – John Muir
"You get guys around a campfire, and they start telling their stories. That's the fellowship that they want to be in." – John Eldredge
"All good things are wild and free." – Thoreau
"Now I see the secret of making the best person, it is to grow in the open air and to eat and sleep with the earth." – Walt Whitman
"Take nothing but pictures, leave nothing but footprints, kill nothing but time." – Aliyyah Eniath
"Almost everything will work again if you unplug it for a few minutes, including you." – Anne Lamott
"Wilderness is not a luxury but a necessity of the human spirit." – Edward Abbey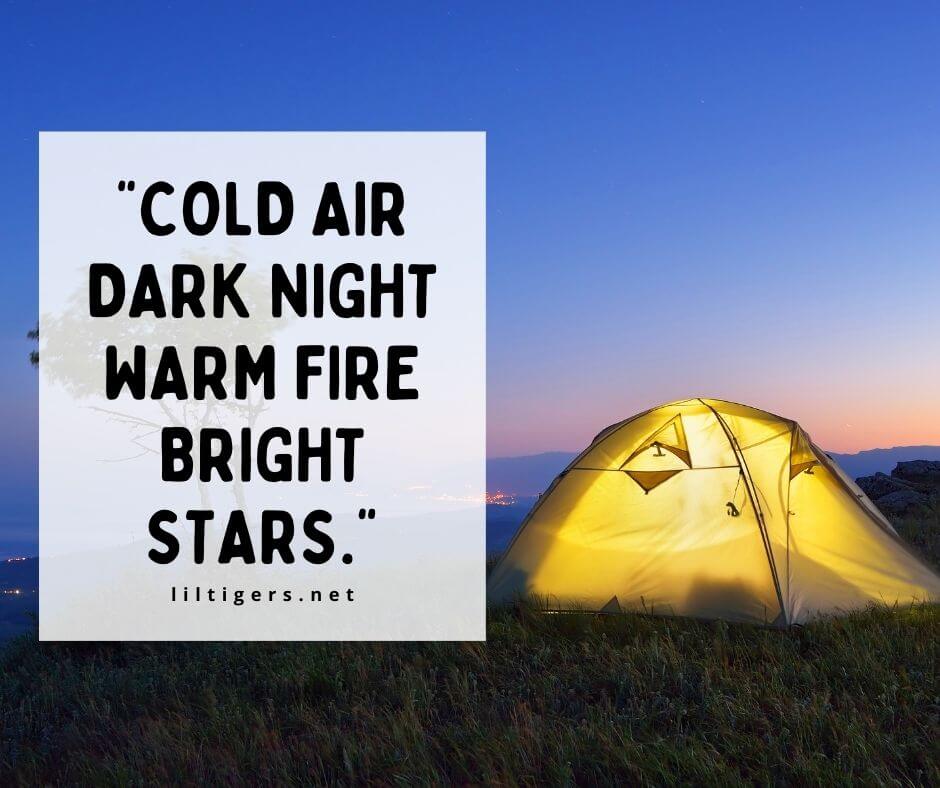 "Of all the paths you take in life, make sure a few are dirt."

John Muir
Motivational Camping Quotes for Kids
Let's start off with our motivational quotes on camping:
"Welcome to our campsite where friends and marshmallows get toasted at the same time"
"There is no Wi-Fi in the mountains but I promise you will find a better connection."
"May your trails be crooked, winding, lonesome, dangerous, leading to the most amazing view. May your mountains rise into and above the clouds." – Edward Abbey
"You need to be outdoors. Away from here. You need a holiday." – Fennel Hudson
"It is impossible to go for a walk in the woods and be in bad mood at the same time."
"You don't have to say everything to be a light. Sometimes a fire built on a hill will bring interested people to your campfire." – Shannon L. Alder
"You may be a little cold some nights on mountain tops above the timber-line, but you will see the stars" – John Muir
"The wilderness holds answers to questions we have not yet learned to ask." – Nancy Wynne Newhall
"My tent doesn't look like much but, as an estate agent might say, it is air-conditioned and has an exceptional location." – Fennel Hudson
"The outside is the only place we can truly be inside the world." – Daniel J. Rice
"And into the forest I go, to lose my mind and find my soul."

John Muir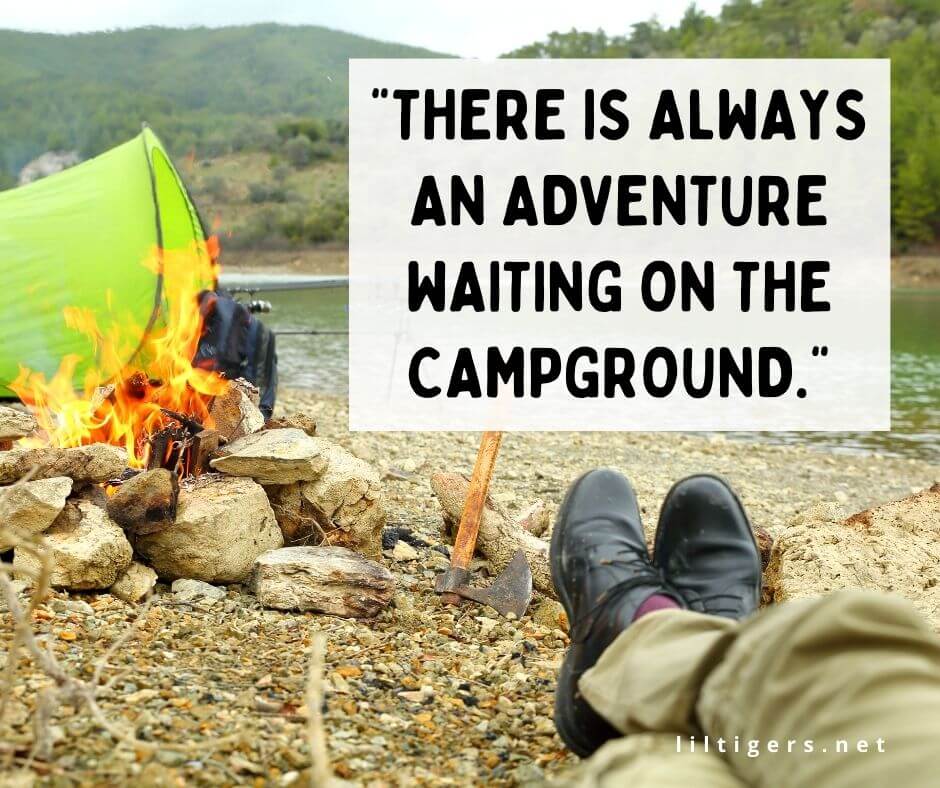 Short Camping Quotes
Short but sweet are the following camping quotes and sayings:
"Campers have smore fun."
"Teaching children about natural world should be seen as one of the most important events in their lives" – Thomas Berry
"Hiking and happiness go hand in hand or foot in boot." – Diane Spicer
"Do not follow where the path may lead. Go instead where there is no path and leave a trail." – Ralph Waldo Emerson
"There is always an adventure waiting on the campground." – Susanne Williams
"Gather wood, build a fire, stay up all night with the fire and stars." – Antler
"I took a walk in the woods and came out taller than the trees." – Henry David Thoreau
"I don't need Therapy. I just need to go camping."
"Hiking to a backcountry campsite is the best way to truly get away." – Laynni Locke
"We don't stop hiking because we grow old. We grow old because we stop hiking." – Finis Mitchell
"Real freedom lies in wildness, not in civilization."

Charles Lindbergh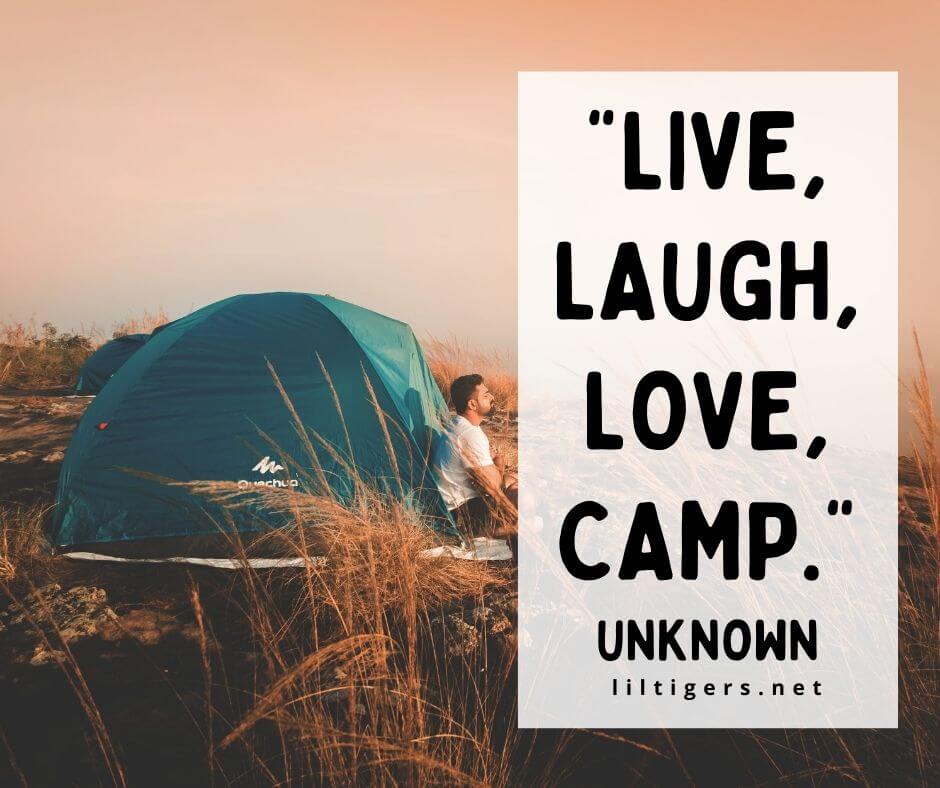 Fun Camping Captions
You will also like our fun camping captions for Instagram:
"Camping hair don't care."
"Live, laugh, love, camp."
"All I need is a campsite and good company."
"Follow me to the campground."
"Camping rules. Stare in the fire. Listen to the birds."
"Living that camping life!"
"Camp, rise, repeat."
"Life is better when you add fresh air and a campfire."
"Cold air, dark night, warm fire, bright stars."
"Camp – Explore – Dream – Discover."
"Let's sleep under the stars."

Unknown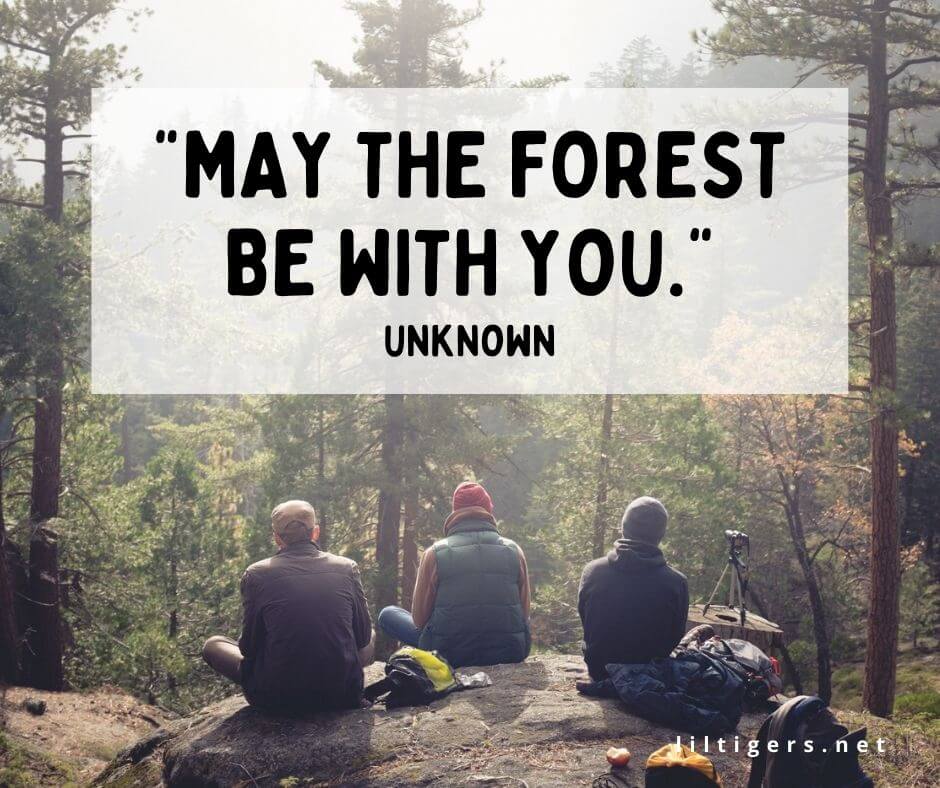 Funny Camping Puns
Last but not least are our fun camping puns for kids:
"Camping is the answer. Who cares what the question is?"
"May the forest be with you."
"The Mountains are calling and I must go!" – John Muir
"I do have a retirement plan. I plan on camping."
"Life is good in the woods."
"Morning. You found somewhere to camp then?" – Raynor Winn
"What happens in the camper, stays in the camper."
"Donating blood, one mosquito at a time."
"Is it weird that I'm taking Louis Vuitton camping?" – Jessica Simpson
"Call in sick, turn off your phone, and go camping."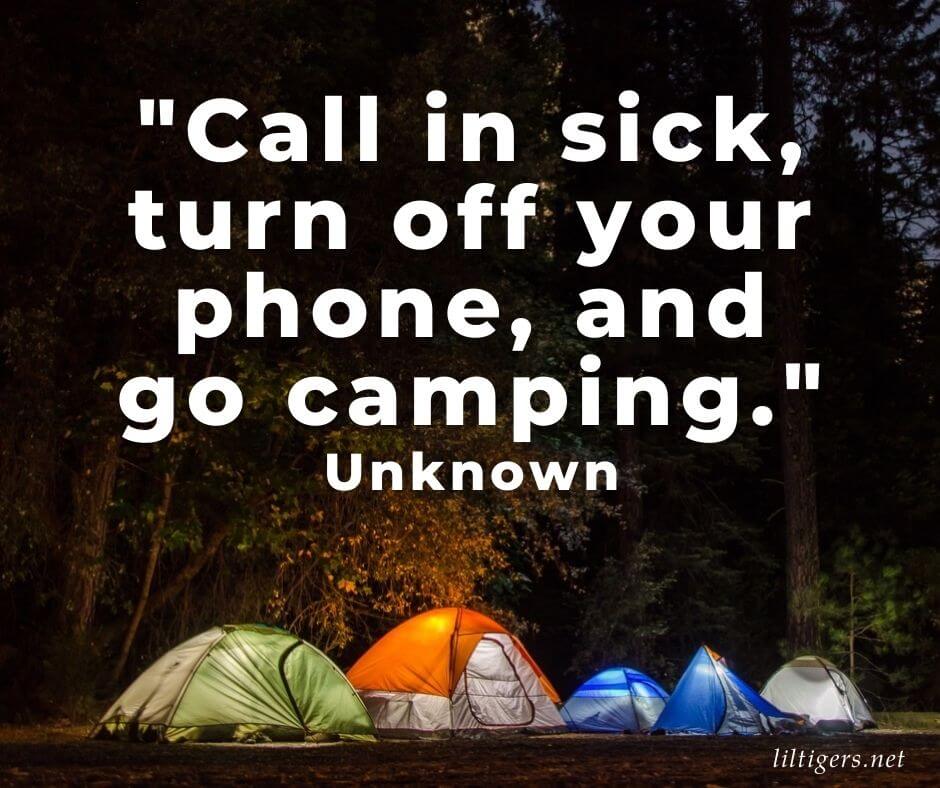 "Sharing s'mores and campfire stories."

Unknown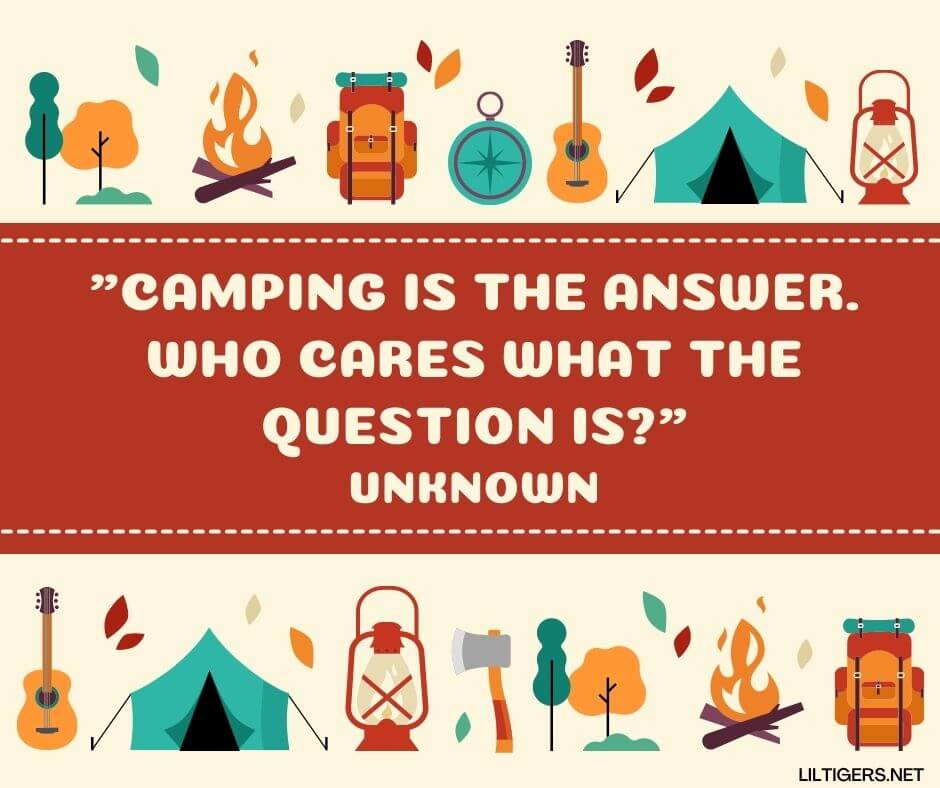 Please be aware that all quotations without an author are from an unknown source.
---
All visual learners can check out our camping quotes video here:
More Quotes
I also like to introduce you to the following quotes for kids:
DIY Camping Crafts and Activities
After you are done with our fun camping quotes and sayings for kids, go check out these matching camping activities next:
---
How to Download Your Free Printable Camping Quotes PDF
Simply sign up here for our newsletter and you will receive the link to our free printable Camping Lunch Notes.
Already a subscriber? Don't worry, no need to subscribe twice. I just updated our free printable library.
You can find our best camping quote printables there or check our latest newsletter for more information.
If you have any questions, please do not hesitate to reach out to me. I m happy to help!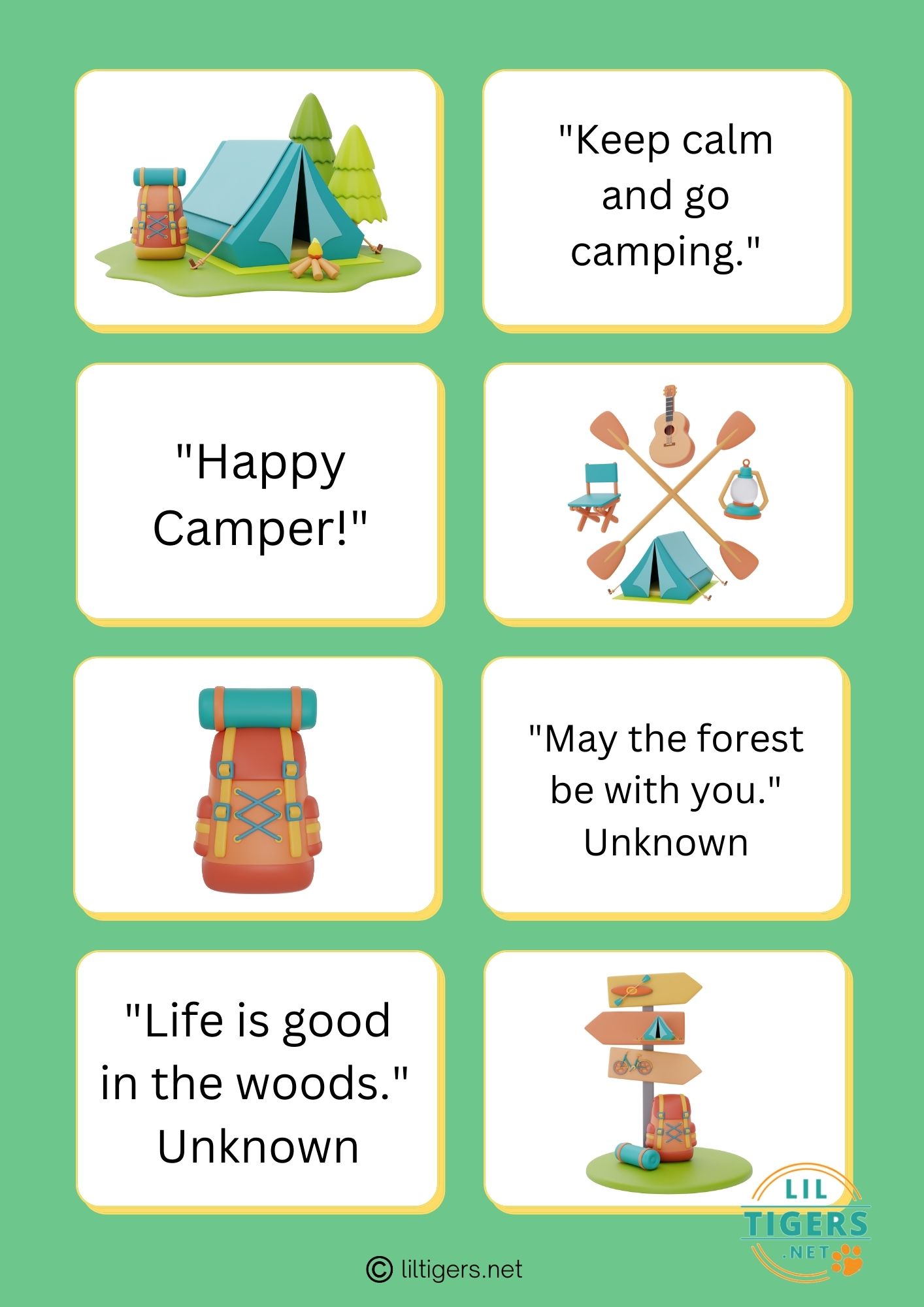 Pin Our Best Camping Quotes for Kids
Don't forget to save our 85 Motivational Camping Quotes for Children on Pinterest for later! Be sure you are following along with Lil Tigers here.
Now I would like to hear from you!
Which saying about camping for kids did you choose? Did you find a better one?
Either way, let me know by leaving a comment below right now.
I love to hear from you!