Do your kids enjoy water play? Then try this cool DIY foil stream project in your backyard.
All you need is aluminum foil and you will have a full afternoon of fun!
Let's dive right in!
There are affiliate links in this post, meaning, at no additional cost to you, I will be compensated if you click through and take action.
DIY Foil Stream
After more than 6 weeks in quarantine, my kids started to get bored. It was time to try something new. I saw online this foil stream DIY project and thought I give it a try.
The weather got warmer, and everyone enjoys playing with water, this must be a win I thought, and was right! My kids loved this easy craft idea and had a blast.
They were able to help me set things up and played the whole afternoon with it. The foil even lasted us for several more days. Of course, it depends on how careful your kids are with it!
Another bonus point is that it's a quite cheap but fun craft for the kids. Just make sure to put on some water cloth or be aware that their cloth might get wet.

How to Build Your Own DIY Foil Stream
But let's take a look now at this simple, long-lasting, summer water play.
Here is what you will need to make your backyard stream:
Materials
1 roll of heavy-duty foil
water
stones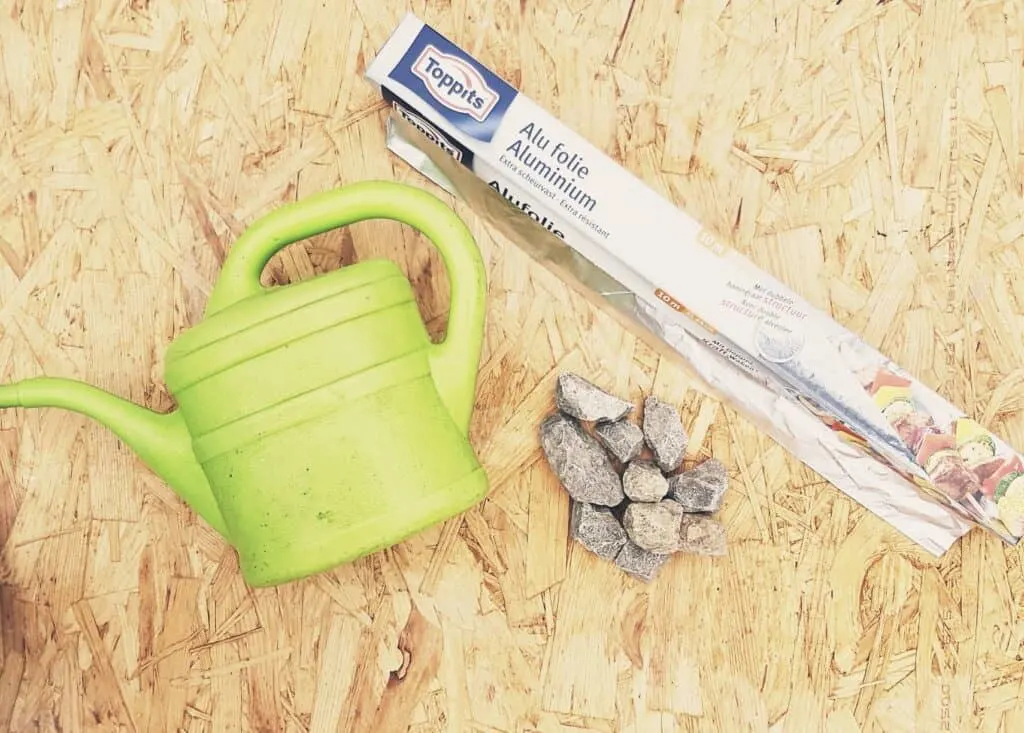 Are you interested in more DIY Kids Activities, Arts & Crafts, and Easy Science Experiments?
Subscribe to our newsletter now and never miss an update on new ideas for kids or free printables!
Click here
Instruction
Follow these simple steps to get build your own backyard foil stream:
Step 1: Prepare the foil
Layout the heavy-duty foil on the ground. Preferably on a little hill so the water can flow downwards.
Step 2: Build sides
Fold the foil up by about 5cm/2,5 inches on both sides. Those are your walls and prevent the water from flowing over and keeps it going in the right direction.
Step 3: Stabilize the foil
Press down on the foil and secure the stream with rocks, little sticks, or other materials you can find in your garden. Go for a material hunt prior to this step. This way the foil does not blow away while hunting for objects.
Step 4: Build a dam
Go and get some extra stones in your garden. Use them to build a dam somewhere along the stream.
Step 5: Have fun
Get a bucket or watering can full of water, splash it on your foil river, and have a good time. Maybe you can even build a little raft or paper boat prior to your water project and let it run down your finished stream!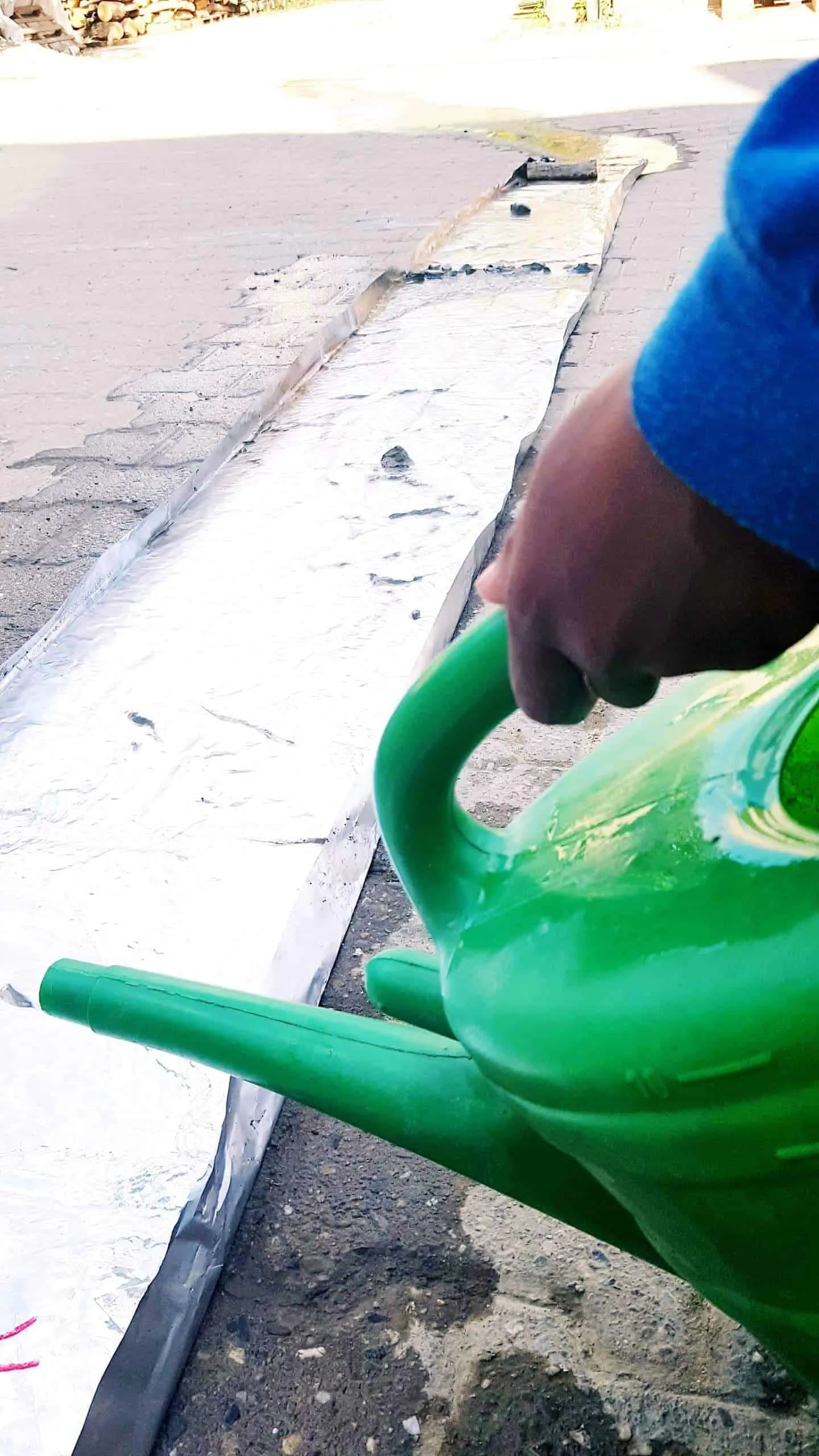 Your kids enjoyed playing the afternoon with this wonderful water activity? Then take a look here at these creative Water Balloon Games, Water Balloon Painting, or check out our Mud Rocket Stove project.

Tips
If you have a garden with foil or grass, this will be definitely a better place to build your fun activity. Never the less concrete also works. The benefit of grass or foil is that it is easier to secure the foil. Simply push it down into the ground, so it does not move around for better construction.
On windy days you might need more than one person to build the stream. Just include your children in this easy DIY process. They will love being mommy's little or big helpers.
Put a bucket at the end of the foil to collect and reuse the water. This way you do not waste water, save money, and gives the kids an extra roll to keep them occupied.
This water play is more indented for big kids. My toddler wanted to step on it the whole time and managed to make wholes into the foil that way. It cost me a lot of afford and energy to prevent him from doing it over and over again!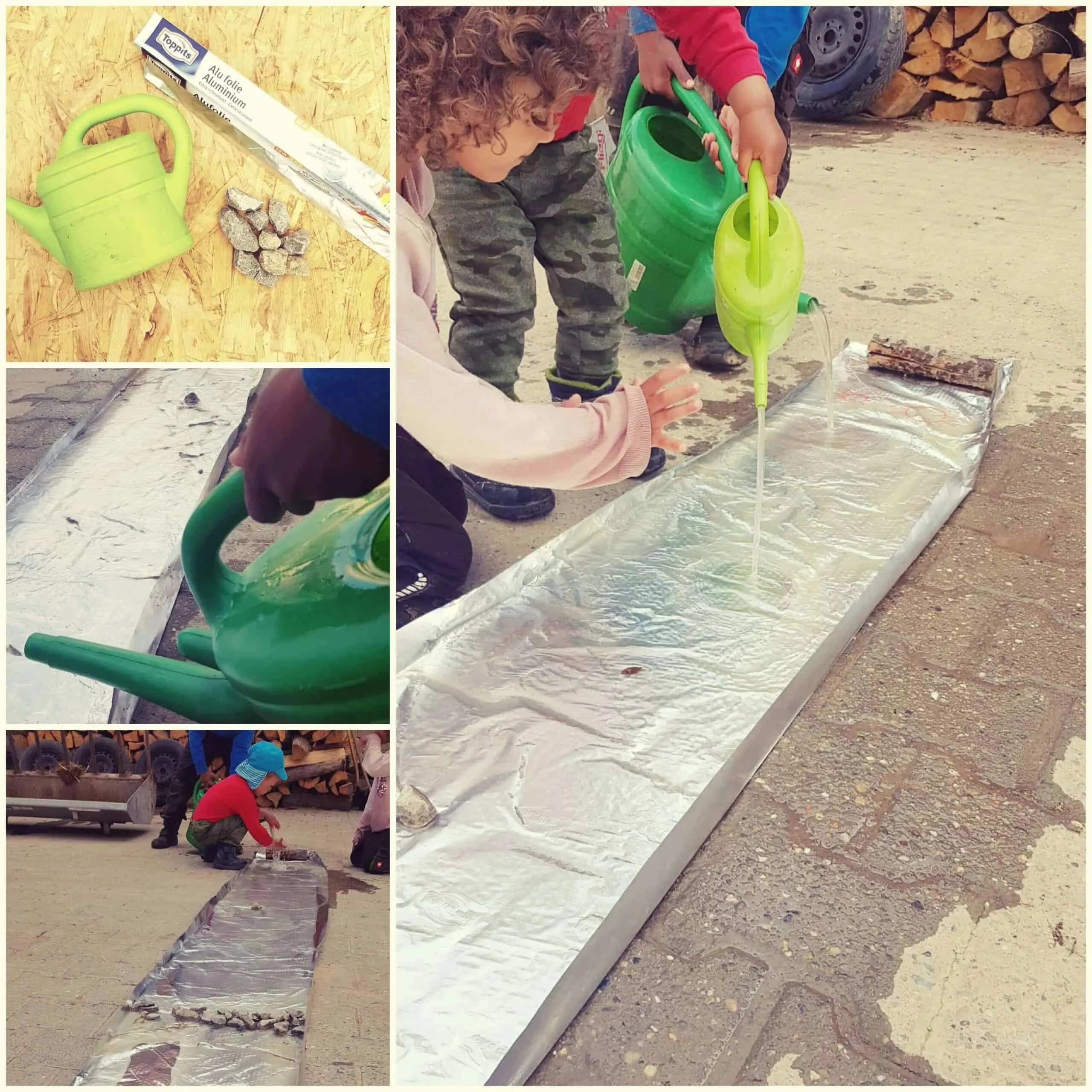 Tuff Tray Foil River
If you do not have a backyard, do not sweat it. Simply take your tuff tray, any sensory bin, or backing sheet, and build your own foil river on it.
Form a snail with the aluminum foil on your tray and use tape to hold it in place on your tray ends. To make it more fun add food coloring to the water before you use it.
We used kitchen sponges to make little boats. The kids loved it!
Being outside is so important for kids and comes with so many benefits. Go check them out here.
You do not get your children outside? Do not worry, here are some fun ways to Engage Children in Nature.
General Knowledge
Let's use this opportunity to learn more about streams, rivers, and lakes in the evening or prior to the project.
Here are some kids-friendly facts:

What is a water stream?
A stream is a small natural flow of water between banks. A stream is smaller than a river.
Some streams flow underground as well. It is called a spring when his water body emerges aboveground.
The study of streams and other waterways like, rivers are known in general as surface hydrology. Those and more fun facts about streams can be found here.
Do you like to learn more about water or try other fun water activities?
Take a look at those books for more knowledge and fun ideas for kids:
Pin This Backyard Foil River
Don't forget to save this DIY foil river project on Pinterest for later! Be sure you are following along with Lil Tigers here.
I hope you enjoyed this water outside activity for your kids.
Don't forget to let me know how your kids liked it.
Leave a comment and add a picture below. I love to hear from you!
DIY foil stream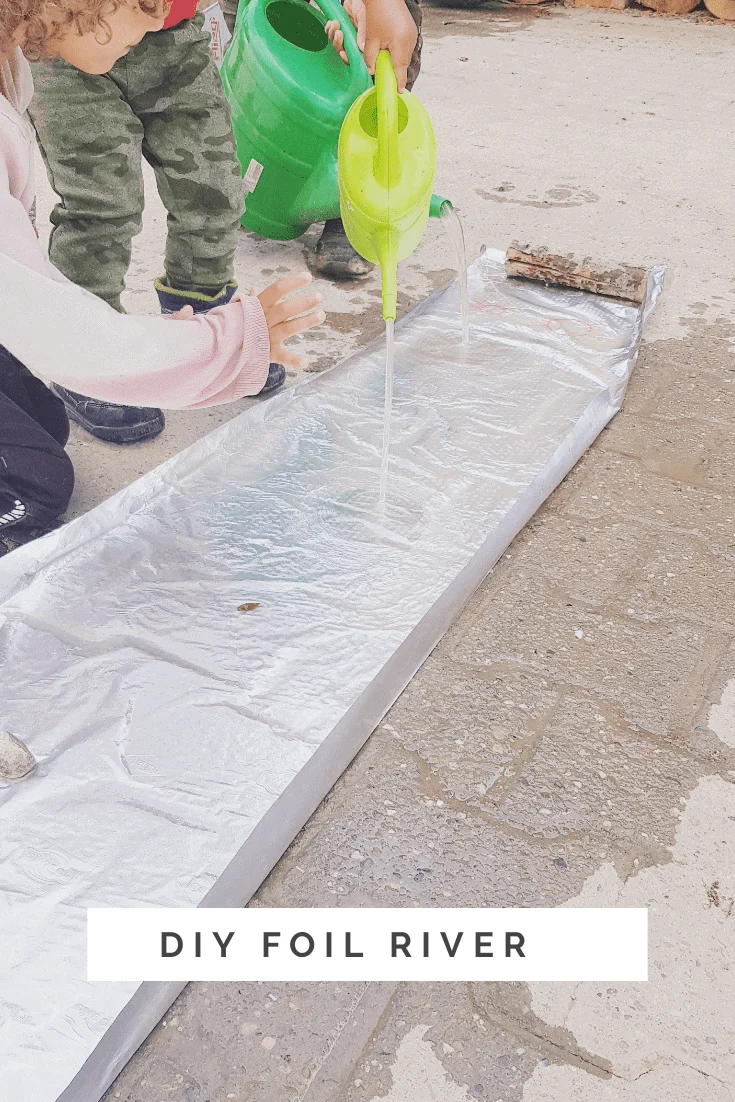 Build your own foil stream in your back yard!
Total Time
1 hour
10 minutes
Instructions
Layout heavy-duty foil.
Fold up the foil on both sides by 2,5-5inches to create a wall.
Stabilize foil with rocks.
Build a dam (optional).
Notes
Tip: Place a bucket at the end of the foil to collect and reuse the water.