Water Balloon Painting is a fun and creative summer activity your kids will love!
It is super easy to set up and will keep your children entertained while working on their motor skills.
In fact, all you need is water balloons and a hand full of household items.
Let's dive right in and find out how to paint with water balloons!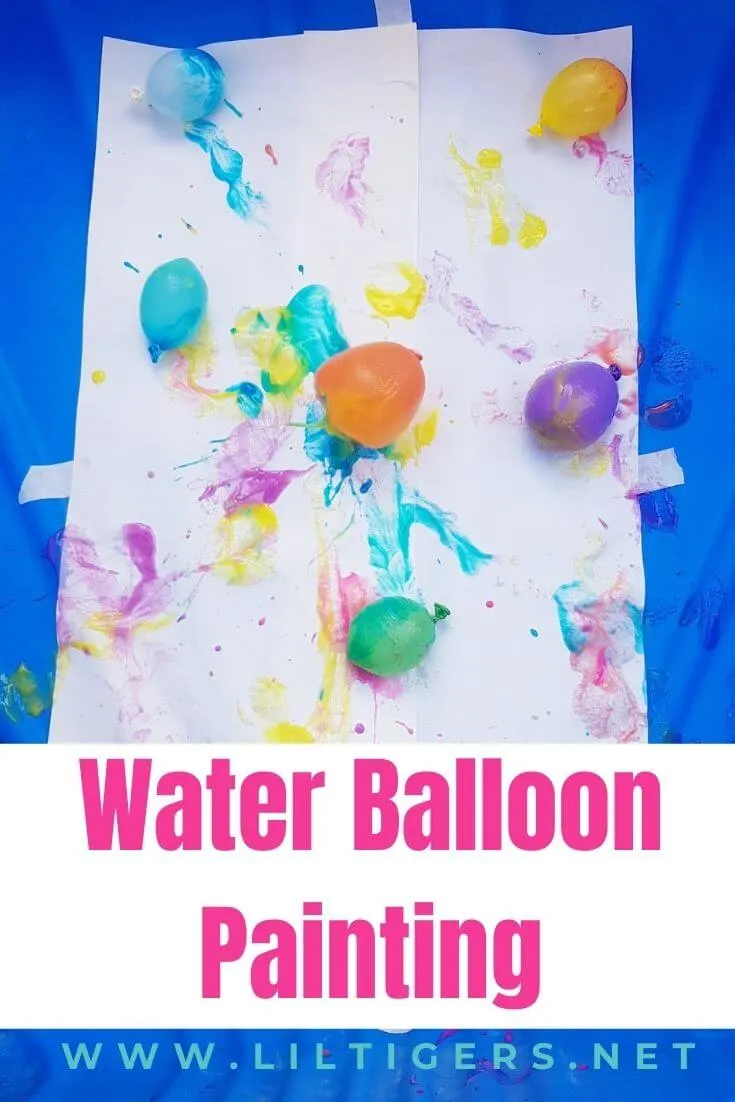 Water Balloon Painting
Benefits of Painting With Water Balloons
Did you know that creating your own balloon artwork is not only a great summer project but also a great learning activity?
Yes, painting with balloons is a great summer sensory activity for toddlers and preschoolers.
For those of you who are not familiar with sensory play yet. Sensory play is all activities that stimulate young children's senses of touch, smell, taste, sight, and hearing.
In our case through touch, movement, and balancing. Sensory activities have many developing benefits.
Here are just a few to name:
Builds nerve connections in the brain
Helps the development of motor skills
Supports language development
Encourages scientific thinking and problem solving
Helps to focus
Supports creativity
These and more facts about sensory activities can be found here.
How to Paint With Balloons
But let's take a look now at this simple water balloon art activity.
Here is what you will need to make your own painting with water balloons:

Materials
paper
tape
washable colors
water balloons
Are you interested in more kid's activities, arts & crafts, and science experiments?
I have made it easy for you! Simply join our newsletter now and I will send you new fun for kids.
Subscribe for free
Instructions
Take a look at the first step by step tutorial for this fun water balloon art project:

Step 1: Water balloon fill up
First, fill your balloons with water.
Either follow the instruction on your water balloon package for this step or have a look here to learn how to fill water balloons.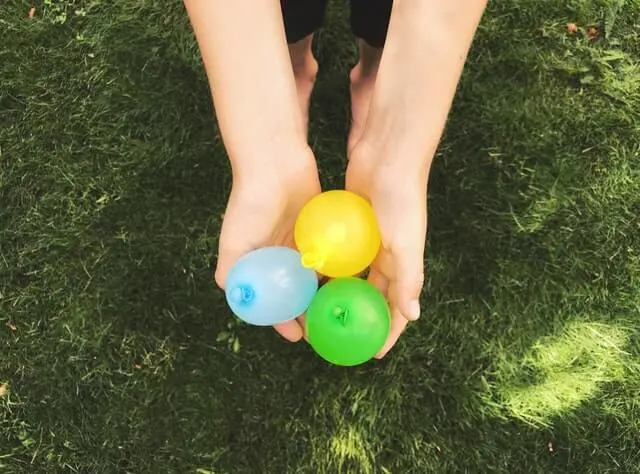 Step 2: Prepare the paper and paint
Secure your paper with tape to your surface. We used our old seashell baby pool.
It is perfect for this activity but you do not need one. Simply do it outside on the floor instead.
For the paint use a muffin tray and fill it up with different colors.
It is the perfect size for our water balloons and this kid's painting activity.
They were the perfect size for our water balloons and this kid's painting activity.
Step 3: Dip it
Let the kids dip the water balloons now in the colors. Make sure to use plenty of liquid paint for better effects.
Step 4: Paint with balloons
Then they should gently roll the colored balloons over the paper to start painting with balloons.
Make them understand that the water balloons can pop and splash the water when they throw them too hard.
In case that happens your paper will be soaking wet and it's not able to take in any paint anymore.
Everyone would have to start over again.
Step 5: Let it try
After the kids are done rolling their painted balloons on your paper, take it to the side and let it try.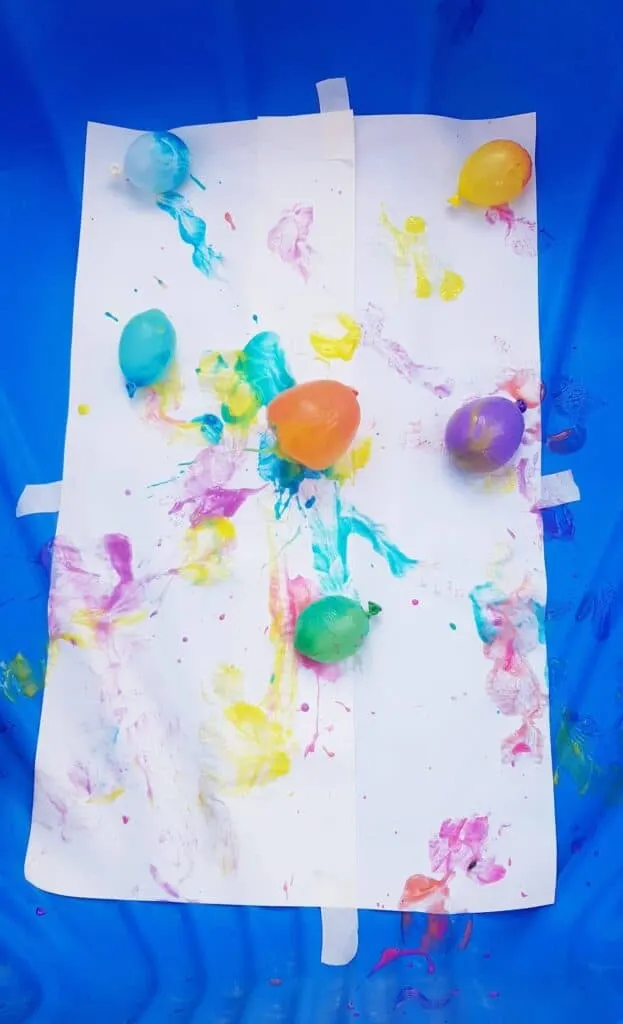 Did your kids enjoy this fun water balloon paint art project? Then check out our popular Camping Coloring Pages or 15 Best Water Toys for Toddlers.
In case you like this easy painting activity, try this fun Hammer Painting next. Your kids will love it!

Tips
Make sure to use washable paint for water balloons such as finger colors. It can get messy.
Therefore we did our water balloon art outside and wore our swim cloth.
Try this fun summer art project is the perfect water balloon painting preschool activity on your next summer field trip.
After you are done with your water balloon pictures simply use the colorful balloons to make a water balloon paint fight. The kids will have so much fun!
This water balloon art will also turn out nicely on a canvas.
If you like to try to fill the water balloons with color instead and then through them against your canvas till they pop and spray the color. Go check out how to fill the water balloons with paint here:
Water Balloon Activities
There are so many more activities with water balloons out there. Here are some of our favorites.
Before I go I also like to point out that you can make your own reusable water balloons, which I think is really cool. I will like here the instructions for you.
Just be aware that those DIY water bombs are not suitable for this water balloon painting project.
Nevertheless, they are super fun!
Pin this Easy Water Balloon Painting
Don't forget to save this balloon painting for toddlers on Pinterest for later! Be sure you are following along with Lil Tigers here.
Now I would like to hear from you!
How did your water balloon pictures turn out?
Either way, let me know by leaving a comment below right now.
I love to hear from you!
Water Balloon Painting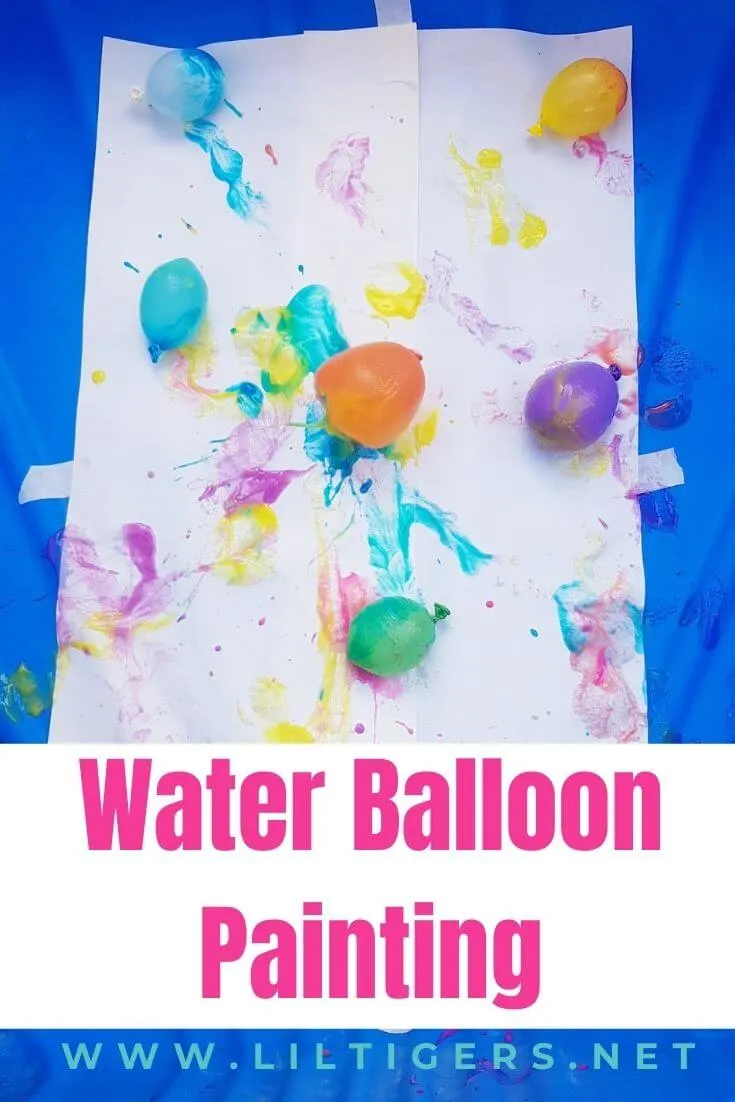 Materials
paper
tape
washable colors
water balloons
Instructions
First, fill your balloons with water.
Secure your paper with tape to your surface.
Place your washable colors in a muffin tray.
Dip the water balloons in your colors.
Now roll the painted balloons carefully on your paper.
After you are finished with your activity let your artwork try.
Notes
Take this activity outside and wear your swim cloth it can get messy.