Playing with water balloons is so much fun. Here are 25 Fun Water Balloon Games for this summer.
This list will provide you with a big variety of water balloon challenges, relay races, sports, and toss games for kids, toddlers, large groups, and adults.
Whether it is for your next summer camp, get-together, field trip or just playing with friends in the backyard we got you covered.
Let's dive right in and get inspired by all these fun ways of playing with water balloons.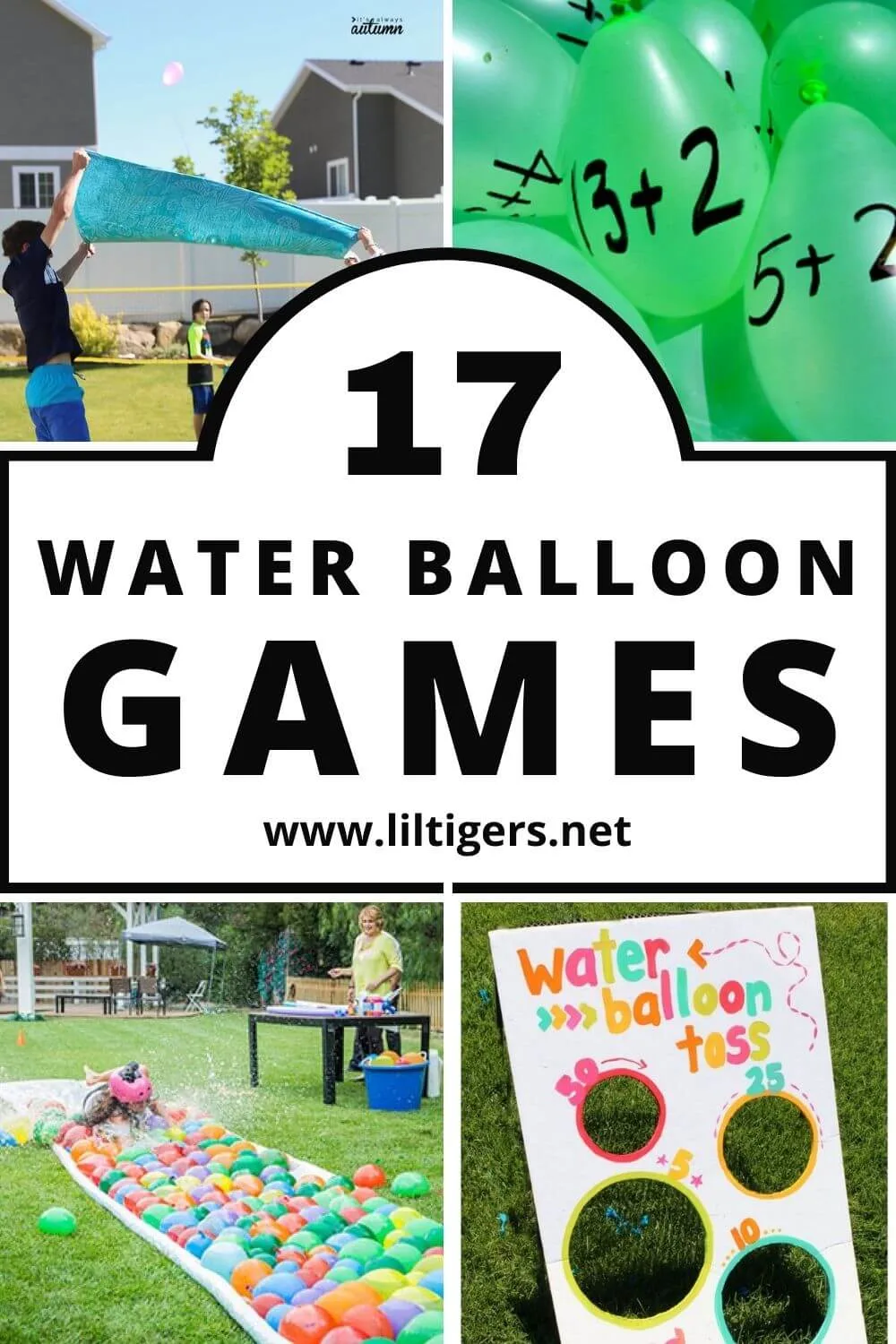 There are affiliate links in this post, meaning, at no additional cost to you, I will be compensated if you click through and take action. As an Amazon Associate, I earn from qualifying purchases.
Water Balloon Activities
In the following collection of water balloon games, we listed our favorite water balloon activities for you.
It includes everything from water balloon learning games, and obstacle courses, to the stomp game, and building your own water balloon slingshot.
You will find the perfect activity for every occasion for different groups and ages.

Fair warning: For those games, you can never have enough water balloons. And let's face it filling them all up individually and by hand is simply too much work and takes forever!
Therefore I advise you to buy these awesome water balloons that tie themselves. All you have to do is to huck them up to a water hose and fill them in bulks. They are such a time saver!
Are you interested in more kid's activities, arts & crafts, and science experiments?
I have made it easy for you! Simply join our newsletter now and I will send you new fun activities for kids.
Subscribe for free
Best Water Balloon Games
You might wonder, what games can you play with water balloons?
Do not worry, you will find the right game for kids, groups, and adults to enjoy.
Happy Splashing!
If those games didn't cool you down enough try this homemade Strawberry Popsicle Recipe, build our DIY Foil River, Fun Friday Activities for Kids, or enjoy our other fun Summer Activities for children. Your kids will love them.

Water Balloon Toys
For some of these fun water balloon games, you need a couple of assessors. Here is a list of water balloon tools you will need for our summer activities.
You can find more great Water Toys for Kids here.

Pin these Family Water Balloon Games
Don't forget to save these fun water balloon games on Pinterest for later! Be sure you are following along with Lil Tigers here.
Now it is your turn.
How did you enjoy these games to play with water balloons? Which game is your favorite?
Either way, let me know by leaving a comment below right now.
I love to hear from you!