At the end, you will find a free printable Fun Friday Idea Checklist.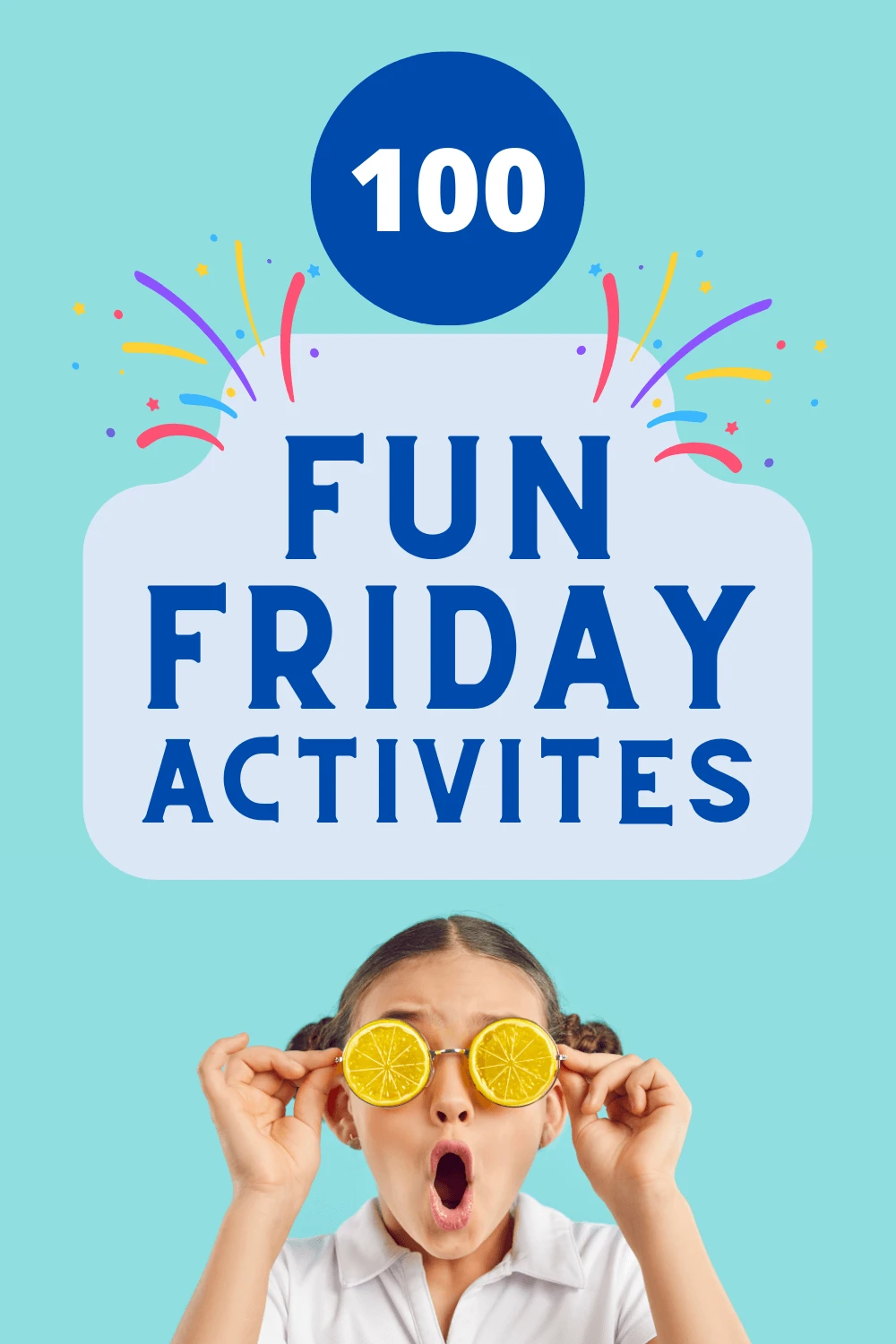 There are affiliate links in this post, meaning, at no additional cost to you, I will be compensated if you click through and take action. As an Amazon Associate, I earn from qualifying purchases.
What Is a Fun Friday?
Fun Fridays are events where neighbors, friends, students, kids, or coworkers spend time together to play games or do other fun activities to unwind from the week.
Fun Jokes
With this being said here are some funny jokes to start your fun Friday event with:
What is a penguin's favorite food? Brrrrrr-itos.
How do you contact a penguin? Give him a wing.
What do Gingerbread Men sleep on? Cookie sheets!
Don't be shy.. lick my frosting
What is a snowman's favorite drink? Ice tea!
Why did the snowman turn yellow? Ask the dog.
What was the name of the girl elf on the shelf? Miss Chievous.

What brand of cookies does the elf on the shelf like most? Keebler (made by elves with elfin magic)

What happens if there is no turkey at the Thanksgiving table? – No need to worry, we've already invited Uncle Bob.
Did you hear about the turkey who lost a fight? – He got the stuffing knocked out of him!
If you like to discover more jokes, go check out our Penguin Jokes, Snowman Jokes, Gingerbread Man Jokes, Turkey Jokes, Cinco de Maya Jokes, or Elf Jokes here.
Fun Books for Kids
Have a look at the following fun books:
100+ Fun Friday Activities for Kids
On Fridays, the weekend starts and in many families, it is calling for a family night outing.
Even in school teachers try to bring some fun into the classroom and ad some ideas for a fun Friday.
If you like to switch things up this Friday, get inspired by our fun Friday activities for kids.
Our list of Friday activities for kids includes fun Friday classroom ideas, fun Friday ideas for students, fun Friday ideas for kids at home, Friday fun day activities for kids, and fun family Friday activities.
Plus at the end of our post, you will find a Fun Friday Activity Checklist for Kids. Don't forget to print it for free and never get bored again!
To make it easier for you I will sort them into the following categories:
Fun Friday Ideas for the Classroom
Kids Friday Fun at Home
Family Friday Activities
Let's have a look at our Friday fun activities for kids now.
Friday Fun Activities for Kids at School
Let's start off with some fun Friday Friday Classroom Ideas:
Fun Friday Ideas for the Classroom
Did you enjoy our fun Friday activity ideas for kids?
Then go check out our Fall Festival Games, Halloween Activities, or DIY Pumpkin Patch Activities next.
Fun Friday Activities for Kids at Home
As parents, it is always nice to switch things up in the house and present new ideas or activities to kids.
Here are some great Friday fun activity ideas to do at home:
Friday Fun Day Ideas for Kids at Home
You might also enjoy our 60 Fun Outdoor Winter Activities for Kids, Happy Weekend Ending Quotes, Friendsgiving Activities, or Mother's Day Games.
Fun Friday Family Night Ideas
Fun Family Fridays give you the chance to bond as a family and unwind from the week.
Make it a tradition and use this time to bond with your children.
All you have to do is to put away your cell phone and enjoy the time together.
There are so many fun things you can enjoy together as a family. Go check out our 10 Fun Friday Activities for Families:
Fortnight
Game Night
Dance Party
Backyard Camping
Pizza Night
Movie Night
Paint Night
Bake Night
Puzzle Night
Night Walk
1. Family Fun Friday Activity: Fortnight
Let's start our series of fun Friday activities for family nights with building forts.
Collect all the pillows and blankets you can find and build a fortress together.
You could even set up a small tent in the living room and turn it into a fort.
Afterward, you can dress up as knights and princesses and have a role game.
It is also the perfect opportunity to cuddle up together and read a book about knights and their adventures.
Here are some recommendations for you:
2. Family Fun Friday Activity: Game Night
Game night is probably one of the most popular Friday family night activities.
Get out your board game and enjoy them together as a family.
Choose between having an interactive family night or sticking to board games instead.
Let me give you some ideas on both:
Interactive Game Night Ideas for Families:
Scavenger Hunt
Indoor Bowling
Musical Chair
Balloon Tennis
Hide and Seek
Obstacle Course
Apple Blobing
Board Game Ideas for Family Night:
3. Family Fun Friday Activity: Dance Party
We love good dance parties at our house.
I can recommend getting a party light. They are not expensive but have a lot of fun!
After a while, I also got a smoke machine and the kids got a kick out of it!
You can host a themed dance party and everybody has to dress up accordingly or just dance in their pajamas. Either way, it is such a great fun Friday activity for kids and adults.
If you have a game console at home you could also play the game Just Dance together. It gives instructions on how to move to each song and you can have a dance-off.
4. Family Fun Friday Activity: Backyard Camping
Crap your tent set it up in your backyard, and enjoy a camping adventure right in front of your door.
Set up a bone fire for smores and enjoy a night under the stars.
Stargazing is one of our favorite activities while camping.
Here are some great books to discover star consultation and get more tips and tricks on camping.
5. Family Fun Friday Activity: Pizza Night
A lot of our friends use Friday nights to have a pizza night.
They either go out and enjoy a pizza at a restaurant or use the time to bond and make their own pizza.
Here is a great pizza dough recipe in case you like to make your own pizza.
6. Family Fun Friday Activity: Movie Night
While enjoying pizza, you can watch a movie together.
Pick a nice family movie together or maybe even visit the movie theater.
Disney movies are always a great choice to watch together as a family.
Here are some of our family movie night recommendations:
Kevin Alone at Home
Minions
Paw Patrol the Movie
Toy Story
Lightyears
Space Jam
Ice Age
Grinch
Zombies
Descendents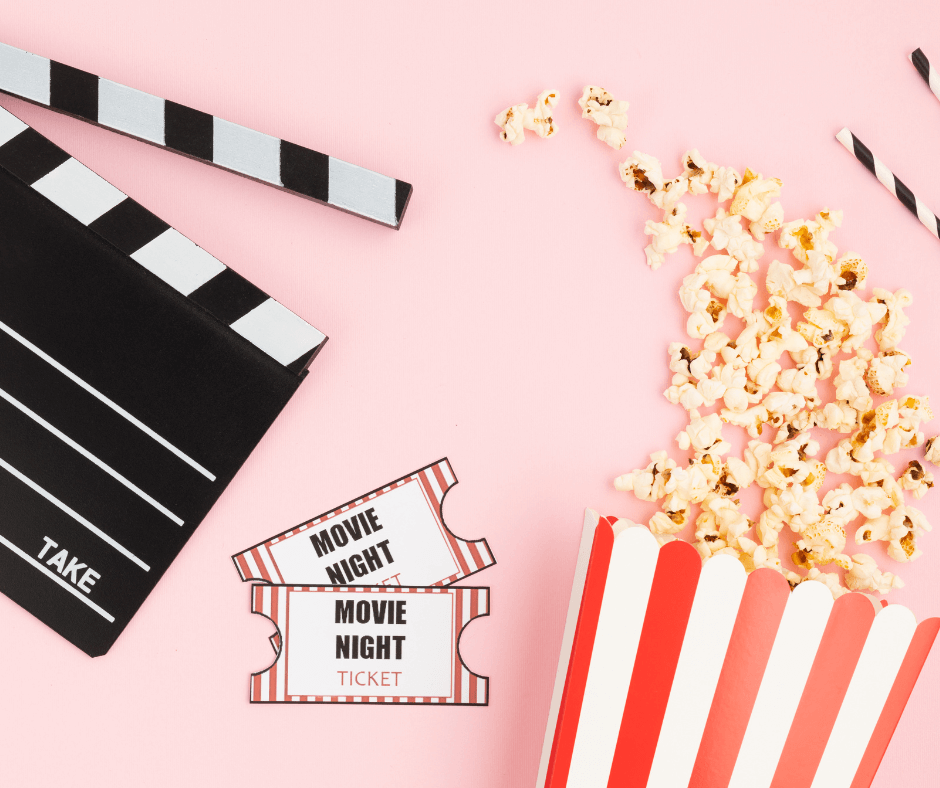 7. Family Fun Friday Activity: Paint Night
Paint nights are a popular adult activity but are also covered for children and make the perfect fun Friday family event.
If you do not have a paint study around it do not worry.
It doesn't need much preparation to set up your own paint night at home.
All you need is some plain canvas and the preferred colors.
We normally get the following supplies for paint night:
8. Family Fun Friday Activity: Bake Night
Do your kids like to bake? Why not make a weekly bake night?
Let your kids choose a new recipe each week and teach them how to bake it with your help.
Not only you are spending quality time together, but you also will have a great dessert, and also they will learn an important life lesson they can use later on.
Here are some great baking recipes from On My Kids Plate. Check them out next.
9. Family Fun Friday Activity: Puzzle Night
My children love to puzzle. If yours enjoy this fun Frightday activity as well, get a new family puzzle and start it together.
Consider buying a bigger puzzle as well. You do not have to finish it all in one evening.
It will give you something to look forward to for your next family Friday.
The only thing you should consider is where you build it in that case so the pieces can stay there till you are able to finish it.
Maybe you can even use a big tray so you can move it to a different place in the meantime.
Check out the following puzzles and get inspired: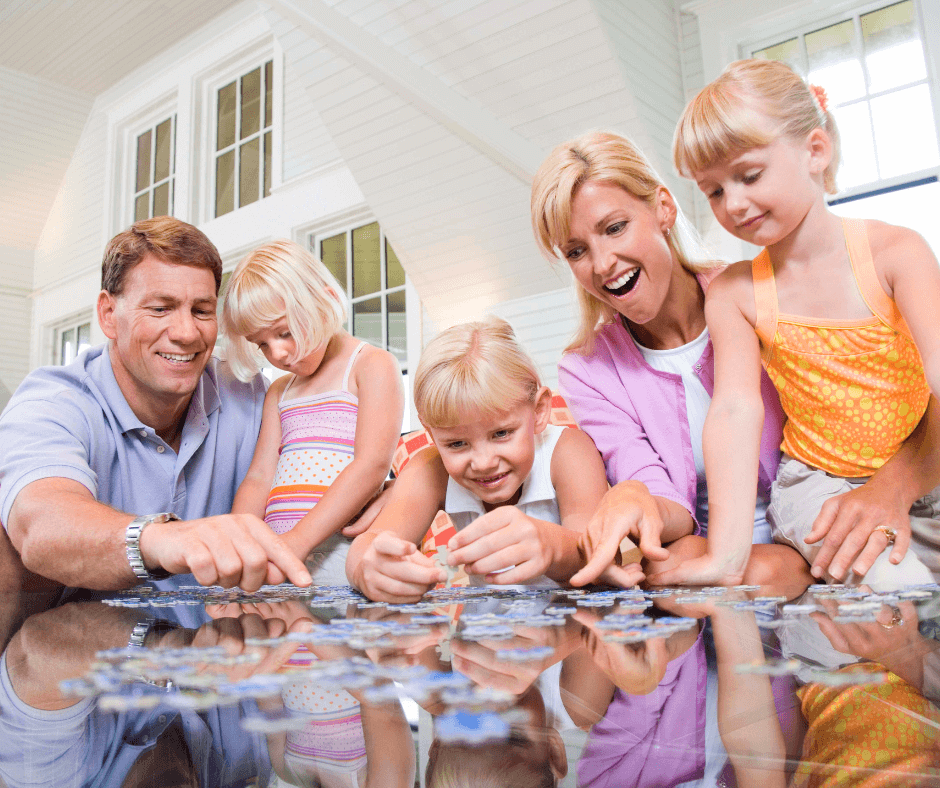 10. Family Fun Friday Activity: Night Walk
Night walks are always fun and there is so much to explore and discover.
Whether it is star glazing, owl watching, or simply checking out the Christmas lights in your neighborhood, night walks are fun all year round.
Make sure to dress according to the weather. Get everyone a flashlight and have your children wear reflective vests to be seen by cars at night.
Other Kids Activities
These ideas weren't enough for you? Then check out the following ideas to use for a fun Friday activities for kids:
How to Download Your Free Printable Friday Activity List for Kids
Simply sign up here for our newsletter and you will receive the link to our free printable Friday Kids Activity List.
Already a subscriber? Don't worry, no need to subscribe twice. I just updated our free printable library.
You can find our Friday Activity Checklist for kids there or check our latest newsletter for more information.
If you have any questions, please do not hesitate to reach out to me. I'm happy to help!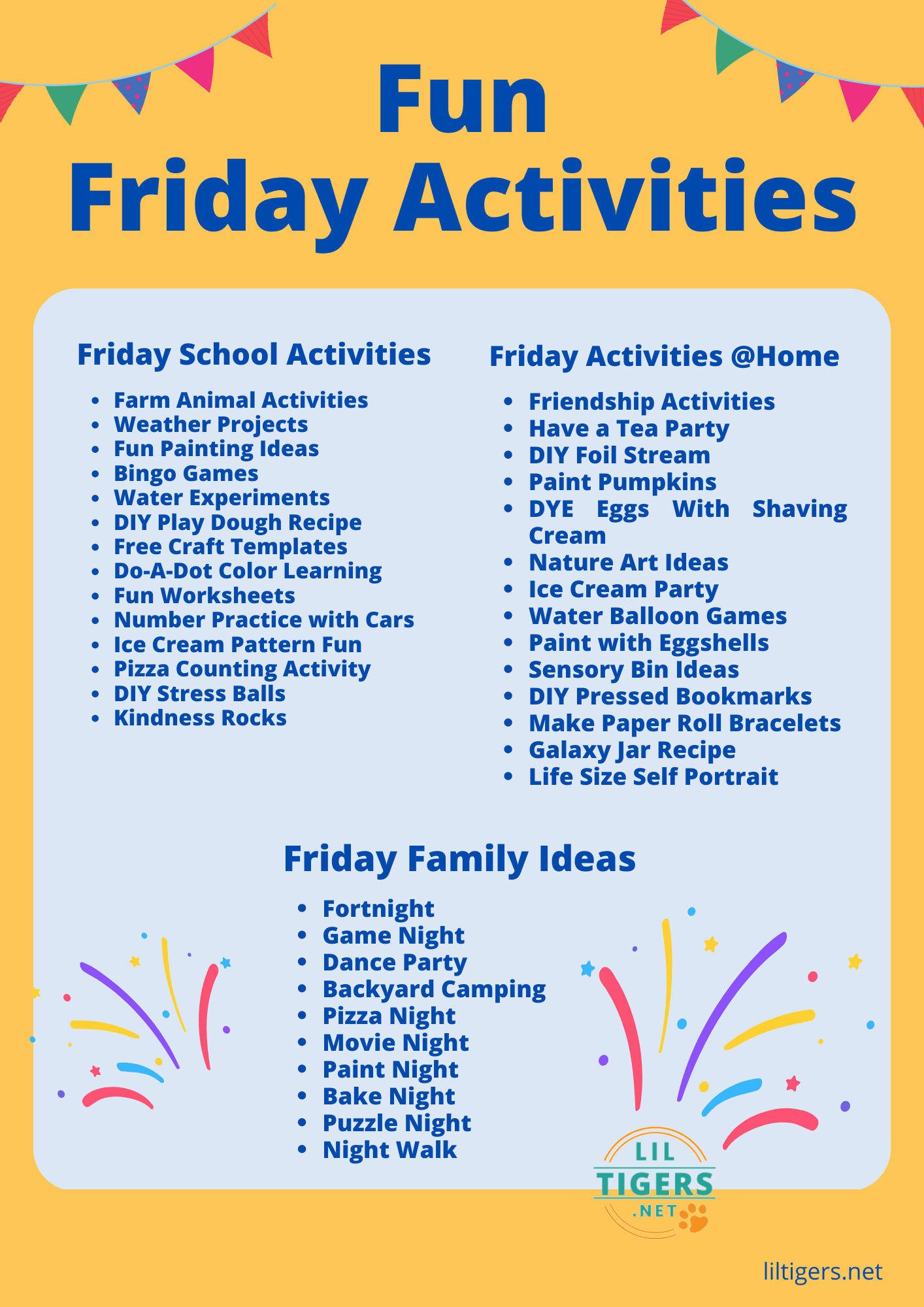 ---
For our visual learners, I made this video with our fun Friday activities for kids for you:
Pin these Fun Friday Activities for Kids
Don't forget to save these 100+ Friday Activity Ideas on Pinterest for later! Be sure you are following along with Lil Tigers.