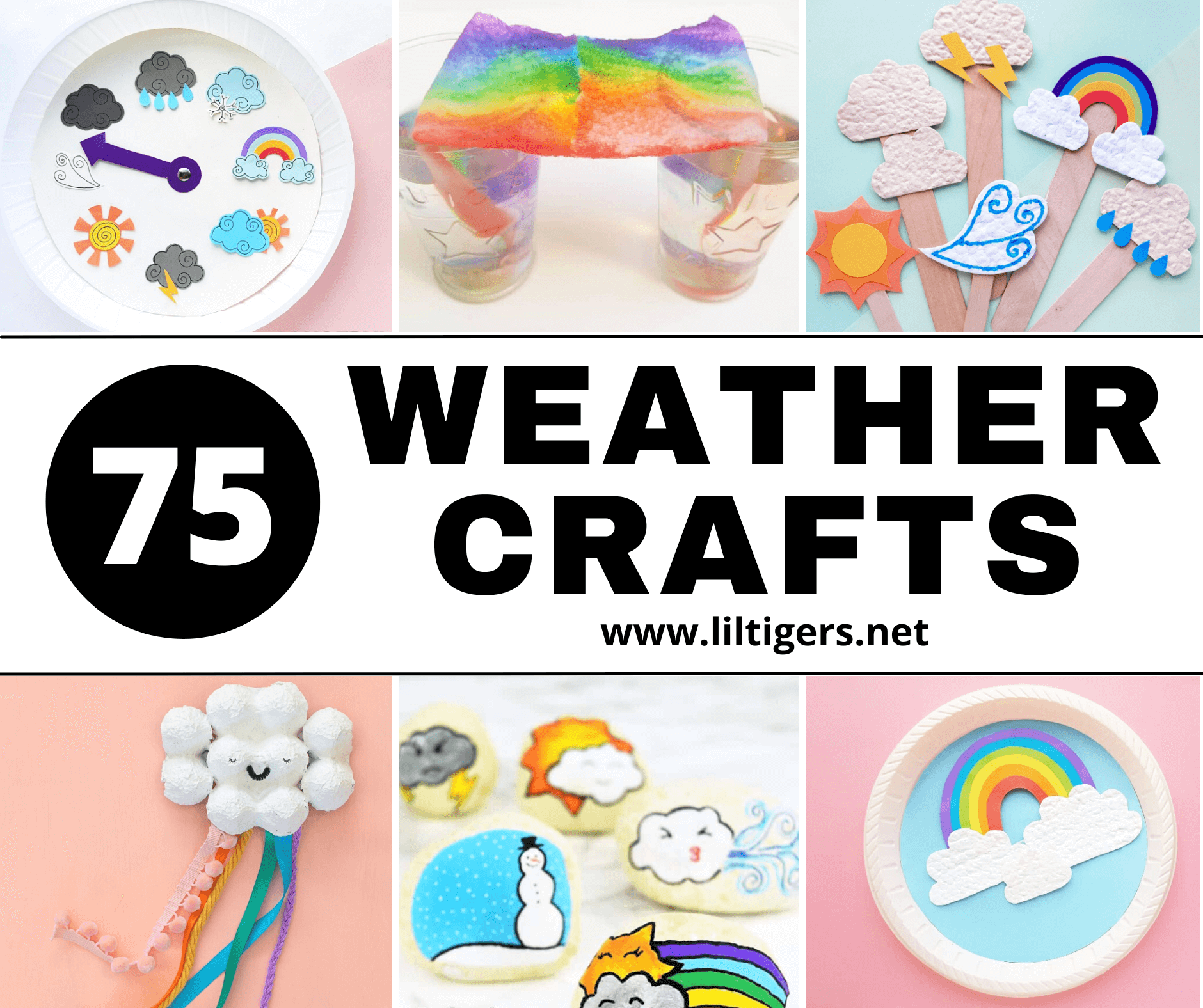 15 Freaky Weather Facts for Kids
Before we start with our weather craft for kindergarten and preschool let's check out some weather facts for your kids or students first.
Learning about the weather doesn't need to be boring.
You can make it for example more interesting by fascinating your children with one of those freaky weather facts.
You can tell the temperature by counting a cricket's chirps!
Sandstorms can swallow up entire cities.
Dirt mixed with wind can make black blizzards (dust storms).
Raindrops can be the size of a housefly and fall at more than 30km/h.
There are about 2,000 thunderstorms on Earth every minute.
A mudslide can carry rocks, trees, vehicles, and even entire buildings!

Mild autumn weather often means bigger spiders in homes.

Did you know, that heatwaves can make train tracks bend?
Wildfires sometimes create tornadoes made of fire (fire whirls).

Lightning often follows a volcanic eruption.

Hurricanes can push more than 6m of water to shore.

Worms come up from underground when it floods.
A thunderstorm can produce up to 160km/h winds!
Cape Farewell in Greenland is the windiest place on earth.
The coldest temperature ever officially recorded was -89.2°C.
These and more freaky weather facts can be found here.
Weather Books for Kids
So now that we learned more about the weather, let's have a look at some great weather books next.
Why Is It Important to Teach Your Children About The Weather
You might wonder why to bother with teaching your children about the weather.
Learning about the weather brings many different benefits for your children.
By simply watching the weather and talking about it kids will develop observation skills, learn new vocabulary, and get to know different weather conditions.
That will help them to prepare for the weather outside and dress accordingly.
It also gives them a chance to learn about our climate and mother earth.
Easy Weather Crafts and Activities for Kids
After learning so many new facts about the weather, let's get started with our weather craft activities next.
Fun Weather Crafts
Here is our list of weather crafts.
You will find everything from free printable weather craft templates, weather art projects, Kindergarten weather crafts, crafts for elementary students, and preschoolers.
You will learn to craft with paper plates, drinking straws, finger color, and all kinds of craft materials.
First, you will find several featured craft weather activities with pictures and a short introduction.
Followed by a list of more fun weather projects you can do at home or add to your school schedule.
Happy Crafting!
Let's start with our series of weather template printables.
These easy cloud outlines come in three different sizes and are super easy to cut.
Therefore they are perfect to add to your weather preschool craft activities.
Photo Credit: www.redtedart.com
But besides crafting with weather templates, let's try this fun bubble wrap rain cloud.
Maybe even use it as a mobile. It is the perfect weather craft for elementary students. Enjoy!
Photo Credit: homeschoolpreschool.net
We love to craft with popsicle sticks. This fun project makes the perfect weather craft for kindergarten or preschool.
they can be used to create a puppet show or to add it to your story time.
Photo Credit: lovelyindeed.com
Did you consider using egg cartons to craft yet?
It is super easy as this rainbow tutorial will show you.
Besides using the chance to include it in your weather studies, it can be used to teach your children the concept of upcycling or recycling.
Next, you can find our free printable umbrella templates here.
Easily add them to your cloud template above. Make your cloud rain and your students color these fun umbrella templates in multiple colors.
Photo Credit: rufflesandrainboots.com
Do you like to tell stories? Then these Kawaii Weather Rocks are a perfect addition to your storytime.
Learn everything you need to know on how to paint rocks here.
Photo Credit: conservamome.com
Every day in preschool my children talk about the calendar.
They point out wich day we have, what day of the week it is, and in which month we are.
Afterwards they talk about the current weather. Make this fun weather indicator for your students and let them point out the weather outside daily!
Photo Credit: www.theinspirationedit.com
Let's bring some sunshine with this fun sun paper plate craft to you!
Brighten up your students day and try this easy weather craft next.
After rain comes the sunshine and so do our simple sun templates.
These are a little bit more challenging to cut out but they are fun nevertheless!
What is the sun without the moon? Therefore here is an easy moon printable to add to your sun project above!
When the sun hits the rain rainbows will appear and when you are lucky you can find the gold pot at the end of the rainbow!
Use our rainbow templates and teach your children the colors of the rainbow, tell them fables, and have fun.
Photo Credit: www.craftingjeannie.com
Did you study the water cycle yet?
No? Then this water cycle template is ideal for you.
Your students can craft away while understanding the cycle of water and our climate better.
Photo Credit: twokidsandacoupon.com
If you are teaching about rainbows this rainbow craft is perfect for you.
In our weather activity sections below you can also find some great rainbow experiments to add to your curriculum.
Go check them out next.
More DIY Weather Crafts for Kids
Weather Activities
Check out all these fun weather activities including weather sensory bins and bottles, weather experiments, weather charts, and many more.
Get inspired to teach your children about our climate.
Let's start our weather activity ideas with this fun printable weather chart.
Use it for your classroom or at home and talk with your children daily about the weather, the seasons, or how to dress according to the weather.
The following weather project is a fun hands-on weather science activity.
Find out in the article below how to make your own rain cloud and learn everything about it!
Did you know you can grow your own rainbow?
You actually can and it is pretty simple. All you need is some paper towels and markers.
Learn how to make your own crystal snowflakes in the post.
It makes an excellent winter science experiment you can easily make at home.
Go check it out next.
While you are waiting for your snowflakes to crystalize use the time and color some snowflakes with these adorable snowflake coloring pages.
Photo Credit: buggyandbuddy.com
If you prefer a weather art project, go check out this thunderstorm art idea.
Use the chance to teach them about weather clouds and make your own.
Photo Credit: www.pinayhomeschooler.com
Talking about the storm clouds above, this post shows you how your children can make their own clouds while learning the different types of clouds at the same time.
Photo Credit: lorenaylennox.com
These printable worksheets and flashcards will help your preschooler to learn their Spanish names and meanings.
Get them here for free!
Photo Credit: taminglittlemonsters.com
Rainbow lightning is such a fun weather idea for all process art lovers.
Photo Credit: thesoccermomblog.com
Did you ever make your own snowstorm?
Here you can learn how to make your own in a jar.
Your kids will be amazed!
Photo Credit: www.themoodyblonde.com
And if that weren't enough snow activities for you, try this fun snow sensory bottle.
Especially during the holidays, it will help entertain and calm your kids down.
Pin these Easy Weather Crafts
Stay Updated