Six adorable Printable Reward Charts for toddlers and kids.
Simply print one of our themed sticker charts and improve your child's behavior.
Let's dive right in.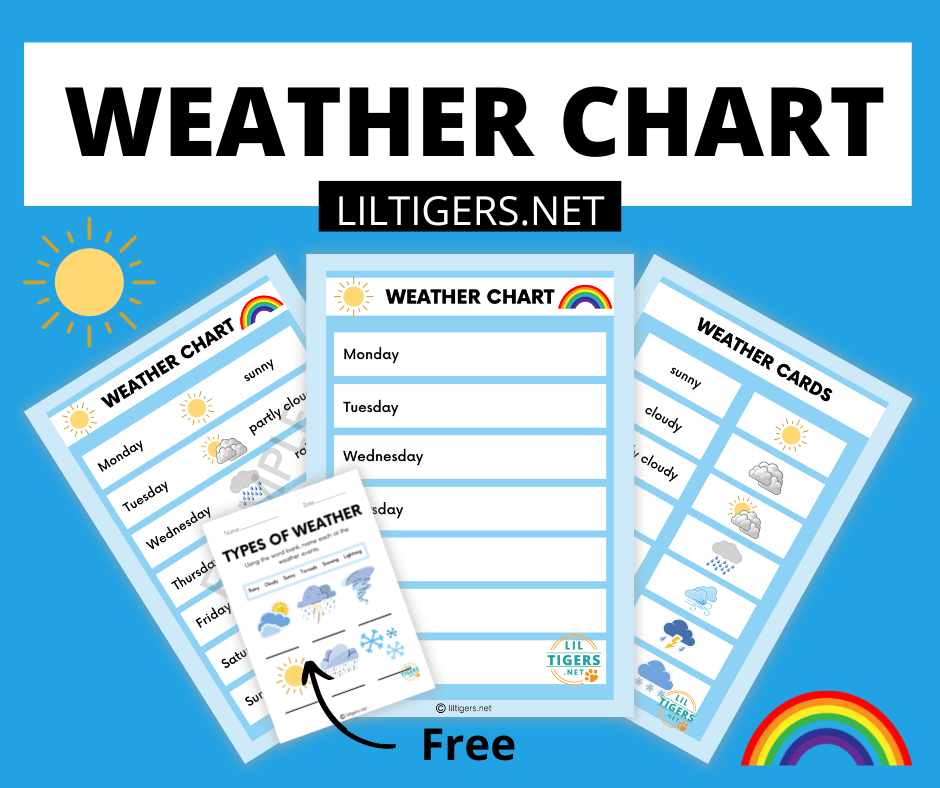 There are affiliate links in this post, meaning, at no additional cost to you, I will be compensated if you click through and take action. As an Amazon Associate, I earn from qualifying purchases.
Free Printable Weather Chart for Kids
What Is a Weather Chart for Kids?
A weather chart for children is a fun learning tool. It helps kids to learn about different weather conditions such as sun, rain, storm, wind, etc.
They are often used in classroom settings combined with children's calendars.
Benefits Of Weather Charts For Kids
There are many different benefits of weather charts for your kids.
In order to work with a weather chart children need to develop observation skills. Your child will have to record what they notice and share their research with others.
For this process, they will need a lot of new vocabulary they might not be familiar with yet. This fun weather chart activity will help them develop new vocabulary skills.
Also is a weather chart a great way to learn about different weather conditions on our planet? It will help children to be prepared for the weather outside and help them to dress accordingly.
Do you enjoy our classroom weather chart? Then try one of our other classroom resources. How about this adorable Reward Chart, Alphabet Flash Cards, Writing Number Practice, Learning Colors Worksheets.
How to Use This Weekly Weather Chart
What is the weather like today? With this great weather calendar for preschool, you will help your children to learn about the weather and what it brings with it.
Weather Chart Materials
Preschool Weather Chart Instructions
Our weather chart is pretty easy to use. Let's check out the full instruction here:
Print your creative weather board for preschool with matching weather cards (found below).
Cut out the weather cards.
Laminate our pre-k weather chart and cards. (optional)

Observe the weather with your children at the same time each day.

Ask them questions to engage (found below).
Fill out the weather journal. Let the kids glue the matching weather card to the day of the week.

Keep observing and recording until the sheet is complete.

Talk to your child about what the weather chart reveals and ask them what they notice. Did they see patterns?
Questions to Ask About the Weather Journal
While your students observed and recorded the weather every day, it is always helpful to ask them questions. They will help them to think critically about the weather and learn from their observations.
Here are some great weather journal questions for kids:
How would you describe today's weather?
Is it hot or cold outside?
How does the weather today make you feel?
Which weather card reflects today's weather?
Do you remember what weather did we have yesterday? How was it different than today's weather?
How many sunny/rainy days did we have?
Weather Books for Kids
Reading a book about weather is a good start to teaching your children the concept of climate and our weather conditions. Here are some great weather books for kids your children will enjoy:
Weather Activities for Kids
There are many different weather activities to add to your chart about the weather. Here are just a few weather activities to make learning about our climate fun:
Weather Experiments
DIY Weather Crafts
Weather Worksheets
Watch Weather Forcast
Weather Fashion Show
Pretend Play
1. Weather Experiments
There are many different weather experiments to encourage your children or students to learn about the weather.
We personally already made our own rainbow and rain cloud.
You will find the full instructions on how to Grow a Rainbow and make your own Rain Cloud Experiment here.
2. DIY Weather Craft
If your children like to craft, then find a nice weather art or craft project for them to enjoy. We always add one of our weather templates to our weekly weather chart.
How about one of the following templates: Sun Printables, Cloud Outlines, Rainbow Templates, or Umbrella Craft Printables. They all come in three different sizes and are perfect for weather crafts.
3. Weather Worksheets
For your children to memories the concept of weather better, I made the following Kindergarten weather worksheets for them.
I hope you enjoy them. Please give me feedback below!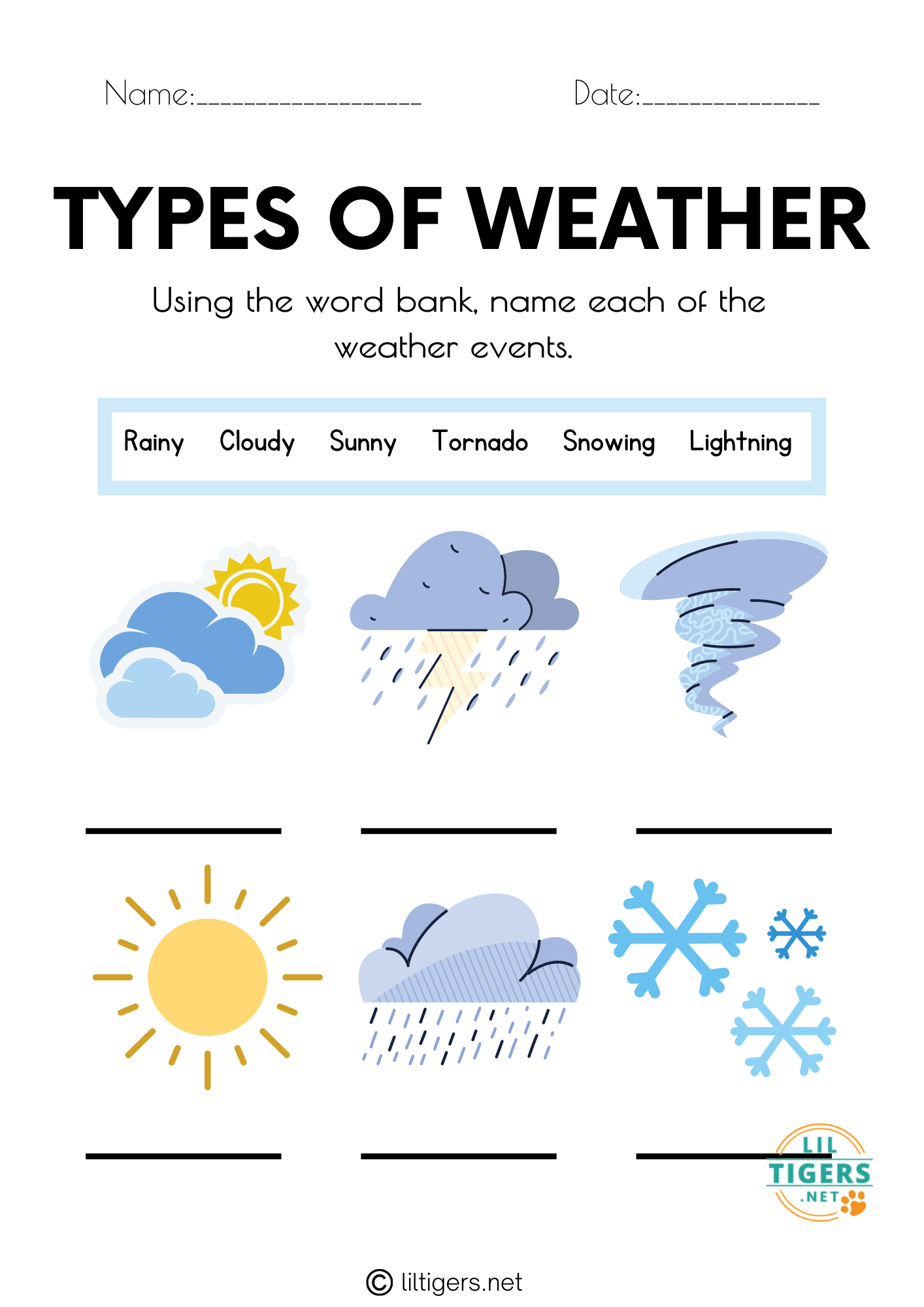 4. Watch Weather Forcast
Encourage your students to watch the weather forecasts daily. It is useful to keep track of the weather since it helps them to dress and plan their activities accordingly.
5. Weather Fashion Show
Why not have a fashion show based on the weather? Pick themes such as hot, cold, rainy, etc. Let your children find matching cloth and represent them in a fashion show.
This is so much fun!
6. Pretend Play
Use your weather tracking chart and play pretend.
Imagine you are on an adventure and suddenly it starts to rain. Crap a raincoat and umbrella not to get wet. When the sun comes out again, take some cloth off and get ready to swim in a big lake.
What can you do when it is snowing and cold outside? let your imagination run wild and enjoy pretend playtime with your children.
---
Here are other great tips on how to teach the weather. Go check out this cute video next:
How to Download Your Printable Weather Chart PDF
Simply sign up here for our newsletter and you will receive the link to our preschool weather chart templates.
Already a subscriber? Don't worry, no need to subscribe twice.
I just updated our free printable library. You can find our creative weather chart there or check our newest newsletter for more information.
If you have any questions, please do not hesitate to reach out to me. I m happy to help!
Pin These Free Weather Chart Printables
Don't forget to save these weather charts for preschool on Pinterest for later! Be sure you are following along with Lil Tigers here.
Now it is your turn.
How did your kids enjoy these weather learning charts and worksheets?
Either way, let me know by leaving a comment below right now.
I love to hear from you!