Our Free Printable Umbrella Templates are ideal for any weather activity, coloring, and crafting at home or in a classroom setting. They include small, medium, and large umbrella printables.
Check out our umbrella craft ideas below and get inspired.
Let's dive right in!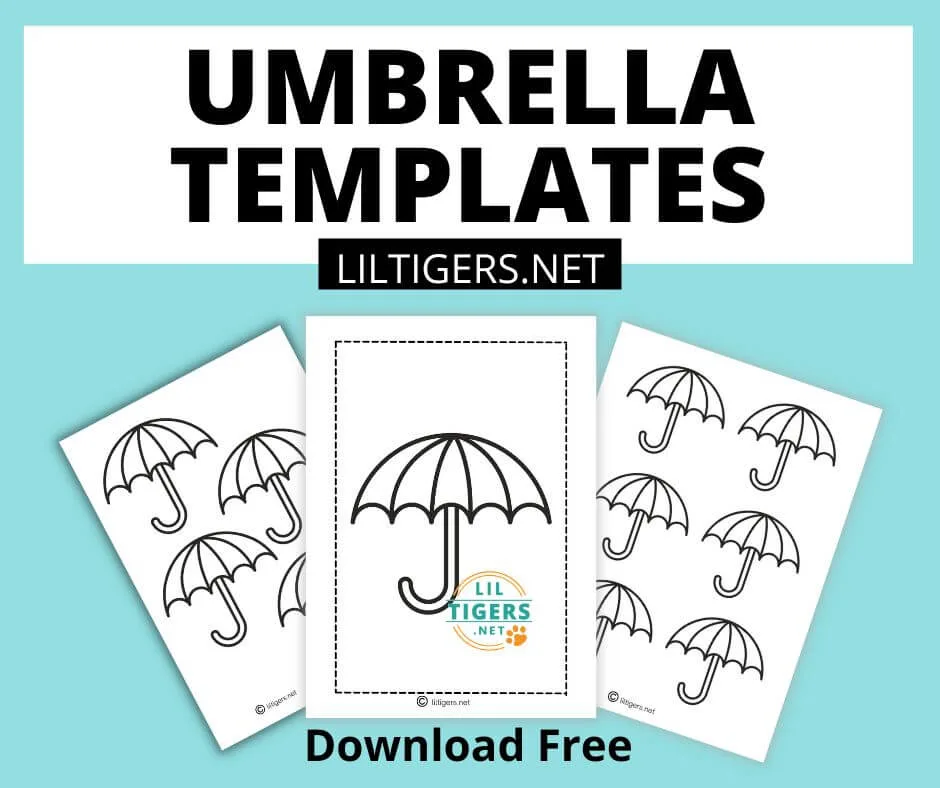 There are affiliate links in this post, meaning, at no additional cost to you, I will be compensated if you click through and take action. As an Amazon Associate I earn from qualifying purchases.
Free Umbrella Templates in Small, Medium, and Large
The
Do you need advice on How to Introduce Crafting to your Preschooler? Then read our 10 tips that work next.
Umbrella Outline Printables
Umbrella Craft Materials
Free Printable Umbrella Template PDF (found below)
white paper
scissor
crayons
glue
6 Easy Umbrella Craft Ideas
Here are some fantastic inspirations on how to use our free umbrella craft templates. To make it easier for you, I will sort the ideas by the size of our umbrella printouts and lesson ideas.
Small Umbrella Cut Out Templates
Why not use our small umbrella templates for your next counting lesson on a rainy day?
Craft the whole sheet together with your children first and then practice counting the numbers with them. Tell them a number, or show them number flashcards and let them count their craft umbrellas.
Super easy isn't it?
Medium Umbrella Craft Templates
Get ready for Spring:
The medium-sized umbrella cut outs make are ideal for the classroom. They are not too small or too little. Let them color them nicely and cut them to practice their motor skills. Crafts do not always have to be difficult or fancy to be fun!
Large Umbrella Templates
My children love to use our large umbrella printables like coloring pages.
We love to color them in bright colors and decorate them nicely. Especially glitter is very popular in our house. But this large printable umbrella is also perfect for other different weather painting activities.
The other day we used them to paint with salt. Yes, you can paint with salt and let me tell you it is so much fun! Here is my free Salt Painting Tutorial for you. Go check it out.
Another great painting activity for our weather templates would be using Pensil Erasers as Stamps for it or to create your own Pom-Pom Paintbrush.
As you can see the large umbrella pages to color are not only geared to younger children. Here are 20 more Kids Painting Activities to get inspired by.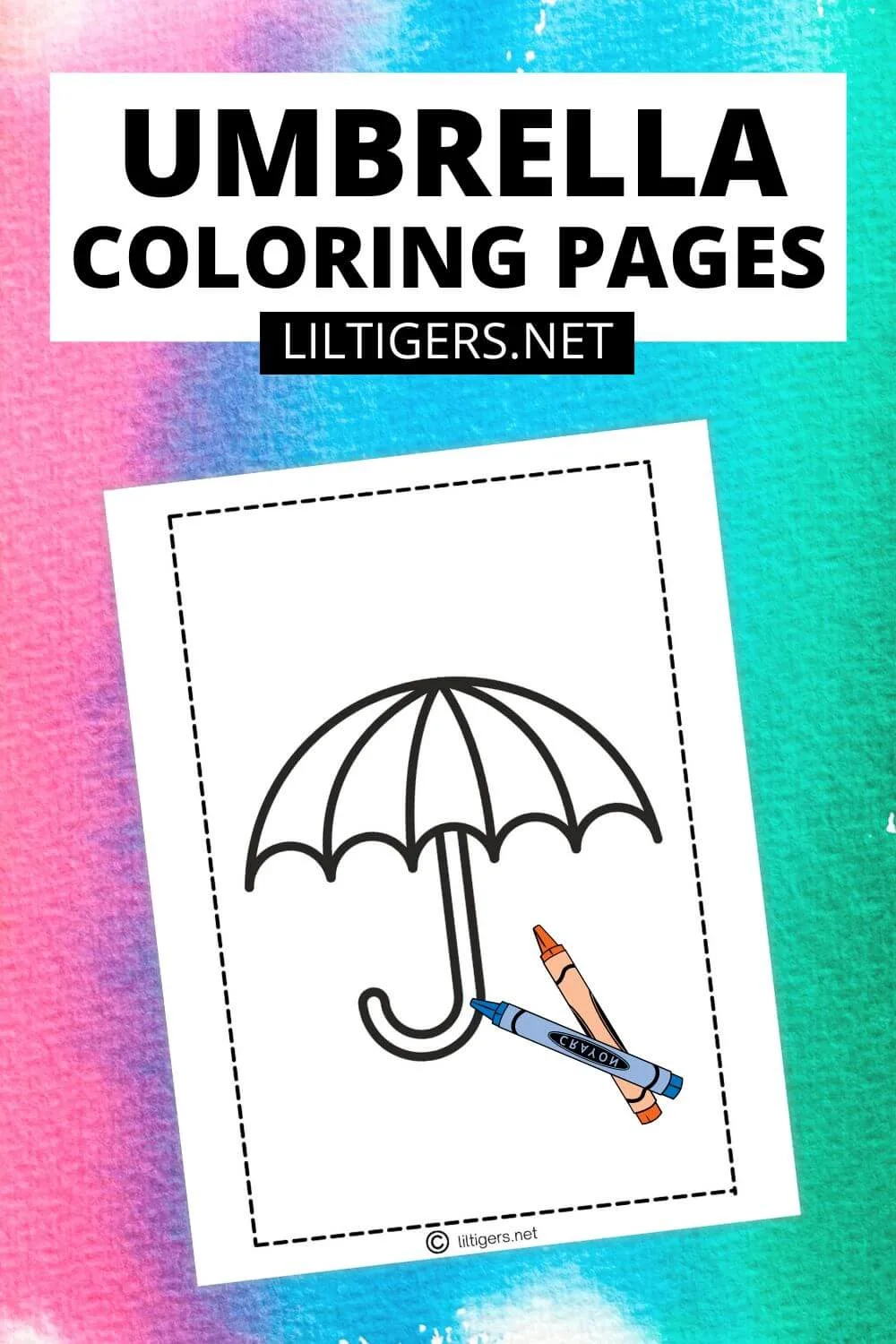 Umbrella Patterns
All three template sizes are working well with our next umbrella activity. Use our printables to draw beautiful umbrella patterns on them.
The thinner the tip of the markers is for this umbrella project, the neater the patterns will turn out. This is a wonderful calming activity and supports the creativity of your children.
You might even enjoy this yourself. Why not sit down together with your children and create your own umbrella pattern printable?
Sing about Rain
Time for your own storytime. You do not always have to go to the library for storytime. Simply make your own storytime at home. This activity is very convenient, especially on rainy days or when it is cold and do not want to go outside anyhow.
All you need for this activity is a weather-related book and our umbrella cut out templates.
I would recommend using the small umbrella outline printables for your story and crafting them upfront.
Start your storytime by singing the song "Rain, Rain, Go Away" and talking with your children about the weather. Use your prepared umbrella crafts and use them while singing, explaining, and reading a story. It will help your children visualize and remember better.
You are not familiar with the song "Rain, Rain, Go Away"? Do not worry, it is a pretty easy song. Listen to it here:
Weather Crafts
Our umbrella cut out printables are also an ideal addition to every weather project. For example, use our small umbrella printables for your own weather chart.
Here is our free Weather Chart template for you to use. Go check it out!
Use this chance to talk with your child about the weather today and teach them how to dress accordingly. Here are some great books about the weather and the rain cycle that will help you show and explain everything your children need to know:
Do you enjoy our cut out umbrella template printables?
Then take a look at our other weather activities. You will love these fun Rainbow Outlines, Cloud Printables, Sun Template, enjoy Growing Your Own Rainbow, or learn how rain works with this cool Raincloud Experiment.
If you are looking for more fun Spring Activities have a look here or check out our 75 Fun Weather Crafts next.
How to Download Your Free Umbrella Printables
Simply sign up here for our newsletter and you will receive the link to our free umbrella template pdf.
Already a subscriber? Don't worry, no need to subscribe twice.
I just updated our free printable library. You can find our umbrella coloring pages there or check our latest newsletter for more information.
If you have any questions, please do not hesitate to reach out to me. I m happy to help!
Pin These Free Printable Umbrella Templates
Don't forget to save our printable umbrella templates for preschoolers on Pinterest for later! Be sure you are following along with Lil Tigers here.
Now it is your turn.
How did your kids enjoy their umbrella printable templates?
Either way, let me know by leaving a comment below right now.
I love to hear from you!