Are you looking for inspirational Earth Day Quotes for Kids?
Here are 20 children's quotes about saving the planet to celebrate Earth Day. Print out our messages for Earth Day below and get inspired.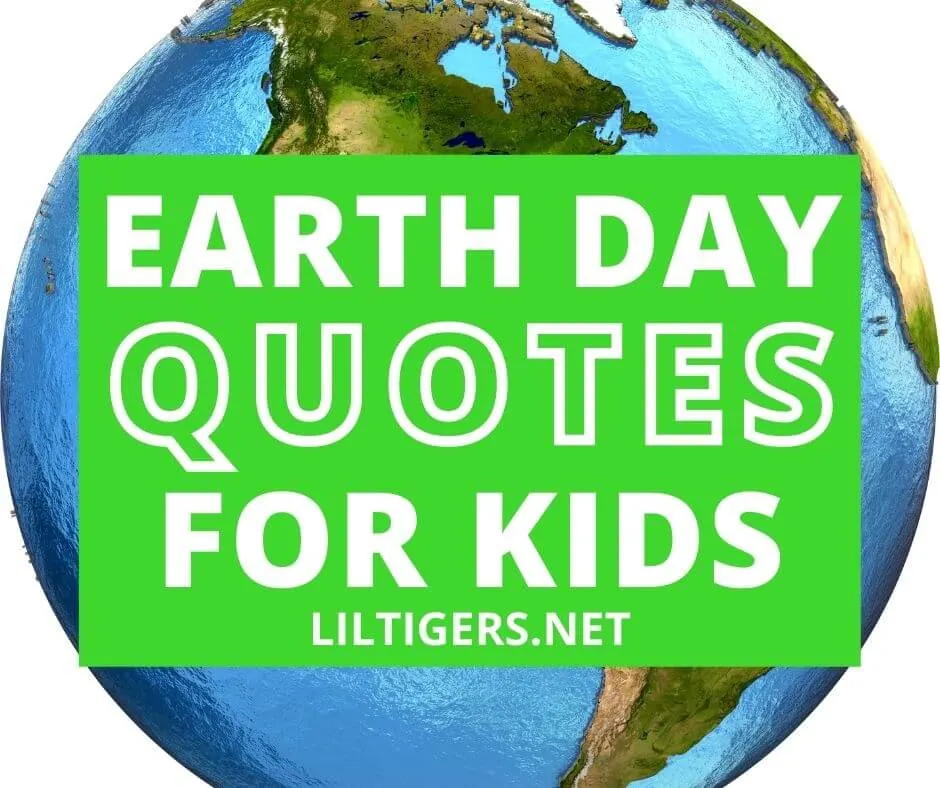 There are affiliate links in this post, meaning, at no additional cost to you, I will be compensated if you click through and take action. As an Amazon Associate, I earn from qualifying purchases.
How do you explain Earth Day to kids?
Every year on April 22nd we celebrate Earth Day all over the world. But you children might wonder what is Earth Day.
Earth Day is an environmental movement that started in 1970. Since the first Earth Day statistics show that over 1 billion people in over 190 countries participate every year.
Why Should we take care of Our Earth?
But why is it so important that we take care of Mother Earth?
First of all, children need to understand that we have only one Earth and it is our responsibility to take care of it, so our planet stays clean and healthy.
If we do not care about our environment it will become polluted which is harmful to our health.
Air pollution can cause different problems and diseases, such as respiratory diseases and cancer.
How can we help Earth Day for Kids?
But how can we prevent that from happening? How can every single one of us help our environment? How can children and we together as a family participate in Earth Day?
Here are 7 Earth Day tips for kids and families:
Plant a garden with trees and flowers
Turn off the light
Make a bird feeder
Do not waste water
Build an insect hotel
Clean up the park or forest
Recycle
The important thing to remember is to really help our planet, Earth day should be every day, not only once a year!
Earth Day Books for Kids
We love to read in our house. So it just comes naturally to me to add books to every lesson we do.
Here are some adorable Earth-themed books for you:
Did you enjoy our Earth Day messages for kids? Go check out our other nature activity. Why not build your own Foil River in the backyard or make a Mud Stove.
If you have problems getting your children outside in general, have a look at our Tips on How to Engage Kids in Nature, or Gardening Quotes.
20 Earth Day Quotes for Kids
Why not make your own Earth Day card and use one of our inspiring Earth Day poems?
Here are 20 inspiring Earth Day Quotes for Kids to help you celebrate our Mother Earth:
Take care of the Earth and she will take care of you!
Be the change you want to see in the world!
I have learned you are never too small to make a difference
Go green and make your Earth a beautiful place to live in. Happy Earth day!
The Earth is what we all have in common.
I speak for the trees, for the trees have no tongues.
Time spent among trees is never time wasted.
Adopt the pace of nature: her secret is patience.
Try to leave the Earth in a better place than when we arrived.
Green is my sword to fight for a better living, make it yours too.
May your life preach more loudly than your lips.
It's Earth Day I wonder if we can plant more trees than people for a change?
Unless someone like you cares a whole awful lot, nothing is going to get better. It's not.
The earth does not belong to us. We belong to the earth.
The Earth is a fine place and worth fighting for.
We have forgotten how to be good guests, how to walk lightly on the earth as its other creatures do.
Earth is the home for each one of us and therefore, we must respect it and protect it. Warm wishes on Earth Day to you.
Happy Earth Day everyone. Remember the Earth needs to be saved every single day!
There is no passenger on Spaceship Earth. We are all crew members.
Happy Earth Day! Remember the importance of taking care of our planet. It is the only home we have!

Don't forget to get your free printable Earth Day message printed out below and check out our Earth Template to make your own card!
To find more quotes for kids go check out our full list of different seasons, occasions, and holiday quotes here.
Cinco de Maya is next. Go check out our 15 Fun Cinco de Maya Jokes for Kids.
You also might get inspired by our April Quotes, May Quotes, Camping Quotes, or Cinco de Mayo Quotes.
Earth Day Activities
Do those inspirational environmental quotes for kids get you to do more? Then try one of these super fun Easter day art and craft projects next:
Earth Day Bingo
Earth Day Paper Plate Craft
Handprint Wreath for Earth Day
Earth Day Ornament
Earth Day Suncatcher
Flower Quotes
Butterfly Quotes
If you are a visual learner, go check out this Earth Day craft video tutorial instead!
How to Download Your Earth Day Quotes PDF
Simply sign up here for our newsletter and you will receive the link to our free printable Earth day captions.
Already a subscriber? Don't worry, no need to subscribe twice.
I just updated our free printable library. You can find our children's quotes about Earth there or check our latest newsletter for more information.
If you have any questions, please do not hesitate to reach out to me. I m happy to help!
Pin Our Earth Day Poems for Kids
Don't forget to save our Earth Day notes for kids on Pinterest for later! Be sure you are following along with Lil Tigers here.
Now I would like to hear from you!
What did you do for Earth Day? Which Earth Day message for kids did you like best?
Either way, let me know by leaving a comment below right now. I love to hear from you!