Are you looking for beautiful gardening quotes for kids? Then you are in the right place!
Here are 175 Best Garden Sayings for Kids including matching books and activities.
Let's have a look!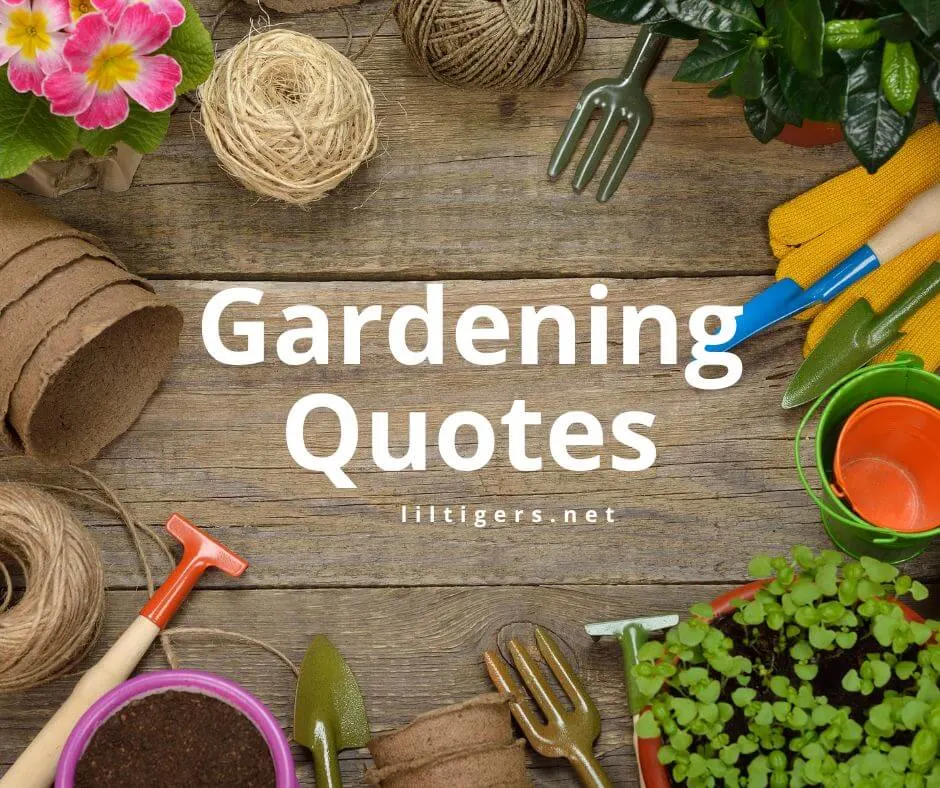 There are affiliate links in this post, meaning, at no additional cost to you, I will be compensated if you click through and take action. As an Amazon Associate, I earn from qualifying purchases.
How to Engage Kids in Nature
Do you have your own garden at home and like to introduce gardening to your children?
Being outside and exploring nature is not only fun but also a good life lesson for kids.
Seeing for themselves how things grow and exploring nature with their own hands and eyes is a wonderful experience for kids of all ages.
Unfortunately, not all children especially in the generation of Xboxes and PlayStations are interested in being outside anymore.
That's really fortunate especially since nature has so many things to offer and for them to explore.
Nevertheless, you can help your children to awaken their interest in being outside and spending time in nature.
For example, take your younger children on a walk through the forest. Let them observe, listen, and smell nature.
Ask them questions like what can they see, which animals can they hear, how can you tell which season we have, and so on.
At home take a book and look at which trees you saw, which birds you spotted etc.
For older children, you can engage in nature through projects in the garden, let them be soil scientists, etc.
These are only some of the many tips on how to engage children in nature. To read more check out our Nature Guide for Kids here.
Garden Books for Kids
Are you interested in more kid's activities, arts & crafts, and science experiments?
I have made it easy for you! Join our newsletter now and I will send you new fun for kids.
Subscribe for free
175 Best Gardening Quotes for Kids
If are you considering planting a garden or already have one, then these garden quotes are for you.
Our list of quotes about gardening includes gardening sayings for kids, short garden quotes, inspirational gardening phrases, quotes on gardens, sweet garden slogans, I love my garden quotes, Gardener quotes, my beautiful garden quotes, best gardening quotes for kids, and fun gardening puns and captions.
Let's have a look and get inspired!
Gardening Sayings for Kids
Here are some of our favorite garden sayings for kids:
"Plants make people happy!" – Unknown
"Life begins the day you start a garden." Chinese Proverb
"Life's a garden — dig it." – Unknown
"Won't you come into the garden? I would like my roses to see you." – Richard Brinsley Sheridan
"Let nature be in your yard." – Michael P. Garofalo
"There are no gardening mistakes, only experiments." Janet Kilburn Phillips
"Gardening is about enjoying the smell of things growing in the soil, getting dirty without feeling guilty, and generally taking the time to soak up a little peace and serenity." – Lindley Karstens
"To forget how to dig the earth and to tend the soil is to forget ourselves." – Mahatma Gandhi
"All gardening is landscape painting." – William Kent
"Allways keep growing!" – Unknown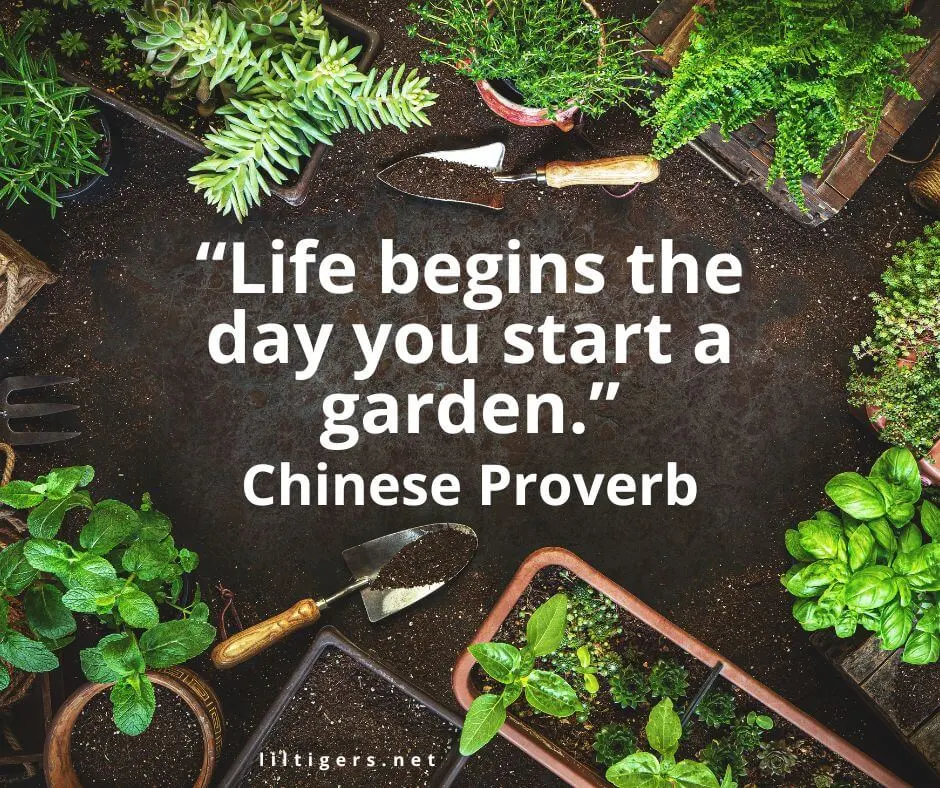 "Plant
smile
grow
giggle
love
harvest
love"

Unknown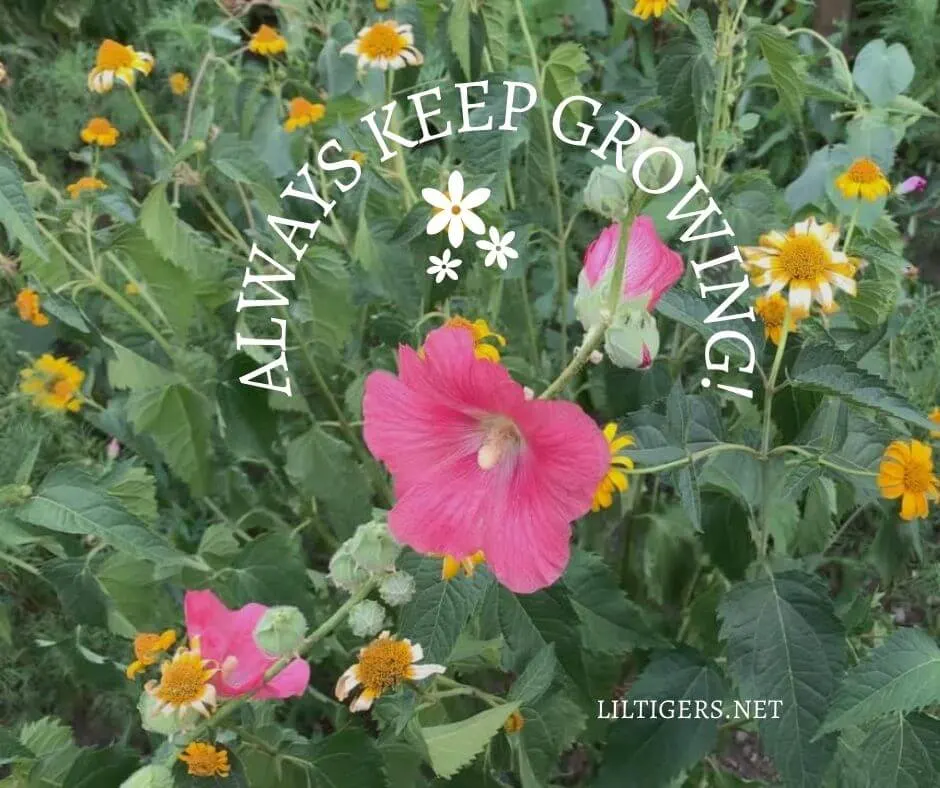 Beautiful Garden Quotes
Your kids will love the following kids gardening quotes:
"My garden is my most beautiful masterpiece" – Claude Monet
"Every Child is a different kind of flower, and all together, make this world a beautiful garden." – Unknown
"In order to bloom you must grow." – Unknown
"Gardening is learning, learning, learning. That's the fun of them. You're always learning." – Helen Mirren
"I enjoy painting, cutting the lawn, and working in the garden when I have time. That's therapy for me. I enjoy working with my hands." – Billy Williams
"Love is like a beautiful flower which I may not touch, but whose fragrance makes the garden a place of delight just the same." –Helen Keller
"Let your dreams bloom." – Unknown
"Gardens are not made by singing 'Oh, how beautiful,' and sitting in the shade." – Rudyard Kipling
"Kiss of the sun for pardon. Song of the birds for mirth. You're closer to God's heart in a garden than any place else on earth." –Dorothy Frances Gurney
"If you truly love nature, you will find beauty everywhere." – Vincent van Gogh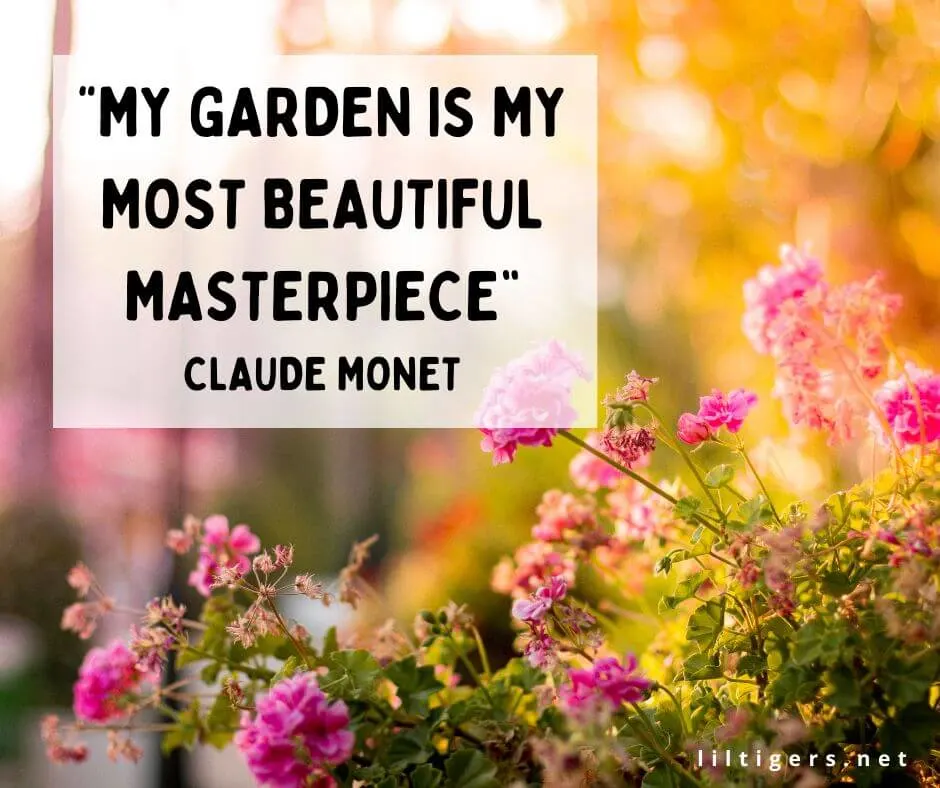 "Your mind is a garden. Your thoughts are the seeds. You can grow flowers or you can grow weeds."

Unknown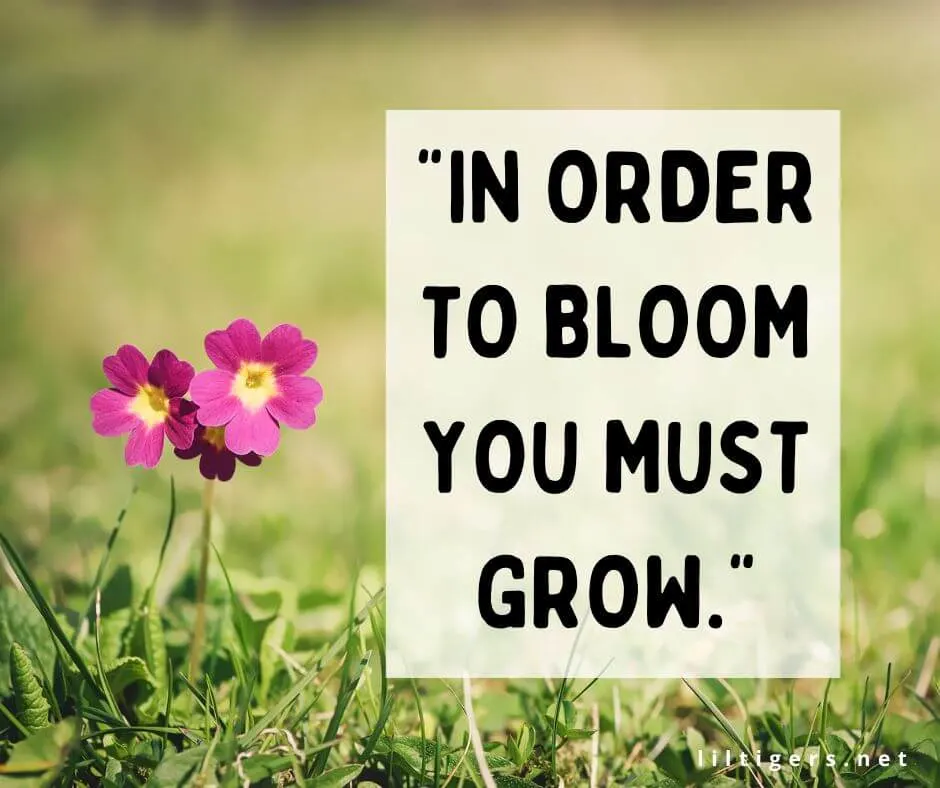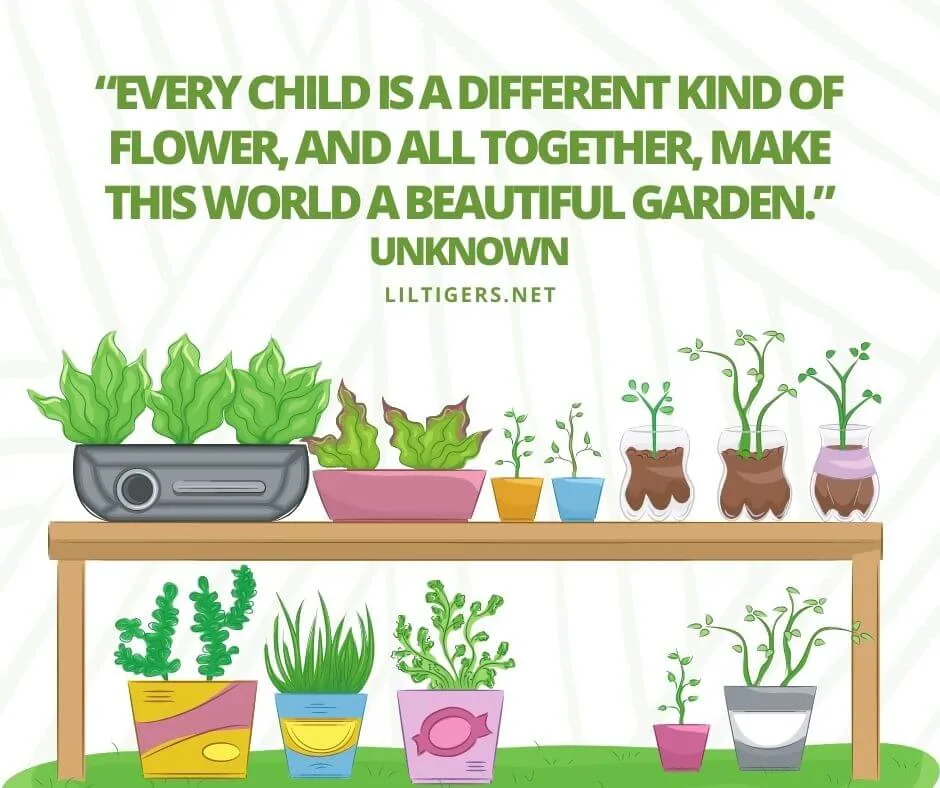 Gardening Quotes for Kids
What do you think about our quotes about gardens?
"The glory of gardening: hands in the dirt, head in the sun, heart with nature. To nurture a garden is to feed not just on the body, but the soul." – Alfred Austin
"What you plant today you will have tomorrow." – Unknown
"A garden always has a point." – Elizabeth Hoyt
"I like gardening — it's a place where I find myself when I need to lose myself." – Alice Sebold
"The seed waits for its garden or ground where it will be sown." – South African Proverb
"When the world wearies and society fails to satisfy, there is always the garden." Minnie Aumonier
"God made rainy days so gardeners could get the housework done."
"Children are like a garden. They need a lot of love and attention." – Susanne Williams
"The garden suggests there might be a place where we can meet nature halfway." – Michael Pollan
"The best place to find God is in a garden. You can dig for him there." – George Bernard Shaw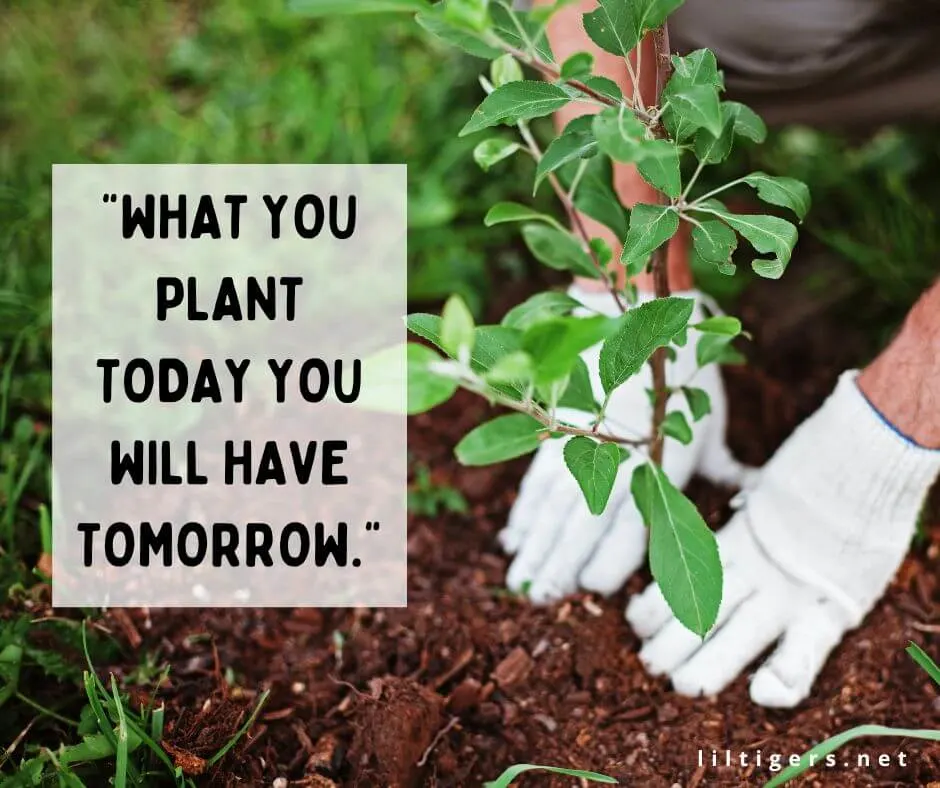 "To plant a garden is to believe into tomorrow."

Audrey Hepburn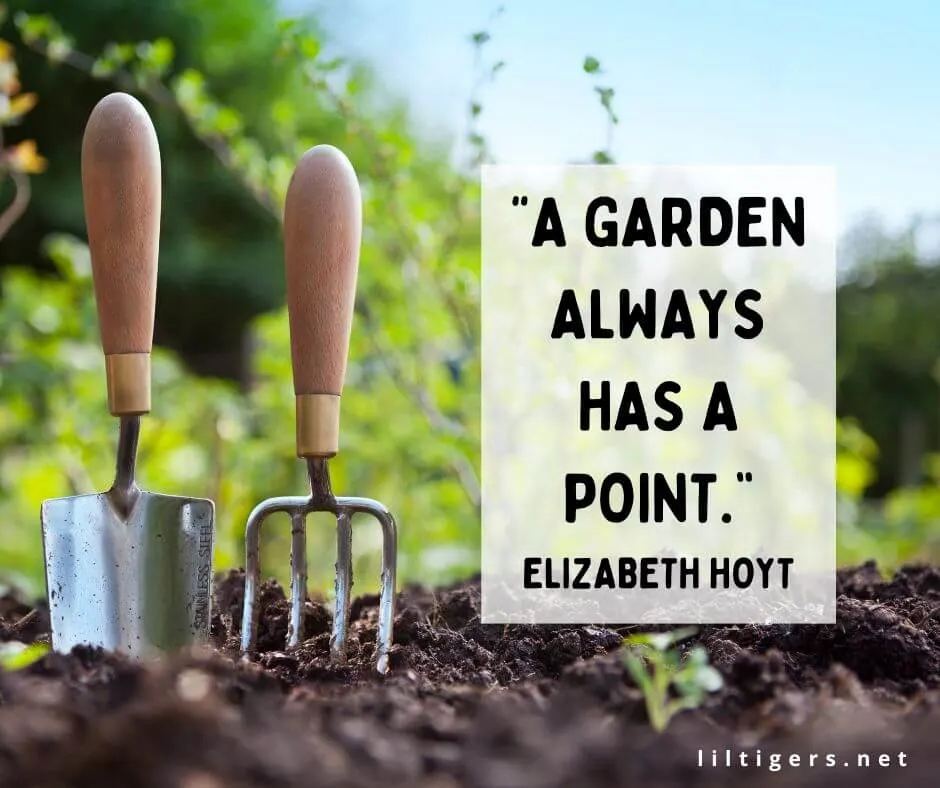 Did you enjoy our gardening greetings for kids?
Then go check out these popular Spring Crafts for Kids, Spring Bingo, and free printable Earth Bingo next.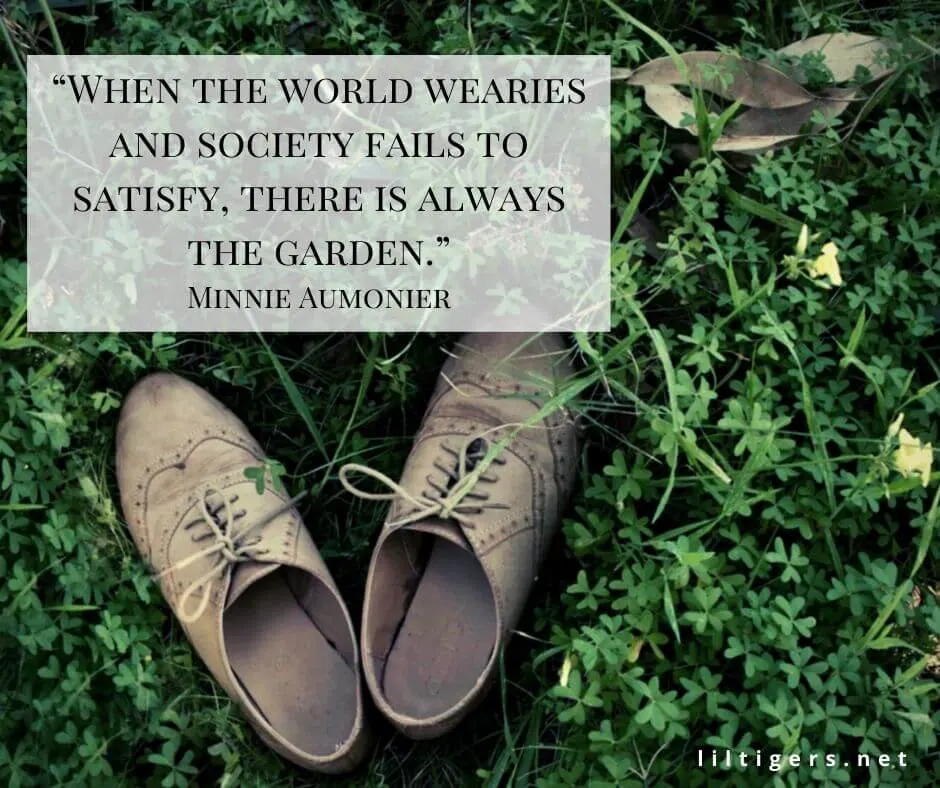 My Garden Quotes for Kids
Time to check out these I love my garden quotes:
"I cultivate my garden, and my garden cultivates me." – Robert Breault
"I like solitary pursuits, such as reading or pottering about in the garden." – Hayley Mills
"My garden is my favorite teacher." – Betsy Cañas Garmon
"I need my friends, I need my house, I need my garden." – Miranda Richardson
"I value my garden more for being full of blackbirds than of cherries, and very frankly give them fruit for their songs." – Joseph Addison
"If you've never experienced the joy of accomplishing more than you can imagine, plant a garden." – Robert Breault
"Well I do find the beauty in animals. I find beauty everywhere. I find beauty in my garden." – Doris Day
"The secret of getting ahead is getting started." – Unknown
"It is a golden maxim to cultivate the garden for the nose, and the eyes will take care of themselves." – Robert Louis Stevenson
"To dwell is to garden." – Martin Heidegger
"I just want to garden and hang out with my chickens."

Unknown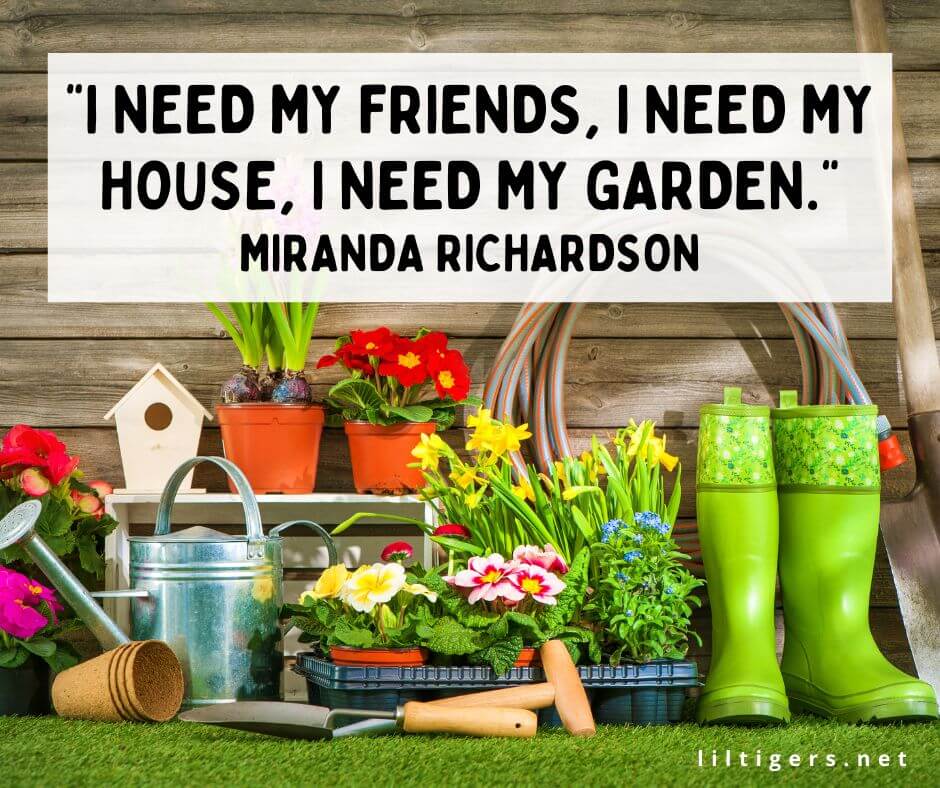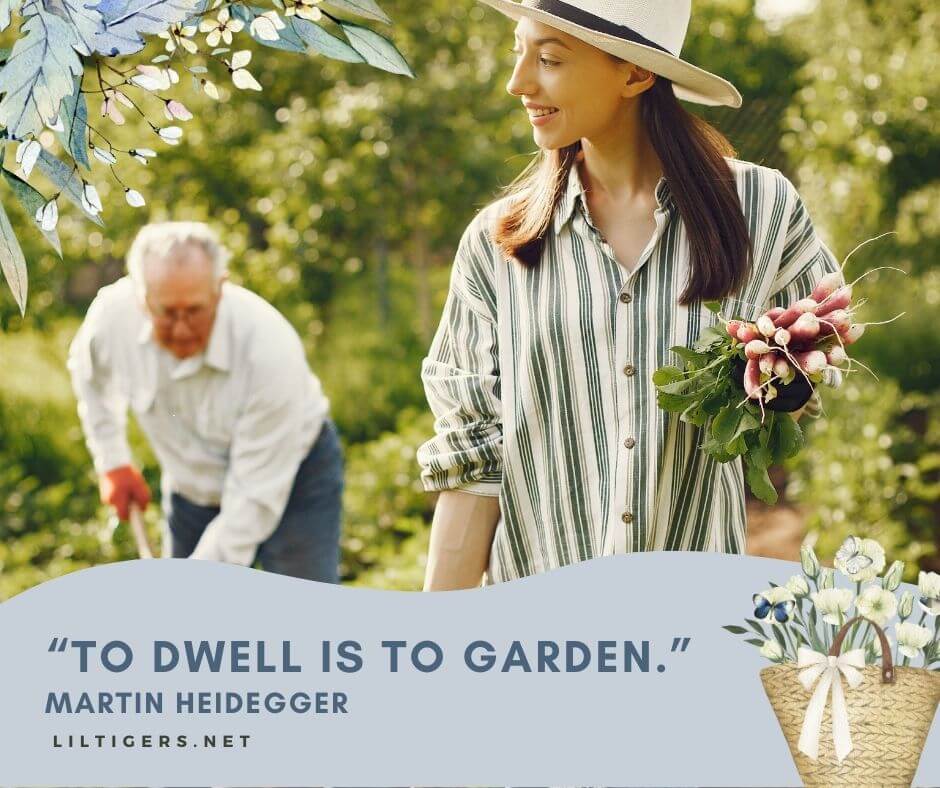 Quotes on Gardening
Next are our beautiful garden quotes:
"Gardening is my favorite Therapy!" – Unknown
"One of the most delightful things about a garden is the anticipation it provides." – W.E. Johns, The Passing Show
"Gardening adds years to your life, and life to your years." – Unknown
"Fertilizer does no good in a heap, but a little spread around works miracles all over." – Richard Brinsley Sheridan
"Without seeds, there will be no garden." – Unknown
"I've made an odd discovery. Every time I talk to a savant I feel quite sure that happiness is no longer a possibility. Yet when I talk with my gardener, I'm convinced of the opposite." – Bertrand Russell
"Don't wear perfume in the garden — unless you want to be pollinated by bees." – Anne Raver
"Even the tiniest flower can have the toughest roots." – Shannon Mullen
"I think this is what hooks one to gardening: it is the closest one can come to being present at creation." – Phyllis Theroux
"There's something about taking a plow and breaking new ground. It gives you energy." – Ken Kesey
"No occupation is so delightful to me as the culture of the earth, and no culture comparable to that of the garden."

Thomas Jefferson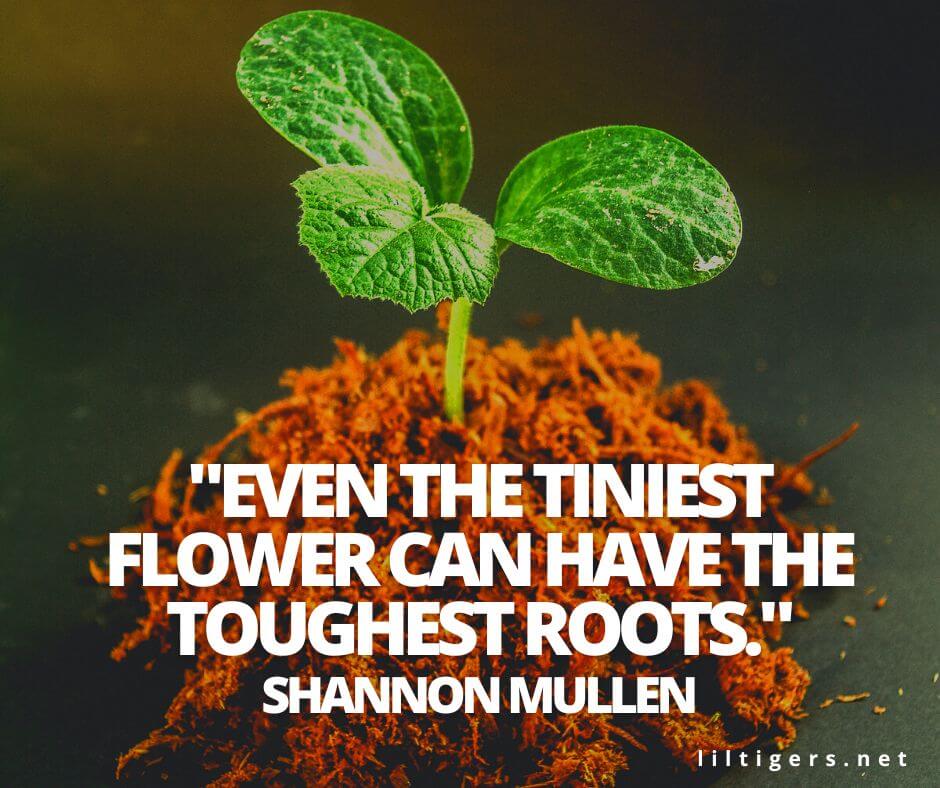 Funny Gardening Quotes for Kids
Followed by our funny garden quotes for kids:
"A weed is but an unloved flower." – Ella Wheeler Wilcox
"The more help a person has in his garden, the less it belongs to him." – W. H. Davies
"Weed it and reap." – Unknown
"A weed is a plant that has mastered every survival skill except for learning how to grow in rows." – Doug Larson
"Trees and plants always look like the people they live with, somehow." – Zora Neale Hurston
"Show me your garden and I shall tell you what you are." – Alfred Austin
"Weeds are flowers too, once you get to know them." – A. A. Milne
"Isn't it enough to see that a garden is beautiful without having to believe that there are fairies at the bottom of it too?" – Douglas Adams
"Gardening requires lots of water — most of it in the form of perspiration." – Lou Erickson
"A lawn is nature under totalitarian rule." – Michael Pollan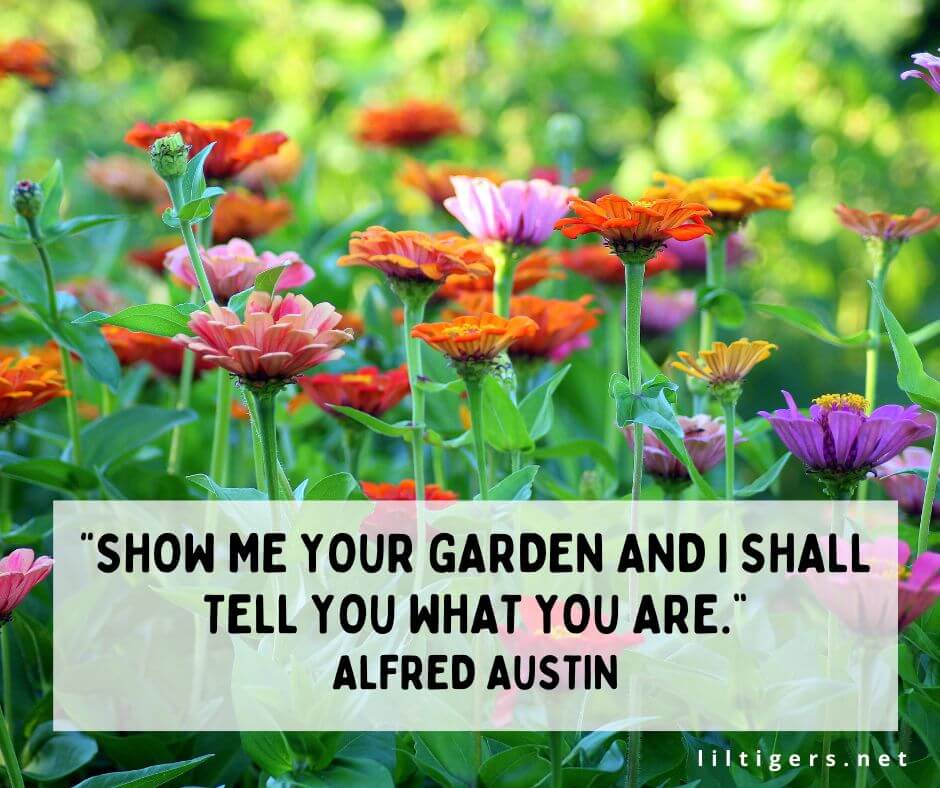 "Gardening is cheaper than therapy and you get tomatoes."

Unknown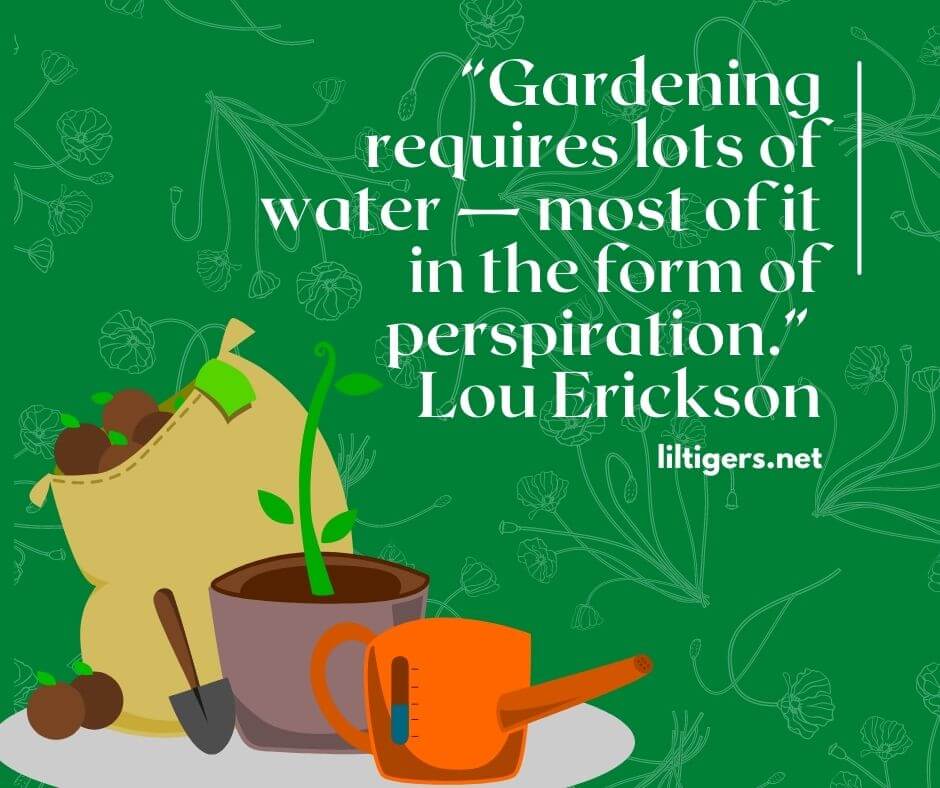 Inspiring Gardening Quotes for Kids
Let's start off with our inspirational quotes about the garden:
"The greatest gift of the garden is the restoration of the five senses." – Hanna Rion
"A garden is always a series of losses set against a few triumphs, like life itself." – May Sarton
"We can complain because rose bushes have thorns, or rejoice because thorn bushes have roses." – Abraham Lincoln
"A garden is a grand teacher. It teaches patience and careful watchfulness; it teaches industry and thrift; above all it teaches entire trust." – Gertrude Jekyll
"Keep love in your heart. A life without it is like a sunless garden when the flowers are dead." – Oscar Wilde
"Gardening is how I relax. It's another form of creating and playing with colors." – Oscar de la Renta
"God Almighty first planted a garden. And indeed, it is the purest of human pleasures." – Francis Bacon
"It was such a pleasure to sink one's hands into the warm earth, to feel at one's fingertips the possibilities of the new season." – Kate Morton
"We must cultivate our own garden. When man was put in the garden of Eden he was put there so that he should work, which proves that man was not born to." – Voltaire
"The greatest fine art of the future will be the making of a comfortable living from a small piece of land." – Abraham Lincoln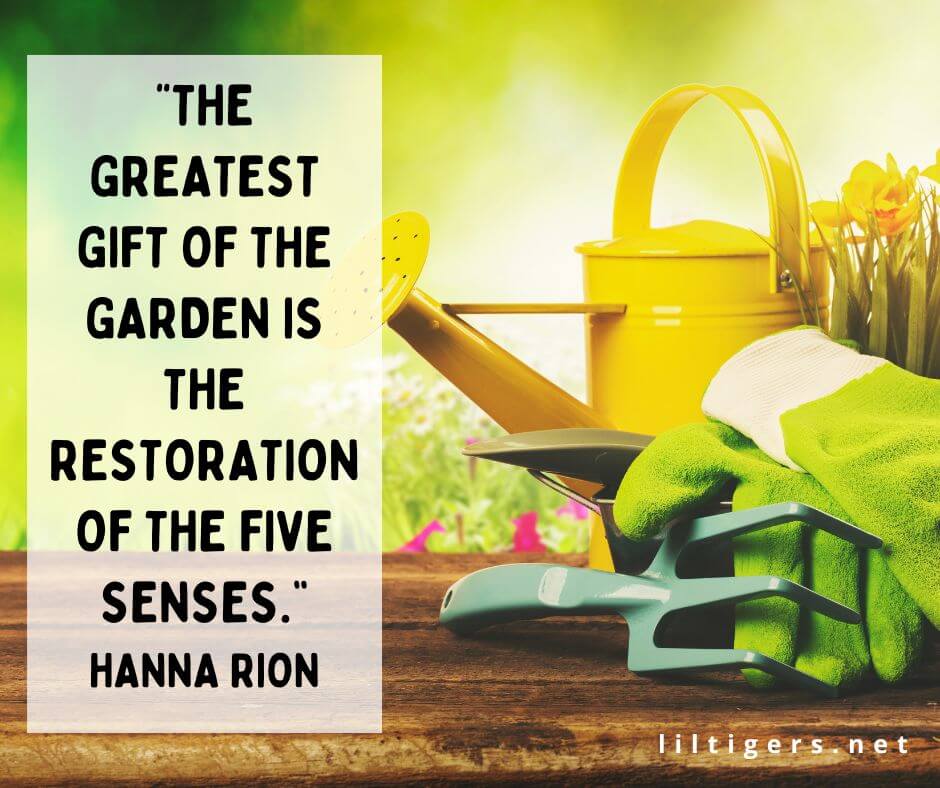 "In search of my mother's garden, I found my own."

Alice Walker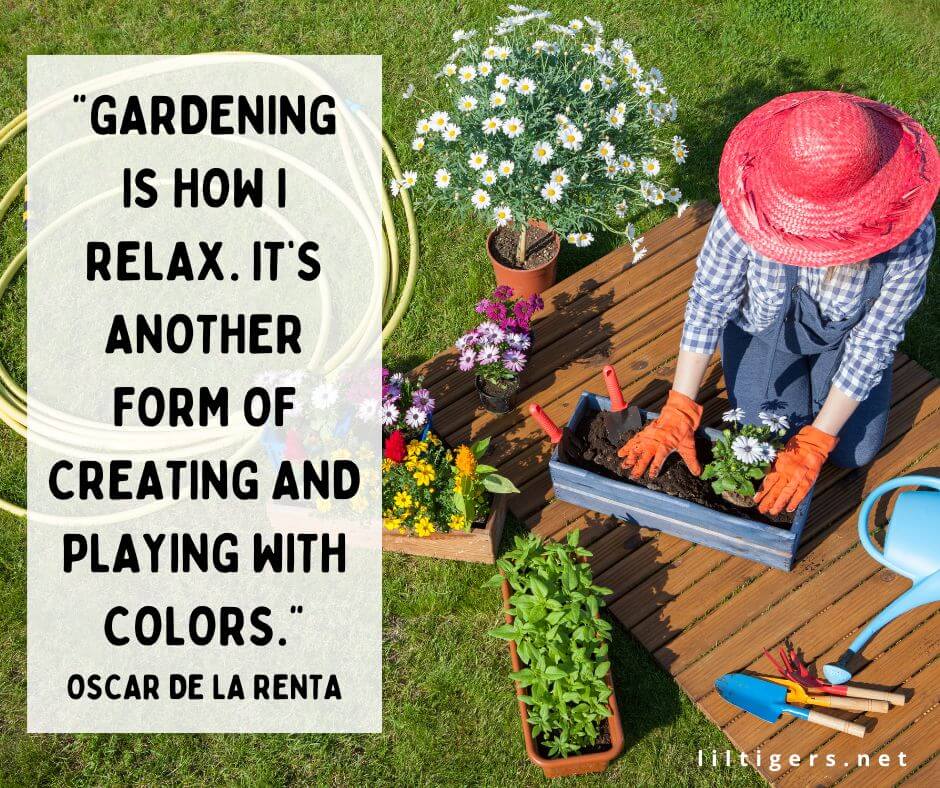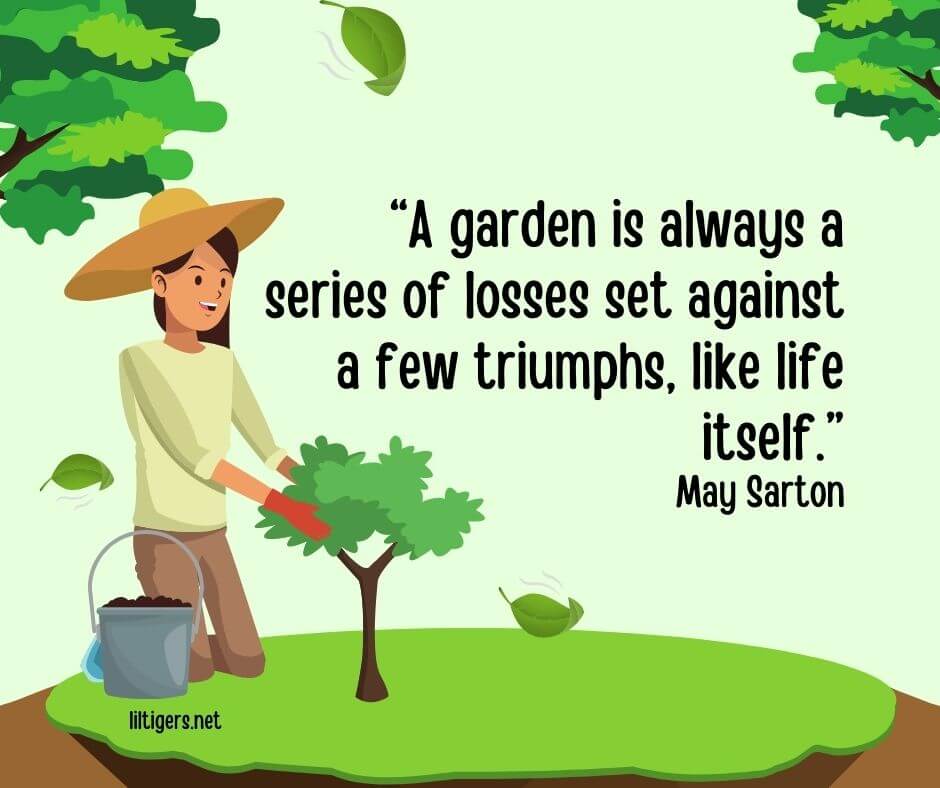 Gardener Quotes
Are you a gardener? Then you will love our quotes for gardeners.
"I like flowers. In my next life, maybe I can be a gardener." – Ruskin Bond
"I'm not a gardener. I wish I was." – Kate Winslet
"In every gardener there is a child who believes in The Seed Fairy." – Robert Breault
"I think optimism springs from nature. I'm a gardener. Nature has taught me about rhythm, the essence of every art. With so much that is terrible, nature gives me pleasure." – Mira Nair
"In almost every garden, the land is made better and so is the gardener." – Robert Rodale
"I grow as many of our vegetables as I can, because my granddad was a professional gardener, and it's in the blood." – Terry Pratchett
"An optimistic gardener is one who believes that whatever goes down must come up." – Leslie Hall
"If you have a garden and a library, you have everything you need." – Marcus Tullius Cicero
"Help us to be ever faithful gardeners of the spirit, who know that without darkness nothing comes to birth, and without light nothing flowers." – May Sarton
"I like to think of myself as a natural gardener." Clive Anderson
"All gardeners know better than other gardeners."

Chinese Proverb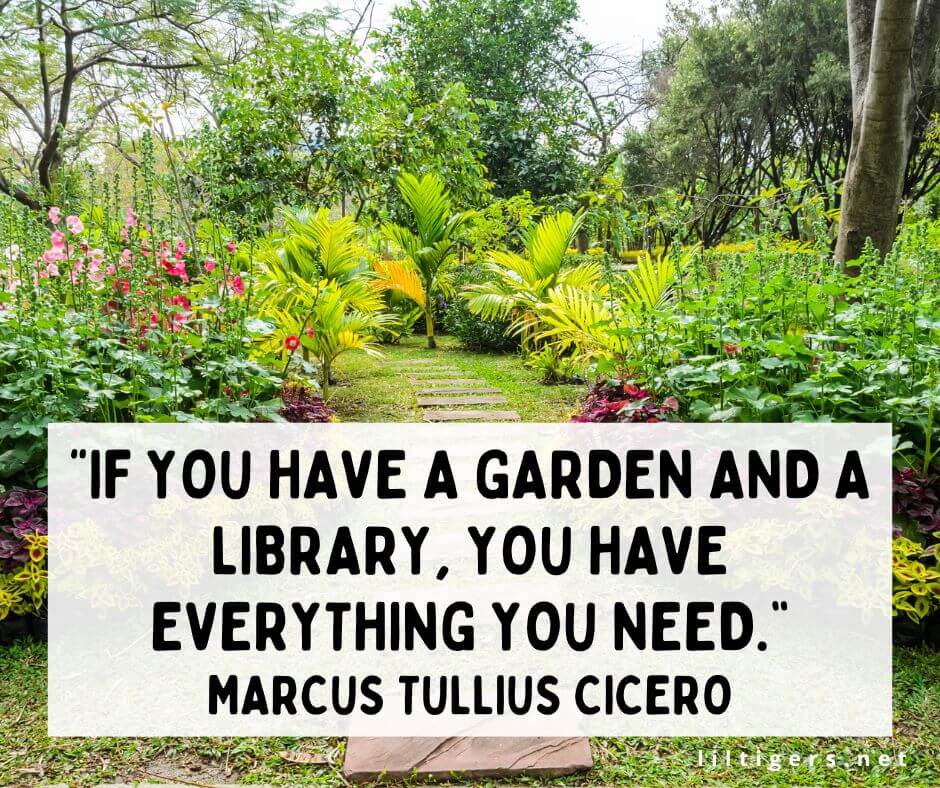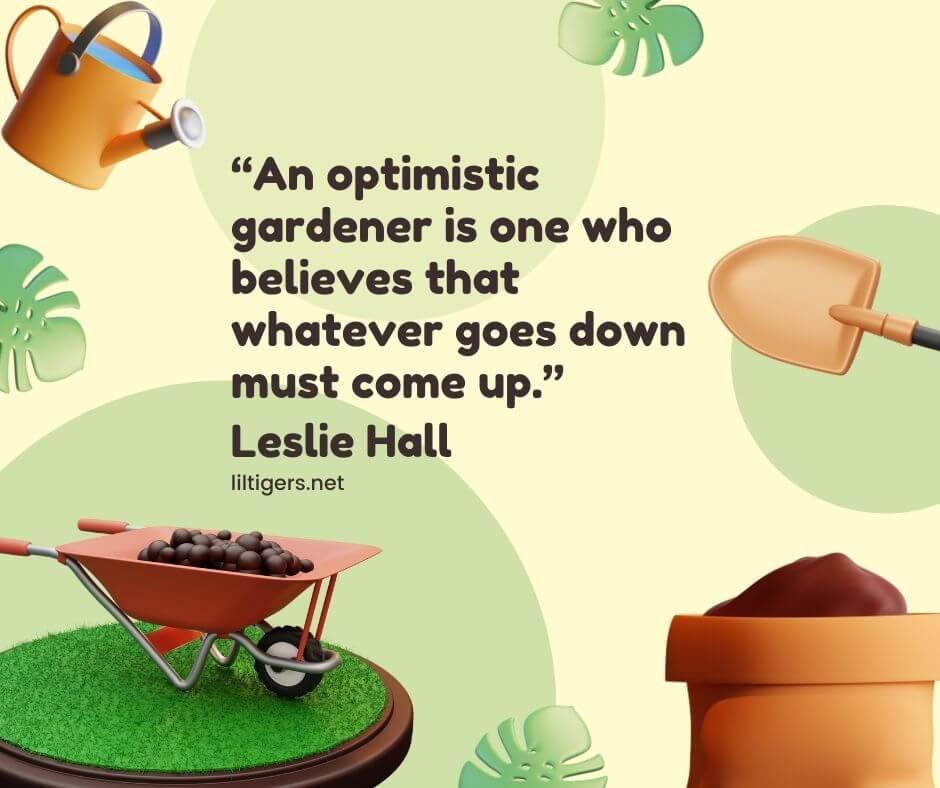 Quotes on Plants
Gardening is all about plants. Therefore, here are our quotes about plants:
"By plucking her petals, you do not gather the beauty of the flower." – Rabindranath Tagore
"Use plants to bring life." – Douglas Wilson
"It will never rain roses: when we want to have more roses we must plant more trees." – George Eliot
"What is a weed? A plant whose virtues have never been discovered." – Ralph Waldo Emerson
"If a tree dies, plant another in its place." – Carl Linnaeus
"He plants trees to benefit another generation." – Caecilius Statius
"Despite the gardener's best intentions, Nature will improvise." – Michael P. Garofalo
"A garden requires patient labor and attention. Plants do not grow merely to satisfy ambitions or to fulfill good intentions. They thrive because someone expended effort on them." – Liberty Hyde Bailey
"A man has made at least a start on discovering the meaning of human life when he plants shade trees under which he knows full well he will never sit." – D. Elton Trueblood
"I plant a lot of trees. I am a great believer in planting things for future generations. I loathe the now culture where you just live for today." – Penelope Keith
"The gardener who loves roses is slave to a thousand thorns."

Turkish Proverbs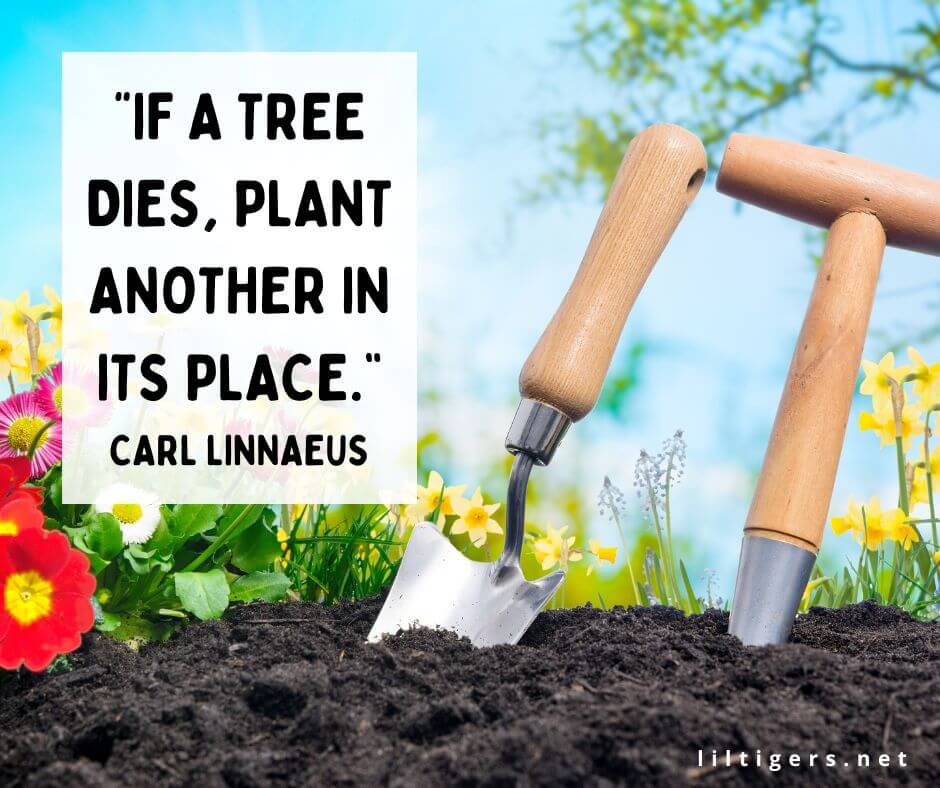 Flower Garden Quotes for Kids
Do you have a flower garden? Then these garden flower quotes are for you:
"In my garden there is a large place for sentiment. My garden of flowers is also my garden of thoughts and dreams. The thoughts grow as freely as the flowers, and the dreams are as beautiful." – Abram L. Urban
"She sprouted love like flowers, grew a garden in her mind, and even on the darkest days, from her smile the sun still shined." – Erin Hanson
"Remember that children, marriages, and flower gardens reflect the kind of care they get." – H. Jackson Brown, Jr.
"The very best relationship has a gardener and a flower. The gardener nurtures and the flower blooms." – Carole Radziwill
"Gardens and flowers have a way of bringing people together, drawing them from their homes." – Clare Ansberry
"If you look the right way, you can see that the whole world is a garden." – Frances Hodgson Burnett
"Don't wait for someone to bring you flowers. Plant your own garden and decorate your own soul." – Luther Burbank
"Remember that children, marriages, and flower gardens reflect the kind of care they get." – H. Jackson Brown, Jr.
"Don't let the tall weeds cast a shadow on the beautiful flowers in your garden." – Steve Maraboli
"Wherever life plants you, bloom with grace." – Unknown
Check out our full list of 110 Best Flower Quotes here.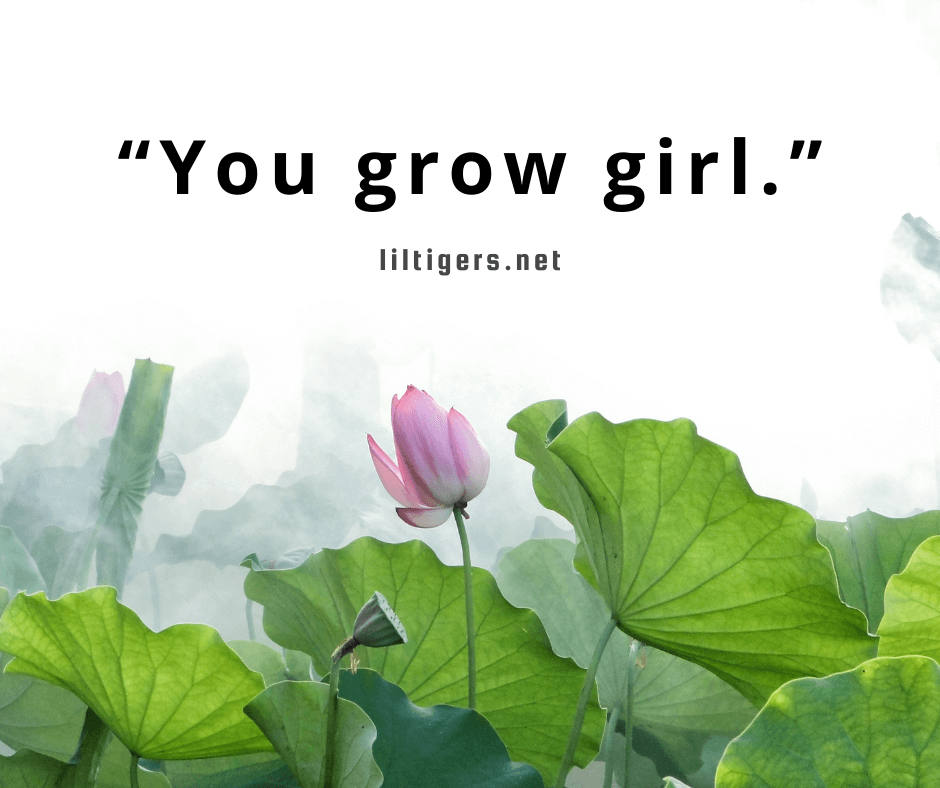 "In an endless garden of flowers, I will always pick you."

A.J. Lawless
Spring Garden Quotes
Afterward, I like to share these spring garden sayings with you:
"I love spring anywhere, but if I could choose I would always greet it in a garden." – Ruth Stout
"Spring adds new life and new beauty to all that is." – Jessica Harrelson
"Spring has sprung and sunny days have begun!" – Unknown
"Hello Spring, time to live in full blossom" – Unknown
"It is only the farmer who faithfully plants seeds in the Spring, who reaps a harvest in the Autumn." – B. C. Forbes
"Let's garden together, it is Spring again."
"Time for flowers to bloom again. What can be more beautiful?"
"Enjoy the first Spring flowers."
"Spring unlocks the flowers to paint the laughing soil." – Bishop Reginald Heber
"Spring has awakened. Let's go outside and play."
See our full list of 150 Best Spring Quotes here.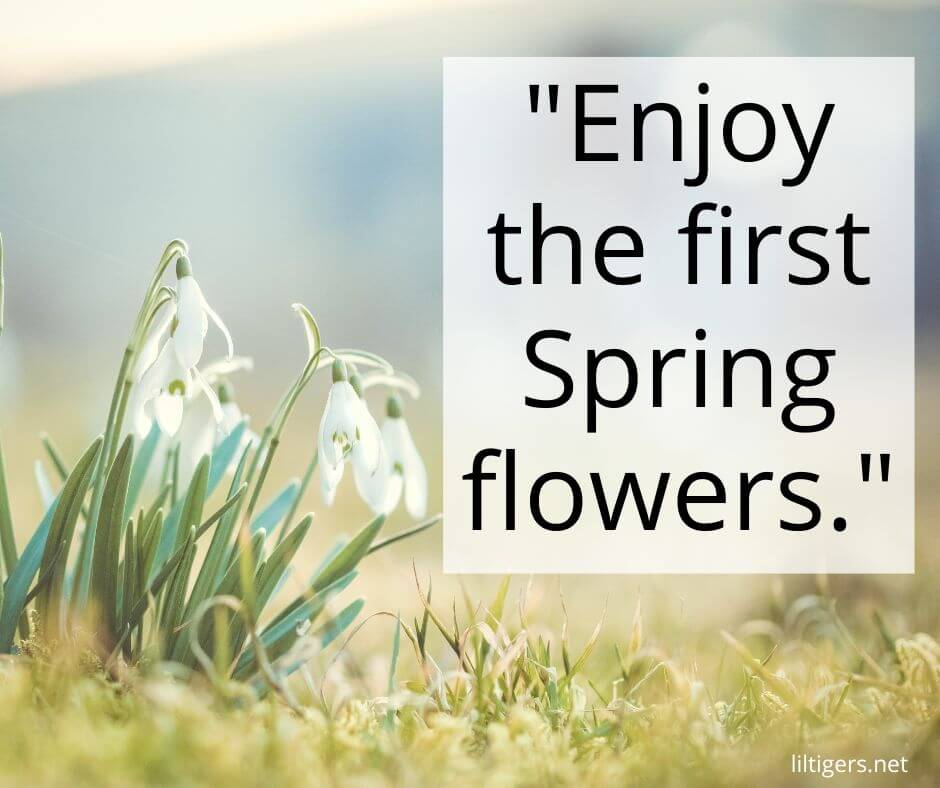 "Don't wait for someone to bring you flowers. Plant your own garden and decorate your own soul."

Luther Burbank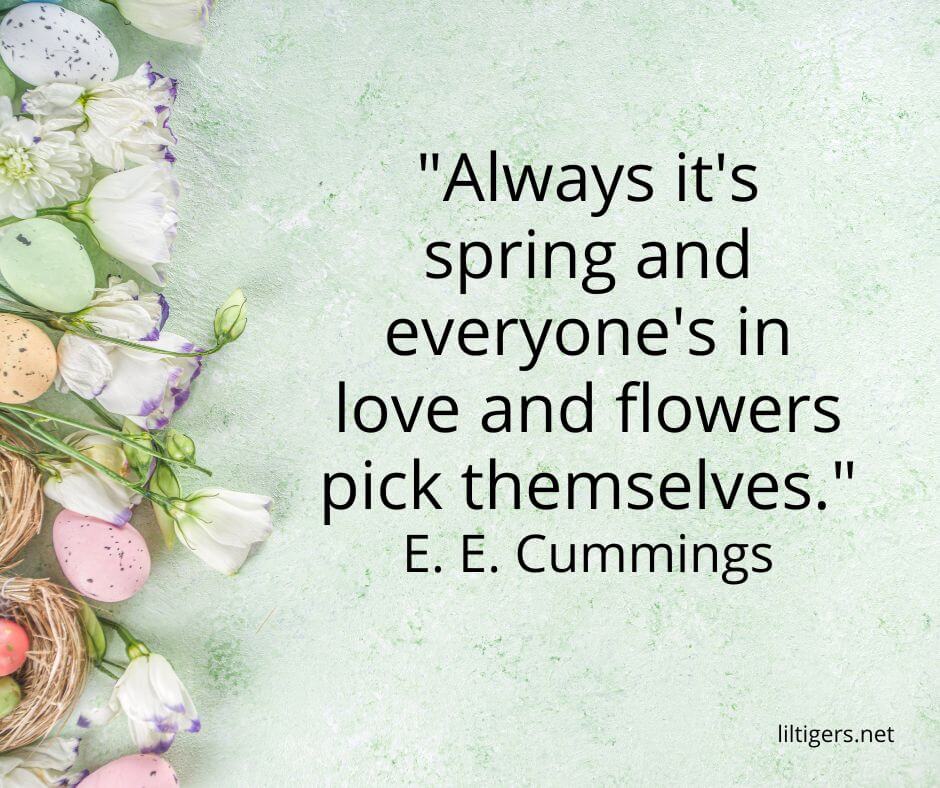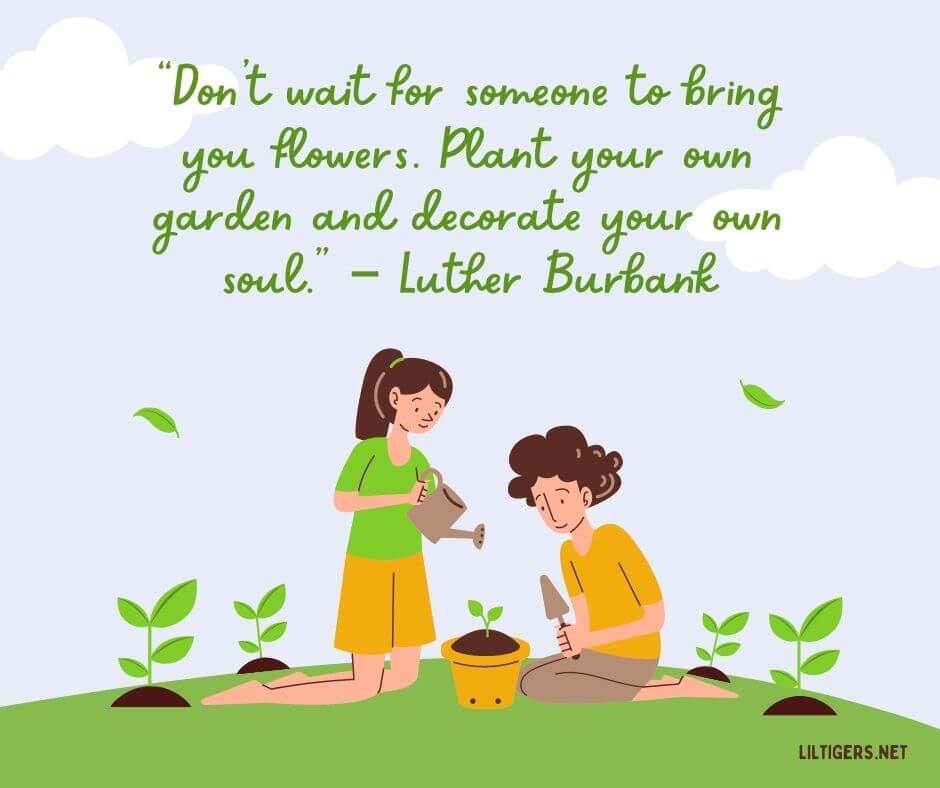 Love Gardening Quotes for Kids
Every gardener loves his garden. Here are the matching I love my garden quotes:
"The love of gardening is a seed once sown that never dies." – Gertrude Jekyll
"Keep love in your heart. A life without it is like a sunless garden when the flowers are dead." – Oscar Wilde
"Gardening gives one back a sense of proportion about everything — except itself." – May Sarton
"I love being in my garden. I don't plant a lot of exotic flora, but I do spend a lot of time outside doing manual labour." – Jacqueline Bisset
"Who loves a garden loves a greenhouse too." – William Cowper
"I love you more than my garden." – Susanne Williams
"Garden as though you will live forever." – Thomas Moore
"I love planting. I love digging holes, putting plants in, tapping them in. And I love weeding, but I don't like tidying up the garden afterwards." – Jamaica Kincaid
"A flower falls, even though we love it; and a weed grows, even though we do not love it." – Dogen
"Wherever you go, my love is with you."
See our full list of 130 Love Quotes here.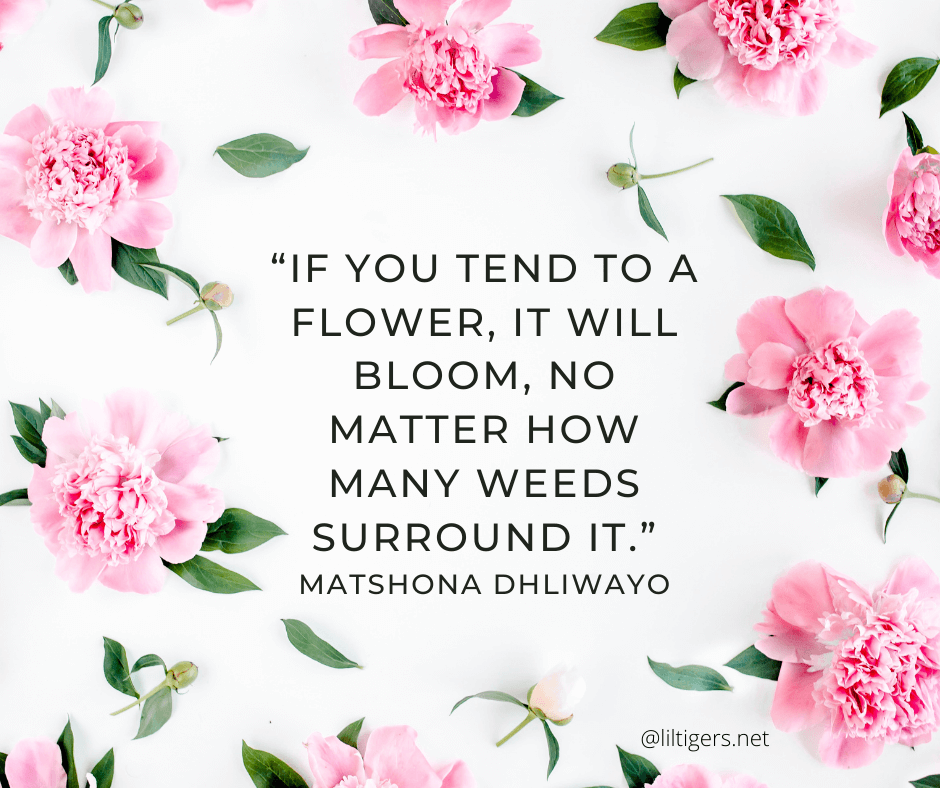 Gertrude Jekyll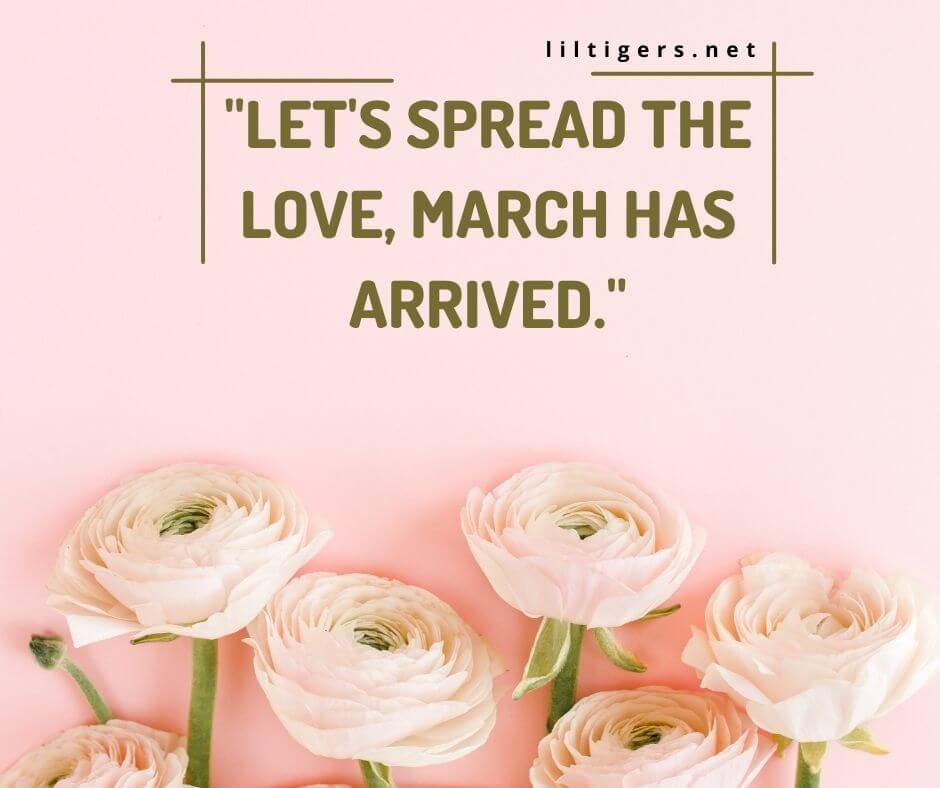 Short Gardening Quotes for Kids
Short but sweet are our short garden quotes:
"Life is short. Buy some plants." – Unknown
"Do not spread the compost on the weeds." – William Shakespeare
"I've always felt that having a garden is like having a good and loyal friend." – C. Z. Guest
"Well tended garden is better than a neglected wood lot." – Dixie Lee Ray
"Gardens are a form of autobiography." – Sydney Eddison
"Gardening is a humbling experience." – Martha Stewart
"How deeply seated in the human heart is the liking for gardens and gardening." – Alexander Smith
"In order to live off a garden, you practically have to live in it." – Frank McKinney Hubbard
"Gardening is not a rational act." – Margaret Atwood
"I don't like formal gardens. I like wild nature. It's just the wilderness instinct in me, I guess". – Walt Disney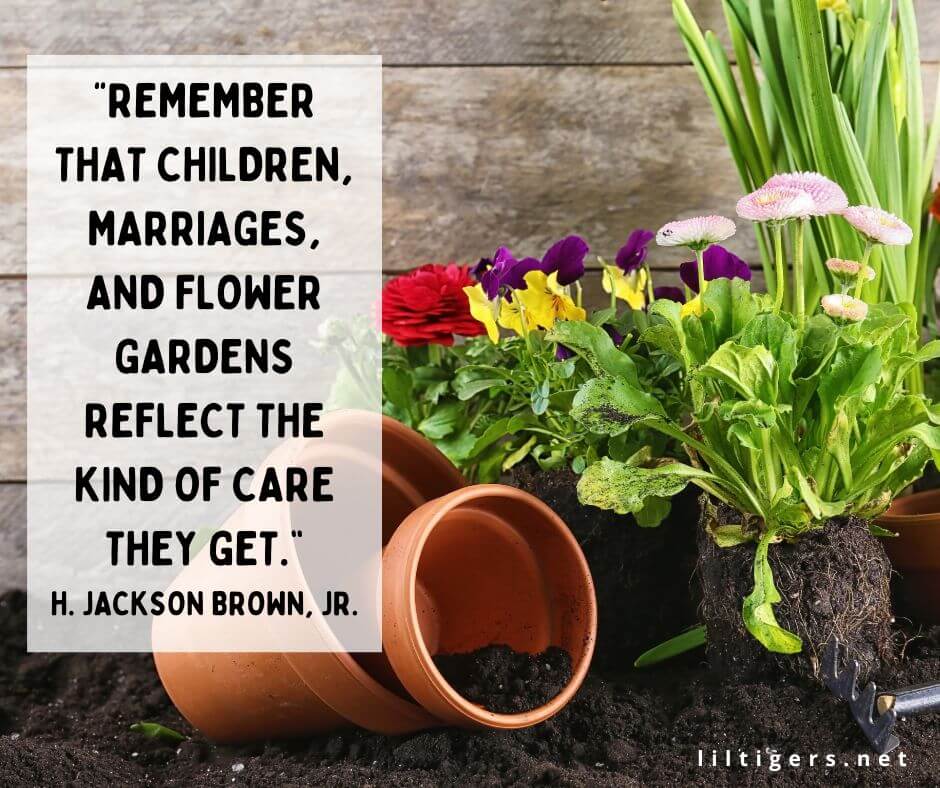 "What's a butterfly garden without butterflies?"

Roy Rogers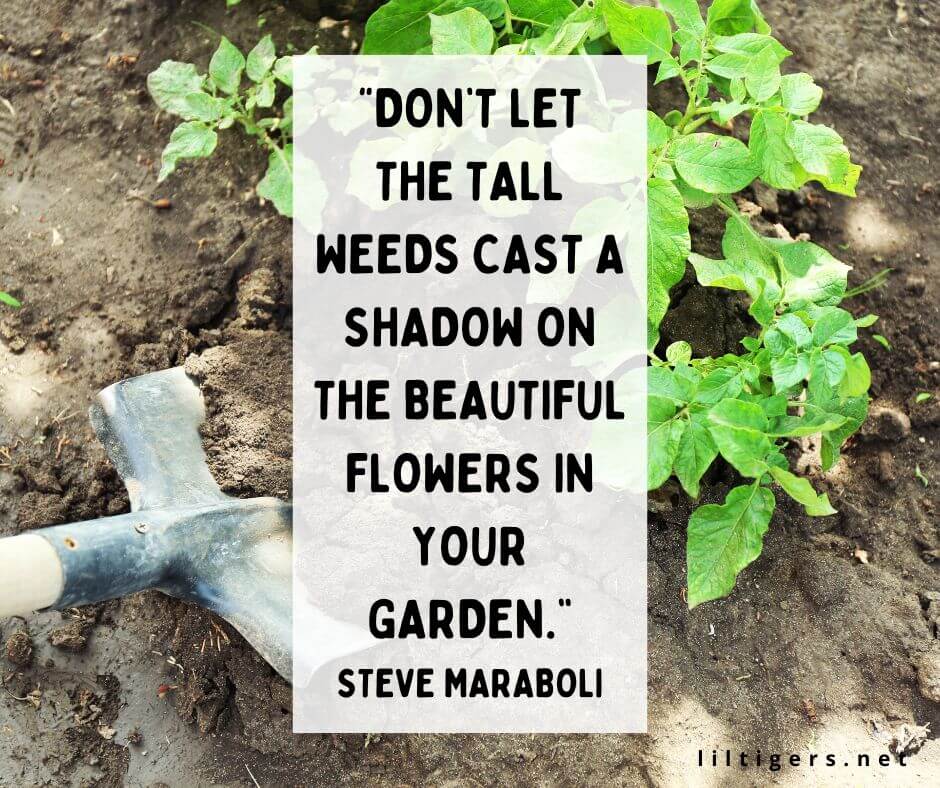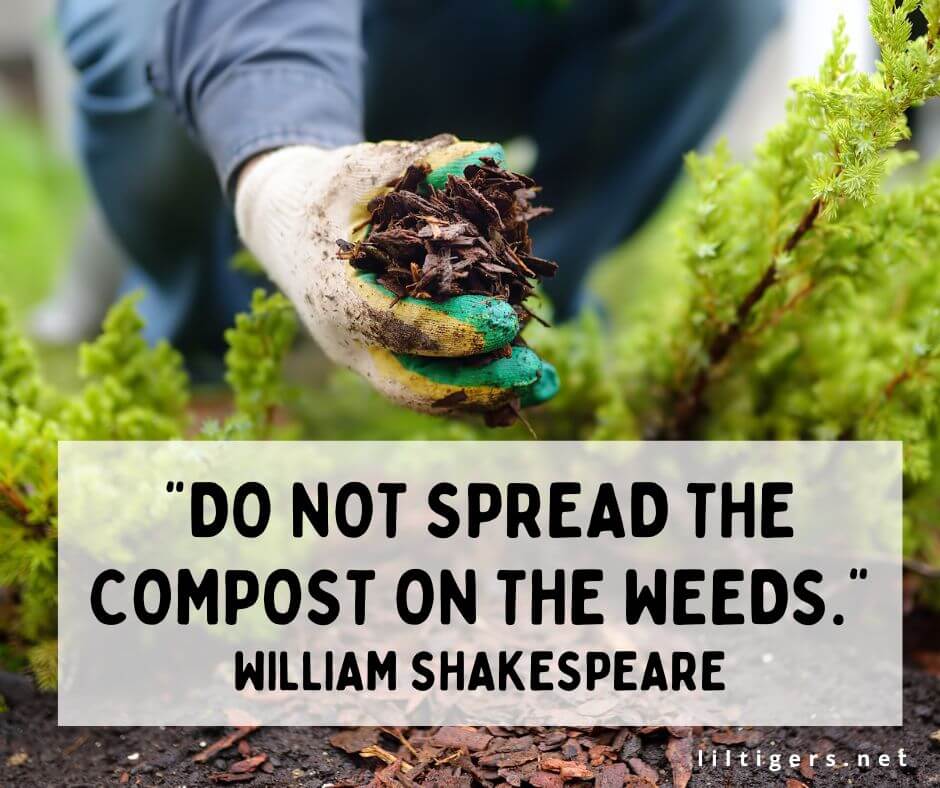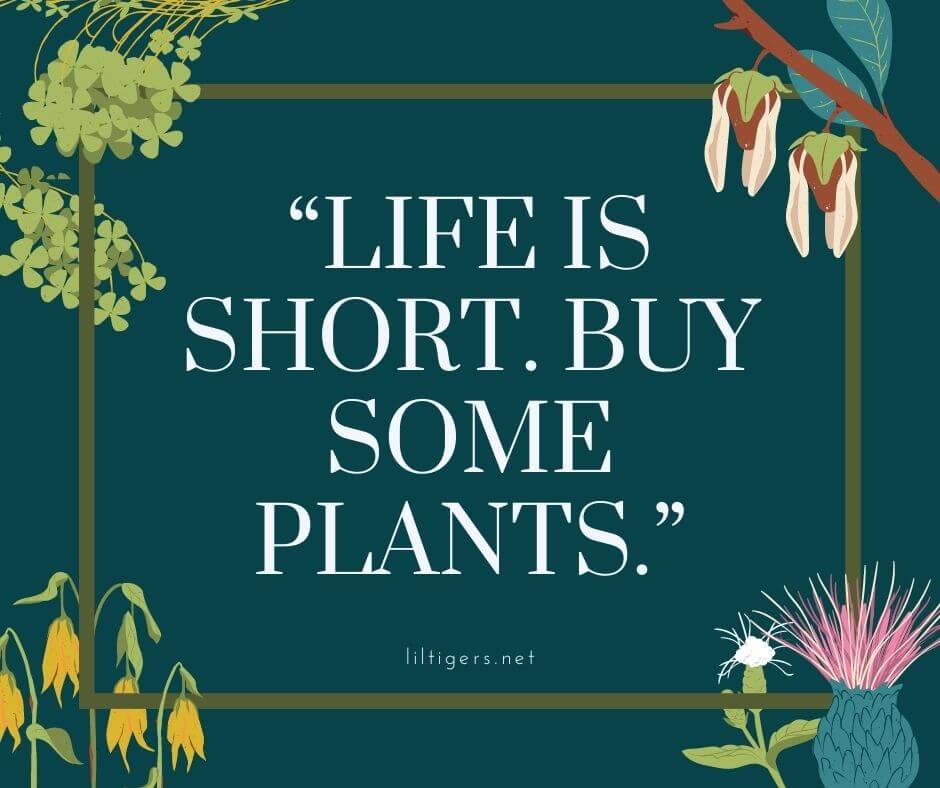 May Gardening Quotes
The month of May is the best time to work in your garden. Therefore here are some more kids gardening quotes for the month of May:
"I love my garden in the month of May." – Unknown
"My garden blooms every May." – Unknown
"It is May, time to go in the garden." – Unknown
"Hello May, please be nice to my garden."
"Bright May afternoons, mango trees in the garden echoed with cuckoo calls." – Meeta Ahluwalia
"The month of May is perfect for gardening." – Unknown
"Let's welcome May in our beautiful garden."
"Oh! Fragrant is the breath of May in tranquil garden closes, and soft yet regal is her sway among the springtide roses." – William Hamilton Hayne
"Time to dig this May."
"What are you waiting for? It is May, let's enjoy our garden."
See our full list of 200 May Quotes here.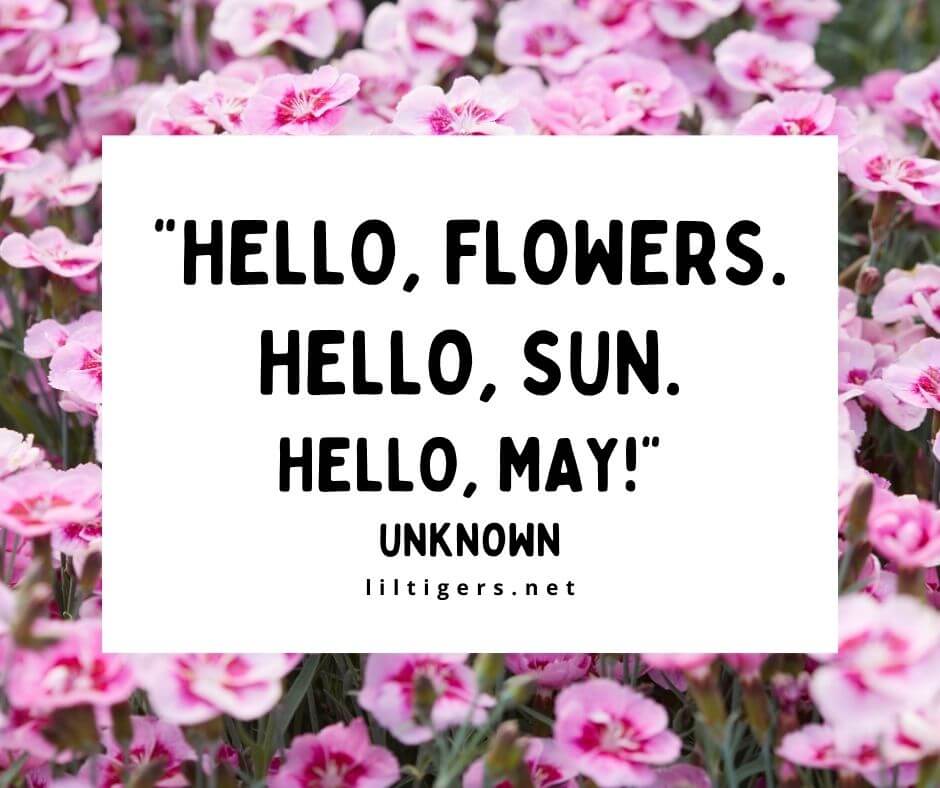 Funny Gardening Captions
What do you think about these fun garden captions for kids?
"If you need me, I'll be in my garden."
"Flower empowered."
"I have a favorite brand of dirt."
"My garden has really taught me to be-leaf in myself."
"Measurin' my worth in garden dirt."
"Always remember your roots."
"Feelin' a bit seedy."
"Happiness blooms in my garden."
"My garden is my best bud."
"Lilac it or leave it."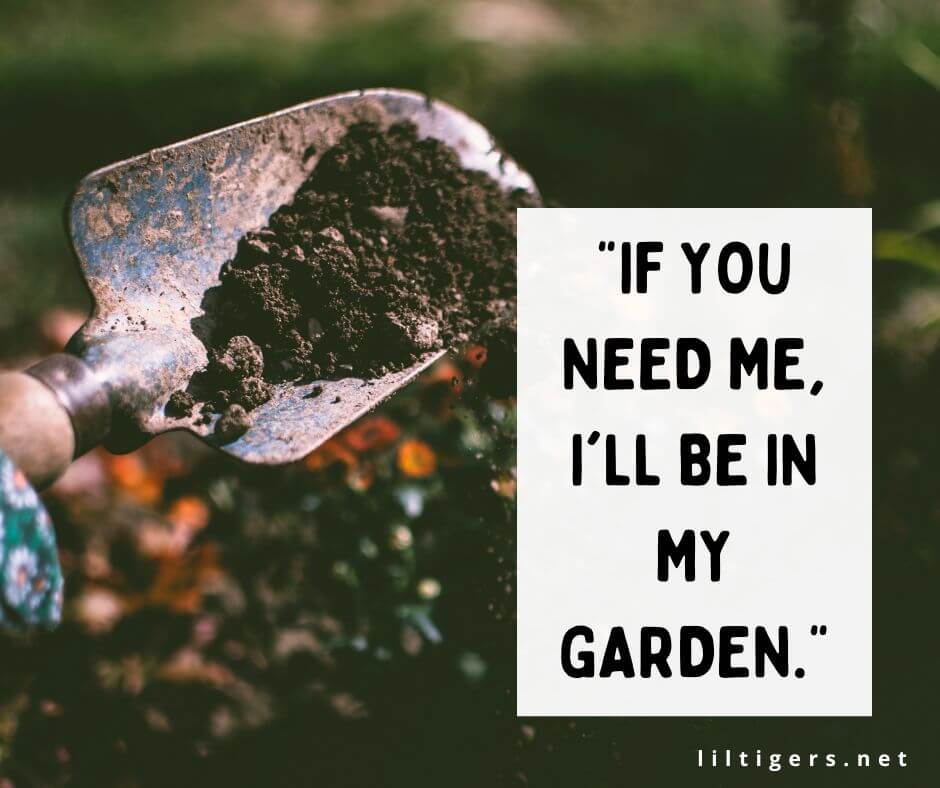 "If growing plants is wrong, I don't want to be right."

Unknown
Funny Gardening Puns
Last but not least are our fun garden puns:
"This garden really rose to the occasion."
"Hey garden, you're my all-thyme favorite."
"Don't take me for planted."
"I lilac my garden so much."
"Once and floral!"
"I think my garden is just dandy and I ain't lion."
"I think my soil-mate is my garden."
"Some people are cat ladies. I'm a plant lady."
"I can turn dirt into food. What's your superpower?"
"In my garden, you can't let little things bug you."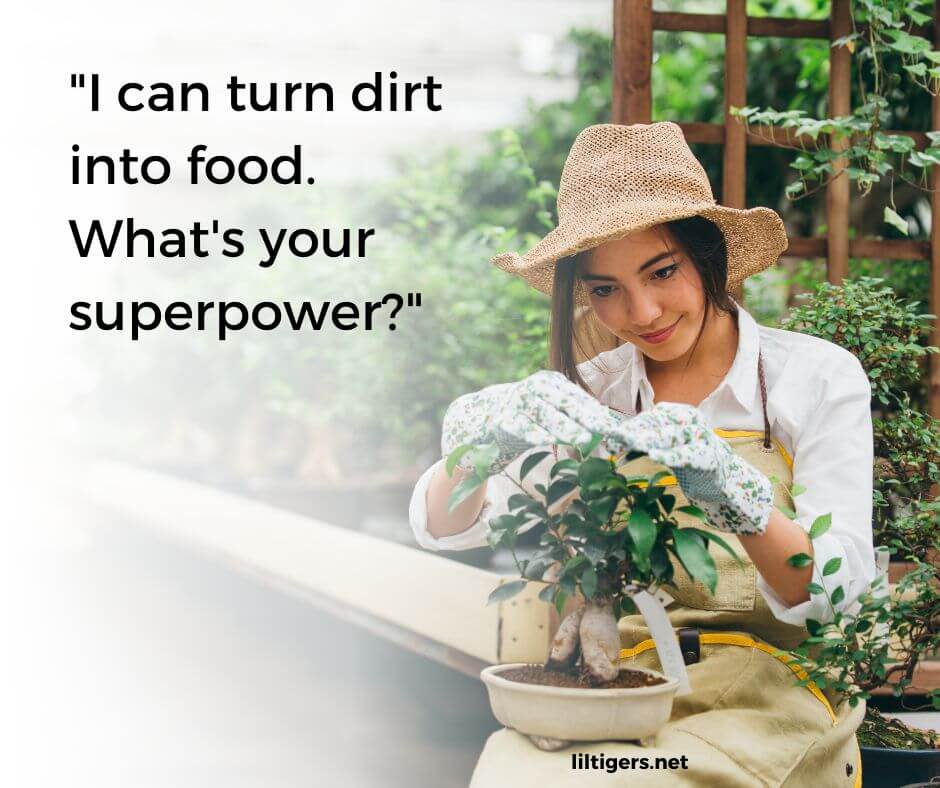 "Yes, I really do need all of these plants."

Unknown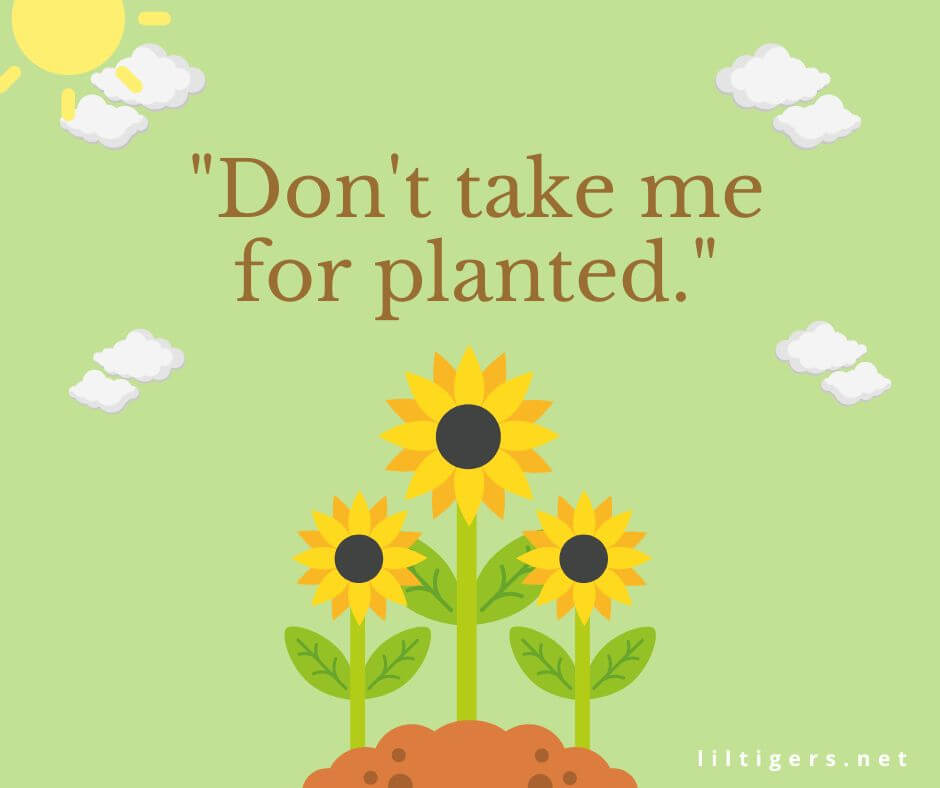 ---
All visual learners can check out our gardening quotes for adults and kids in this video as well:
More Quotes
I also like to introduce you to the following quotes for kids:
Easy Nature Activities
After you are done with our gardening quotes and sayings, go check out these fun nature activities next:
---
How to Download Your Free Printable Garden Quotes PDF
Simply sign up here for our newsletter and you will receive the link to our free printable Garten Lunch Notes.
Already a subscriber? Don't worry, no need to subscribe twice. I just updated our free printable library.
You can find our best gardening notes printable there or check our latest newsletter for more information.
If you have any questions, please do not hesitate to reach out to me. I m happy to help!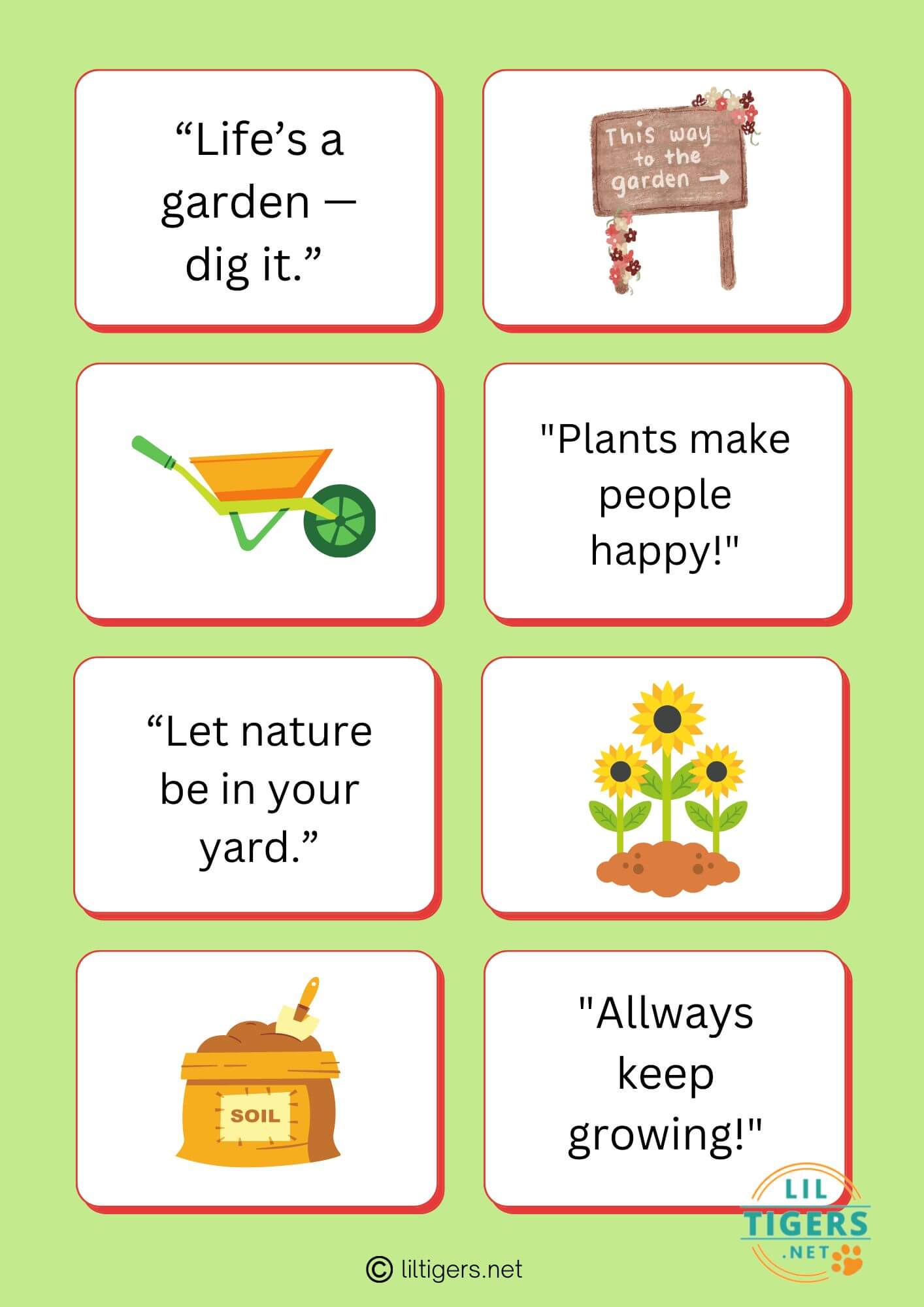 Pin Our Inspiring Gardening Quotes for Kids
Don't forget to save our 175 Beautiful Garden Quotes for Kids on Pinterest for later! Be sure you are following along with Lil Tigers here.
Now I would like to hear from you!
Which kids quotes about gardening did you choose? Did you find a better one?
Either way, let me know by leaving a comment below right now.
I love to hear from you!