Are you looking for inspirational Squirrel Quotes, Phrases, & Sayings? Then you are in the right place!
Here are 20 motivational squirrel sayings including matching squirrel ideas.
Let's have a look!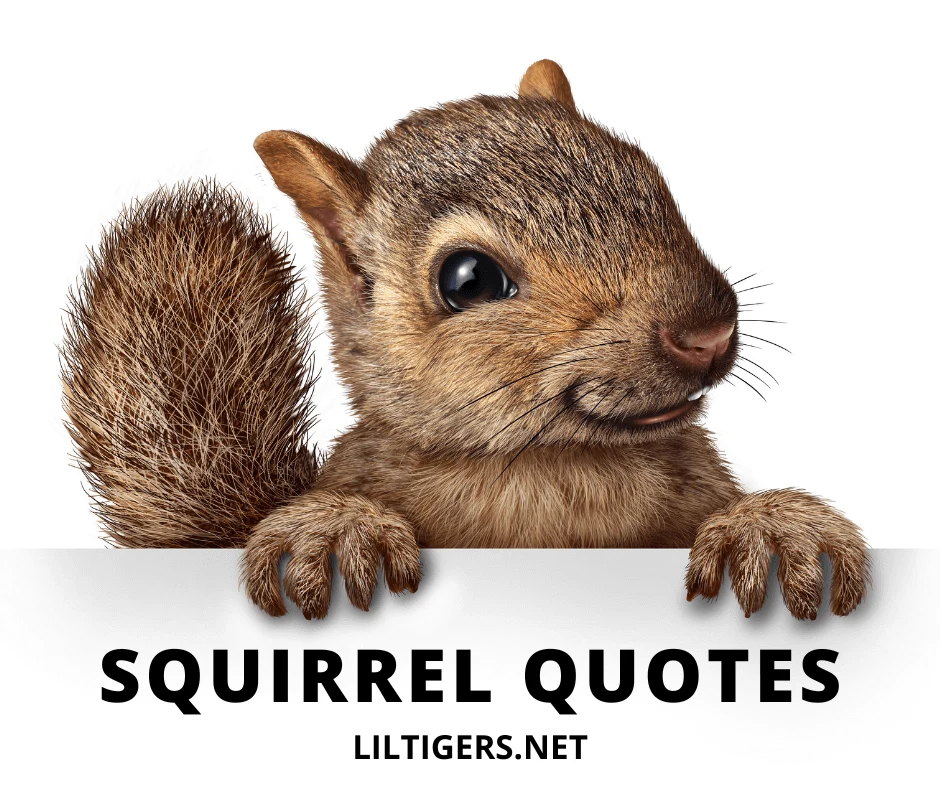 There are affiliate links in this post, meaning, at no additional cost to you, I will be compensated if you click through and take action. As an Amazon Associate, I earn from qualifying purchases.
7 Fun Squirrel Jokes for Kids
First, I want to start our motivational squirrel quotes with some funny jokes to lighten up the mood.
Here are 7 Squirrel Jokes for kids:
What did one squirrel say to the other on Valentine's Day? – "I'm nuts about you!"
What do rich squirrels eat? – Cash-ews.
How can you catch a squirrel? – Climb up a tree and act like a nut.
What did the tree say to the squirrel? – "Just leaf me alone!"
What's a squirrel's favorite seasoning? – Nutmeg.
Where do squirrels end up during hurricanes? – It depends on which direction the wind is blowing.
What's a squirrel's favorite ballet? – The Nutcracker.
9 Fun Squirrel Facts
How did you like the jokes?
Next, let's learn a little bit about these squirrely animals before we start with our funny squirrel quotes.
Squirrels are rodents.
There are about 280 different squirrel species.
Most squirrels are small and have big eyes and bushy tails.
Their large eyes help them skilfully climb trees and avoid predators.
Squirrels eat mostly nuts, fruits, and seeds.
They are born blind.
Squirrels can't fly but glide between trees for a distance of up to 90 meters (295 ft.).
Chipmunks are small squirrels with stripes.
Squirrels cheek pouches to help them carry food.
These and more facts about squirrels can be found in the following link.
Squirrel Books for Kids
Are you interested in more kid's activities, arts & crafts, and science experiments?
I have made it easy for you! Join our newsletter now and I will send you new fun for kids.
Subscribe for free
35 Motivational Squirrel Quotes, Sayings, Phrases, and Captions
After our mood is brightened with the funny squirrel jokes and facts above, it is time to look into our squirrel phrases.
Here are Quotes about Squirrels to inspire you.
Cute Squirrel Quotes
Let's start off with our cute quotes about squirrels:
I m nuts about you!
I love my squirrel.
The squirrel in me recognizes the squirrel in you.
Yes, you may admire my fluffy tail.
Keep calm and love squirrels.
"Rarely does one see a squirrel tremble." – Zadie Smith.

"Sitting under a tree in a park in the summer, listening to birds and squirrels chirping while reading a good book is priceless." – Charmaine J. Forde.
"The squirrels, leaping joyfully from branch to branch: not a single one doubts its existence."

Marty Rubin.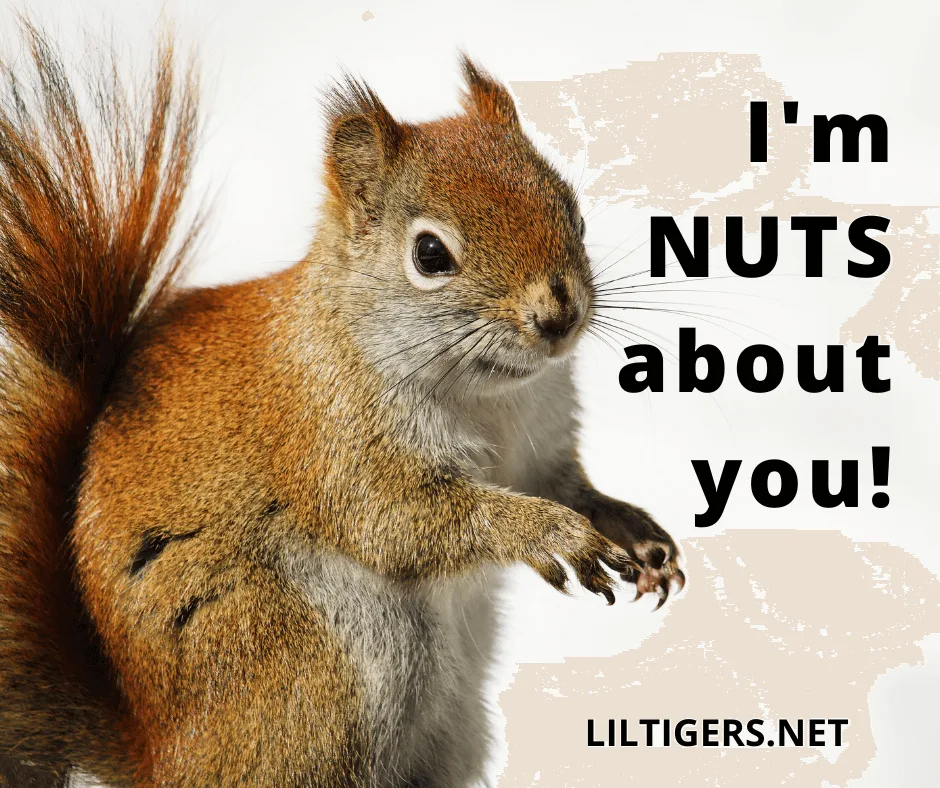 "Never did he fail to respond savagely to the chatter of the squirrels he had first met on the blasted pine." – Jack London.
"The squirrels hoard nuts and the bee gathers honey, without knowing what they do, and they are thus provided for without selfishness or disgrace." -Ralph Waldo Emerson.
"We all have this deep-rooted fascination with the wild. It's as simple as feeding squirrels and pigeons on a park bench for some people." – Nick Jans.
"Living is no laughing matter: you must live with great seriousness like a squirrel for example – I mean without looking for something beyond and above living, I mean living must be your whole occupation." – Nazim Hikmet.
"A fine lady is like squirrels-headed thing, with small airs and small notions; about as applicable to the business of life as a pair of tweezers to the clearing of a forest." – George Eliot.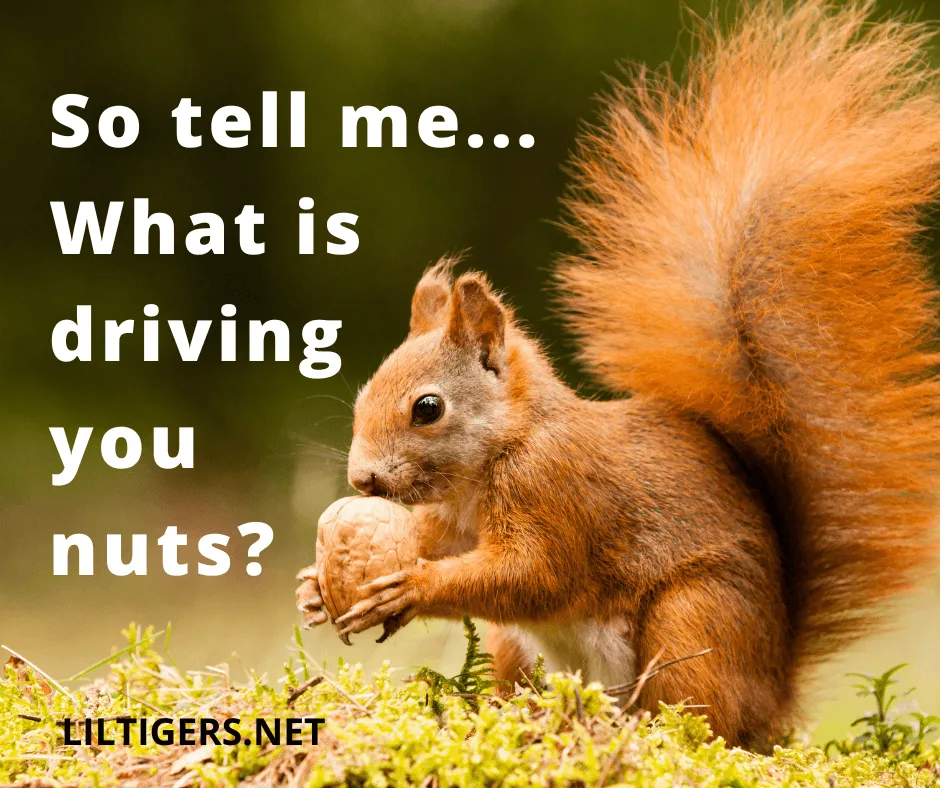 Funny Squirrel Quotes
Here are some of our funniest quotes about squirrels for you:
Did you enjoy our squirrel greetings?
Then go check out our other fun Hedgehog Captions, Apple Phrases, October Sayings, Halloween Quotes, Candy Corn Phrases, Camping Quotes, September Quotes, or Gratitude Phrases next.
"I have great instincts, like the instincts of squirrels. You know, like when you're driving and a squirrel stops in the middle of the road. " – Simon Helberg.
Humanity appreciates truth about as much as a squirrel appreciates silver. – Vernon Howard
"People and squirrels are very different. Most people will not argue that. But I find that there is one situation in which they're very similar. And that is: when I am driving towards them in my car. Then they're kind of hard to tell apart – especially if the human is kind of hairy." – Demetri Martin.
"You can't keep squirrels on the ground." – Mary Lasswell.
"The highway of life is filled with flat squirrels that couldn't make a decision." – John C Maxwell.
A squirrel is just a rat with a cuter outfit! – Sarah Jessica Parker

How comedic are squirrels? We don't have squirrels in Australia. The first time I saw a squirrel was at a meeting at Disney. – Liam Hemsworth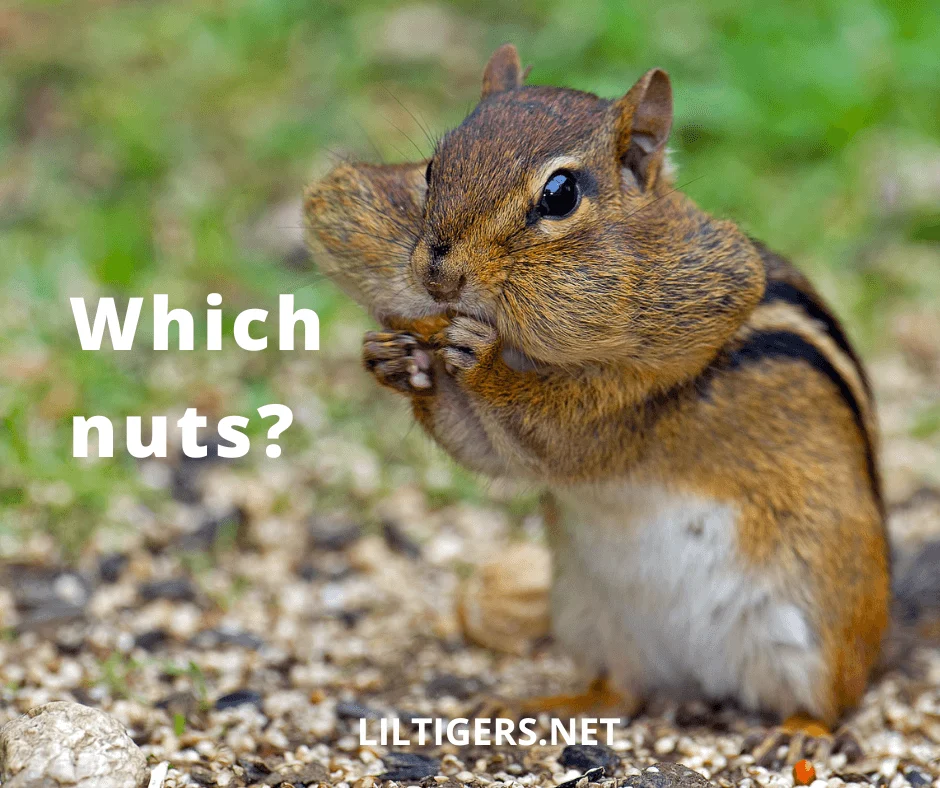 5 Easy Squirrel Ideas
Now all you need for these cute squirrel messages is the matching craft ideas.
Here is a list of 5 easy squirrel activities you can do easily at home or in your classroom:
Halloween also happens in October, so go check out our 15 Easy Halloween Card Ideas and the matching Halloween Quotes for Kids here.
---
If you are a visual learner, go check out this fun squirrel birthday card tutorial.
---
Pin Our Funny Squirrel Captions
Don't forget to save our 20 Squirrel One Liners on Pinterest for later! Be sure you are following along with Lil Tigers here.
Now I would like to hear from you!
Which squirrel message did you choose? Did you find a better one?
Either way, let me know by leaving a comment below right now.
I love to hear from you!