Are you looking for fun, non-spooky Halloween Quotes for Kids? Then you are in the right place!
Here are 25+ cute Halloween saying for kids including easy DIY Halloween card ideas.
Let's have a look!
There are affiliate links in this post, meaning, at no additional cost to you, I will be compensated if you click through and take action. As an Amazon Associate, I earn from qualifying purchases.
What Is Halloween All About?
Halloween is celebrated each year on October 31st, the night before All Saints'.
The tradition started with the ancient Celtic festival of Samhain, when people would light bonfires and wear costumes to scare off ghosts.
As Halloween evolved, by the 1920s and 1930s, Halloween turned to be a secular but more community-centered holiday.
It became a tradition to go trick or treat, watch Halloween movies, go to Halloween parties, and visit haunted houses and Halloween parades.
And with all these new traditions and activities over time, it became an event the whole family can enjoy.
Those and more facts about Halloween can be found here.
7. Fun Halloween Facts for Kids
Halloween is the most spooky holiday of the year but where does it come from and what else is there to know about Halloween?
Here are 7 Fun Halloween Facts for Kids:
Halloween is always celebrated on October 31st.
Halloween originated from Samhain.
It used to be called All Hallows' Eve.
The first Jack O'Lanterns were made out of turnips.

The name Jack O'Lantern comes from Ireland!

The colors orange and black are symbolizing Halloween.
Stephen Clarke holds the world record for the fastest time carving a pumpkin.
As we learned above Halloween is celebrated every year on October 31st., the night before All Saints Day. It originated from Samhain and used to be called All Hollows' Eve.
It was celebrated with bonfires to scare off ghosts. In the early 19 hundreds, Halloween turned into a family and community-centered festivity with costumes and trick-or-treat events and get together.
Did you know that the first Jack O'Lantern was made out of turnips?
They were and still are meant to ward off unwanted visitors and the name Jack O'Lantern comes from Ireland!
Orange and black are symbolizing Halloween. Sometimes you see green and purple as well.
The world record for the fastest time to carve a pumpkin was 16 seconds and is held by Stephen Clarke. That's amazing, isn't it? How long do you need?
Go and check out those and more fun facts about Halloween here in the link.
Halloween Books for Kids
As many of you know by now, every craft project or homeschool lesson comes with a list of matching book ideas on my blog.
Here is a list of adorable Halloween books for your children:
Did you enjoy our Halloween greetings for kids?
Then go check out our other fun fall/Halloween activities next.
How about 25 Best Halloween Activities, 15 Easy Pumpkin Art Ideas, or 15 Fun Fall Sensory Ideas.
25 Halloween Quotes for Kids
You might wonder what should you write on a Halloween card for your kids, what is a popular Halloween phrase or good Halloween quote. Do not sweat it, I got you.
Here are 25+ Non Scary and Scary Halloween quotes for Kids to celebrate this spooky holiday:
Peek a Boo!
Pumpkin Wishes and Candy Corn Kisses!
I love you more than candy corn!
You are Fang-tastic!
There is magic in the night when pumpkins glow at moonlight.
May you enjoy Halloween the most. May you scare witch and the Ghost
You are my BOO!
May you scare more and get scared less this Halloween. Happy Halloween
No Tricks, Just Treats!
Handsome Little Monster!
So Franken Cute!
The only thing we have to fear is FEAR itself.. and spiders. Happy Halloween!
May this Halloween you get more treats, without any spooky tricks.
Too cute to spook.
Little Miss Trick or Treat!
May you have a bag full of candy, bones, and loads of fun.
I put a spell on you.
Have a haunted Halloween.
Sticky fingers, tired feet, one last house: Trick or treat.
Ghosts, goblins, and jack-o-lantern at night; I sure hope your Halloween is the best type of fright. Happy Halloween!
On Halloween each monster dances in the park!
Have a fa-BOO-lous Halloween.
It is all just a bunch of hocus pocus.
I never met a pumpkin I didn't like!
What room do ghosts not need? A living room!
Spooky Halloween Quotes for Kids
Happy Halloween to you… Witch-ing you a spook-tacular one!
Have a haunted Halloween!
Black cats skitter and ghouls patter by, it is time to celebrate as All Hallow's Eve has arrived!
The witches and goblins are near!
Witches and warlocks, spirits and specters; give us some treats or prepare for some hecklers!
The only thing we have to fear is FEAR itself… and spiders. Happy Halloween!
When witches go riding, and black cats are seen, the moon laughs and whispers, 'tis near Halloween!
"It is as much fun to scare as to be scared." Vincent Price
What a night of frightful cheers! Spread some spooky queers! Halloween is here!
Wheater you dress as Garfield, Odie, or Pookie, I hope your Halloween is spectacular and spooky. Happy Halloween!
Ghosts and goblins spooks galore scary witches at your door Jack-o-Lanterns smiling bright wishing you a haunting night. Happy Halloween!
Ghosts and goblins and jack-o-lanterns at night; I sure hope your Halloween is the best type of fright!
Don't forget to get your funny sayings about Halloween as a printout below.
To find more quotes for kids go check out our Candy Corn Sayings, Jack-O-Lantern Captions, Skeleton Sayings, Fun Bat Quotes, Monster Phrases, Party Quotes, or the full list of different seasons, occasions, and holiday quotes here.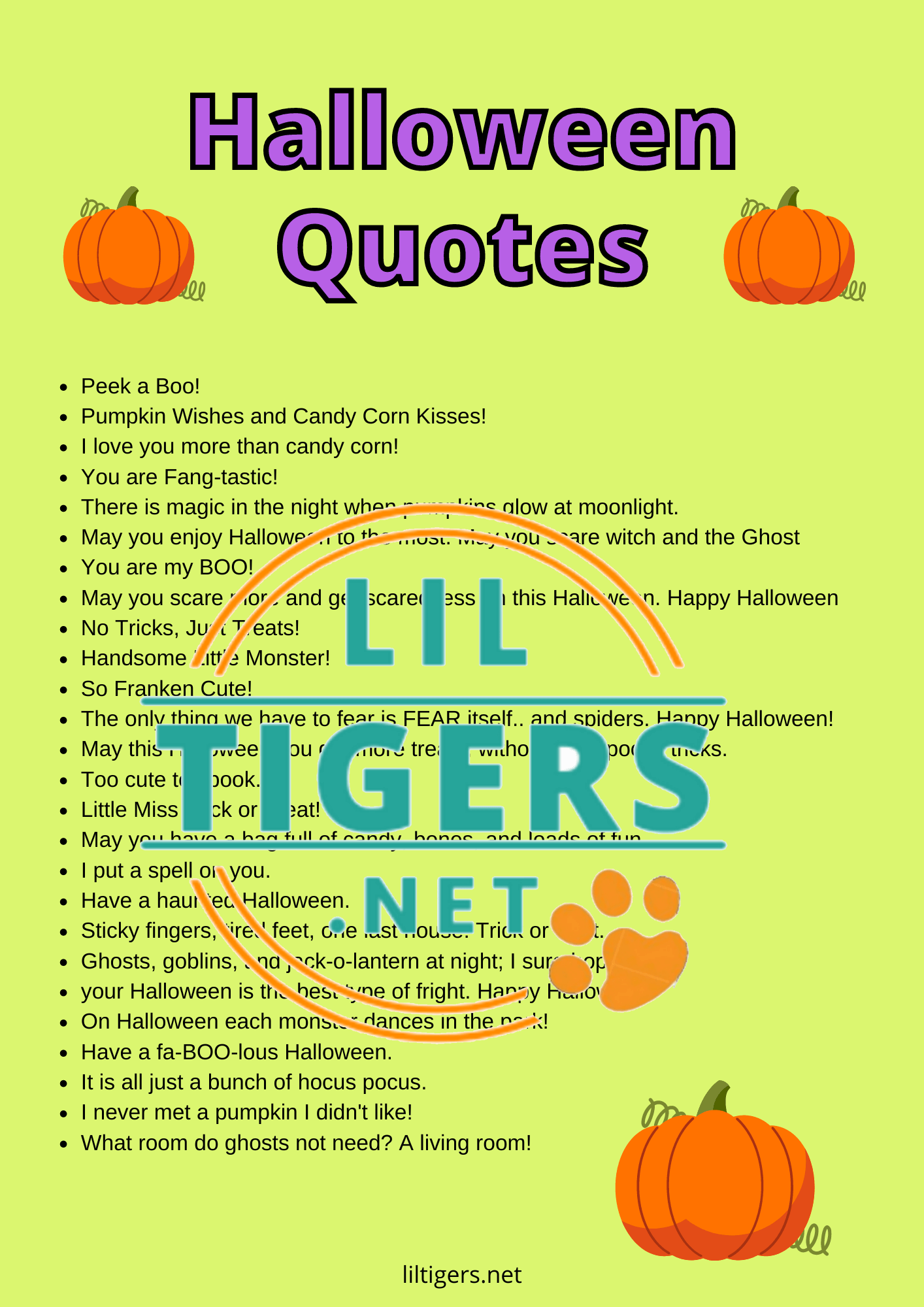 5 Easy DIY Halloween Card Ideas
Now all you need for these cute Halloween messages is the matching Halloween card.
Here is a list of 5 easy card ideas for Halloween you can make easily at home or in your classroom.
1. Simple Spider Card
With the help of just a few steps, you can create this easy DIY Halloween card at home.
Besides black and orange paper you will need a black marker and googly eyes.
You should give it a try and at one of our fun Halloween messages on the inside.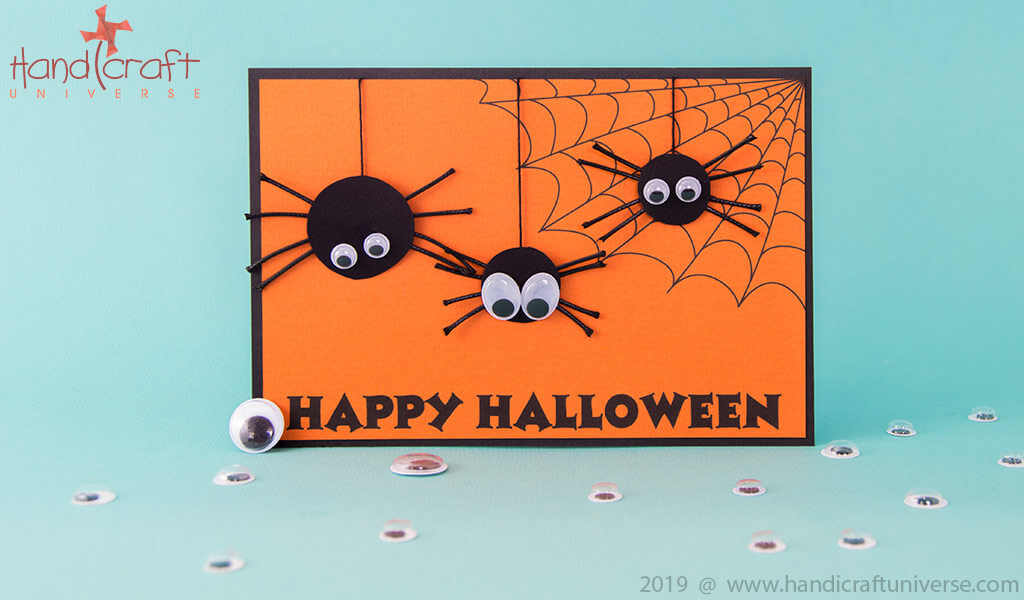 2. Halloween Spinner Card
This spinner card on the other side looks harder than it actually is to create your own card for Halloween.
Plus I love the spinning spider in the middle, you can play with it for hours.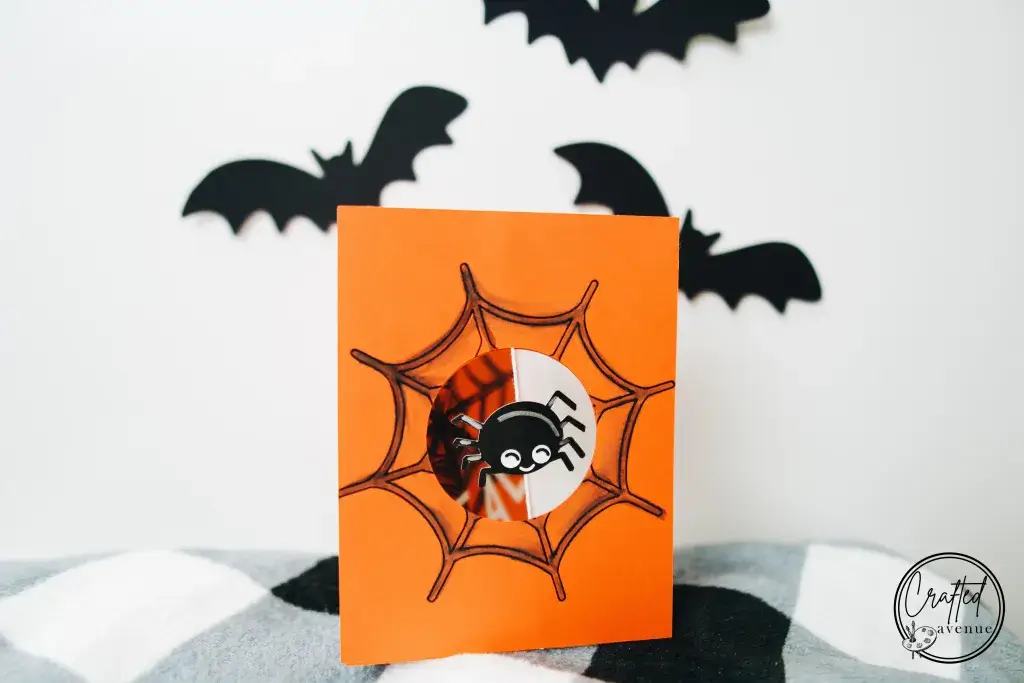 3. Blow Monster Card
Did you ever try our blow monster art project? Your kids should give it a try.
It is an easy preschool craft and with only drinking straws and watercolors, you can create the most adorable friendly monsters.
Instead of using normal white paper you can simply buy blank white crafting cards and create your monsters on the front of your card.
Inside you write your Halloween poems and messages.
4. Halloween Pop-up Card
Learn how to create a spooky spider or ghost Halloween pop-up card here.
The tutorial even comes with matching jokes. How cool is that?
5. Pencil Eraser Card
Painting with pencil erasers is so much fun.
You can create any Halloween shapes with them.
By using orange, black, green, or purple you even can stay in the Halloween color scheme and make them look spooky.
Weren't enough matching card designs for our Halloween quotes? Go check out the following 15 Spooky Halloween Card Ideas next.
In case you need more fall or Halloween quotes, go check out our Bat Sayings, Skeleton Puns, or Pumpkin Quotes for Kids next.
---
If you are a visual learner, go check out these Halloween card ideas as a video tutorial instead!
How to Download Our Halloween Quotes PDF
Simply sign up here for our newsletter and you will receive the link to our free printable quotes about Halloween.
Already a subscriber? Don't worry, no need to subscribe twice.
I just updated our free printable library. You can find our children's Halloween boo phrases there or check our latest newsletter for more information.
If you have any questions, please do not hesitate to reach out to me. I m happy to help!
---
Pin Our Best Halloween Messages for Kids
Don't forget to save our Cute Halloween sayings for kids on Pinterest for later! Be sure you are following along with Lil Tigers here.
Now I would like to hear from you!
What do you plan for Halloween and which spooky Halloween quote for kids did you like best?
Either way, let me know by leaving a comment below right now.
I love to hear from you!