Are you looking for spooky jack-o-lantern sayings for Halloween? Then you are in the right place!
Here are the 60 Best Jack-o-lantern Quotes for Kids including matching books and activities.
Let's have a look!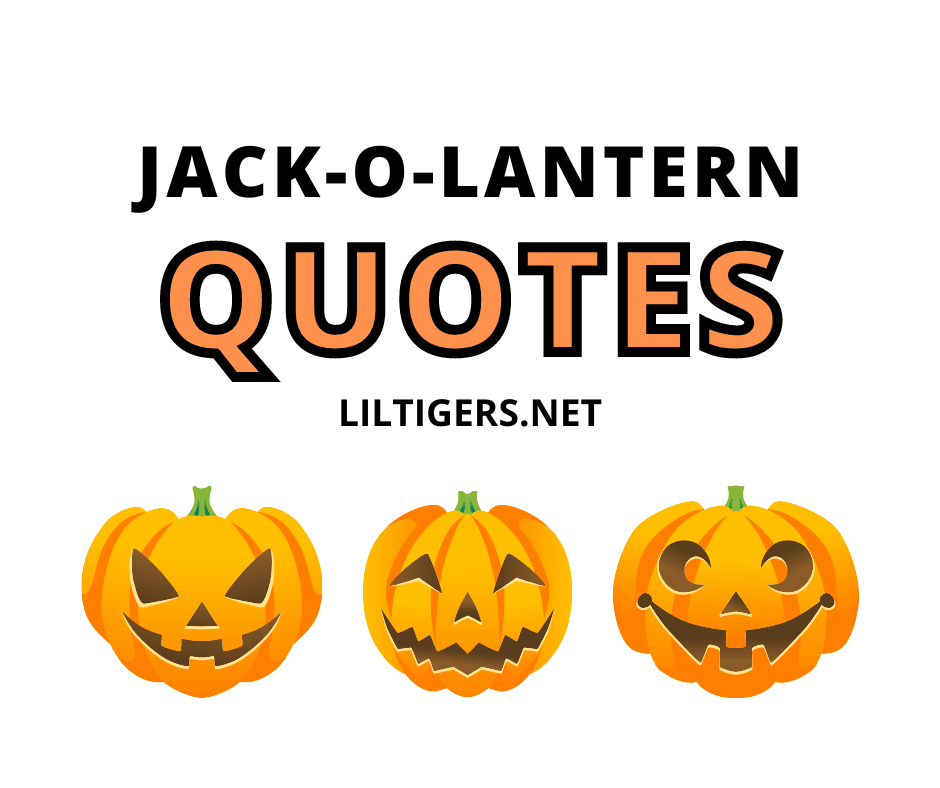 There are affiliate links in this post, meaning, at no additional cost to you, I will be compensated if you click through and take action. As an Amazon Associate, I earn from qualifying purchases.
Funny Jack O Lantern Jokes
Before we get started with our Jack-o-lantern Jokes for kids, let's have a look at them:
How do you mend a broken jack-o-lantern? With a pumpkin patch.
What do you call a fat jack-o-Lantern? A plumpkin.
Why was the jack-o-lantern sad on Halloween? Because he felt empty inside.
Did you know that the soldiers at Arlington salute their new jack-o-lanterns every Halloween? They always honor the changing of the gourd.
Why do jack-o-lanterns have stupid smiles on their faces? You'd have a stupid smile, too, if you had just had all your brains scooped out.
Why was the jack-o-lantern afraid to cross the road? It had no guts.
Why are jack-o-lanterns so smart? The candle makes them bright.
These and more jokes can be found here.
What is a Jack-o-lantern?
But what is even a jack-o-lantern?
The term jack-o'-lantern has been used in American English to describe a lantern made from a hollowed-out pumpkin since the 19th century.
The term originated in 17th-century Britain, where it was used to refer to a night watchman or a man with a lantern.
Why Carve Pumpkins?
One theory begins by associating the illumination of a carved pumpkin with a Celtic pagan practice in which turnips or other root vegetables were hollowed out.
They were carved with grotesque faces and then illuminated by coal, wooden embers, or candles as a way to ward off evil spirits.
The custom was carried on by Christians during the feast of All Hallows' Eve (October 31) and etymologically related to Halloween the evening before All Saints.
It is likely that immigrants brought this custom to America and, finding turnips scarce, used native pumpkins instead.
Find out more about jack-o-lanterns and why it became a tradition to carve pumpkins here.
Pumpkin Books for Kids
Here is a great list of fiction and non-fiction pumpkin books for kids.
Are you interested in more kid's activities, arts & crafts, and science experiments?
I have made it easy for you! Join our newsletter now and I will send you new fun for kids.
Subscribe for free
60 Best Jack-O-Lantern Quotes and Sayings
The leaves already shine in their brightest colors and carved pumpkins are lightening the night. Halloween is near!
Matching this spooky season here are clever Jack-o-lantern Phrases for you.
Our list includes jack-o-lantern sayings for kids, cute and short jack-o-lantern quotes, funny jack-o-lantern puns and captions, inspirational jack-o-lantern phrases, and famous jack-o-lantern quotes.
Let's have a look and get inspired!
Jack-o-lantern Sayings for Kids
Here are some of our favorite jack-o-lantern sayings for kids:
"Jack-o-lantern smiling bright wishing you a haunting night!"

"You don't know Jack-o'-lantern."

"This pumpkin has no guts."
"I m hollow inside."
"There is magic in the night when pumpkins glow by moonlight."
"Give 'em pumpkin to talk about."
"Only the knife knows what goes on in the heart of a pumpkin." – Simone Schwarz-Bart
"Why did everyone think the Jack-o-Lantern was evil? It had a wicked candle inside it."
"When night falls and the moon's aglow, our Jack-o'-lanterns light the show!"
"Carve a grin, make a wish, Halloween magic in every squish!"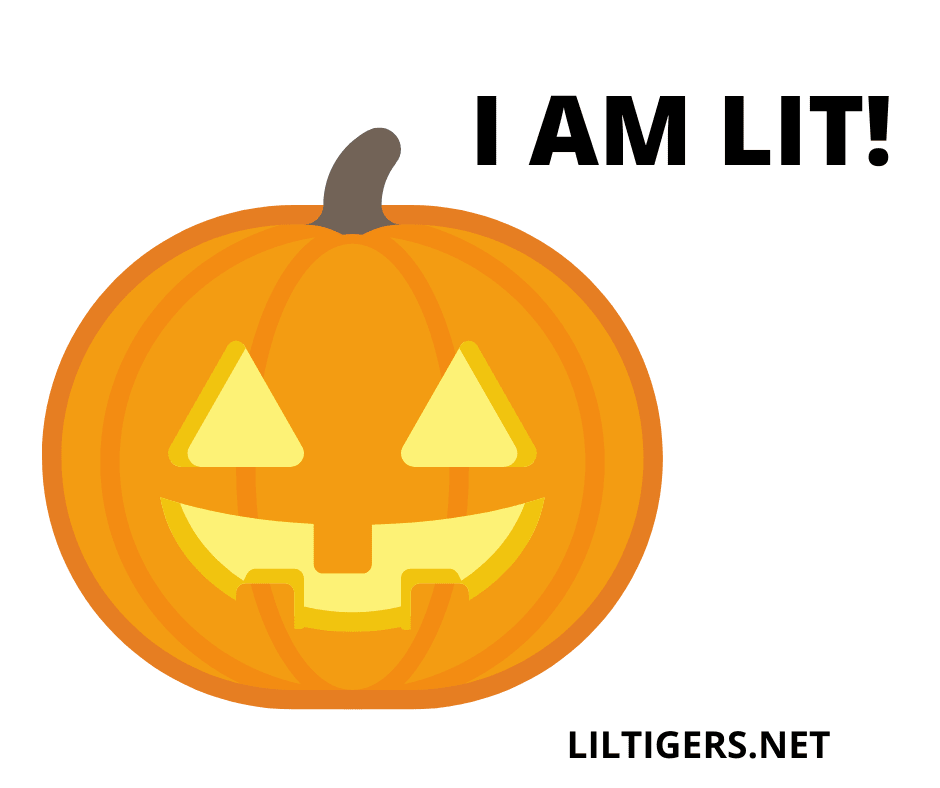 Cute Jack-o-lantern Quotes
Your kids will love the following cute jack-o-lantern quotes:
"Jack of all lanterns."
"Say hollow to my little friend."

"Be my Jack-o-lantern."

"Where do jack-o-lantern live? In the seedy part of town."

"When black cats prowl and pumpkins gleam, may luck be yours on Halloween!"
"Smashing pumpkins. Wink wink."
"When life gives you pumpkins, make pie."
"Advice from a Pumpkin: Be well-rounded."
"Carving pumpkins with you is like carving smiles into my heart." – Unknown
"Every pumpkin is just waiting to be a jack-o-lantern; every heart is just waiting to be filled with Halloween spirit." – Emily Dickinson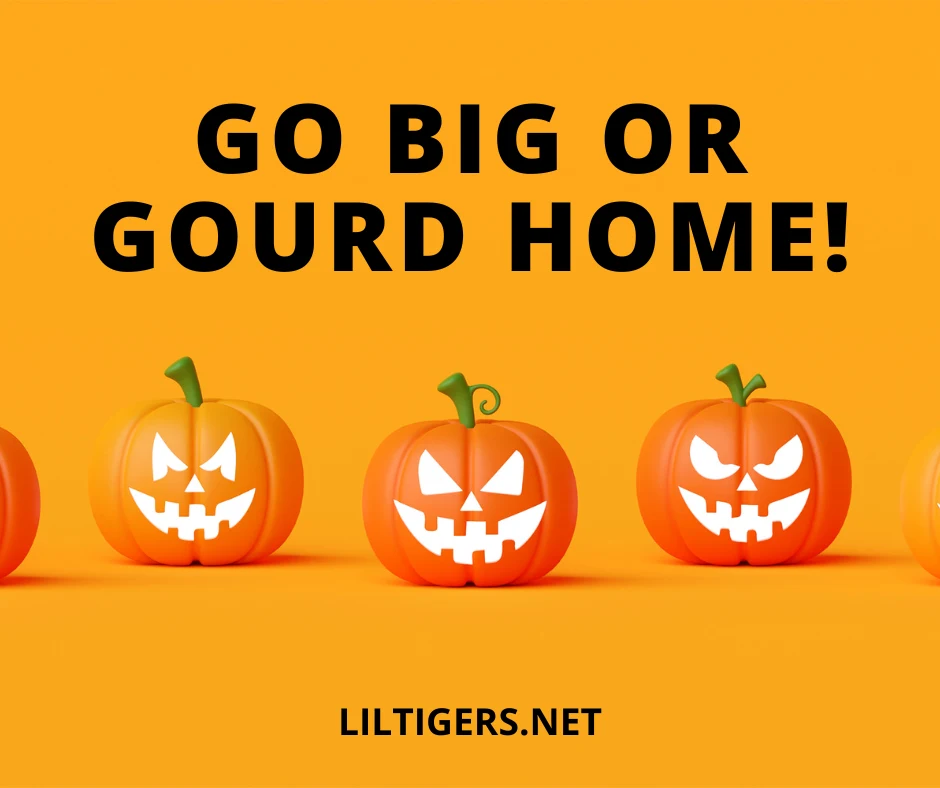 Short Jack-o-lantern Quotes
Short but sweet. Let's check out these short fall quotes:
"This Jack-o'-lantern is gonna be lit."

"Life starts with a jack-o-lantern on Halloween."

"Don't be a jerk-o-lantern."

"He's a Jack of all trades, master of none."
"Dang, you're jacked!"
"How do you mend a broken Jack-o'-lantern?" With a pumpkin patch!"
"And I Jack, the Pumpkin King, have grown so tired of the same old thing." —- Tim Burton
"Jack-o'-lantern, Jack-o'-lantern. You are such a funny sight." – Jack-o'-lantern Halloween Song
"Let's be honest: you can't celebrate fall without its leading role: pumpkin!" – Rachel Hollis
"There he is. There he is. It's the Great Pumpkin." – It's the Great Pumpkin, Charlie Brown
"Pumpkins are the only living organisms with triangle eyes."

Harland Williams
Funny Jack-o-lantern Captions and Quotes
Time to laugh with these fun jack-o-lantern captions
Who put the orange in Halloween? A Jack-o-lantern!
Why is A Jack-o-lantern just like Buddha? They both have an inner light!
How did the jack-o'-lantern quit smoking? The pumpkin patch.
Why do Jack-o-lanterns sit outside a house? They have no hands to knock on the front door!

Why is a Jack-o-lantern orange? Health and safety!

The best number for Halloween is pumpkin pi.
What kind of night lights do vampires like to use? A Jack-o-Lantern!
Why is a Jack-o-lantern orange? So you don't trip over it!
Why do Jack-o-lanterns look up to scarecrows? They have been looking up to them since they were pumpkins!
What did the Jack-o'-lantern say before the party? Let's get lit!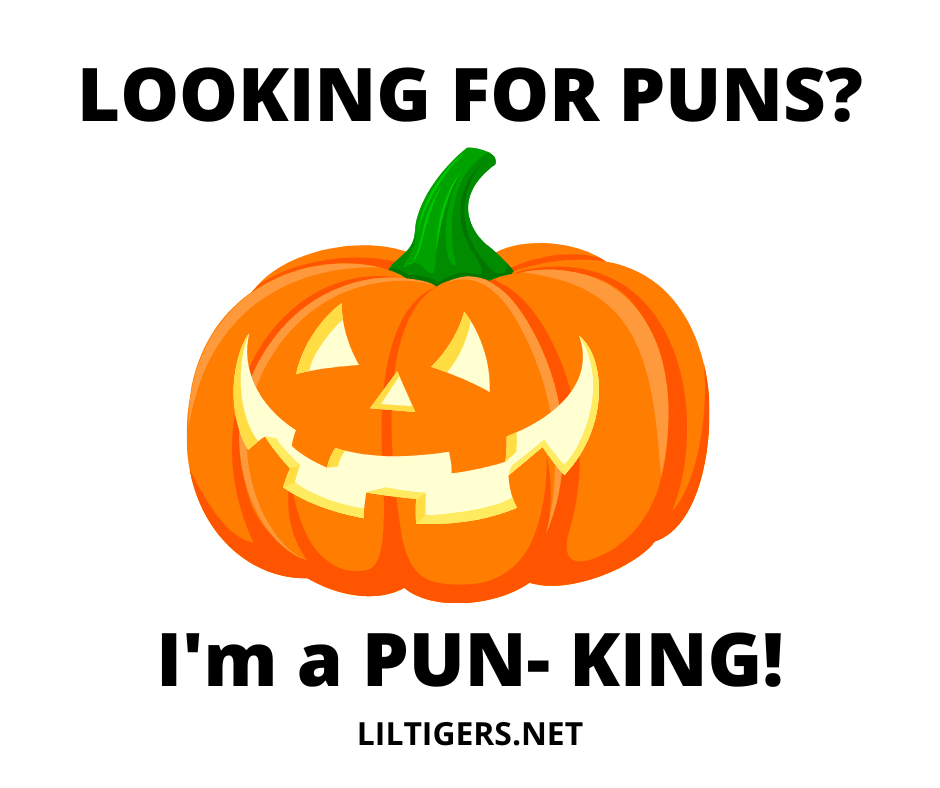 Did you enjoy our jack o lantern greetings for kids?
Then go check out our full Quote Library list next.
Jack-o-lantern Puns
In case this wasn't funny enough for you, here are some clever jack-o-lantern puns.
Why are Jack-o-lanterns so orange? A diet of orange juice!

What time does a Jack-o-lantern eat? Once you carve out its mouth!

Why is the jack-o'-lantern so forgetful? Because he is empty-headed.

Go big or gourd home!
Looking for puns? I m a PUN-KING!
I don't know I just feel empty inside.
What do you call a fat jack-o-lantern? A plumpkin
Can't wait to end up on your porch and scare your insides out of you!
Beauty is in the pie of the beholder!
"Cause I'm Peter, Peter the Pumpkin Eater And the party has just begun." – Garth Brooks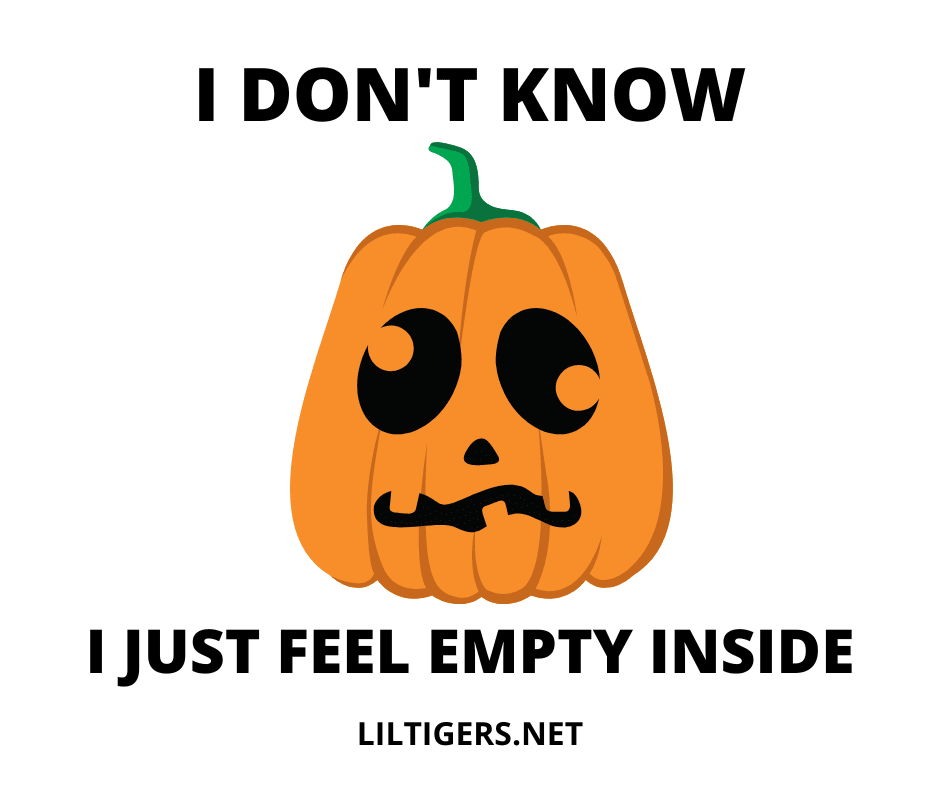 Inspirational Jack-o-lantern Sayings
Let's start off with our inspirational quotes about jack-o-lantern:
"The Jack-o-lanterns gave off a soft orange glow, flickering in the autumn breeze." -Kathryn Hills
"May Jack-o'-lanterns burning bright, Of soft and golden hue, Pierce through the future's veil and show, What fate now holds for you?" – Jerry Smith
"Jack-o-lanterns burning bright of soft and golden hue — goblins of the cornfield stark, pumpkins grinning in the dark…" – Hallowe'en postcard from the early 1900s
"Oh! fruit loved of boyhood — the old days recalling,
When wood-grapes were purpling and brown nuts were falling;
When wild, ugly faces we carved on its skin,
Glaring out through the dark, with a candle within…" – John Greenleaf Whittier
"He ran full speed up the front lawn to a brightly lit house with a big grinning jack-o'-lantern in the front window. A flickering candle inside it made its jagged eyes glow." – R.L. Stine
Hidden, under the leaves on the ground…
When the farmer gathered many a load,
Which carefully, in his barn was bestowed;
Some fed the cows — some were made into pies —
And some, Jack o'lanterns, with fiery eyes." – Eleanor W. Talbot
"Let your inner light shine through, just like a jack-o-lantern on Halloween night!" – Unknown
"Carve out your dreams, one pumpkin at a time, and watch your spirit glow." – Unknown
"In the darkest of nights, be a beacon of hope, like a jack-o-lantern's warm, welcoming glow."
"Life is a lot like carving a pumpkin; sometimes, you just have to scoop out the mess to reveal the beauty within."
"Pumpkin light, Pumpkin bright, first pumpkin I see tonight. Wish I may, wish I might, wish I had a prizewinner tonight."

Charlie Brown's Great Pumpkin
Famous Jack-o-lantern Quotes
You will also like our famous quotes about jack-o-lanterns. Go check them out here:
"There were things that Pumpkin Head—now not Pumpkin Head anymore—had to do to be a girl. He had to be careful how he dressed, and how he acted. He had to be careful how he talked, and he always had to be calm. He was very frightened of what would happen if he didn't stay calm. For his face was really just a wonderful plastic one. The real Pumpkin Head was still inside, locked in, waiting to come out." – Al Sarrantonio

"As the warm glow flickers from jack-o-lanterns, dark secrets are brought to light. Terrifying creatures rule the night and strike fear into eager souls who relish the unknown." – James E. Garvey
"If you're ever wondering what to wear, just dress like a pumpkin, you're good to go." — Devendra Banhart
"When the twilight comes down on all Hallowe'en
Then we fly on the wings of the night
Overland, through the streets, in each home, we are seen,
And are known everywhere by our light!
For our eyes are like stars and our noses aglow,
With the candles that make us so bright
And our mouths are so jagged none can but know
We are Jack-o'-Lanterns all right!"
– Jane A. Stewart
"Every leaf speaks bliss to me, fluttering from the autumn tree." – Emily Bronte
"Double, double toil and trouble; Fire burn and caldron bubble." – William Shakespeare (from "Macbeth")
"When witches go riding, and black cats are seen, the moon laughs and whispers, 'tis near Halloween." – Unknown
"Autumn is a second spring when every leaf is a flower." – Albert Camus
"There is magic in the night when pumpkins glow by moonlight." – Unknown
"Halloween was confusing. All my life, my parents said, 'Never take candy from strangers.' And then they dressed me up and said, 'Go beg for it.'" – Rita Rudner
"The Jack-o'-lantern follows me with tapered, glowing eyes. His yellow teeth grin evilly. His cackle I despise."

Richelle E. Goodrich
Please be aware that all Jack-o-Lantern quotes without an author are from unknown sources.
More Quotes
I like to introduce you to the following Halloween and fall quotes for kids:
Easy DIY Halloween and Fall Activities
After you are done with these spooky jack-o-lantern quotes and sayings, go check out these fun Halloween and fall activities next:
If you are a visual learner, also go check out this matching DIY jack-o-lantern card video tutorial for our jack-o-lantern sayings for kids.
---
Pin Our Quotes on Jack o Lanterns
Don't forget to save our Top 60 Jack-o-lantern Quotes for Kids on Pinterest for later! Be sure you are following along with Lil Tigers.
Now I would like to hear from you!
Which saying about jack-o-lanterns did you choose? Did you find a better one?
Either way, let me know by leaving a comment below right now.
I love to hear from you!