Our Free Printable Candy Corn Templates are ideal for coloring, crafting, classroom projects, and lesson plans.
They include small, medium, and large candy corn outlines. Do not forget to check out our matching candy corn craft ideas below.
Let's dive right in and get inspired!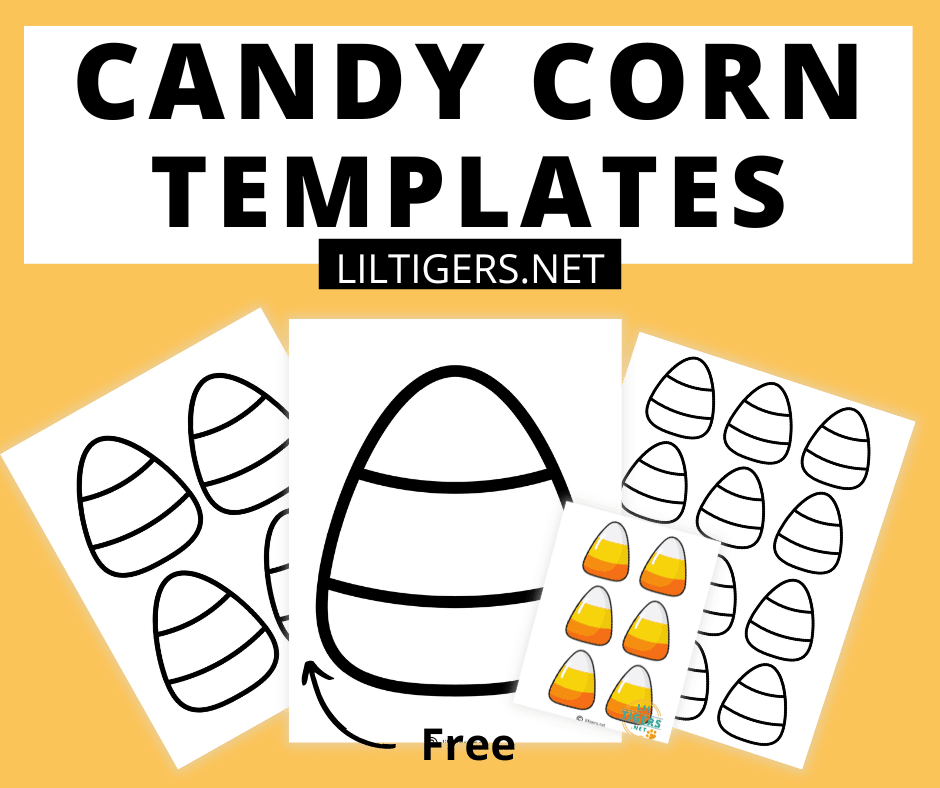 There are affiliate links in this post, meaning, at no additional cost to you, I will be compensated if you click through and take action. As an Amazon Associate, I earn from qualifying purchases.
8 Fun Candy Corn Facts
Before we get started with our simple candy corn printables, let's learn a little bit about this delicious candy.
More than 35 million pounds or roughly 9 billion kernels of candy corn are sold each year, according to the National Confectioners Association.
Candy corn is fat-free.
Each kernel of candy corn has its own unique shape.
Candy corn is technically neither candy nor corn.
Each kernel of candy corn is about 7 calories.
The Goelitz Candy Company (now the Jelly Belly Candy Company) has been producing candy corn since 1898.

Candy corn is made with gelatin, a protein made from animals, and also contains traces of animal hides and bones.

If unopened, packaged candy corn has a shelf life of about nine months.
These and more facts about candy corn can be found in the following link
Candy Corn and Halloween Books for Kids
Free Candy Corn Templates in Small, Medium, and Large
These candy corn outlines come in different sizes and in colors.
They are perfect for coloring, crafting, decorating, or classroom activities.
They are especially popular when it comes to the Halloween season.
At the end of this article, I will show you a couple of fun candy corn crafts to use for our templates.
Enjoy!
Candy Corn Cut Out Materials
But before we get started with all these fun candy corn craft template ideas, let's have a look at what we will need for our craft projects.
Here is a list of supplies you will need for our printable candy corn crafts.
Do you need advice on How to Introduce Crafting to your Preschooler? Then read our 10 tips that work next.
10 Easy Candy Corn Template Ideas
C Is for Candy Corn

Candy Corn Man
Candy Corn Coloring Pages
DIY Candy Corn Stencils
Candy Corn Craft
Candy Corn Sensory Play
Candy Corn Math
Journal Decor
DIY Candy Corn Cards and Invitations
Candy Corn Template Decoration
1. C Is for Candy Corn
Add our easy candy corn templates to your preschool alphabet lesson plan. Use them while learning the letter C.
First, print out some upper and lowercase letter C worksheets.
After your student are done with their worksheets, make sure to include an easy candy corn craft for the C sound.
Tip: Make sure to study each letter individually so your students can form memories for each letter to memorize them easier.
2. Candy Corn Man
Why not craft a candy corn man?
All you need to do is color and cut out your candy corn outline template.
Then you can either draw eyes on it directly or add googly eyes. Maybe you even like to cut him out some hands and feeds.
3. Candy Corn Coloring Pages
You can even easily adjust the difficulty level for older children. Simply give them a smaller candy corn outline or let them use a different painting technique that challenges them.
We for example love Salt Painting. Have you tried it yet? It is really fun and will give your candy corn a nice 3D look to it!
Another great way is using the Bubble Wrap Technique, Painting with Pom Poms, or Straw Blow Art.
If you are looking for other painting techniques go check our full list of 25 Easy Painting Ideas here.
4. DIY Candy Corn Stencils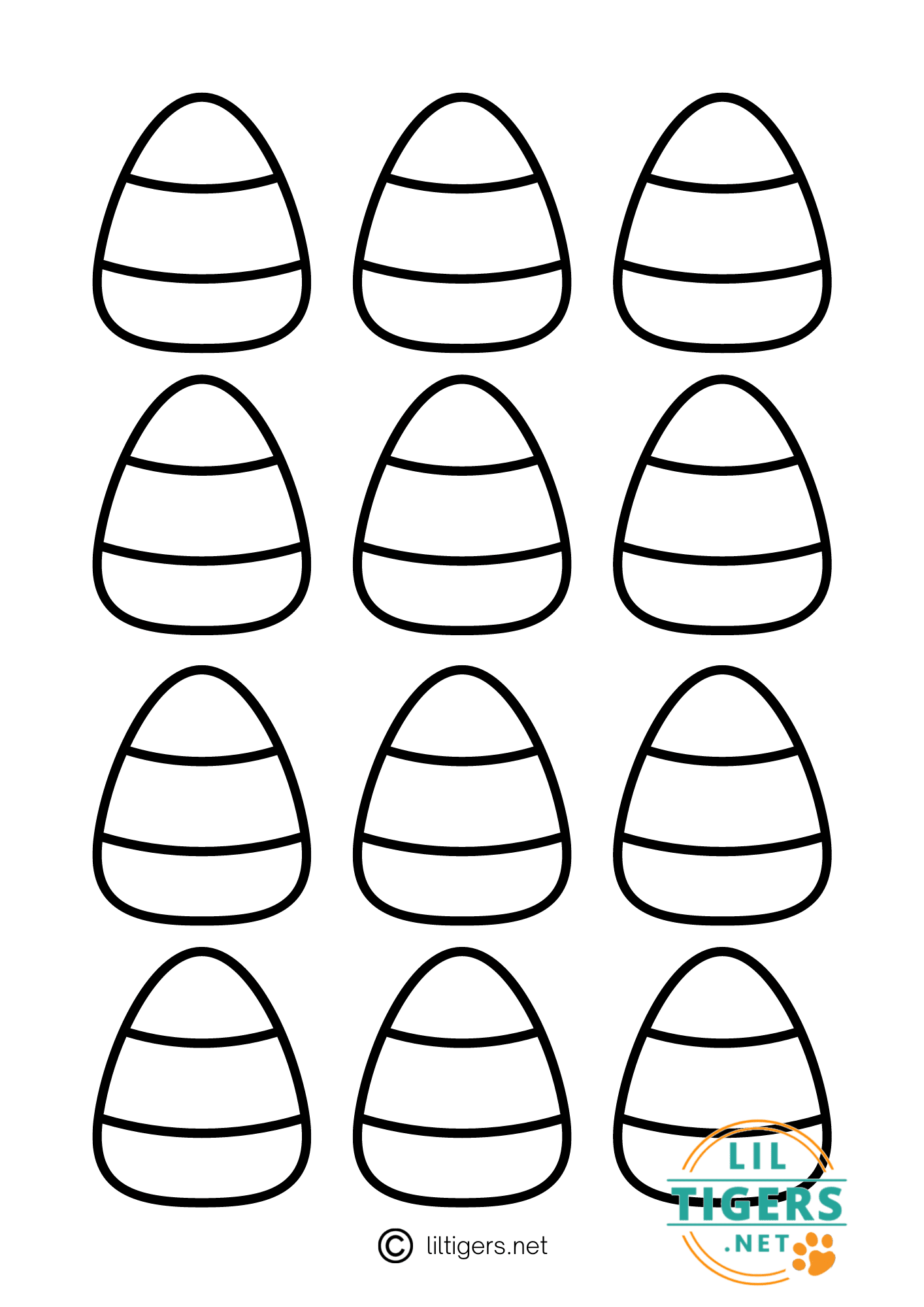 5. Candy Corn Template Craft
Instead of just coloring your candy corn templates why not craft with construction paper, pom poms, or yarn?
Get your craft supplies in white, orange, and yellow colors, and let your kids decorate them with them.
Here is an example of a fun Yarn Wrapping Project and Construction Paper Craft.
6. Candy Corn Sensory Play
Candy corn is not only delicious to eat but also to play with.
Get a small tray, add candy corn, small Halloween items, or scoop toys.
Ready is your candy corn sensory bin.
Tip: Just make sure your children do not eat too many of them while playing.
7. Candy Corn Math Game
Learning counting with candy corn can be really fun.
Use your number cards and get a bag full of candy corns.
Now let your children count the right amount shown on the card.
As a treat for the right answer maybe they are even allowed to eat some.
8. Journal Decore
After you are done with your candy corn arts and crafts projects, why not turn in your candy corn pattern printables and use them for your art journal or photo album?
You can always craft more creative shapes and use them as backgrounds, patterns, or focal points in your journals.
They will look especially great during autumn for sure!
9. DIY Candy Corn Cards and Invitations
Do you have a Halloween event or birthday party planned?
Simply color our candy corn outlines and make adorable party invitations out of them.
Just make sure to use thicker paper for your invitations.
Our candy corn patterns are not only good for invitations but also make adorable Halloween cards.
Here are some cute candy corn quotes you can use for our candy corn templates:
"I love candy corn! I eat it till I get a headache! Mom! Mom! Mom!"
"And together they eat of the candy corn. And it was good." – Mohja Kohf
"How to eat candy corn? 1. eat one 2. remember candy corn sucks 3. leave the rest."
"I'd rather walk barefoot on a floor full of legos than munch on a handful of candy corn."
"We elves try to stick to the four main food groups candy, candy canes, candy corn, and syrup."
"All I've had to eat for the past six days are gummy beans, jelly beans, and candy corn. God, I wish I had your discipline."
See the full list of Candy Corn Captions or Halloween Quotes for Kids here.
Every party also needs some cool games.
In case you are still looking for fun games for your event, then check out these cool Fall Festival Games or Halloween Party Activities.
They are a perfect match and can be set up easily in your backyard or next school event.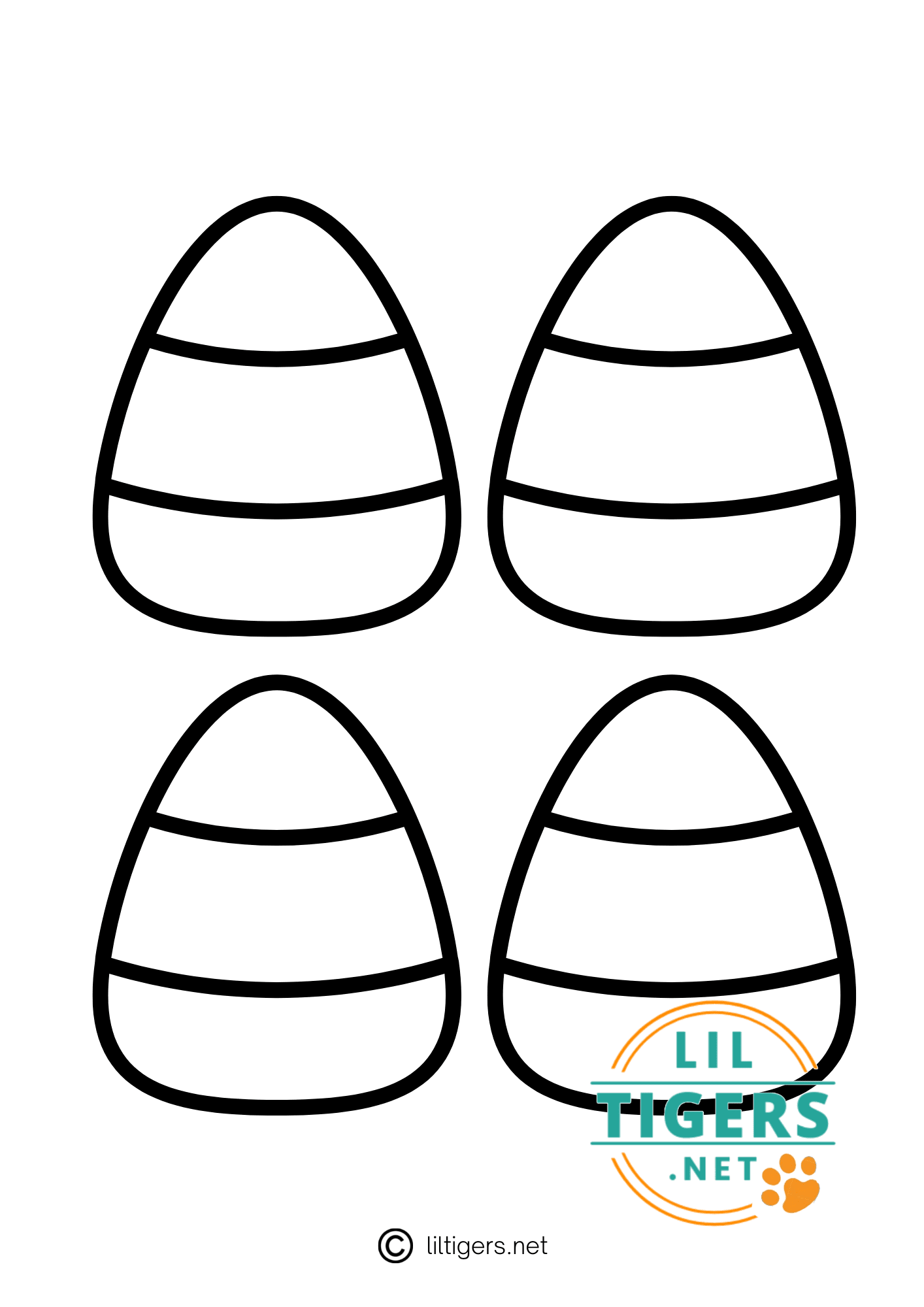 10. Candy Corn Template Decoration
After you are done making your candy corn invitations it is time to decorate accordingly for your gathering.
Our candy corn cut out printables are especially popular for fall and Halloween events.
You can turn our candy corn outlines into a garland, and decorate your walls, windows, doors, or party tables with them.
Use them for table place cards, and nametags for your party favors, or add them to your snack or gift boxes.
The possibilities for our candy corn printables are endless!
Tip: If you do not have time to craft and color simply use our colored candy corn templates to decorate!
---
How to Download Your Free Candy Corn Printables
Simply sign up here for our newsletter and you will receive the link to our free candy corn template pdf.
Already a subscriber? Don't worry, no need to subscribe twice.
I just updated our free printable library. You can find our candy corn outline printables and coloring pages there or check our newest newsletter for more information.
If you have any questions, please do not hesitate to reach out to me. I'm happy to help!
Pin These Fun Candy Corn Templates
Don't forget to save our outline printable candy corn on Pinterest for later!
Be sure you are following along with Lil Tigers.
Now it is your turn.
How did your kids enjoy their candy corn craft templates?
Either way, let me know by leaving a comment below right now.
I love to hear from you!