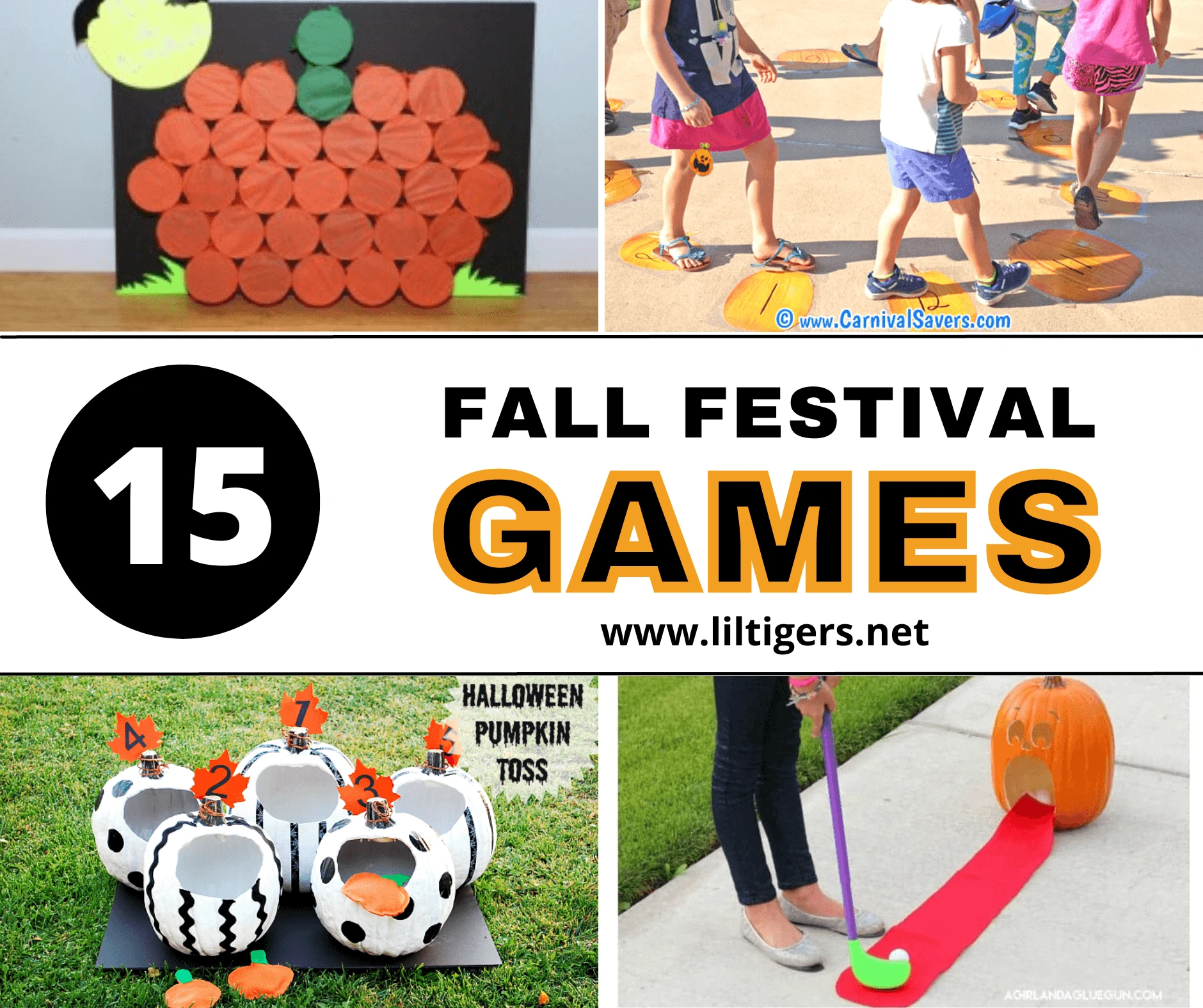 There are affiliate links in this post, meaning, at no additional cost to you, I will be compensated if you click through and take action. As an Amazon Associate, I earn from qualifying purchases.
Before we start with our fall festival games and activities for families and kids, let's find out first what fall festivals are all about:
What Is a Fall Festival?
A fall festival is a gathering or event to celebrate fall in all its beauty.
Think about carving pumpkins, apple cider, fun fall games, pumpkin patches, hayrides, and more.
Where Did Fall Festival Come From?
The fall festival celebration originated in China.
It was derived from the custom of Chinese emperors worshipping the moon during the Zhou Dynasty.
The Mid-autumn Festival first appeared as a festival during the Song dynasty.
Now it is even a Chinese public holiday and has been China's second-most-important festival.
These and more facts about the autumn festival history can be found here.
What Do You Do at a Fall Festival?
At fall festivals you can find all kinds of fun games and activities for the whole family to enjoy and win prizes.
In case you are thinking about hosting your own fall festival, center your gathering around fun fall activities like:
Pie eating contest
Potato sack races
Apple bobbing
Ring toss
Face painting
Hayrides
Do It Yourself Fall Festival Game Ideas
Do you plan on having your own fall festival event at home or at your school? Then you will love the following fall game ideas.
They are great for any fall festival gathering or fall birthday party.
Also, don't forget to check out our fall festival decoration and prize ideas at the end, to round up your event.
Let's get started!
Did you enjoy our fun party game ideas for your fall festival?
Then check out our popular Changing Leaves Activities, Farm Animal Projects, Hello November Quotes, or Fun Friday Activities for Kids.
Fall Festival Games for Kids
I would like to share the following fall festival games for children with you.
But don't be surprised some of these work just as well for grown-ups.
Family Fall Festival Games
There are so many fun activities your family can do at fall festivals. We love playing games at fall festivals and winning prizes.
Fall Festival Family Ideas
Fall Festival Activities
If these weren't enough fall festival games for you, go check out the following list of fall festival activities next:
These Pumpkin Patch Activities and Halloween Games would work great as well!
More Fall Festival Ideas
Here you will find free fall festival printables and food ideas to round up your family event!
Fall Festival Craft Table
As promised above here are some more craft activities for your fall festival:
If these weren't enough fall festival craft ideas for you, go check out our 15 Amazing Fall Activities next.
If these weren't enough, go check out our 100 Easy October Crafts.
Fall Festival Books for Kids
Here are some great book recommendations for your fall festival book corner:
Celebrate fall with this story about sweet and charming Fletcher the fox!
Fall Festival Decorations
When you go to big pumpkin patches or fall festivals they always decorate so nicely.
But do not worry your autumn festival can look just as great.
Here are some fun fall festival decorating ideas for your backyard or school event:
Fall Festival Game Prizes
So now that we have a lot of activity ideas for your fall festival at school or at home it is time to talk about prizes.
Because let's face it nothing makes it more fun than to be able to win prizes.
Here are a few items we will get for our next fall festival gathering:
---
Did you enjoy our fall festival party ideas? Here are more easy fall festival games for you to get inspired!
Pin these Fun Ideas for Fall Festival Games
Don't forget to save these 20+ Fall Festival Party Game Ideas on Pinterest for later! Be sure you are following along with Lil Tigers here.