Our Free Printable Fall Bingo Game is a perfect family activity during rainy fall days. Simply download our bingo pattern pdf below and enjoy an afternoon full of autumn fun.
Let's check out how it works.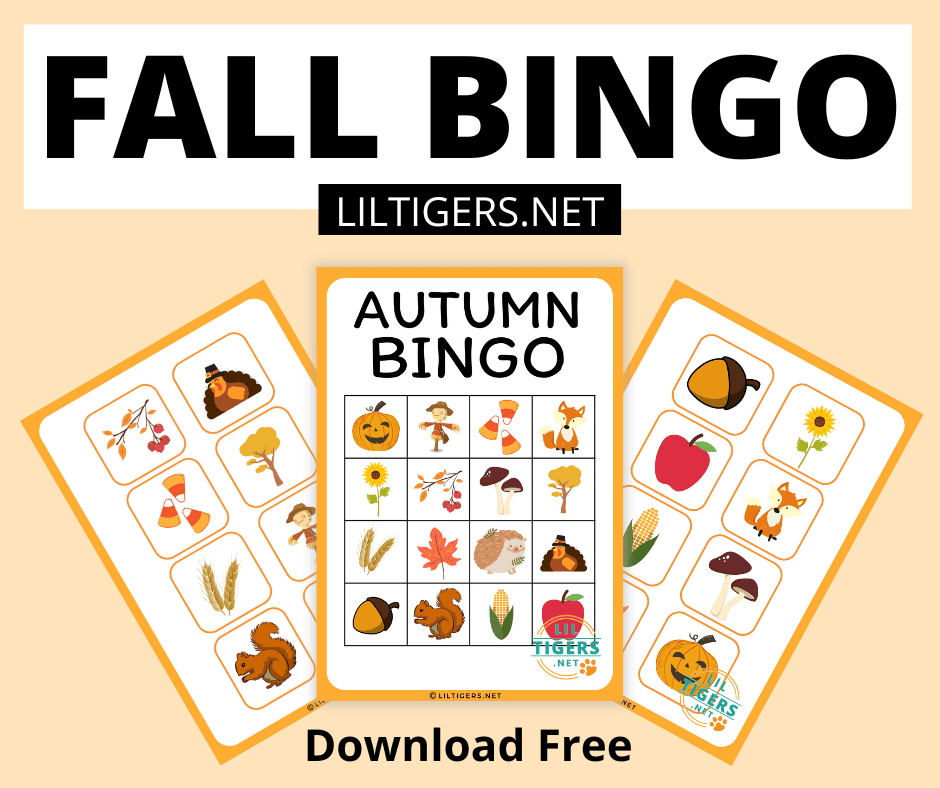 There are affiliate links in this post, meaning, at no additional cost to you, I will be compensated if you click through and take action. As an Amazon Associate I earn from qualifying purchases.
Fun Fall Facts
Do you like to share some fun autumn facts with your kids? Here are 7 interesting facts about fall:
The word, "autumn" can be traced back to the ancient Etruscan word "autu", which means passing of the year.
Did you know there is less sunlight during the fall, making the days feel shorter?
The trees that lose their leaves during fall are called "deciduous trees".
Most acorns fall from oak trees during autumn, in an effort to grow more trees for the new year by spring.
A lot of animals are in search of food during fall. They prepare for hibernation in the winter.
When leaves change colors during the fall, they're actually turning into their "real" colors. During spring and summer, the chlorophyll changes the leaves' colors to green!
People who live close to the equator don't experience autumn since the temperature remains consistently warm!
These and more facts about fall can be here.
Fall Books For Kids
After we found some fascinating facts about autumn why not include some fun fall stories or read more about fall. Here are some cool books about fall for kids. Happy Reading!
Did you enjoy our Free Bingo Sheets for Fall? Then take a look at one of our other fun fall activities. Try our Halloween Bingo, Thanksgiving Bingo, Scarecrow Crafts, and Hedgehog Arts and Crafts.
Benefits of Playing Bingo
Playing bingo is an especially popular game in the UK and USA. With it comes several benefits for young and old, including:
Provides mental exercise
Improves fine motor skills
Increases hand-eye coordination

Prevents boredom

Source of socialization
Encourage better physical health
Bingo is a great way to exercise your brain. While playing bingo players work on their number recognition or identify pictures. People who play also need to think about patterns that are required to win.
While each player has to mark the called number or image it improves their hand-eye coordination while working on their fine motor skills at the same time.
Playing games prevents boredom and depression. Playing bingo on a regular basis keeps you entertained, socializes, and is something to look forward to every week. Such hobbies can make you relaxed and prevent depression.
Which all leads to overall better physical health!
Free Fall Bingo Game
Playing bingo is so much fun. Did you know that most people played at least once bingo in their lives?
Have you never played before? Fall is the perfect season to start with it. Especially when it is rainy and cold outside. Print your fall game boards and start playing!
Fall Bingo Patterns
Autumn is full of bright colors. If you go for a fun walk you can enjoy the trees full of orange, yellow and red leaves. But fall is not only full of colors it also reminds us of pumpkins, apples, candy corn, and other objects we associate with autumn.
I created 10 different Fall Bingo Pattern Game Boards for you that include fall objects. This gives you the opportunity to play our fall game together with your family and friends. It even can be used as fall bingo for adults.
Fall Bingo Materials
Here are all the materials you will need to play with our printable fall bingo game:
Free Printable Fall Bingo Boards and Cards (found below)
pencils
scissors
How do you play Autumn Bingo
But you might wonder now, how do you play fall bingo. Let me tell you autumn bingo is not any different from any other bingo game. They have the same rules.
You are not familiar with the bingo game yet? Do not worry, let me explain the Bingo Rules to you:
Print out your fall bingo templates.
Take your scissor and cut out your free fall bingo call-out cards.
Give each player one free autumn bingo card.
Now designate a caller.
Afterward, place all call-out cards in a basket, bucket, or bag and mix them.
Next, the caller draws a card and shows it to the players.
Each player is marking the selected card on his Bingo Card Template with his marker.
The player shouts "BINGO!" when they get a full line of four pictures (vertical, horizontal, or diagonal).
Fall Bingo Card Ideas
Smaller children can play this game as well. Simply help them find the fall pictures.
Do-a-dot Markers are perfect for this fun fall bingo game. Use them instead of markers.
You do not like our pictures? Do not worry, I made a blank bingo template for you. Simply choose your own pictures or words for it.
Use our fall cards as a scavenger hunt. The next time you go on a walk through your neighborhood take one fall bingo card with you and cross every picture you saw with a marker. Can you find everything?
Do you like to play this bing game every fall? Then make sure to laminate the fall bingo calling cards and game boards. This way you can use them over and over again. Simply use a foil pen or one of the fun options below to mark the called fall bingo pictures.
How Do You Make Bingo Funny
After a while playing bingo can get old. Here are three cool ideas on how to make bingo interesting again:
Use poker chips instead of markers
Use seasonal candy instead of markers, such as popular candy corns
Get small prices for the winners
How to Download Your Free Autumn Bingo Cards
Simply sign up here for our newsletter and you will receive the link to our free fall bingo free printables.
Already a subscriber? Don't worry, no need to subscribe twice.
I just updated our free printable library. You can find our fall bingo templates there or check our latest newsletter for more information.
If you have any questions, please do not hesitate to reach out to me. I m happy to help!
Pin These Free Printable Fall Bingo Cards
Now don't forget to save our fall bingo templates on Pinterest for later! Be sure you are following along with Lil Tigers here.
Now it is your turn.
How did your kids enjoy our downloadable Fall Bingo Cards?
Either way, let me know by leaving a comment below right now.
I love to hear from you!