Our Free Printable Thanksgiving Bingo Game is a perfect family activity on Thanksgiving day. Simply download our Turkey bingo pattern pdf below and enjoy an afternoon full of fun. Let's find out how it works.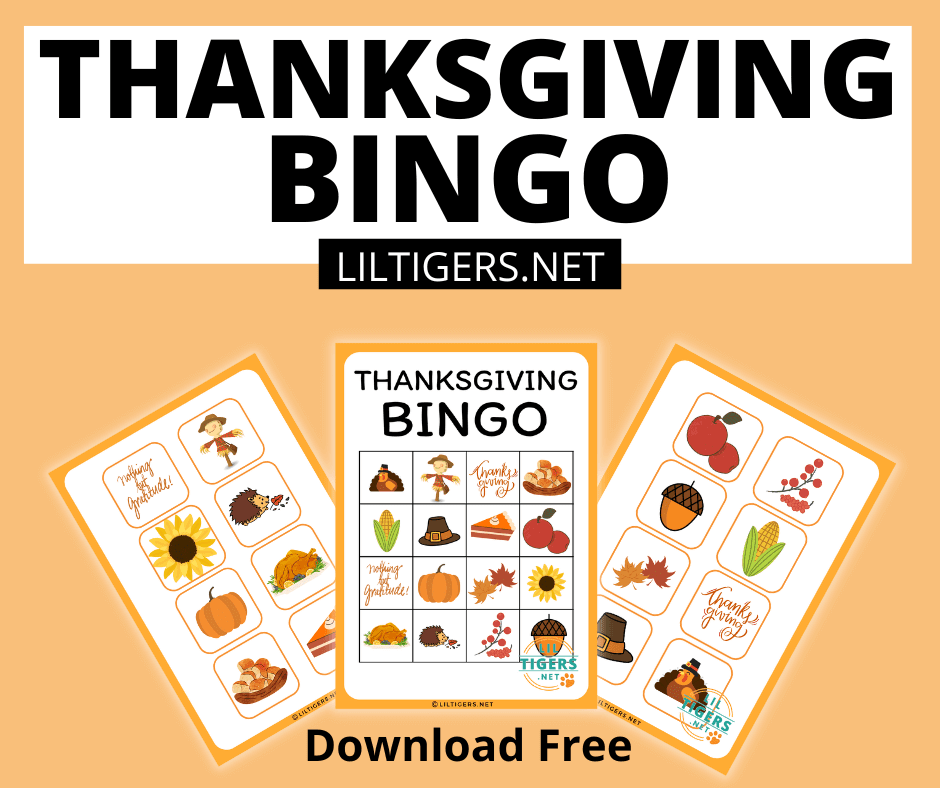 There are affiliate links in this post, meaning, at no additional cost to you, I will be compensated if you click through and take action. As an Amazon Associate I earn from qualifying purchases.
Things to Know About Thanksgiving
Thanksgiving is a national holiday in the USA and Canada to celebrate the harvest and blessings of the past year. In the USA it is always celebrated on the 4th Thursday in November.
The History of Thanksgiving
The first American Thanksgiving dates back to 1621 when the pilgrims of Plymouth (English colonists) celebrated with the Wampanoag people.
Colonists in New England and Canada regularly observed "thanksgivings," days of prayer for such blessings as safe journeys, military victories, or abundant harvests.
First Thanksgiving was meant as a day of prayers for blessings such as safe journeys, military victory, or a good harvest. It took till 1841 to become a national holiday in the United States.
Canadians on the other side trace their earliest Thanksgiving to 1578 when a Martin Frobisher-led expedition celebrated safe passage. In 1879 the Canadian parliament established its first national Thanksgiving day.
How is Thanksgiving Celebrated?
On Thanksgiving day in Canada and America, family and friends gather for a Thanksgiving feast. Traditionally the feast includes turkey with gravy, cranberries, and pumpkin pie.
Parades and football games also have long associations with the beloved fall holiday.
These and more facts about Thanksgiving can be found here.
Thanksgiving Books For Kids
Since Thanksgiving is a day of being thankful for the wonderful people and things in your life. Why not add a book to your Thanksgiving activity and talk with your children about it and teach them to be thankful!
Did you enjoy our Turkey Bingo Printables? Then try our Thanksgiving Painting Ideas, Free Printable Pilgrim Hat Template, DIY Thanksgiving Card Ideas, Friendsgiving Game Ideas, Fall Bingo Game, Thanksgiving Quotes, Gratitude Notes, Turkey Activities, Apple Crafts, or Pumpkin Templates next.
Free Thanksgiving Bingo Game
Did you play bingo before? It is super fun and makes you want to play over and over again. Why don't you give it a try? Below you can find the rules and everything you will need to play turkey bingo with your family and friends.
Thanksgiving Bingo Patterns
Thanksgiving is a traditional American holiday. While mom's cooking all day children often watch the Thanksgiving parade and need to entertain themselves for a good while.
So why not print out some fun games they can play while they are waiting on their food? Our Turkey bingo game is super fun and easy to manage even for preschoolers.
Instead of just choosing words, I missed them up with pictures. This way it is easier for younger children to follow.
Our turkey pattern cards include food items that can be found on your Thanksgiving table and everything else that reminds you of the season of giving.
Turkey Bingo Materials
Here are all the materials you will need to play with our turkey bingo templates:
Free Printable Thanksgiving Bingo PDF (found below)
pencils
scissors
How Do You Play Thanksgiving Bingo
But you might wonder now, how do you play our Thanksgiving picture bingo. Let me tell you picture bingo for Thanksgiving is not any different from any other bingo game. They have the same rules.
You are not familiar with the bingo game yet? Do not worry, let me explain the Bingo Rules to you:
Print out your Thanksgiving day bingo templates.
Take your scissor and cut out your free turnkey bingo call-out cards.
Give each player one free bingo game board.
Now designate a caller.
Afterward, place all call-out cards in a basket, bucket, or bag and mix them.
Next, the caller draws a card and shows it to the players.
Each player is marking the selected card on his bingo card template with his marker.
The player shouts "BINGO!" when they get a full line of 4 pictures (vertical, horizontal, or diagonal).
Tips
Smaller children can play this game as well. Simply help them find the picture if they need help.
Do-a-dot Markers are perfect for this fun bingo game.
I also added a set of blank bingo cards for Thanksgiving day. You can either make your own bingo game with different pictures or create additional thanksgiving game boards to play with a larger group!
Laminate your turkey game, this way you can play them over and over again!
How Do You Make Bingo Funny
After a while playing bingo can get old. Here are three fun ideas on how to make bingo interesting again:
Use poker chips instead of markers
Use acorns to mark the called pictures
Get prices for the winners
How to Download Your Free Thanksgiving Bingo Cards
Simply sign up here for our newsletter and you will receive the link to our free Thanksgiving bingo free printables.
Already a subscriber? Don't worry, no need to subscribe twice.
I just updated our free printable library. You can find our Thanksgiving bingo templates there or check our latest newsletter for more information.
If you have any questions, please do not hesitate to reach out to me. I m happy to help!
Pin These Free Printable Thanksgiving Bingo Template
Now don't forget to save our Thanksgiving bingo printables on Pinterest for later! Be sure you are following along with Lil Tigers here.
Now it is your turn.
How did your kids enjoy our free Thanksgiving bingo game?
Either way, let me know by leaving a comment below right now.
I love to hear from you!