Our Free Printable Pilgrim Hat Hat Templates is an ideal Thanksgiving craft project for your home or in the classroom.
It includes a free pilgrim hat coloring page and a template to make your own pilgrim hat to wear.
Let's dive right in and get inspired!
There are affiliate links in this post, meaning, at no additional cost to you, I will be compensated if you click through and take action. As an Amazon Associate, I earn from qualifying purchases.
5 Fun Leprechaun Facts for Kids
"Pilgrims" is the name of the early settlers of the Plymouth Colony (now Plymouth Massachusetts).
They refer to themselves as "Separatists".
In 1620 they arrived from England on the ship "Mayflower".
There were 102 people on the Mayflower.
In America, they built homes and farms receiving help from the American Indians (Wampanoag people).
The Wampanoags taught them how to farm, hunt, and fish in the new land.
To show gratitude and thanks they had a big feast for 3 days and the first Thanksgiving was born.
These and more fats about the pilgrims can be found here.
If your children are visual learners, let them watch the following story about the history of the first Thanksgiving.
What is a Leprechaun Hat Called?
Before we start crafting let's clarify what a pilgrim hat is and what it is called.
A pilgrim hat is commonly called cockel hat or traveller's hat.
It has a wide brim to keep off the sun.
Pilgrim Books for Kids
To get into Thanksgiving mode, and to round up our easy pilgrim craft, read some matching stories to your children.
Here are some great pilgrim books for your children to enjoy!
Free Pilgrim Hat Template and Coloring Page Printables
Use our fun pilgrim coloring page or make a pilgrim hat DIY for Thanksgiving day. Either way, your children will have a fun afternoon of crafting.
Below I also added some fun facts about pilgrims and more Thanksgiving activity ideas for you.
Enjoy!
Do you need advice on How to Introduce Crafting to your Preschooler? Then read our 10 tips that work next.
How to Make a Pilgrim Hat Step-By-Step
This pilgrim activity is super fun and makes the perfect DIY Thanksgivings day hat to wear for grown-ups and children.
Let me show you now how to make a paper pilgrim hat. First, we have to see what kind of supplies are needed for our pilgrim hat craft:
Pilgrim Hat Materials
Pilgrim Hat Instructions
Step 1: Pilgrim Hat Printout
Begin with printing out our pilgrim hat template on white paper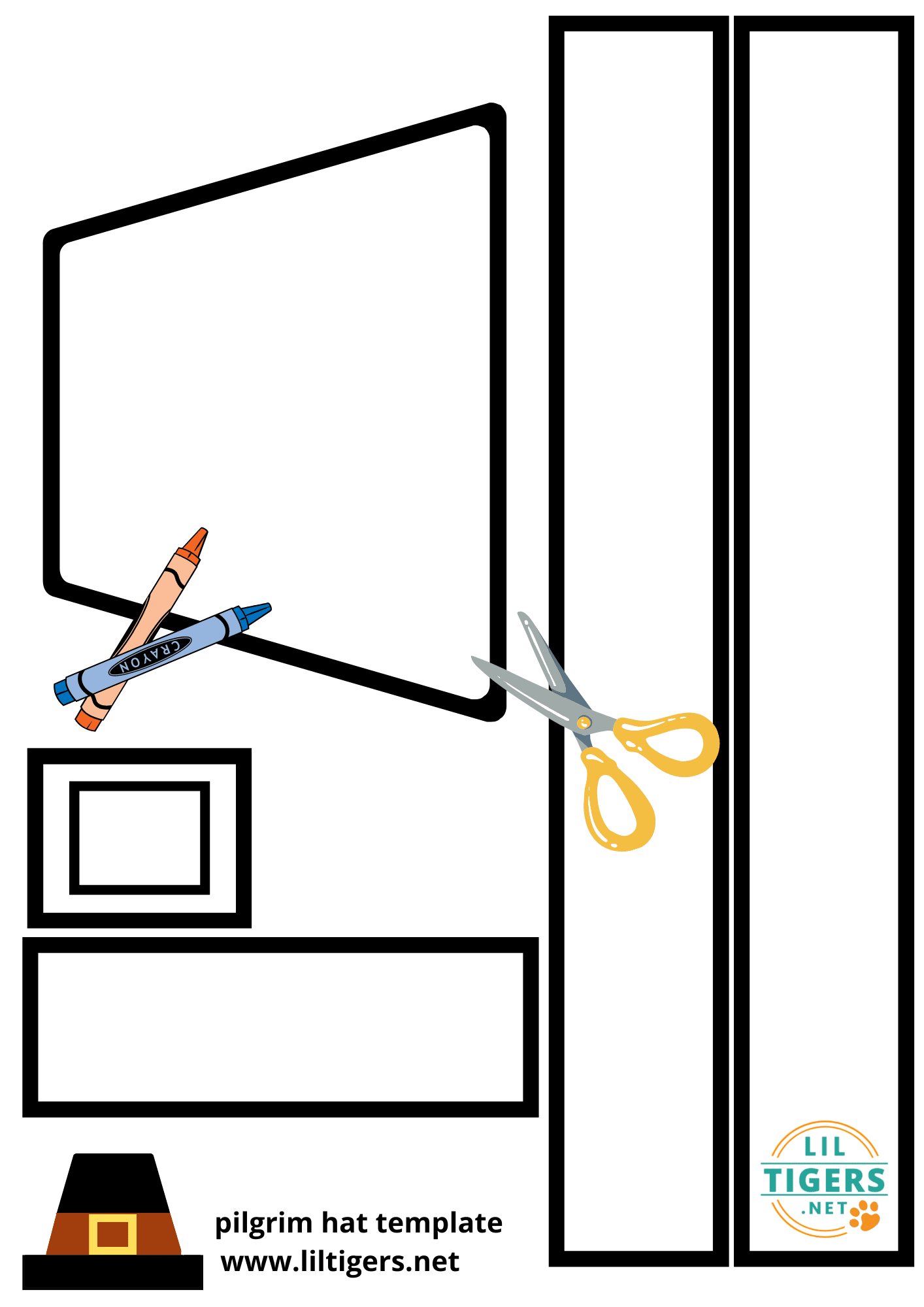 Step 2: Cut out
Then cut out the pilgrim hat outlines.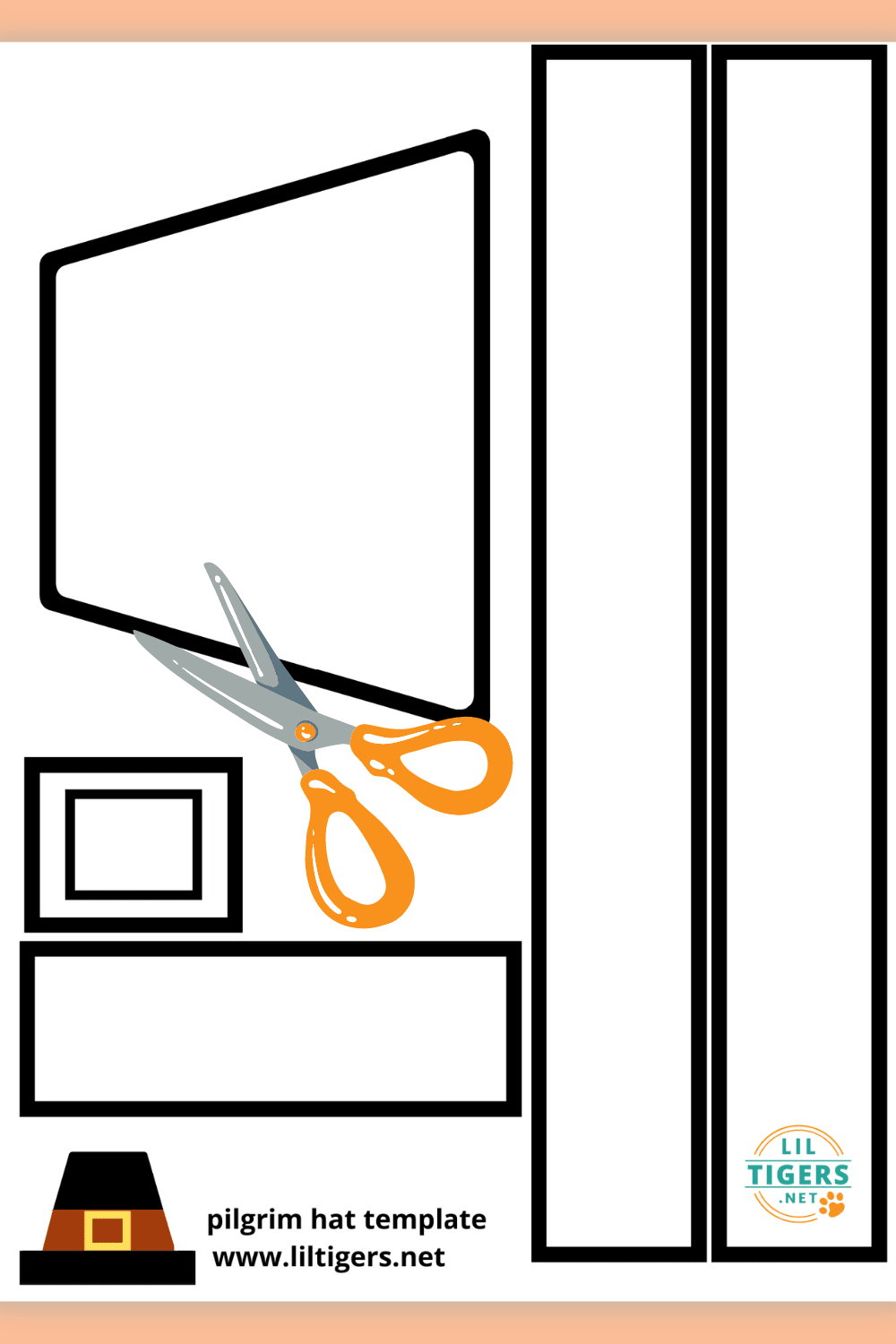 Step 3: Trace (optional)
Now use your cutouts as stencils and trace them on colored paper.
Use your pilgrim picture to see which colors are needed for which part of the pilgrim hat.
But mainly the trapezoid and the two headband pieces need to be black.
The smaller rectangle will be a brown band from the pilgrim hat and the buckle in yellow or gold.
This step is optional if you do not have colored paper move on direct to step 4.
Step 4: Color
In case you don't have black, brown, or yellow paper skip step 3 and take your markers to color your pilgrim hat cutouts.
Step 5: Glue
Now it is time to glue your pieces all together.
Start by taking your trapezoid and attaching the black headbands by attaching them to the bottom.
Above the headband glue the brown band with the golden buckle.
Instead of using glue you could also stapler to attach the pilgrim hat pieces.
Step 6: Adjust the Band and Headband
At last, it is time to adjust the brown band and the black headbands for your children.
Since the brown headband is rectangular you will need to take the scissor and cut it so it matches the line of the trapezoid on both sides.
Then you will need to adjust the size of the headband to your child's head and glue them together in the back.
Now you turned your easy pilgrim hat printable into a fun Thanksgiving day hat to wear. What do you think?
Do you enjoy our free pilgrim hat outline template and coloring page?
Then go check out our popular fall craft activities. How about our Apple Crafts, Scarecrow Art Projects, and Hedgehog Activities next?
More Fun Thanksgiving Activities
Did you enjoy these your DIY pilgrim hat tutorial? Don't worry the fun does not have to end.
Here are more great Thanksgiving arts and crafts projects for you and your kids to explore:
If these weren't enough go check out our list of 15+ Best Thanksgiving Activities or 30 Best Friendsgiving Game Ideas next.
How to Download Your Free DIY Pilgrim Hat Template Pdf
Simply sign up here for our newsletter and you will receive the link to our free pilgrim hat printouts.
Already a subscriber? Don't worry, no need to subscribe twice.
I just updated our free printable library. You can find our pilgrim coloring page and craft template there or check our newest newsletter for more information.
If you have any questions, please do not hesitate to reach out to me. I m happy to help!
Pin Our Free Pilgrim Hat Template
Don't forget to save our pilgrim hat printable on Pinterest for later! Be sure you are following along with Lil Tigers here.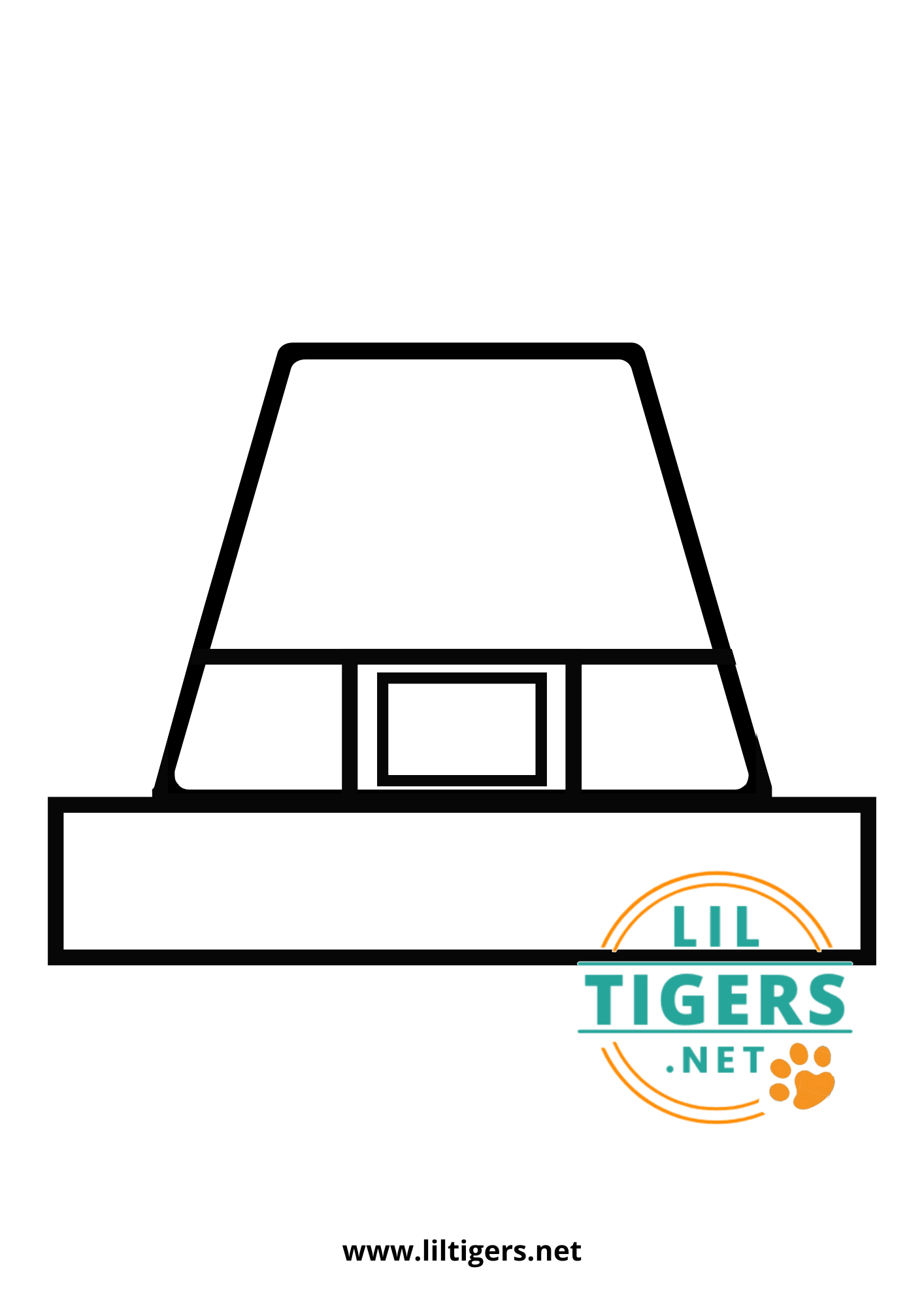 Now it is your turn.
How did your kids enjoy their paper pilgrim hats?
Either way, let me know by leaving a comment below right now.
I love to hear from you!