Learn how to make a Turkey Thanksgiving Jar with the kids. These turkey sensory bottles are the perfect calming jar for toddlers and are super easy to make at home.
Let's dive right in and get inspired!
There are affiliate links in this post, meaning, at no additional cost to you, I will be compensated if you click through and take action.
Thanksgiving Sensory Bottles
Turkey Sensory bottles are not only fun and easy to make, but also a must-have when during the holidays calming moments are needed. Glitter sensory jars help little ones in a healthy and effective way to soothe themselves, calm down, take deep breaths, and work through their emotions.
All you need is a mason jar, glitter, and a handful of basic craft supplies. They are the perfect festive stress relief jars for kids to use at home or in the classroom.
Learn Through Play
As many of you know by now, I love to integrate our arts and craft projects into small educational learning sessions. Prior to this week's Turkey glitter jar DIY project, we learned about the history of Thanksgiving. Our main questions were: Why do we celebrate Thanksgiving? What are we thankful for?
The most engaging way of getting my kids excited about a subject is by reading a book. They enjoy looking at the colorful pictures and enjoying our time together snugly in a blanket in front of the warm fireplace. Here are the two books we read:
Since my children wanted to paint some extra jars, we also implemented Thanksgiving gratitude cards. Let your kids write what they are thankful for and place them in the jar.
At Thanksgiving dinner take them out and read them together!
How to Make DIY Turkey Glitter Jar
Thanksgiving can be a stressful holiday not only for us moms. So why not make this easy turkey glitter jar for your toddlers and preschoolers. Sensory bottles will help them relax and calm down so you can cook in peace and enjoy Thanksgiving day.
DIY Glitter Jar Materials:
Here is what you will need for these fun Thanksgiving sensory bottles:
Distilled water
1/2 cup Elmer's Clear Glue
2 1/2 teaspoons glitter
1 teaspoon confetti
food coloring (optional)
1 mason jar
liquid paint
glue on eyes (optional)
paintbrush
But let's have a look now at this super easy step-by-step glitter bottle DIY tutorial:
Did you enjoy our Thanksgiving Jar? Then try our cool Turkey Jokes, Turkey Activities, Free Printable Pilgrim Hat Template, Thanksgiving Scavenger Hunt, DIY Thanksgiving Card Ideas, Gratitude Notes for Kids, Thanksgiving Quotes, Friendsgiving Game Ideas, or these 10 Fun Thanksgiving Activities for Kids next.
Glitter Jar Instructions
Step 1: Paint a turkey
Take your paintbrush and liquid paint and draw a turkey on your Thanksgiving mason jar.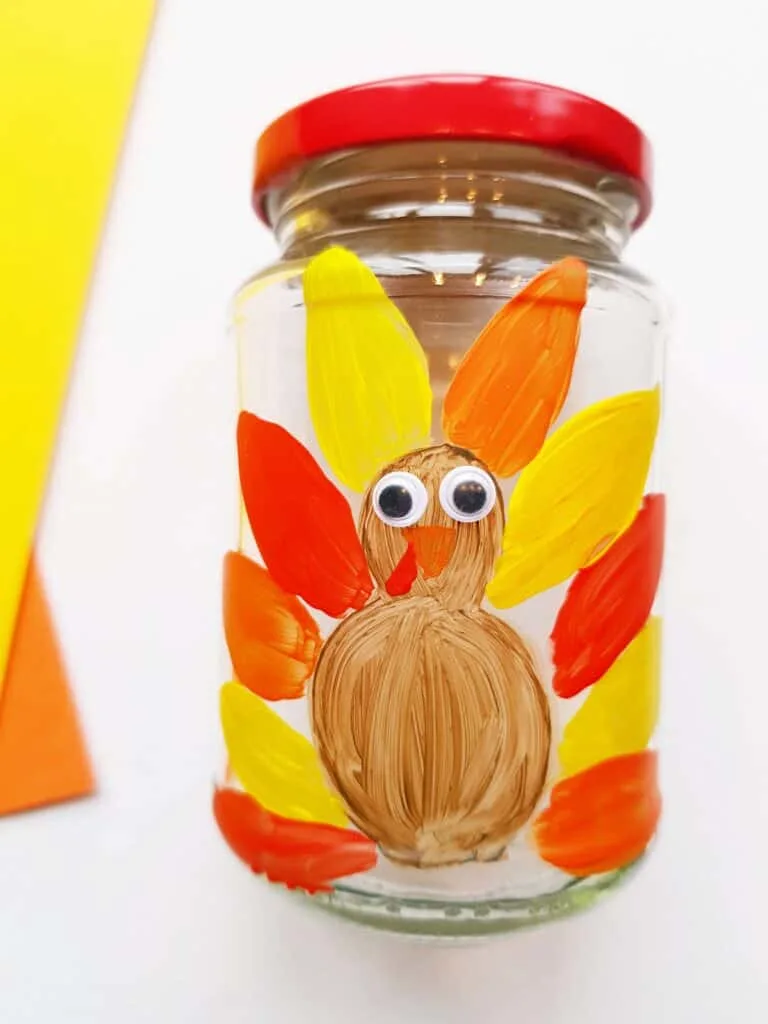 Step 2: Let it try
After you are finished painting give your turkey artwork some time to try.
Step 3: Add eyes (optional)
Use glue on the eyes and stick them on the tried turkey's face. If you don't have any at home, don't sweat it, just paint them with your liquid colors right away in step 1.
Step 4: Add water
Take your painted 16-ounce mason jar and pour 1/2 cup of distilled water into it.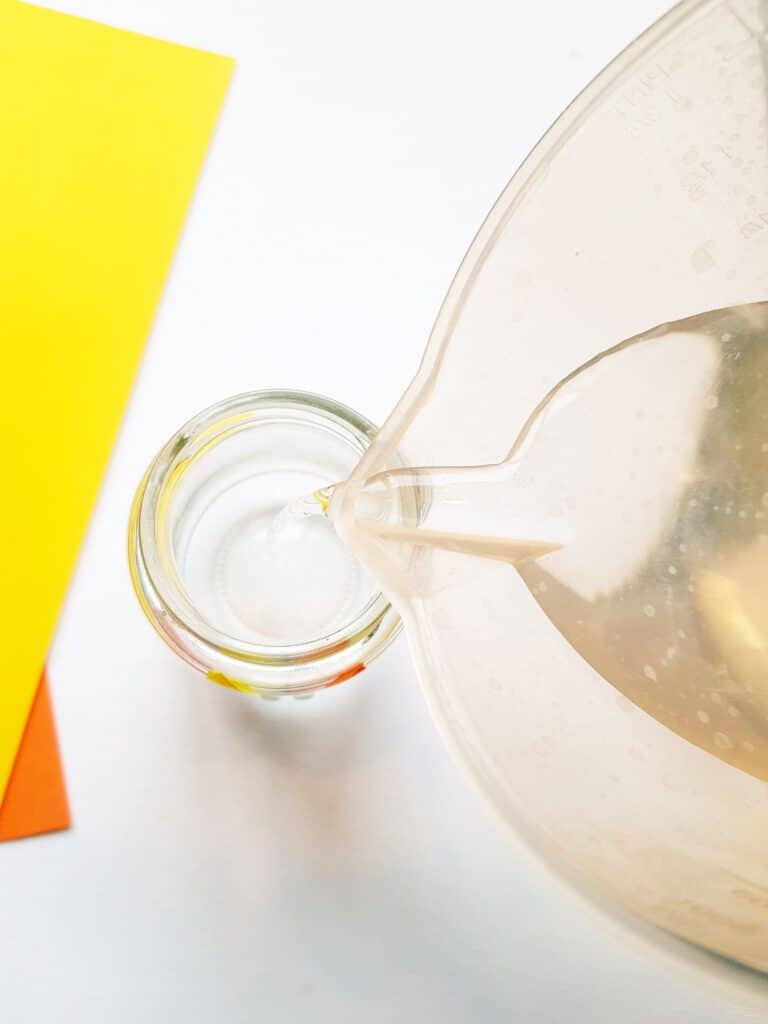 Step 5: Add glue
Add 1/2 cup of clear Elmer's Clear Liquid School Glue to the mason jar filled with water.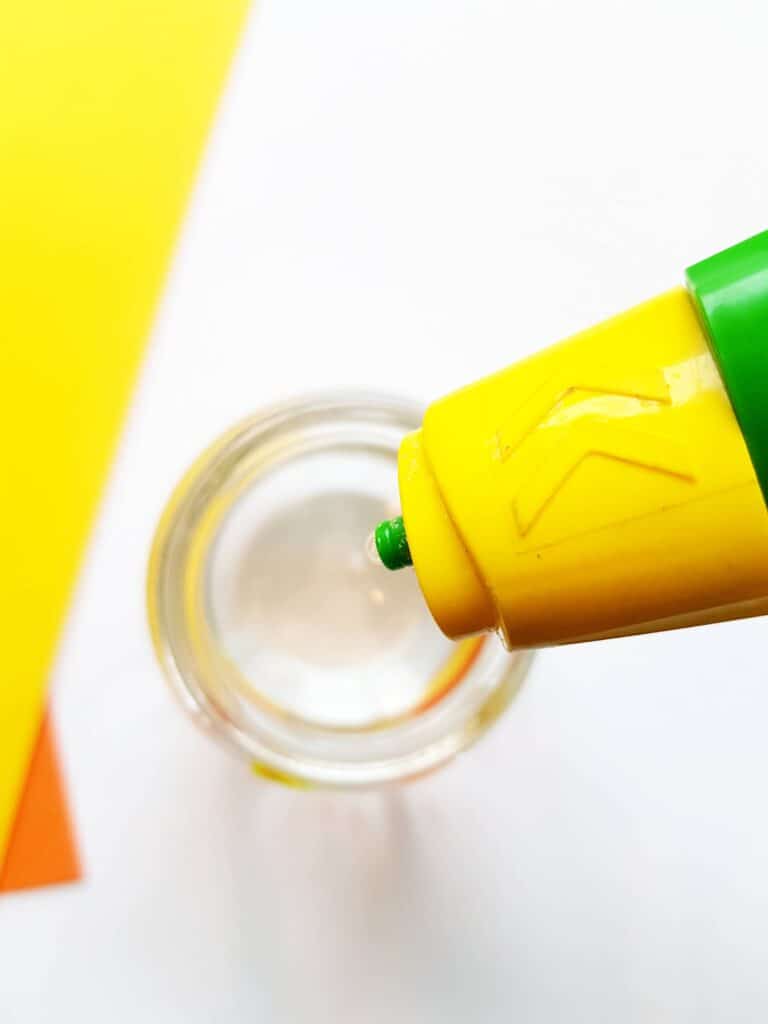 Step 6: Make it sparkle
Add 2–4 teaspoons of shimmering craft glitter, confetti, or sequins to the water glue mix. We used red glitter but orange or yellow would look nice as well!
Step 7: Add food coloring (optional)
If you don't have a lot of glitters, confetti, or sequins in the house, simply add a couple of drops of matching food coloring.
Step 8: Add more water
Fill the remainder of the jar with distilled water, leaving about 1/2 inch of space at the top.
Step 9: Seal the jar
Now it is time to take the lid and close the DIY glitter bottles or jars tightly.
Step 10: Enjoy
After the glue has cured, shake your turkey jar and enjoy watching the glitter swirl to the bottom. It is very calming!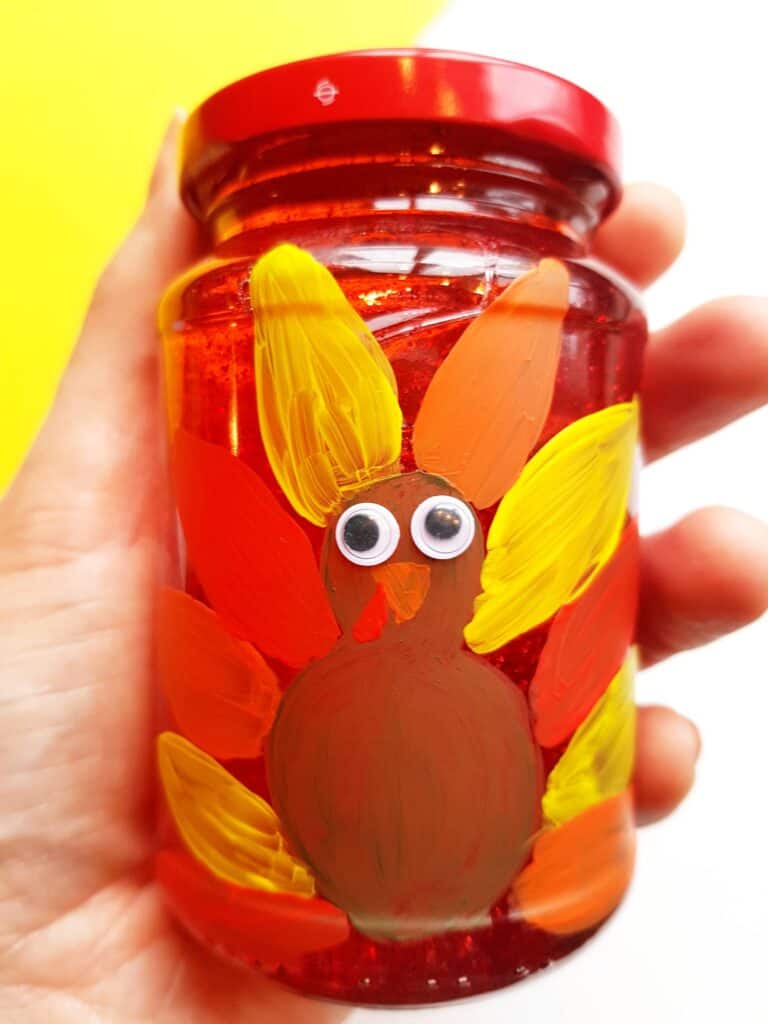 Are you interested in more kid's activities, arts & crafts, and science experiments?
I have made it easy for you! Simply join our newsletter now and I will send you new fun activities for kids.
Subscribe for free
DIY Glitter Jar Tips:
We used glass jars but if you are working with small toddlers it might be better to buy plastic jars in case they drop their glitter globe.
In case you are deciding to use plastic jars, I would recommend using permanent markers to draw your turkey.
Simply use recycled tomato sauce jars.
There are two options in case your toddler is too small to draw their own turkey:
You draw the turkey for them prior to starting your holiday project.
Simply let them draw what they can. It is not the end result that matters, it's the fun along the way!
Summary:
Overall my kids enjoyed making glitter bottles!
It is the perfect DIY Thanksgiving project for home or in the classroom. It easily can be adjusted to a wide age range so it is suitable for toddlers, preschoolers, and kindergarteners but also big kids.
My kids enjoyed using their paintbrushes on the jars as well as assisting in mixing the ingredients. But the cool thing about these fun calming jars is that it brings joy to them even many days after their arts and craft project is finished.
I placed them on our window sill where they can reach them any time. They take them, shake them, and enjoy watching the glitter drop in their Thanksgiving jar.
It helps them to learn focusing skills, calm down, and regulate their emotions. Glitter sensory jars are also a big help in my house to master temper tantrums.
Stay safe Lil Tigers!
---
You enjoyed our Thanksgiving glitter mason jar but your children are still running around? Maybe it is time for them to try so children meditation. Go check it out here:
Now I would like to hear from you! How did your kids enjoy this fun mason jar Thanksgiving idea?
Either way, let me know how you liked your turkey glitter jar by leaving a comment below right now.
I love to hear from you!
Follow us on Instagram, Pinterest, Tik Tok, and join our Facebook group "Free Kids Activities Arts & Crafts" for more fun DIY Kid's Activities, Arts & Crafts, and Science Experiments.
Turkey glitter jar
How to make your own calming Thanksgiving glitter jar
Total Time
7 days
30 minutes
Materials
glas jar
distilled water
1/2 cup clear glue
2 1/2 teaspoons glitter
1 teaspoon confetti
food coloring (optional)
liquid paint
paint brush
glue on eyes (optional)
Instructions
Paint your turkey on the jar
Let it try and add glue on eyes
Add 1/2 cup of water
Add 1/2 cup of glue
Add 2-3 teaspoons of sparkle
Add some drops of food coloring (optional)
Add more water. Leave about 1/2 inch of space at the top.
Seal Jar
Enjoy