Are you looking for inspiring Thanksgiving quotes for your family? Then you are in the right place!
Here are 100 Thanksgiving Sayings for Kids including matching books and activities.
Let's have a look!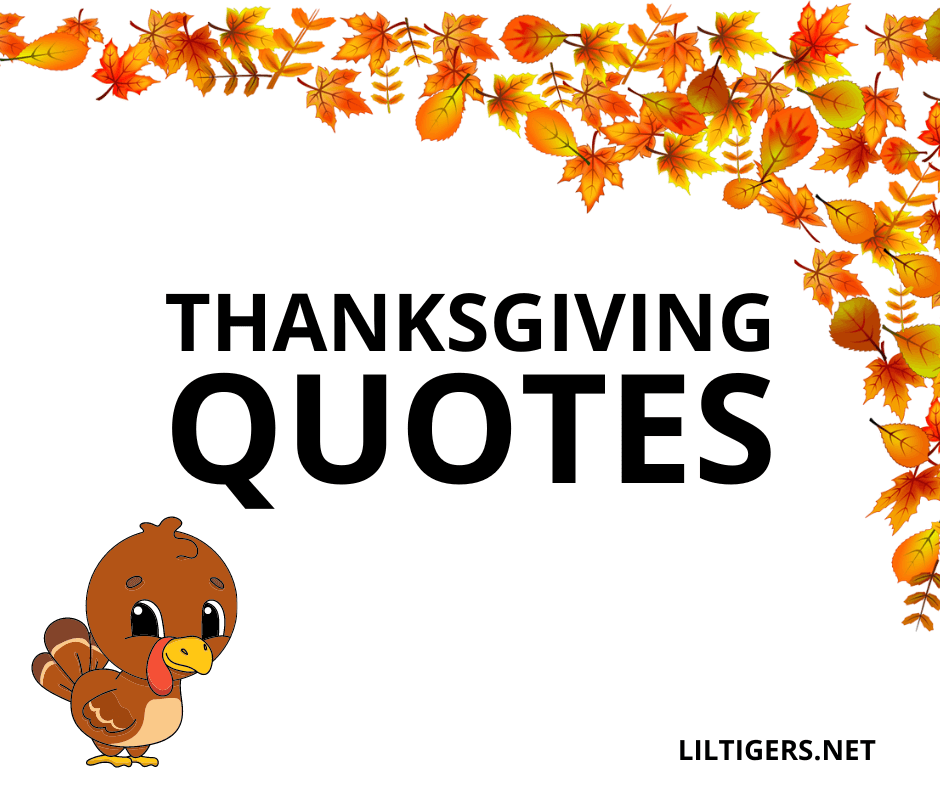 There are affiliate links in this post, meaning, at no additional cost to you, I will be compensated if you click through and take action. As an Amazon Associate, I earn from qualifying purchases.
Things to Know About Thanksgiving
Thanksgiving is a national holiday in the USA and Canada to celebrate the harvest and blessings of the past year. In the USA it is always celebrated on the 4th Thursday in November.
This year Thanksgiving is celebrated on Thursday, 24 November 2022.
The History of Thanksgiving
The first American Thanksgiving dates back to 1621 when English colonists (the pilgrims of Plymouth) celebrated with the Wampanoag people.
Colonists in Canada and New England regularly observed "thanksgivings," days of prayer for such blessings as safe journeys, military victories, or abundant harvests.
Originally Thanksgiving was meant as a day of prayers for blessings such as safe journeys, military victory, or a good harvest. It took till 1841 to become a national holiday in the US.
Canadians on the other side trace their earliest Thanksgiving to 1578 when a Martin Frobisher-led expedition celebrated safe passage. The first national Thanksgiving day was established in 1879 by the Canadian parliament.
How is Thanksgiving Celebrated?
On Thanksgiving day in Canada and United States, family and friends gather for a Thanksgiving feast. Traditionally the feast includes turkey with gravy, cranberries, and pumpkin pie.
Parades and football games also have long associations with the beloved holiday.
These and more facts about Thanksgiving can be found here.
Thanksgiving Books for Kids
Here are some great book recommendations on children's Thanksgiving books for you:
Taylor the Thankful Turkey is an easy-to-read children's book about giving thanks and being grateful.
Little Critter is going to have a Thanksgiving he'll never forget! This 8×8 storybook is perfect for story time and includes a sheet of stickers!
Learn about the true spirit of gratitude and Thanksgiving with a storybook for kids.
Pookie and Mom get ready to welcome the whole family for Thanksgiving in this gentle and captivating board book.
From the bestselling How to Catch series comes a festive turkey tale and Thanksgiving book for kids!
Are you interested in more kid's activities, arts & crafts, and science experiments?
I have made it easy for you! Join our newsletter now and I will send you new fun for kids.
Subscribe for free
100 Best Family Thanksgiving Quotes
Every year at Thanksgiving we get reminded how lucky we are in life and show gratitude for the many blessings we have.
Why not make an easy Thanksgiving craft to decorate your table or a card to show your love?
Below you will find the matching projects for our quotes on Thanksgiving.
Our list of Thanksgiving quotations includes Thanksgiving quotes and sayings for kids, inspirational and motivational quotes on Thanksgiving, happy Thanksgiving wishes, messages and blessings, Thanksgiving poems, and funny Thanksgiving puns and captions.
Let's have a look and get inspired!
Thanksgiving Quotes for Kids
Here are some of our favorite Thanksgiving quotes for kids:
"Give thanks with a grateful heart!" – Unknown
"Not what we say about our blessings, but how we use them, is the true measure of Thanksgiving" – Unknown
"There is always something to be thankful for!" – Unknown
"Gratitude is the best attitude!" – Unknown
"Thanksgiving was never meant to be shut up in one day!" – Unknown
"If you want to find happiness, find gratitude!" – Unknown

"You are all I need on Thanksgiving!

" – Unknown
"When you love what you have, you have everything what you need!" – Unknown
"Be kind, be thoughtful, be genuine, but most of all be thankful!" – Unknown

"Gratitude turns what we have into enough.

" – Unknown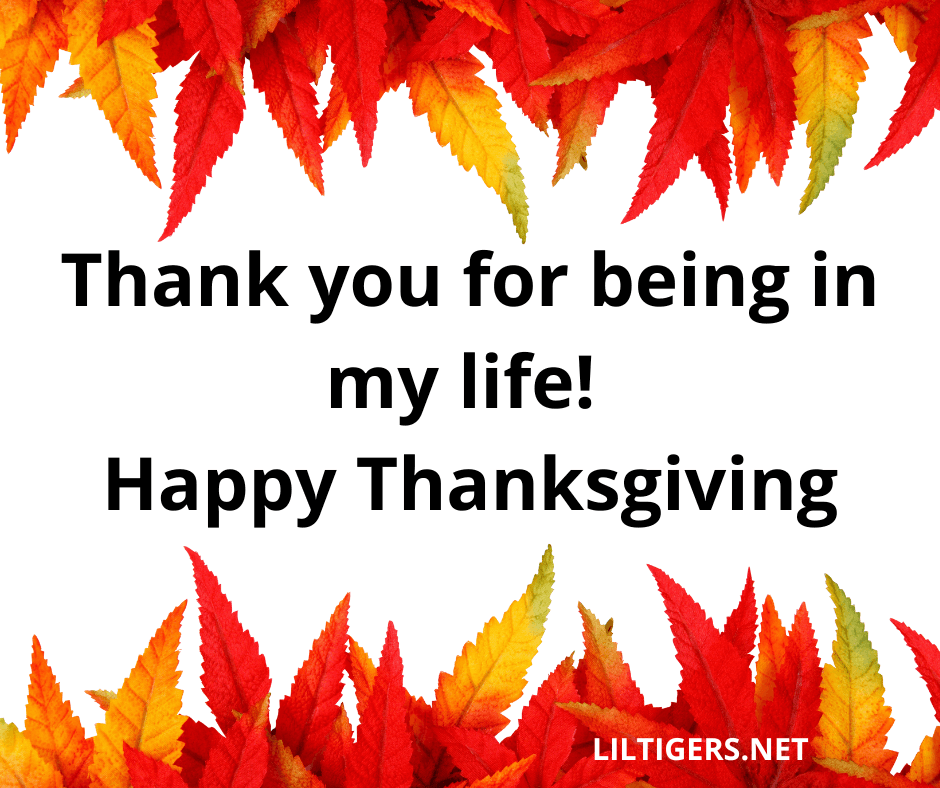 "We may not have it all together, but together we have it all!" – Unknown
"

I am so thankful for my family!

" – Unknown
Thanksgiving Sayings for Kids
You will also love the following Thanksgiving sayings for kids:
"What if, today, we were grateful for everything?" – Charlie Brown
"We should certainly count our blessings, but we should also make our blessings count." – Neal A. Maxwell

"I am grateful for what I am and have. My Thanksgiving is perpetual." – Henry David Thoreau

"It isn't what you have in your pocket that makes you thankful, but what you have in your heart." – Unknown

"Kindness in words creates confidence. Kindness in thinking creates profoundness. Kindness in giving creates love." – Lao Tzu

"Some people are always grumbling because roses have thorns; I am thankful that thorns have roses." – Alphonse Karr

"Piglet noticed that even though he had a very small heart, it could hold a rather large amount of gratitude." – Winnie-the-Pooh (A.A. Milne)

"What I love about Thanksgiving is that it's purely about getting together with friends or family and enjoying food. It's really for everybody, and it doesn't matter where you're from." – Daniel Humm

"To speak gratitude is courteous and pleasant, to enact gratitude is generous and noble, but to live gratitude is to touch Heaven." – Johannes A. Gaertner

"Thanksgiving is more than eating, Chuck… Those early Pilgrims were thankful for what had happened to them, and we should be thankful, too. We should just be thankful for being together. I think that's what they mean by 'Thanksgiving,' Charlie Brown." –

A Charlie Brown Thanksgiving
When I count my blessings, I count you twice!

Unknown
Inspirational Thanksgiving Quotes
Next, are our inspirational Thanksgiving day quotes for you:
"Be thankful for what you have, you'll end of having more. If you concentrate on what you don't have, you will never, ever have enough." – Oprah Winfrey
"We often take for granted the very things that most deserve our gratitude." – Cynthia Ozick
"The only people with whom you should try to get even are those who have helped you." – John E. Southard
"As we express our gratitude, we must never forget that the highest appreciation is not to utter words, but to live by them." – John Fitzgerald Kennedy
"Wear gratitude like a cloak, and it will feed every corner of your life." – Rumi
"Showing gratitude is one of the simplest yet most powerful things humans can do for each other." – Randy Pausch
"We can only be said to be alive in those moments when our hearts are conscious of our treasures." – Thornton Wilder
"Give thanks not just on Thanksgiving Day, but every day of your life. Appreciate and never take for granted all that you have." – Catherine Pulsifer
"Gratitude is when memory is stored in the heart and not in the mind." – Lionel Hampton
"True forgiveness is when you can say, 'Thank you for that experience.'" – Opera Winfrey
Thankfullness is the quickest path of joy!

Unknown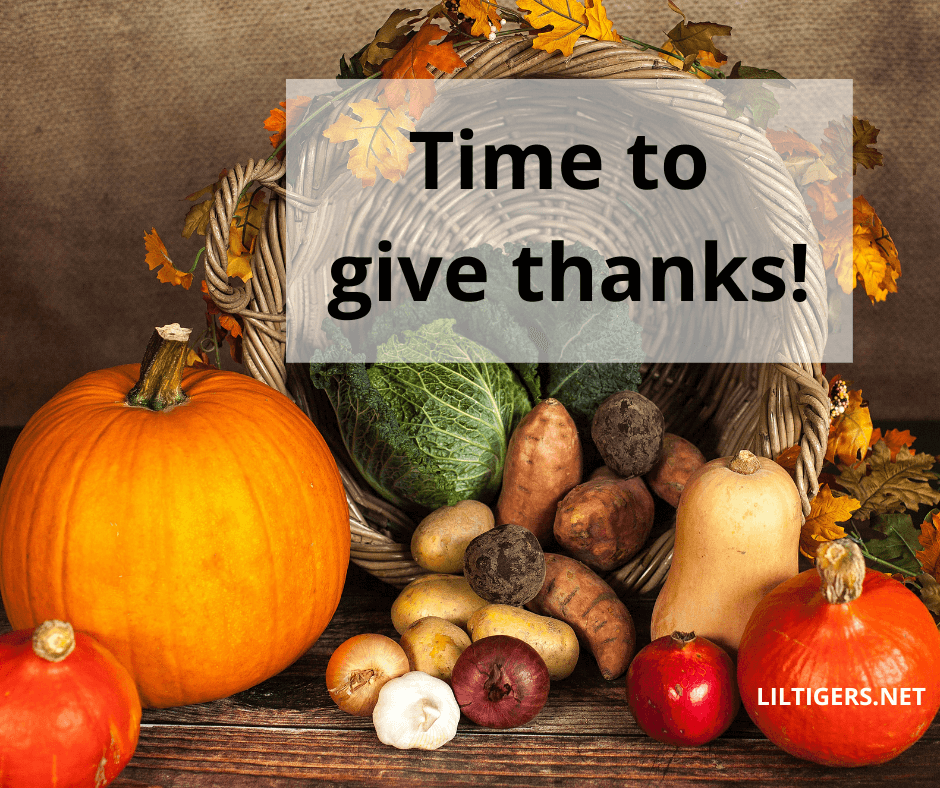 Motivational Thanksgiving Quotes
The following Thanksgiving day quotes are motivational.
"Some people are always grumbling because roses have thorns; I am thankful that thorns have roses." – Alphonse Karr
"Gratitude also opens your eyes to the limitless potential of the universe, while dissatisfaction closes your eyes to it." – Stephen Richards
"After a good dinner, one can forgive anybody, even one's own relations." – Oscar Wilde
"Now is no time to think of what you do not have. Think of what you can do with what there is." – Ernest Hemingway
"If there's one thing I've learned over the eons, it's that you can't give up on your family, no matter how tempting they make it." – Rick Riordan
"It is not happy people who are thankful. It is thankful people who are happy." – Unknown
"When asked if my cup is half-full or half-empty, my only response is that I am thankful I have a cup." – Sam Lefkowitz
"Now is no time to think of what you do not have. Think of what you can do with what there is." – Ernest Hemingway
"Gratitude can transform common days into thanksgivings, turn routine jobs into joy, and change ordinary opportunities into blessings." – William Arthur Ward
"Things turn out best for people who make the best of the way things turn out." – John Wooden
Short Thanksgiving Quotes
Short but sweet. Let's check out these short quotes on Thanksgiving:
"Thanksgiving is the meal we aspire for other meals to resemble." – Jonathan Safran Foer
"If you are really thankful, what do you do? You share." – W. Clement Stone
"If a fellow isn't thankful for what he's got, he isn't likely to be thankful for what he's going to get." – Frank A. Clark
"Forever on Thanksgiving Day, the heart will find the pathway home." – Wilbur D. Nesbit
"If you are really thankful, what do you do? You share." – W. Clement Stone
"When you love what you have, you have everything you need." – Unknown
"Be present in all things and thankful for all things." – Maya Angelou
"There's always something to be grateful for on Thanksgiving, even if it's just not being a turkey." – Unknown
"A thankful heart is not only the greatest virtue but the parent of all the other virtues." – Cicero
"All that we behold is full of blessings." – William Wordsworth
Did you enjoy our Thanksgiving greetings for kids?
Then go check out our popular craft activities. How about our Apple Crafts, Scarecrow Art Projects, and Hedgehog Activities next?
Happy Thanksgiving Messages
Do you like to send messages for Thanksgiving to your loved ones? Then get inspired by the following happy Thanksgiving Day messages for family and friends.
Those who appreciate what they have are the ones who always value what they have in life. Warm greetings on the occasion of Thanksgiving.
Even turkeys know how gobbling good and super sweet you are! Happy Thanksgiving!
Having true friends in life is like a beautiful blessing and I cannot be more thankful to have you in my life. Happy Thanksgiving.
Kids like you make Thanksgiving Day even more happy than the turkey!
I wish that you're surrounded with the love and blessings of your family… May this festive season you enjoy beautiful times with your dear ones. Happy Thanksgiving to you and your family.

Without friends, life is so incomplete and dull and with friends, life is so much more fun and beautiful. I am thankful to have such lively and lovely friends. Happy Thanksgiving to all.

The occasion of Thanksgiving reminds all of us that we are so lucky to have each other in our lives. Warm greetings on Thanksgiving to everyone.
Wishing a very Happy Thanksgiving to you my dear. I am thankful to you for having filled my life with such beautiful colours and lots of love.
May this Thanksgiving be the most beautiful time for you to thank for all the blessings and amazing gifts that you have been showered with.
The occasion of Thanksgiving gives all of an opportunity to express our gratitude towards all the good that we have been blessed in our lives.
Thanksgiving Blessings
I m sure you have many blessings in your life. Here are some great quotes on Thanksgiving day blessings.
We are all so blessed to have someone like you to love in our lives. Happy Thanksgiving To Our Special Blessing!

Counting your blessings might be a bit of a chore this holiday because you are incredibly blessed! Happy Thanksgiving!
When you express gratitude then you acknowledge and thank someone for the good they have done for you and Thanksgiving is the perfect day to do so. A very Happy Thanksgiving to you.
I have an amazing blessing to be thankful for. In case you are wondering it's sweet, wonderful you! Happy Thanksgiving
Warm wishes on the occasion of Thanksgiving to you. Never forget to count your blessings and never miss an opportunity to express your gratitude.
"Thanksgiving is one of my favorite days of the year because it reminds us to give thanks and to count our blessings. Suddenly, so many things become so little when we realize how blessed and lucky we are." – Joyce Giraud
Let us come together and celebrate Thanksgiving by counting each and every blessing that we have been blessed with. Happy Thanksgiving to you.
Thanksgiving is the time to enjoy each and every moment and just count all the beautiful blessings. Warm wishes on Thanksgiving in advance.
"When I started counting my blessings, my whole life turned around." – Willie Nelson
"Let me encourage you to get up every day and focus on what you do have in life. Be thankful for the blessings of the little things, even when you don't get what you expect." – Victoria Osteen
I m blessed to have you in my life! Happy Thanksgiving

Unknown
Happy Thanksgiving Wishes
Let's wish everyone a wonderful Thanksgiving with the following happy Thanksgiving day wishes.
May you have a gobble-gobble good Turkey Day!

As Turkey Day goes, I hope this one is especially awesome!
May your Thanksgiving be simply scrumptious!
Happy Turkey Day to our little gobbler!
May your Thanksgiving give the turkeys a run for their money! Hope it's super fun!! Happy Thanksgiving
Let us make this Thanksgiving a memorable one. Let us celebrate this day with the people who mean the most to us. Warm wishes on Thanksgiving to you.
You find yourself and you explore your life better when you have a friend in your life. Warm wishes on Thanksgiving to you.
I am hoping that you have a fantastic Thanksgiving and I plan to give you a huge hug when I see you! Happy Thanksgiving
I wish I may, I wish I might, wish you a Thanksgiving that's a delicious delight!
May you have a Thanksgiving that's as fantastic as you!
Thanksgiving Poems
You prefer poems? No problems you will love the following poems for Thanksgiving.
A Thanksgiving Thought: 
The day I give thanks for having a nose 
Is Thanksgiving Day, for do you suppose 
That Thanksgiving dinner would taste as good 
If you couldn't smell it? 
I don't think it would. 
Could apple pie baking—turkey that's basting 
Not be for the smelling? Just be for tasting? 
It's a cranberry-cinnamon-onion bouquet! 
Be thankful for noses on Thanksgiving Day.
Thanksgiving Every Day: 
The table is brimming with good things to eat; 
We're surrounded by family and friends; what a treat. 
The feelings that fill us today can't be beat; 
It's Thanksgiving Day, and it all feels complete. 
But other days, sometimes, things don't seem so fine; 
Those days are not polished and don't seem to shine. 
It's then in our minds, we forget all the good, 
And think of the things we would get, if we could. 
On days when our thinking causes us dread, 
If we could remember, it's all in our head, 
And not let our minds take our gratitude away, 
Then we'd make every day like Thanksgiving Day.
Five Little Turkeys: 
Five little turkeys standing by door, 
One waddled off, and then there were four. 
Four little turkeys under a tree, 
One waddled off, and then there were three. 
Three little turkeys with nothing to do, 
One waddled off, and then there were two. 
Two little turkeys in the noonday sun, 
One waddled off, and then there was one. 
One little turkey better run away,  
For soon will come Thanksgiving Day.
Fun Thanksgiving Captions
You will also like our fun Thanksgiving captions. Go check them out here:
Gobble till ya wobble!
The turkey is a funny bird, its head goes bobble, bobble. And all he knows is just one word, and that is gobble, gobble!
Why can't you take a turkey to a church? They use fowl language.
"Overeating at Thanksgiving is a case in point. It's a national tradition." – Eric Samuel Timm

This Thanksgiving, I hope you're able to avoid the tragedy of the different foods on your plate touching one another.

"I can't cook a Thanksgiving dinner. All I can make is cold cereal and maybe toast." – Charlie Brown
"Good mashed potato is one of the great luxuries of life." – Lindsey Bareham
"Thanksgiving — when the people who are the most thankful are the ones who don't have to cook." – Melanie White

"I come from a family where gravy is considered a beverage."

–

Erma Bombeck

"It's not too much food. This is what we've been training for our whole lives. This is our destiny, this is our finest hour." – Lorelai Gilmore
Funny Thanksgiving Puns
If these weren't funny enough try our Thanksgiving puns next:
Gobble 'til you wobble.
Keep calm and gobble on.

Stuffing is the glue that holds my family together.

Family and turkey and football – oh my!
We offered the turkey some dinner, but he was already stuffed.
Raise your gobble-let for a toast!
Every year I say I won't overdo it on Thanksgiving, yet here we are.

Stuffed

Butterball so hard, other turkeys wanna fine me.
Entering feast mode.
Talk turkey to me.
More Quotes
I also like to introduce you to the following quotes for kids:
Easy Thanksgiving Crafts and Activities
After you are done with these blessed Thanksgiving quotes and sayings, go check out these fun Thanksgiving activities next: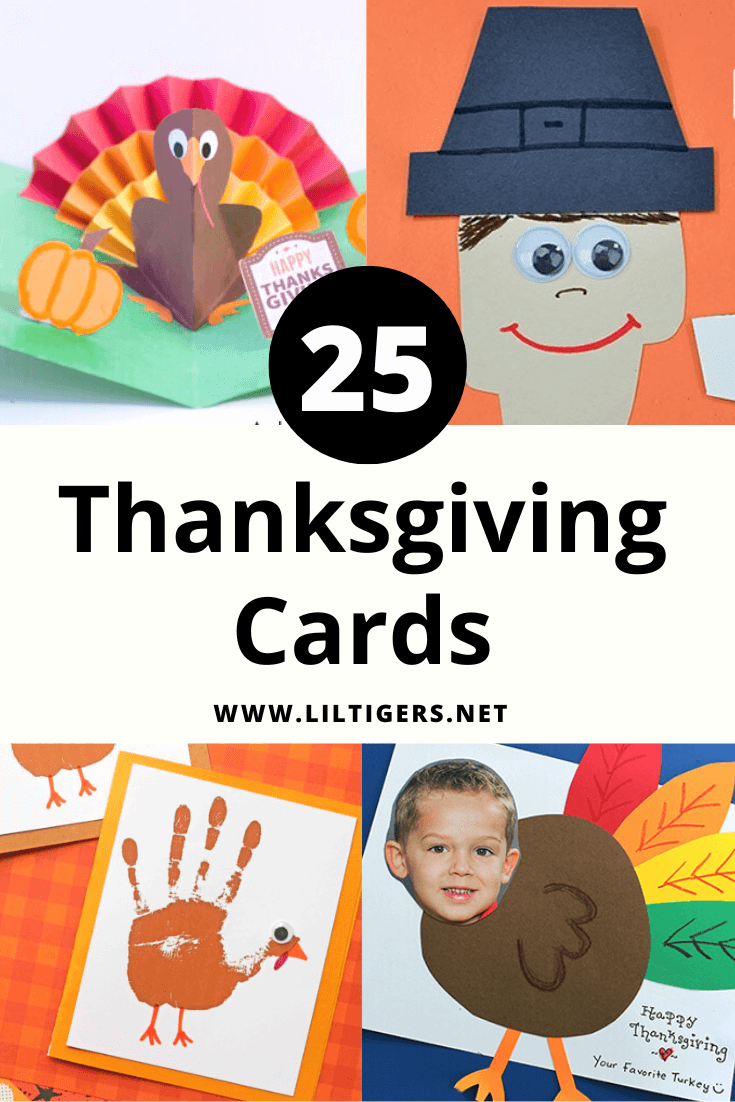 If you are a visual learner, also go check out this matching DIY Thanksgiving card video tutorial for our cute Thanksgiving sayings for kids.
---
Pin Our Quotes about Thanksgiving
Don't forget to save our 100 Top Thanksgiving Quotes for Kids on Pinterest for later! Be sure you are following along with Lil Tigers here.
Now I would like to hear from you!
Which saying about Thanksgiving did you choose? Did you find a better one?
Either way, let me know by leaving a comment below right now.
I love to hear from you!