Are you looking for inspiring glitter quotes? Then you are in the right place!
Here are 75 Cute Glitter Sayings for Kids including matching activities and free printable glitter quote cards.
Let's have a look!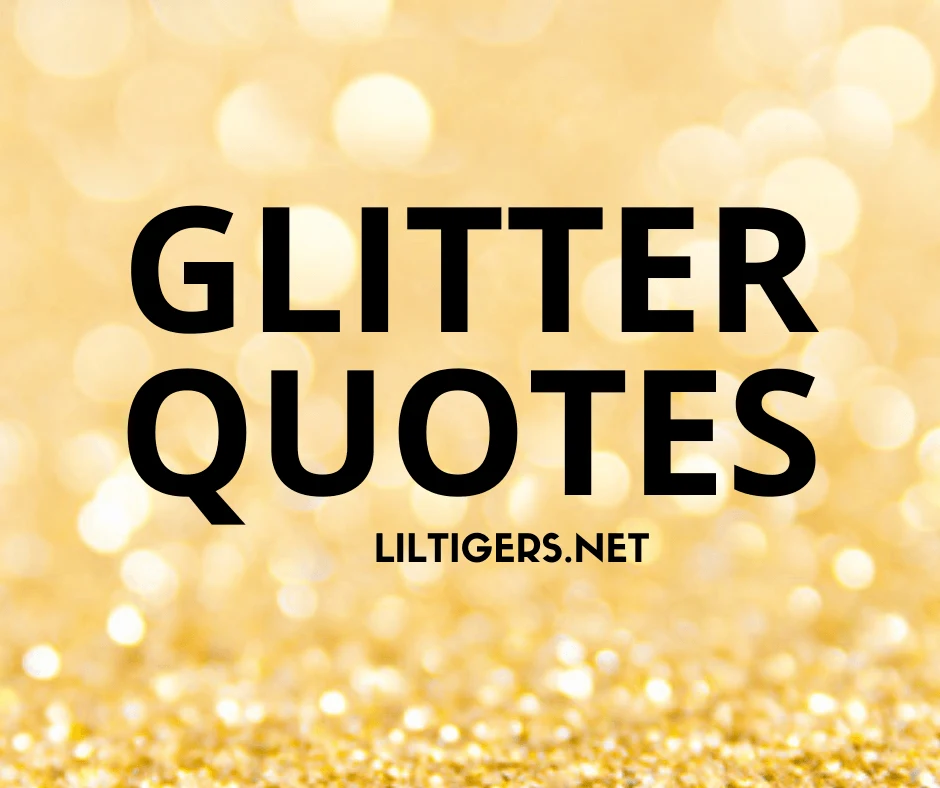 There are affiliate links in this post, meaning, at no additional cost to you, I will be compensated if you click through and take action. As an Amazon Associate, I earn from qualifying purchases.
What is Glitter?
According to Oxford Languages, glitter is a tiny piece of sparkling material used for decoration, but can also be a bright, shimmering reflected light.
The Term Glitter
Glitter and sparkle are often used in terms of inspiration, motivation, and spreading good vibes.
Somebody who glitters and sparkles from the inside is most likely a self-confident person with a good attitude and inner beauty that shines through!
Glitter is also a symbol of celebration and happiness.
Glitter Craft Kits for Kids
Are you interested in more kid's activities, arts & crafts, and science experiments?
I have made it easy for you! Join our newsletter now and I will send you new fun for kids.
Subscribe for free
75 Best Glitter Quotes to Shine
It is time to shine with our 75 Best Glitter Quotes.
Our list of quotes about glitter includes cute glitter sayings for kids, glamour quotes, best glitter sayings, short and famous glitter quotes, shine-like glitter sayings, Christmas glitter quotes, and funny glitter captions.
Do not forget to get your free printable glitter quote cards below.
Let's have a look and get inspired!
Cute Glitter Sayings for Kids
Here are some of our favorite kid's glitter sayings:
"Rise and Sparkle"
"A little glitter never hurts."
"Keep calm and sparkle on."
"Glitter is always an option!"
"Create your own sunshine"
"Keep calm and just sparkle." – Reiki
"Life is better when you're covered in glitter."
"All the glitter is not gold." – William Shakespear
"Eat glitter for breakfast and shine all day." – Rachael Pictarine
"Glitter, sparkle, and shine but most of all be kind."
"Spread the sparkle"

Unknown
"Be the sparkle in someone's life."
Quotes about Glitter and Glamour
You will love the following glamour quotes:
"Glitter is my favorite."
"This is your year to sparkle."
"I'm 80% glitter and 20% sparkle."
"Throw some glitter, make it rain."
"Do more of what makes you sparkle."
"Sparkle you look fabulous." – Fablio Helms
"A diamond doesn't ask if it can shine. It just does."
"A life without glitter is no life at all." – Toni Collette
"Start each day with a grateful heart, and a handful of glitter."
'Better a diamond with a plan than a pebble without imperfection." – Proverb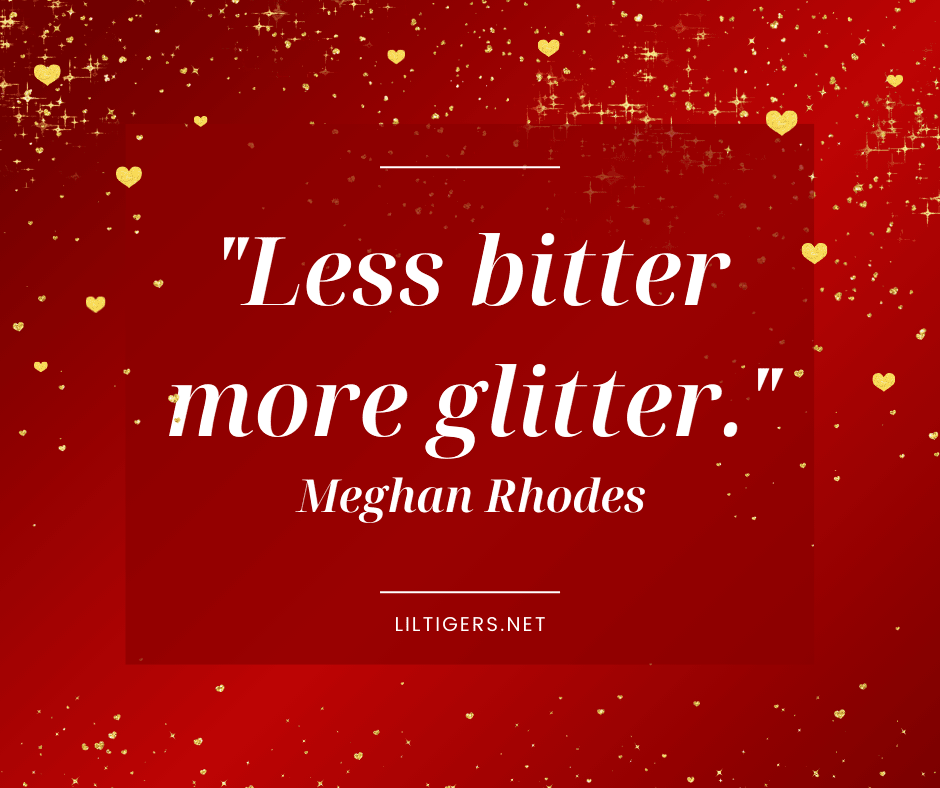 Best Sayings about Glitter
Get inspired by the following glitter sayings:
"Throw glitter in today's face."
"Less bitter more glitter." – Meghan Rhodes
"All that glitters is not hovery." – Scott Westerfeld
"Shower the world with pink and glitter." – Tori Collins
"A little glitter can turn your whole day around." – Barbara Park
"When you are around me, you are going to get glitter on you." – Kesha
"And when all the glitter fades, there'll still be stardust in her veins." – Michelle Schaper
"Fortune is like glass-The brighter the glitter, the more easily broken." – Publilius Syrus
"I have a magpie mind. I like anything that glitters." – Roy Thomson
"You know you`re putting a good thing out into the universe when you put on glitter." – Drew Barrymore
"If something doesn`t look right, throw some glitter on it."

Adam Lambert
Short Glitter Quotes
Short but sweet. Let's check out these short glitters quotes:
"Be your own sparkle"
"Glitter is the new black."
"Keep calm and love glitter."
"When in doubt, glitter it out!"
"Be Your Own Kind Of Sparkle."
"You can never have too much glitter!"
"Leave a little glitter wherever you go."
"Good things take time… and a little glitter."
"Life begins to sparkle when we realize our friends are the glitter."
"Get your sparkle on. Show this world where you belong." – Barbie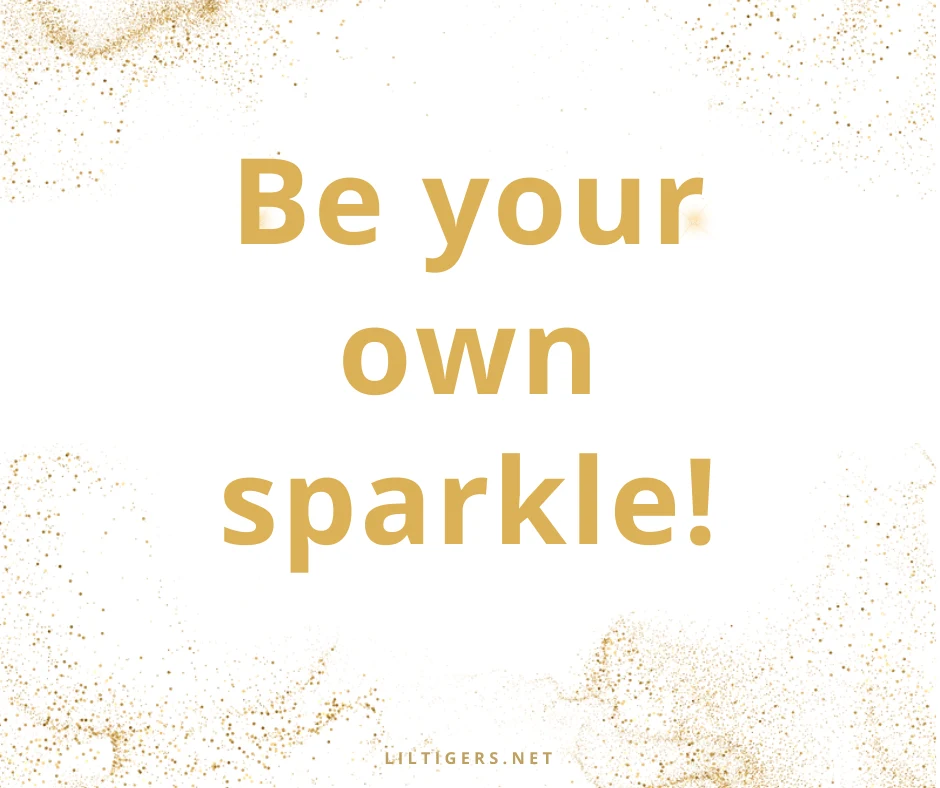 Did you enjoy our glam quotes for kids?
You will also enjoy our Friendship Activities, DIY Pressed Flower Bookmarks, or Flower Pot Template.
Famous Glitter Quotes
Let's follow our famous quotes on glitter:
"All that glitters is not gold." – Mark Twain
"When in doubt just add glitter." – Amy Lynn
"Life won't sparkle unless you do." – CraftyChica
"Glitter is the herpes of craft supplies." – Demetri Martin
"People will stare. Make it worth their while." – Harry Winston
"I feel like I am superhero diva and my power is glitter." – Jujubee
"Don`t let anyone or anything dull your sparkle." – Pradeepa Pandiyan
"You must not be afraid to sparkle a little brighter darling" – Kristen Kalp
"Every creature is a glittering, glistening mirror of Divinity." – Hildegard of Bingen
"When life gives you Monday, dip it in glitter and sparkle all day." – Ella Woodward
"Do more of what makes you sparkle."

Michelle Farmar
"Every woman in this world wears a little sparkle, some in their dress, and some in their eyes." – Shahla Khan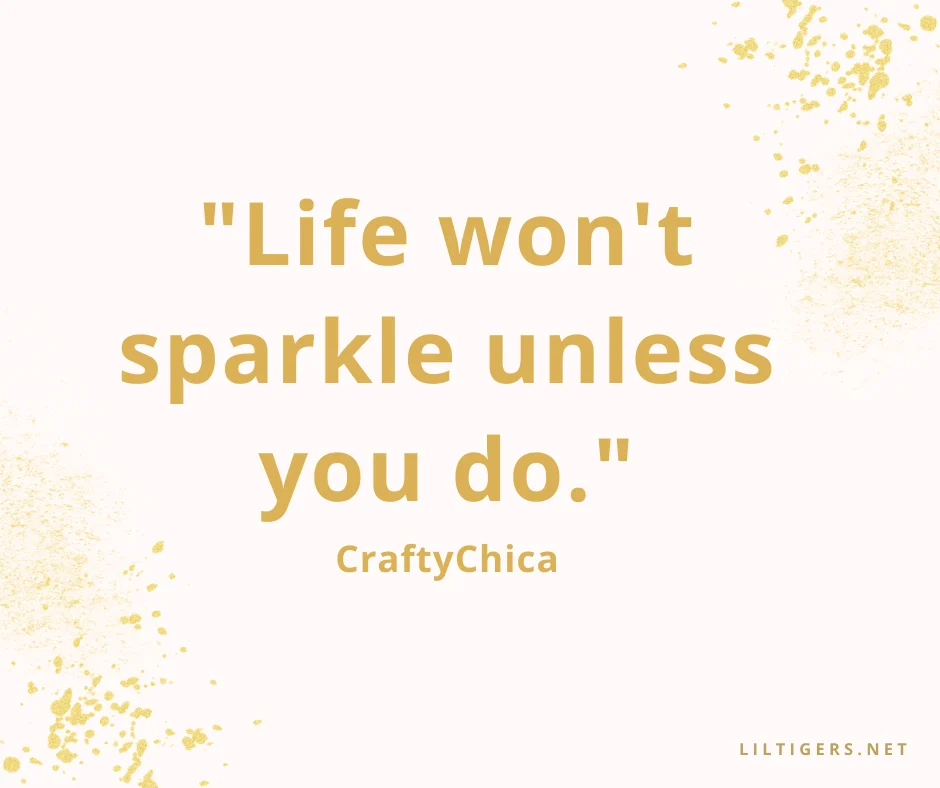 Shine-like Glitter Quotes
Time for our shine like glitter phrases:
"Sparkle on, darling."
"It's Time To Sparkle & Shine."
"You were born to sparkle." – Aliya
"Glitter, sparkle, twinkle, and shine!"
"Dream big sparkle more shine bright."
"Unleash your inner sparkle." – Laurie Ann
"You are the sparkle in my eyes, I love you!"
"Share your sparkle wherever you are." – Dodinsky Quotes
"We are all stars and we deserve to twinkle" – Marilyn Monroe
"Use each moment to make another's eyes sparkle and to warm a heart." – Doreen Virtue
"Another day, another chance to sparkle."

Unknown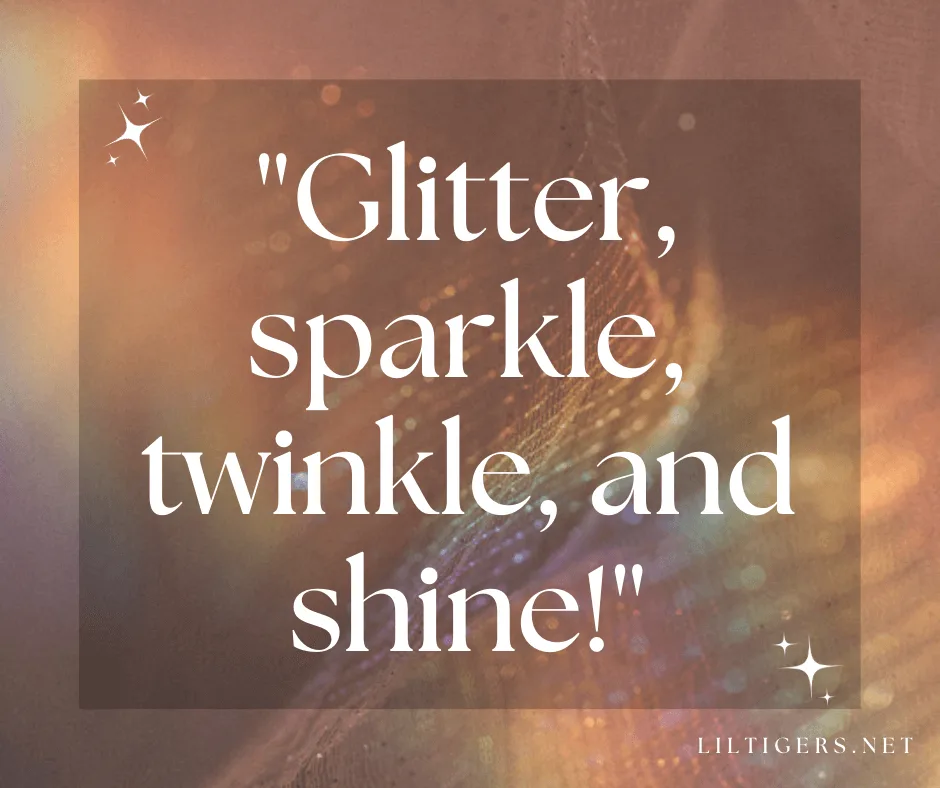 Christmas Glitter Quotes
Next are our Glitter Christmas Quotes:
"Christmas is too sparkly, said no one ever." – Hallmark
Glitter is for life, not just Christmas!
37."The holidays are just another excuse to wear more glitter." – Danielle Parker
Funny Glitter Quotes
Let's start off with our fun quotes about glitter:
I don't sweat, I sparkle."
"I'm so Glam, I Sweat Glitter."
You can't handle all this sparkle."
"Glitter is my makeup of choice." – Kesha
"Some girls are born with glitter in their veins." – Paris Hilton
"There is no problem in life which glitter can't fix." – Pinterest, 'The Wanderer'
"Even dirt glitters when the sun shines upon it." – Johann Wolfgang von Goethe
"She bleeds glitter, and sweats charisma. A walking aphrodisiac." – Erin Van Vuren
"When I was a baby, I was dropped in a box of glitter and have been sparkling ever since."
"It's not my fault. when I was a baby, I was dropped in a pile of pink glitter, and I've been really sparkly ever since." – Carly Wood
Fun Glitter Captions
You will also like our sweet glitter captions. Go check them out here:
"Glitter is my basic."
"It's called pixie dust."
"Smile, sparkle, shine."
"Every day I'm sparklin'."
"My blood type is glitter."
"Too glam to give a damn."
"It's the glitter that matters."
"Showing off my inner sparkle."
"If the question is glitter, the answer is yes."
"You sparkle the most when you are you."
Please be aware all love quotes, sayings, wishes, and puns without an author are from an unknown source.
More Quotes
I also like to introduce you to the following kids' quotes:
Self-Esteem and Glitter Activities
In order to sparkle your children need to start believing in themselves. Here are some glitter crafts and great confidence activities to improve their self-esteem:
If you are a visual learner, learn how to make your greeting card sparkle and glitter, matching our glitter quotes.
How to Download Your Free Printable Glitter Quote PDF
Simply sign up here for our newsletter and you will receive the link to our glitter quote cards.
Already a subscriber? Don't worry, no need to subscribe twice. I just updated our free printable library.
You can find our adorable glitter quote lunch note printables there or check our latest newsletter for more information.
If you have any questions, please do not hesitate to reach out to me. I m happy to help!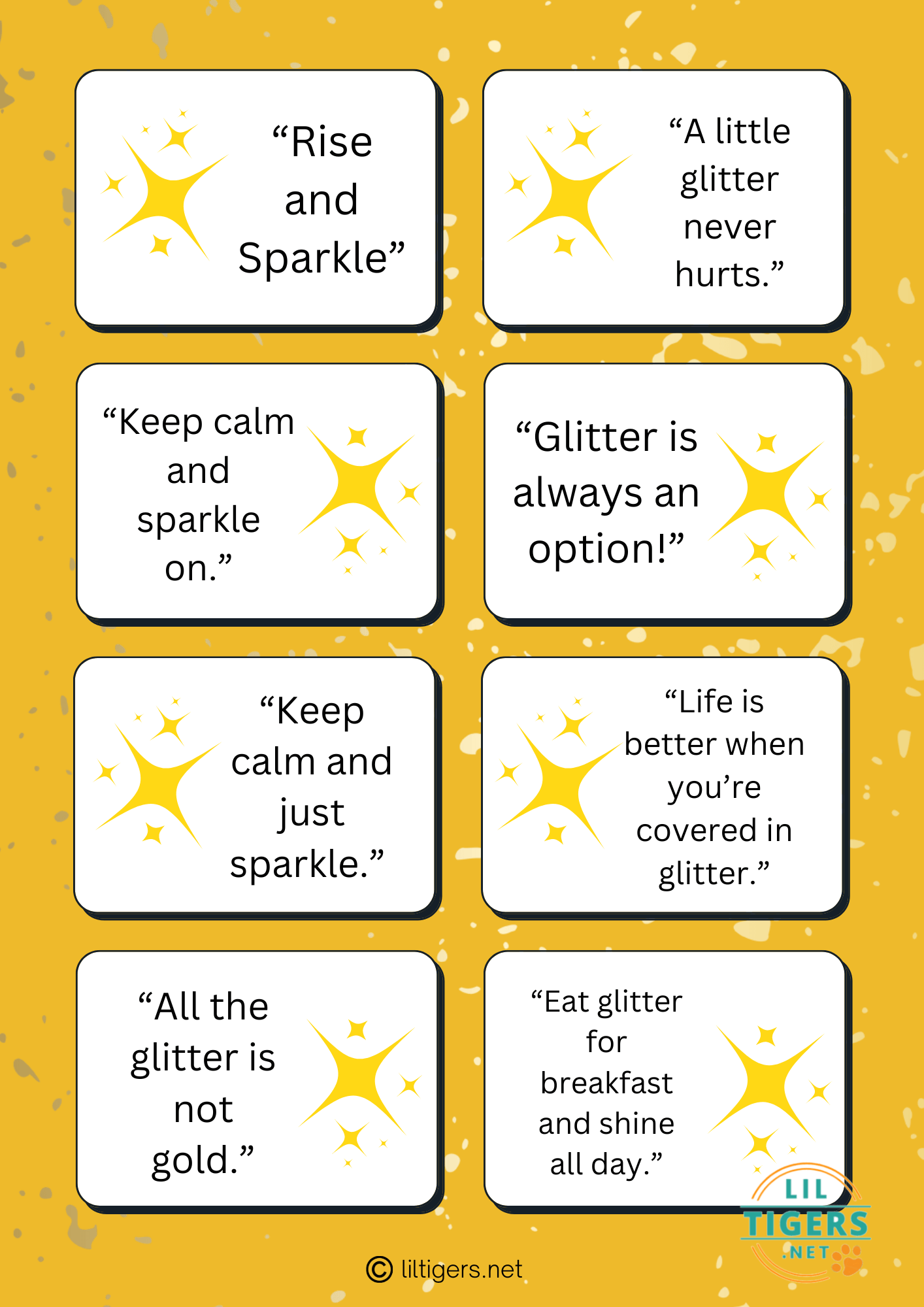 Pin Our Glitter Wishes for Kids
Don't forget to save our 200 Best I Love Glitter Quotes on Pinterest for later! Be sure you are following along with Lil Tigers here.
Now I would like to hear from you!
Which saying about glitter for kids did you choose? Did you find a better one?
Either way, let me know by leaving a comment below right now.
I love to hear from you!